In the previous part we were talking about home decorating with vintage rugs from Morocco and Scandinavia. Now it is time for some more styles and stories which hide behind various vintage floor coverings from different parts of the world. Embark with us on a wonderful journey through different types of vintage rugs, fall for their unmatched charm and discover how they may contribute to the décor of your abode.
How to Decorate with Vintage Art Deco rugs?
Although the Art Deco movement was born in Europe, particularly France, the major part of Art Deco vintage rugs was produced in China. How did it happen? The Chinese, having the long and profound tradition of rug-weaving and trade, decided to alter their centuries-old patterns and adjust them to cater for the western tastes. The most recognizable rugs from the 1920's and 1930 were made by Walter Nichols – the American who manufactured deco carpets in Tientsin. They were usually made of wool and the finest silk while depicting exotic Asian flowers and birds in very rich, bold colors like magenta, turquoise, emerald and ruby. In general, vintage Chinese Décor rugs are quite spare in design and quite radical in color. Due to such qualities, they are perfect for bold interior arrangements, like Mid-Century Modern or Hollywood Regency. They may also enliven a minimalistic décor by bringing in their vivid hues and geometric stir.
How to Decorate with Vintage Samarkand Rugs?
Another creation from the Far East are vintage Samarkand rugs. Although Samarkand means "Stone Fort", floor coverings coming from this oasis city are the absolute opposite of this harsh name. The wide variety of designs, colors and distinct boho vibe of the Samarkand wonders may be attributed to the fact that the weaving center used to be located at the famed Silk Route. Merchants traversing the Road back and forth from China to Europe brought to Samarkand inspirations and knowledge form the farthest corners of the world. Vintage Samarkand rugs are usually characterized by quite substantial dimensions as many of them were made for the Buddhist monks to pray on. Their characteristic feature are large medallions in the main field, most frequently appearing three at a time, with spare, oriental geometric patterns around them. The color palettes are usually saturated with a wide array of hues yet many of Samarkand vintage rugs are more toned in design. These marvelous carpets will be ideal for all bohemian interior arrangements. Due to their great size, Samarkands will do very well in ample rooms as perfect space definers.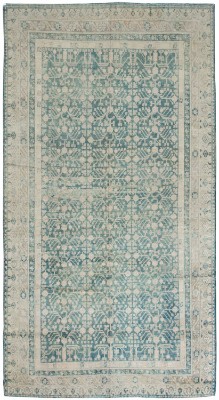 How to Decorate with Vintage Arts and Crafts Rugs?
England also largely contributed to the vast and beautiful category of vintage rugs. It was there, the marvelous vintage Arts and crafts rugs were created at the turn of the 20th century. The whole Arts&Crafts movement was a reaction to the strict conventions and social divisions of the Victorian era as well as the heartless machine production of the Industrial Age. Arts&Crafts proponents sought to reestablish the link between art and craft, and between the artisan and the consumer. Arts&Crafts vintage rugs are distinguished by sublime nature-related designs with curvilinear forms and scrolling vines. They incorporate Celtic references, as well as elements of Art Nouveau. With their graceful appearance combined with English elegance, Arts and Crafts rugs are perfect for both classic and modern interior décors. They most definitely match Victorian style, but you may also apply them in minimalistic arrangements.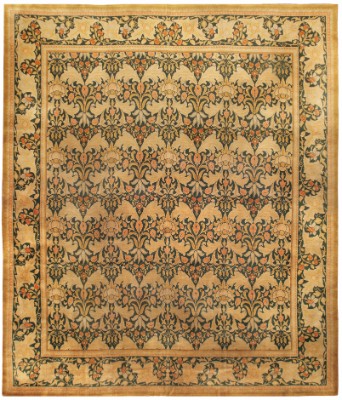 How to Decorate with Vintage Dhurrie Rugs?
India, the land of thriving wild nature and the astounding weaving tradition, gave birth to fabulous Dhurrie rugs. Most frequently made of cotton, , flat-woven dhurries are light so they can be folded and moved without a slightest effort. Moreover, their practicality manifests itself in the resistance to silverfish and other insects responsible for destroying regular carpets. Due to the fact that vintage dhurrie rugs are impenetrable to those parasites, they are distinguished by a particularly low-maintenance cost and upmost durability. The most popular and prevailing colors on traditional Indian Dhurrie vintage rugs are shades of white and indigo. This combination of cream, ivory or off-white hues with the multi-level depth of indigo – the most precious and iconic Indian dye – creates an extremely elegant, timeless and appealing composition that is suitable for a living room, a bedroom or any other space in the house in equal measure.