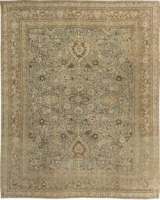 Exceptional, rare and unique collection of Khorassan Rugs for sale in our NYC gallery. Khorasan consists of two words, "Khor" and "Asan," meaning "rising sun" as befits a region on Iran's eastern border. Bordering the Salt Desert to the west and Afghanistan and Turkmenistan to the east the Khorassan region (or more correctly, province) is home to many well-known Oriental rug workshops in the towns of Amoghli, Khamenei, Makhmalbaf, Saber, Zarbaf, and, of course, Meshad. With a good supply of soft wool, high quality craftsmen, a mix of larger city-based workshops, looms in smaller villages, and access to the Silk Road, Khorassan has a reputation far and wide as a source of the largest and most varied assortment of beautiful Persian rugs and carpets.
Khorassan Rugs & Carpets: History and Structure
Carpet weaving has a long and rich history in Khorasan. The region has been famed for fine antique rugs and carpets going back to Timurid times in the late middle ages. Later, in the nineteenth and twentieth centuries, Khorassan became a center for the production of high quality room-sized carpets due to its large stable supply of city-based weavers who could accommodate the larger anchored looms required to produce these larger carpets. Although still Khorasan carpets, many of these are sometimes known by more specific sub-region of origin designations such as Meshad or Doroksh. The range of designs is extensive, from allover and arabesque medallion patterns in the classical tradition to designs influenced by its proximity to Turkmenistan yielding Khorassan carpets displaying geometric patterns rather than the more traditional Persian motifs.
The palette on antique Khorassan rugs and carpets is varied as well. Many antique Khorassan rugs have a softer, more decorative coloration, sometimes using deep, rich tones featuring main colors of dark burgundy, indigo, ivory, and light green. But whatever the design or color, antique Khorassan rugs and carpets maintain a high standard of drawing and weaving technique; Khorassan rugs and carpets are made with a soft wool woven into thin, tight piles making them durable despite their soft lustrous wool. Further differentiating themselves, Khorasan carpets make use of an unusual artistic effect produced by unevenly trimming of the pile which makes the figures of the design stand out from the background.
As unique as the people who made them and the people who own them, Khorasan carpets and rugs are a welcoming feature in any home, offering the warmth of a rising sun along with exotic color and sophisticated design that bring some of the mystery of the Orient to any room.
An Exceptional Collection of Khorassan Rugs & Carpets for Sale