French Savonnerie Rugs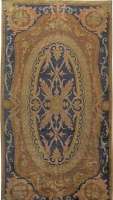 By the seventeenth century, the pride of the French monarchy could no longer tolerate the fact that no carpets were made within its realm that in any way approached the wonders of what was then being imported at ransom prices from Turkey. In a manner typical of all autocratic regimes, it was decided to establish a carpet weaving manufactory in France. A building not far from the Louvre was allocated to the project, looms were set up, designers and weavers engaged, the finest raw materials and dyes acquired, and production started. The place had once been the royal soap factory or, in French, "La Savonnerie". The greatest artists of the day were commissioned to make designs, and virtually the whole output was earmarked for the king. Splendid carpets filled the Louvre and other palaces, and the king would occasionally lend carpets to a courtier, or give them to a visitor of rank.
The design style was that which most appealed to the court circles of the day: it was evocative of Imperial Rome, richly decorated with floral arrangements both realistic and imaginary. The weavers' unerring eye for colour harmony combined with the subtle use of the fleur-de-lys and other symbols, royal monograms, and ciphers, all conspired to glorify the monarchy. The use of such luxurious carpets brought the furniture, paintings and other works of art into instant harmony with each other and with the architectural magnificence and grandiose proportions created by the king's gifted architects. With the king as a client, none but the very finest materials were employed. This has meant that the carpets have been well able to stand the test of time.
The hiatus to production caused by the Revolution was of short duration, those recently acquiring power demanding the same trappings as their deposed, and much despised, predecessors. The industrial revolution brought power to yet another, wider, circle which shared the same ambitions.
Because these new clients had expectations unchanged from those of their eighteenth-century forebears, the weavers only indulged in modest modifications to patterns and colours thus ensuring that the character of the carpets remained unchanged over the decades.
Despite the passing of the years, tastes have not changed all that much amongst descendants of the old nobility, and those with power that would aspire to join them. It is still very much the case, even in the dying years of the 20th century, that the well-furnished mansion will have one or more rooms decorated in the French manner. And this means, of course, a real Savonnerie gracing the floor. Today, as in days of yore, it is still the splendour of the carpet that is the essential ingredient in bringing splendour to the home.
An Exceptional Collection of French Savonnerie Rugs for Sale