Aubusson rugs and Savonnerie rugs are decorative fabrics originating from the France. They are among the most prestigious and luxurious textiles in the world. Due to advanced making techniques, designs of these French rugs may appear almost three-dimensional. Aubusson rugs and Savonnerie rugs contain high-quality materials, including wool, silk, even metal threads. They are usually ornamental in the baroque style, but well-balanced.
The Character of French Rugs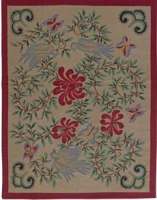 The history of French rug weaving reaches back to the 17th century. Both the carpets and tapestries of Aubusson and the hand-knotted rugs of Savonnerie represent the highest level of craftsmanship. Although inspired by the centuries-old Oriental tradition, French rugs swiftly started flaunting their own, distinct aesthetics and techniques. Floriferous garlands, cartouches, stylized acanthus leaves and scrolling vines appear in the company of equally impressive colors. The color palette of French rugs is usually soft but rich. It contains touches of gold and blue, soothed by a generous application of cream and off-white.
Savonnerie Rugs
The former Savonnerie carpet manufactory stands on the site of the present Musee d'Art Moderne. It inherited its name from the soap making factory it took over at the behest of Louis XIII. From 1627 until 1768 Savonnerie was a manufacture royale.  In this period, French rugs from Savonnerie remained exclusively the property of the Crown. They were inspired with Turkish carpets, containing materials like wool and silk and knotted using the Ghiordes knot. Initially, their designs imitated strictly oriental models but quickly the artisans came up with their own aesthetics and techniques. French rugs from Savonnerie saw their nadir during the French Revolution. However, thanks to Napoleon, the production was revived in 1805 in the Empire style.
Aubusson Rugs
Aubusson, on the other hand, at first used to be known for its tapestries. No one knows precisely when French rugs weaving began in this area. However, it is certain that tapestries were first woven there long before the Gothic era. The weaving center might have developed from isolated Flemish family workshops mentioned in the documents from the 16th century. Designs of the French rugs from Aubusson based on engravings and cartoons from which the low-warp tapestry weavers worked. In the 1770s, Aubusson exchanged tapestry looms for ones that produced flat-woven rugs under royal warrant.
Many weavers who settled in France were Huguenots. They had fled Spain during the time of the Inquisition in the early sixteenth century. Fortunately, Henry IV issued the edict of Nantes by which he granted all non-Catholics freedom of worship. Thereby, he protected the carpet weavers in Aubusson. Aubusson rug weavers became the finest craftsmen in the world. Louis XIV's influential Prime Minister Colbert established the long and hard apprenticeship. It was necessary to obtain the title "Master of Tapestry". Even today, the center in Aubusson is under control of the French Ministry of Arts. It is producing Aubusson carpets and rugs of the most exquisite quality.
An Exceptional Collection of French Aubusson Carpets for Sale