A rug is a heart of every room, an ideal space definer and a perfect warmth bringer. This is why anyone should absolutely have at least one carpet in their abode.
Actually – the more, the better. However, not every rug is the same – today we are flooded with poor quality, mass machine-made products that, despite their seeming resemblance to the classic weaving pieces, do not live up to the desired standard. On the other hand, antique Persian or Turkish carpets may cost a great deal of money and, thus, are an investment to be made with upmost care and consideration. Moreover, antique rugs are not always easily applicable in contemporary décor. What is then the solution for those seeking qualitative, aesthetically appealing yet no so expensive floor coverings? The answer is one – vintage rugs. These beautiful carpets come in many styles and fashions which derive from their fascination origins reaching back to the break of the 20th century. Discover the timeless charm of vintage rugs and fall in love with the effect they have on the interior design.
How to Decorate with Vintage Scandinavian Rugs?
Probably the most popularized and sought-after, vintage Scandinavian rugs are in the class of their own. These fabulous carpets are divided into two main categories : Ryas and Rollakans. The first type originated in the Middle Ages as a protection against the harsh climate of the northern countries. It was most commonly used by the mariners exposed to the most challenging conditions. Ryas – extremely shaggy woolen rugs in neutral colors or adorned with simple motifs – proved more practical and appealing than animal hides which had been used beforehand. Although at first they served as bed and back covers, rather than floor coverings, nowadays they constitute a strong vintage rug category. Due to their versatility, they may be applied to a wide variety of interior décors. A shaggy, off-white pile goes fabulous with shabby chic, Cali-Cool, Scandinavian or Bohemian styles, but it may also work in a Mid-Century Modern or even Hollywood Regency arrangement. A cushy Rya rug is a balm for the soul and feet.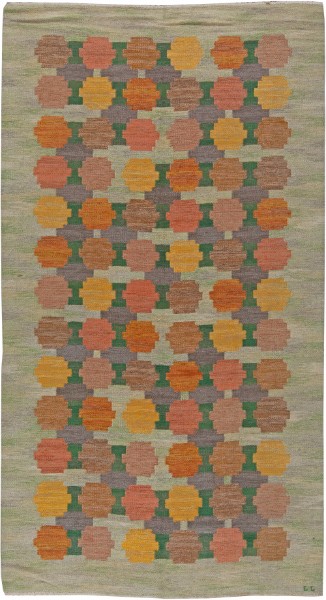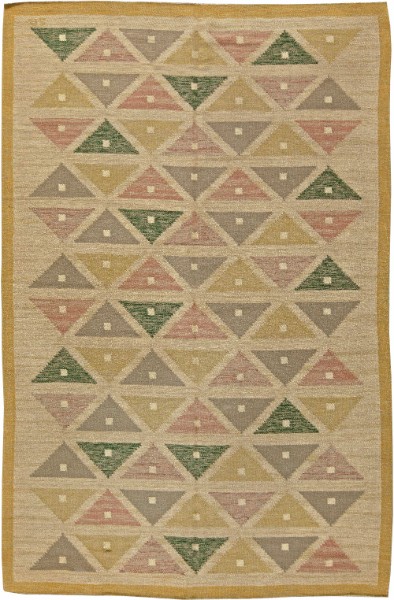 The other type of vintage Scandinavian rugs are Rollakans – Swedish flat weaves. Their history is a bit shorter than the one of Ryas, nonetheless, these wonderful flat-woven vintage rugs embody the greatest ideals of the northern design philosophy. Created at the beginning of the 20th century thanks to the great contribution of artists such as Maria Maas-Fjetterstrom and Barbro Nilsson, Rollakans exhibit wonders of the northern nature captured in uncomplicated motifs and calm, toned color palettes. Probably everyone knows their heartwarming appeal but many are yet about to discover the marvelous effect they have on interiors. A tranquil, soothing Scandinavian vintage flat-weave is obviously a perfect match to Scandinavian design. Pastel colors appearing on rollakans will go extremely well with shabby chic and minimalistic décor. In fact, the array of designs and types of rollakans is so immense that everyone will be able to find something for their apartment, no matter the style.
How to Decorate with Vintage Moroccan Rugs?
There are many parallels between Scandinavian and Moroccan vintage rugs. They are also divided into two main categories – flat-woven kilims and shaggy Beni Ourains. Nevertheless, vintage Moroccan rugs are very different in style to the creations of the north. Kilims are flat-woven rugs that are deeply rooted in the long and venerable tradition of oriental carpet-weaving. They incorporate classic motifs, color combinations and patterns which tell intricate stories stemming from the Middle-Eastern and even Far-Eastern beliefs. Each motif constitutes a separate theme, behind each color hides a deeper significance. When looked upon from such angle, Moroccan vintage rugs acquire an entirely new meaning – next to being beautiful floor coverings, they tell magical and intriguing stories concerning mundane as well as sublime and godly matters which their weavers wanted us to know. Due to their ethnic character, Moroccan flat weaves are going to easily complement any bohemian or Modern Farmhouse arrangement. Their saturated colors and geometric, tribal motifs may enhance any minimalistic décor, from Scandinavian to Cali-Cool. Kilims may also accentuate more opulent designs, like Hollywood Regency or Mid-Century Modern.
The other type – Beni Ourain – derives from nomadic tribes living in Rif Mountains near Taza. In many aspects, they resemble Scandinavian Ryas. Their piles are usually very shaggy, made of very fine wool, and the color palette for the most part bases on solely two hues – off white and dark brown (though there are instances of very colorful specimens). However, the spare designs of Beni Ourain rugs are unmistakable. It is a common practice among the weavers to execute geometric, diamond-shape patterns in a slightly neglective and lax manner. They do it on purpose to emphasize that nothing in this world can be perfect, except for god. Cushy and captivating, Beni Ourain vintage rugs are absolutely universal. They may go with all kinds of décors, bringing in the oriental charm and the pleasant feel of their high piles.