Tabriz rugs are decorative textiles originating from the Iranian city of Tabriz. They belong to the general category of Persian rugs. The quality and appearance of Tabriz rugs is very diverse. This is because the weaving center has existed for a very long time and absorbed influences from many other regions and cultures. The art of carpet weaving in Tabriz reached its zenith between the 12th and the 16th centuries. However, today Tabriz carpets are still synonymous with top-notch quality and appearance. The major manufacturers in Tabriz today are Alabaf of Tabriz, Galibafi Nassadji Tabriz, and Miri Brothers.
We invite you to view the largest collection of Tabriz rugs and carpets in New York.
Tabriz Rugs: The Culture of Tabriz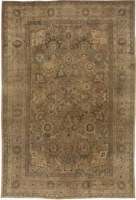 Tabriz is the capital of the northwestern Iranian province of Azerbaijan. For centuries it has enjoyed a reputation of a hub of Persian culture. Tabriz artists and artisan flourished under the patronage of Shah Abbas the Great (1587-1629). They designed illuminated manuscripts or embroidered silks. Some painted miniatures and fabricated metal work in the Safavid style. This fertile, creative atmosphere also influenced the weavers. Inspired and encouraged by the ruler, they reached new artistic heights. Presently, antique Tabriz rugs are a rare treat for all design and beauty fans.
Tabriz Rugs: The History of Tabriz Weaving
The origins of Tabriz as a town are shrouded in mystery – its early history is not very well-documented. We know that the first signs of civilization there (Iron Age graveyard) reach the 1st millennium BC. When the weaving started in Tabriz is yet another enigma. Some historical accounts indicate carpets were produced there as early as the Sassanid era (224 to 651 A.D.). However, we are sure that the first heyday of textile production happened there between the 12th and 16th centuries. 400 years of intense activity in rug weaving resulted in the high renown of Tabriz rugs. The families of weavers have honed and handed down the craft for generations. Thus, specific weaving techniques have always been family treasures, allowing native artists to ply a respected trade.
The early 18th century saw the end of the Safavid Empire and the decline of the town of Tabriz. Its legendary craftsmanship fell into oblivion yet not for long. Under the Qajar Dynasty (1786-1925) the workshops of Tabriz were gradually revived. Thanks to this, by the 1880's another golden age was underway. Tabriz again began to reestablish its position as the center for the export of Persian Tabriz rugs to the West. In the second half of the 19th century the city boasted some of the most famous masters. Names such as Kurban Dai, Sheik Safi, Faradji are forever to remain in the canon of expert weavers. Ever since then, Tabriz has been among the leaders of carpet-weaving both for domestic use and for export.
Tabriz Rugs: Construction
Designs of antique Persian Tabriz rugs can vary greatly. As mentioned at the beginning, Tabriz is one of the oldest weaving centers in Persia (if not the oldest). Moreover, many times in history it was the major cultural and trade hub of Persia. This contributed to the quality and immense variety of Tabriz rugs in equal measure. Therefore, it is practically impossible to describe one specific style reserved to Tabriz. Nevertheless, if we allow for generalization, it is safe to say that Tabriz rugs are exemplary Persian rugs. The vast majority contains the most classic Persian knot – the asymmetric Senneh. Although used in other countries like India, Turkey, Egypt or China, Senneh is native to Persia (Iran). The asymmetric knot makes it possible to weave a carpet with higher knot density and more details.
However, it is important to know that Tabriz rugs may feature all kinds of techniques and weaves. One may find them in a flat-weave or pile version, with a simple or complex composition. The range starts at Bazaar quality of 24 raj and goes on up to the incredibly fine 110 raj. Raj is a unit expressing the number of knots per 7 cm of the width of the rug.
In terms of materials, wool, cotton and silk are the top three, yet plant-derived and metal threads also appear. Cotton and wool usually go to the foundation while wool and silk form the pile. The most exquisite and rare rugs flaunt a silk pile on a silk foundation.
Antique Persian Tabriz Rug Design
Tabriz rugs appear in a plethora of styles. However, if we look at them through the prism of Persian classics, we may be able to describe a 'typical' Tabriz rug. The most traditional Persian arrangement consists of an allover, intricate floral pattern (with or without a medallion), executed in red, blue and white (in any configuration).
Nonetheless, Tabriz has one of the most diverse displays of designs. They range from medallion, Herati/Mahi, to figural, pictorial, and even 3-d shaped rugs.
This rich diversity also refers to colors. Tabriz rugs present a refined palette reliant on tones of copper, terracotta and ivory, with shades of blue and subtle touches of gold, green and salmon. In good-quality carpets, dyes are solely natural, not artificial. Next to eco-friendliness, durability and vividness, natural dyes have many advantages. They allow for 'abrash', which is a natural and variable change in color that occurs in a hand-woven Oriental rug over time when different dyes are used. These slight color variations within the design make a carpet absolutely unique.
Doris Leslie Blau as a Trusted Purveyor of Tabriz Rugs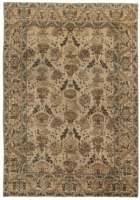 The astounding variety of Tabriz rugs is both a blessing and a threat. A layman may have difficulties in distinguishing between a well-made Tabriz rug and its poorly-executed counterpart. Not to mention counterfeiters, ineptly copying the great Tabriz workmanship. Because of that, while buying a Tabriz rug, it is important to put your trust in a reliable dealer. After all, it is supposed to be a purchase for years. A Tabriz rugs is an investment rather than outlay that will only increase in value over time.
Doris Leslie Blau has decades of experience in carpet industry, both as intermediaries and producers. Our collection of antique carpets and vintage rugs for sale will please the eyes and the hands of even the most demanding connoisseurs. Visit our New York City Gallery and experience the magic and mystery of weaving masterpieces for yourself. And if by any chance you are visiting the capital, step into The Washington Design Center, 1099 14th Street N.W. Washington, D.C. 20005, to see our showroom. You will not be disappointed.
Nader Bolour on Tabriz Rugs from an article of CJ Dellatore
Nader Bolour is the president and owner of Doris Leslie Blau. His quotes taken from the blog of CJ Dellatore show great expertise and passion towards rugs. We leave them here as a sort of an inspiration and encouragement for you to dig deeper into the fascinating subject of Tabriz rugs.
"Searching for an antique rug is where the design process begins for most. They are the soul of a room, all the other elements of a well-appointed space are there to celebrate it."
"While many Tabriz rugs have central medallions with symmetrical designs – and typical coloration based in reds and blues, this rug is woven quite differently. It's a true work of art. The muted rose background, and range of colors, coupled with the asymmetry of the gardens, borders, poems and prayers amalgamated within make it a remarkable specimen. It's subtle, and exceptionally sophisticated."
"When I consider making a purchase of an antique rug such as this, I envision a designer who will respond to it. I've learned over the years that provenance is far less important than aesthetics – and the visceral reaction a designer has to the color, abrash, motifs, and subtle nuances in the overall design."
An Exceptional Collection of Tabriz Carpets for Sale
Please visit our gallery in New York at 306 East 61st Street, 7th Floor to see tabriz rugs prices and our offer of best collection of tabriz carpets in New York City