Arts and Crafts Rugs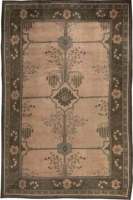 The arts and crafts movement was a unique episode in British culture. Towards the end of the nineteenth century, many young men whose background and education should have led to a career in the professions, public service, or commerce turned instead to designing furniture, making jewelry, or decorating china, and many young women who dreaded the restrictions of conventional Victorian womanhood found a way of escape through bookbinding, woodcarving or weaving. A feeling of liberation pervaded the movement. It was an expression of a completely new way of life which provoked an active response throughout the western world. Morris, Voysey, Ashbee, and Mackintosh created not just a style, but the style of twentieth-century decorative art.
Among the noblest achievements of the arts and crafts movement were its carpets. The designs of William Morris and C.F.A. Vosey were a significant contribution to the art of the carpet. Morris & Co. at Merton Abbey and Morton's in Donegal produced some of the finest handmade carpets ever woven in the British Isles, and several smaller workshops emulated their success. But there has never been an account of all these enterprises, which together represent the golden age of British rug weaving.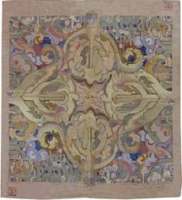 William Morris and his colleagues in the arts and crafts movement questioned the hypnotic call of industrial progress. Recognizing the human need for expression through the skills of our hands, they explored many areas of craftsmanship. One of these was hand-woven carpets.
For years I have been fascinated by Morris's achievements in carpet design and manufacture, and looking at them from the viewpoint of a buyer and seller of oriental rugs, my appreciation has grown the more I have discovered. It is increasingly difficult today to find antique oriental carpets in a condition suitable for daily use on the floor. As a result, like Morris, I have become interested in producing new carpets of the same quality as those made in the past. What a task! Handspun wool dyed with natural vegetable dyes has become a very great rarity. Quick industrial methods have superseded handwork, with a consequently massive drop in the quality of handmade carpets.
All of us begin new projects with such enthusiasm and naivety. We do not anticipate the setbacks that lie in wait, the amount of sheer hard work that is needed to overcome them. William Morris, James Morton, C.F.A. Vosey, and the others in the movement are towering figures, relearning age-old skills, tackling and overcoming huge obstacles, recreating a whole craft, and building it up in studios and workshops. More and more I appreciate the trials that those involved in the arts and crafts movement passed through, and I salute the pioneers of this movement who, with Morris, confronted the vital questions: What makes a great and original carpet design? What combination of pattern and color makes a design read on first impact and sustain our interest day in and day out? How is it possible to maintain standards of carpet manufacture?
Research shows how William Morris's efforts to revive the craft of carpet-weaving, and his introduction of original patterns, led to a succession of beautiful hand-knotted rugs and carpets and how, in a very short time, commercial producers had dropped vegetable dyeing and lowered Morris's high standards of technical authenticity. The carpets produced up to the 1920s, however, were still superior to those that followed.
Carpets of the arts and crafts movement are now extremely rare. They were never made in the huge numbers that rugs were made in the Orient. Only a discerning few recognized their quality at the time. Since then, many have been misused and replaced by wall-to-wall machine-made carpets. The many beautiful carpets recorded in this book represent a rare and priceless heritage. They show what can be achieved with the determination that William Morris and his friends applied to the task. They urge us today to stand against the degenerative effects of industrialization and challenge us to try again, in all areas of craftsmanship, not to let skills and knowledge languish and die. Today the West can provide the vision and the finance and the East the skills of traditional craftsmanship. We can relearn these skills and bring back to our lives the deep satisfaction of working with our own hands, taking heed of voices like William Morris's that are not yet completely silenced.
An Exceptional Collection of Arts and Crafts Carpets for Sale