Style of Antique Arts and Crafts Rugs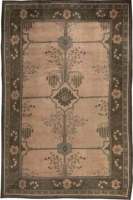 The Arts and Crafts movement in England was initiated by William Morris during the 1870's. The influence of his designs rapidly spread across Europe and North America and played a key role in shaping the creative life of Great Britain. The distinctive style of antique Arts and Crafts Rugs and carpets is defined and characterized by serpentine curvilinear and naturalistic floral patterns executed in a rich, dense palette. Rebelling against their rigid Victorian backgrounds, and the dehumanizing mechanization of the Industrial Age, proponents of the Arts and Crafts movement sought to re-establish the link between the artist and the craftsman, and art and industry. During the late 19th century Donegal (Ireland) became known for its fashionable Art Nouveau style rugs, designed by such individuals as C F A Voysey and Alexander Morton. Take a look at the finest Irish Donegal rugs below.
Adhering to the principals of the Arts and Crafts movement, the work of these artisans ranges in style from the Persian-inspired to the proto-modernist. The Hammersmith carpets of the late nineteenth century and early twentieth century epitomize the golden age of British carpet weaving and Arts and Crafts rug weaving in general.
An Arts and Crafts Rug as the Perfect Choice for a Modern Interior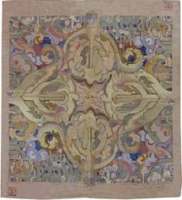 Although developed at the beginning of the 20th century, Arts and Crafts rugs are absolutely applicable in contemporary interiors. It can be attributed to their balanced and utterly tasteful designs which have the power of transcending time and ever-changing fashions. This is why, an arts and crafts rug is an ideal pick for a present-day interior arrangement. The floral, meandering yet not overcomplicated patterns merged with soothing and toned color palettes create a serene combination, irresistible to all lovers of timeless beauty. An arts and crafts rug may be matched with a wide variety of décors, from classic, like Victorian, Modern Farmhouse, Hollywood Regency or Neoclassical, through minimalistic, including Scandinavian or Cali-Cool vintage rugs, to futuristic and miscellaneous, such as Mid-Century Modern or Shabby Chic. Most of Arts&Crafts rugs are permeated with magic and mystery of Celtic references. Born in England but based on ancient and refined craft, these floor coverings encompass excellent quality and elegant designs incorporating the wonders of English nature and the old beliefs of the Islanders. An arts and crafts rug is going to be a crown jewel of any décor.
An Exceptional Collection of Arts and Crafts Carpets for Sale