Antique Oriental Rugs and Vintage Carpet Dealer Since 1965
Located in the very heart of New York City is a reliable and well-established antique and vintage NYC rug dealer. The place is permeated with the magic and dignity of antique rugs and vintage carpets. It is where you can truly dig into the fascinating mysteries of weaving masterpieces from all corners of the world. The Doris Leslie Blau Gallery houses various kinds of Oriental rugs and vintage rugs. We have everything from modern area rugs, to custom-designed rugs. Among our collection of antique rugs are finely-woven Persian rugs, oversized Turkish carpets, unusual Indian weavings, exceptional Russian, Spanish, and French antique rugs, as well as more recent 20th century modern, Arts and Crafts, Art Deco, flat-woven, hooked, and needlepoint examples from Morocco, China, Scandinavia, and America. Over-dyed rugs, tufted rugs, circular rugs, area rugs – carpets have many faces and we know them all.
One of the oldest and the most prominent rug galleries in the city is Doris Leslie Blau. Established in 1965, the gallery is located at 306 East 61st Street in NYC. Its extensive collection of antique, vintage, and contemporary rugs attracts thousands of rug collectors and designers from around the world. The gallery has rugs of different sizes, styles, and eras, representing many well-known rug-making traditions. These traditions originate from countries like Turkey, Persia (Iran), India, China, and Scandinavia.
Doris Leslie Blau's Legacy
Mrs. Doris Blau, the founder of the gallery, is a legendary name in the world of rug collecting. From the beginning, she was determined to create something different. Something a bit offbeat, as evidenced by the outstanding collection of avant-garde pieces she assembled over the years. Even today, years after she handed over the reins of the company to her worthy successor, Nader Bolour, the gallery continues to operate on the same principles that made it such a popular destination for rug buyers.
Antique Persian Rugs in Doris Leslie Blau Collection
Doris Leslie Blau specializes in oriental and western rugs and carpets. Its impressive collection of antique rugs features rare pieces. These include Turkish, Persian, and Indian masterpieces, many of which date back to the Medieval Age. Some of these rugs are so rare that no more than a few exist in the entire world. These specimens are so highly prized that collectors are willing to part with unimaginable amounts of money for them. The Doris Leslie Blau gallery has managed to create a fine collection. This speaks volumes about the expertise and dedication of the company's leaders.
Oriental rugs and carpets are highly valued for their sublime beauty, exotic patterns, and remarkable strength and durability. The beautiful patterns and motifs woven on them often tell stories from history and mythology. They may depict scenes from historical battles, hunting expeditions, royal courts, or simply mosques, palaces, people, flowers, animals, and plants.
Among oriental rugs, the most sought after are antique Persian, Turkish, and Moghul (Indian) rugs. These rugs are distinguished by their distinctive designs, attention to detail, high-quality fabrics, and high density of knots. Made using only the highest quality wool, they have a soft texture resembling that of silk fabric. Really old antique rugs are very rare and command a very high price.
Antique rug major categories:
Find Antique Oriental Rugs at Doris Leslie Blau
Most antique oriental rugs have been bought by Western collectors. Therefore, very few can be found in their place of origin. In fact, the two largest markets for genuine antique rugs are New York and London. In New York, Doris Leslie Blau has one of the largest collections of antique Persian, Turkish and Indian rugs. The gallery also has antique rugs from Europe and the Caucasus region.
Vintage Rugs in DLB Collection
Vintage rugs are another specialty of Doris Leslie Blau. The gallery has a fine collection of vintage rugs from various places around the world. The early 20th Century was a time of experimentation and innovation in arts, popular culture, science, and technology. Some notable styles from the period include Art Nouveau, Art Deco, Arts and Crafts, and Bauhaus.
Art Nouveau features intricate lines and flowing curves based on natural forms such as plants and flowers. This ornamental style of decoration gained prominence in the 1890s. It remained popular in Western Europe and North America until WWI. It was present everywhere from art to jewelry to architecture. Art Nouveau rugs have intricate and beautiful patterns.
Popular during the interbellum period, Art Deco is a decorative style characterized by precisely and boldly drawn, brightly colored geometric shapes. Used in household objects and architecture, it was influenced by the then rapidly rising automobile and aviation industries. Art Deco rugs have patterns made of bold geometric lines and bright colors.
Bauhaus was an art school that operated in Germany from 1919 until 1933. It focused on combining fine arts with craft. The aim was to create a total work of art where all forms are combined. The school proposed combining aesthetics with functionality and put great emphasis on simplicity, clarity, and symmetry of structures. Bauhaus became the cornerstone of Scandinavian design, which emerged in the 1950s and continues to be popular today.
The Biggest Collection of Modern Rugs
Doris Leslie Blau is not only about antique and vintage rugs. The gallery also has an extensive collection of modern rugs. These include contemporary rugs, traditional European-inspired rugs, traditional oriental-inspired rugs, Swedish rugs inspired by traditional Bauhaus designs, and Art Deco style rugs. Modern rugs superbly combine minimalism, beauty, and functionality.
Custom rugs are another area that Doris Leslie Blau excels in. Today's style-savvy customers want more than the carpets and rugs they can buy off the shelves. They want rugs custom designed for their unique needs. They want to choose the materials, colors, patterns, texture, size, and shape of the rugs to complement the existing or intended décor of their room. The gallery's designers and sales consultants are well-versed in the needs and tastes of the customers to give them exactly what they want.
With such a wide range of options to choose from, it's no wonder that Doris Leslie Blau has become the destination of choice for carpet lovers and collectors from all over the world. To cater to the exquisite taste of its loyal and growing customer base, the gallery focuses on only the best quality antique, vintage, and modern rugs.
Not Just Carpets and Rugs
Doris Leslie Blau doesn't just sell carpets and rugs, the company tirelessly works to bridge the gap between art, design, and architecture. Carpets and rugs play an important role in modern interior design. Since a room is built from the floor up, they are the foundation of an interior design project. They add warmth and comfort to the cold and hard concrete walls and marble floors. With their eye-catching colors and patterns, they help create the desired ambiance in any living space. Doris Leslie Blau works intimately with interior designers and decorators to help turn their clients'homes into a work of art.
From decades of experience selling rugs and carpets, the staff at Doris Leslie Blau know the value of assisting customers. This involves finding the rugs and carpets that fit perfectly into customers' budgets and timeframe. Step into the gallery and you will be presented with a wide variety of antique, vintage, and modern rugs that are within an affordable price range. The company believes in providing the highest standards of service to everyone. This is the reason the gallery has an ever-growing list of satisfied customers who keep coming back for more.
DLB – Custom Rug Dealer in NYC
In addition to being a dependable NY rug purveyor, Doris Leslie Blau is also a provider of customized rugs. It is the answer for all those seeking original designs and up-to-date trends in the upmost quality. Our bespoke rugs match the craft and artistry of antique Oriental carpets. One might ask how do we achieve that. The explanation is simple. Instead of facilitating the weaving process, we bow to the traditional methods and take the longer yet indisputably more rewarding way of making bespoke carpets. The DLB custom rugs are hand-woven in Tibet of the finest materials, including first-rate wool, silk, cotton, and hemp.
A customer's wish is our command so the application of more sophisticated solutions, such as metal threads or high and low piles, are within reach. Each custom rug is made in accordance with old and refined weaving techniques. Our skilled weavers are capable of recreating any desirable pattern, therefore it is solely imagination that may limit venerable customers. You may adjust the size, shape, and design of your bespoke DLB rug entirely to your needs and liking.
Professionalism and Environment-Friendliness
Custom rugs by DLB are 100% environmentally friendly carpets as we use only natural materials and dyes. They are hand-made which helps to limit the pollution caused by the machine production of goods. Our environmentally friendly carpets and rugs are also extremely durable and unique due to the fact that each piece is thoroughly crafted with great care and precision.
We assure that every at every stage of custom rug development we provide professional assistance and kind advice to our clients. To make the choice easier, in cooperation with the world's greatest designers, including Alberto Pinto, Eskayel, Bunny Williams, M Group, Jed Johnson Associates, Mariette Himes Gomez, Amy Lau, Miles Redd, and fashion designers such as Nanette Lepore and Tommy Hilfiger, we have prepared a vast collection of custom rug samples and new rug designs.
DLB offers also beautiful antique and vintage rugs in other countries!
Esteemed Antique Rug Dealer
Doris Leslie Blau has been a respected dealer of antique rugs in New York City for over 45 years. We provide the best quality carpets for interior designers, big enterprises, and individual customers, always bearing in mind the best interest of our clients. Due to our extensive experience and profound expertise, we have been able to help countless rug aficionados find their dream pieces and enrich their house décor with the timeless charm and never-passing elegance of antique rugs. This is why DLB is a leading NYC rug dealer, appreciated by top interior designers. As we do not expect anyone to simply take our word on that, let Carey Maloney of The M Group Interiors speak on our behalf:
"For the uninitiated, Doris Leslie Blau is to rugs what Harry Winston is to jewels-the best. You go to DLB when you want something really special. The taste and quality are tops. Their specialty is the truly Special with a capital S."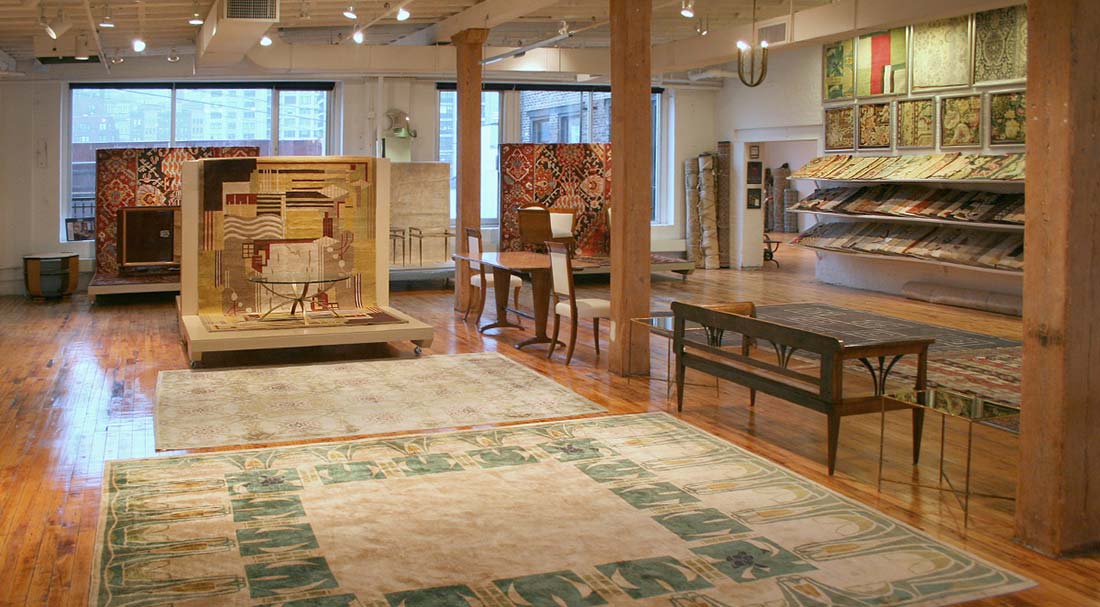 However thrilled and humbled we are by such a favorable opinion, it only motivates us to undertake even greater efforts as an NYC rug dealer. Every challenge is a motivation as we are not just purveyors of carpets but rather true rug enthusiasts. Nader Bolour has deeply instilled the passion for antique rugs and vintage carpets into the company.
Enter Nader Bolour – Rug Dealer Extraordinaire
One might actually say that rugs are flowing in Nader Bolour's veins because he was literally raised on wool and silk. As he recalls: "This has always been in our DNA. I started out sweeping and cleaning the carpets, but even when I was a young child in Iran, the carpets were my playground". His family established the Bolour&Sons enterprise in the 1920s in their homeland – Iran – and gained worldwide recognition as one of the most distinguished dealers. Nader has taken his profound knowledge and genuine interest in oriental wonders and transformed them into a thriving business in New York City. Silk rugs, American rugs, Tabriz rugs – ask about any kind of woven textile and we will deliver.
New York City as the Capital of Rug Dealers
People associate rug dealership with oriental countries, like Persia, Morocco, or Turkey. However, the paramount transactional activity has recently moved to big western cities. This incredible switch has many reasons. First of all, a search for a genuine antique or vintage rug is an arduous process. To get to the source, one has to travel long distances without any promise of success. Sadly, nowadays Oriental bazaars are full of low-quality pieces. It is difficult for an untrained eye to distinguish them from antiques. It takes an expert to find a jewel in the sea of mediocrity.
Secondly, the inhabitants of western countries and big cities as NY grew so fond of oriental carpets that they are among the world's biggest purchasers of antique rugs. New York stands out in particular thanks to its very well and long-established rug district. Moreover, it has many auction houses. The Oriental rug district in Manhattan is a world of itself. There are full-fledged ground-level stores as well as second-floor galleries that offer a more formal, secluded escape from the bustle of the street. Doris Leslie Blau, located at Interior Design Building, 306 East 61st Street, 7th Floor, New York, NY 10065 is an oasis of peace, imbued with sophistication and venerable history of antique rugs.
Maintenance and More
Finally, a New York City rug dealer like DLB, can not only provide a rug but also help with its choice and later maintenance. For all those reasons and more, we encourage you to visit us in Upper East Side, New York, to see our showroom. If you don't live in New York or even the United States – do not fret. We supply our rugs to all places in the United States and in the world. In order to provide you with the best antique and vintage carpets, we offer fast and inexpensive (sometimes even free!) shipping across the States and all over the world, straight from our New York City-based gallery.
Doris Leslie Blau's webpage offers you the ultimate shopping experience. You can filter through every carpet in our possession using categories such as size, color, origin, and age. Therefore, picking the perfect rug is easy.
Our Mission Statement
At Doris Leslie Blau, we offer our clientele the highest quality antique carpets and exclusive custom rugs. Located in the heart of New York City, we have served as purveyors and trusted advisors to designers for over 45 years. Among our clients are Architectural Digest's "Top 100 Designers" and some of the finest up-and-coming young interior designers around the world. We pride ourselves on bridging the gap between art, design, and architecture. DLB does this by making rugs a key element of interior design. Thus, we strive for superior quality while providing the highest standards of service.
Whether you are a young emerging interior designer, collector, or well-established decorator, the gallery is confident that we can assist you in finding the perfect new or oriental rug within your budget and time frame.
If you would like to arrange a viewing appointment, see a rug on approval, or have any questions, please do not hesitate to contact us.
At Doris Leslie Blau, client service and exceptional quality are of paramount importance to us.
Doris Leslie Blau offer:
A diverse selection of over 1880 antique rugs overall, including more than 300 Tabriz rugs.
Consistently superior service and professional conduct.
Honest, objective, thoughtful, and experienced advice on purchasing a carpet and room placement.
A convenient search page and an informative reference page on our website.
A bespoke custom carpet service with strict quality control that can accommodate any decorative scheme.
Hard-to-find information about the cultural and artistic history of rugs.
On approval services and full descriptions for each rug.
Assistance with installation.
Environmentally friendly options: antique rugs are reused and many of our new rugs have been made out of recycled fibers.
Please visit Doris Leslie Blau Antique Rug Showroom in Upper East Side: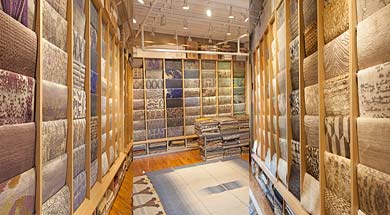 DLB @ Interior Arts Building (Main Showroom)
306 East 61st Street, 7th Floor
New York, NY 10065