What are Moroccan Rugs?
Moroccan rugs are decorative textiles made in the territory of Morocco. We distinguish four main types of these rugs – flat-woven kilims, shaggy Beni Ourains, knotted pile rugs, and rag rugs. Floor coverings from Morocco are characterized by bold colors and tribal aesthetics, carrying geometric rather than figurative designs. They have been extremely popular since the mid-20th century due to their naïve charm and unique appearance that fits perfectly into contemporary décor trends.
Moroccan carpets are made in five regions of Morocco:
– the Middle Atlas
– the High Atlas
– Rabat
– Eastern Morocco
– the Atlantic plains

Although some nomads have settled by now, many Berber tribes live much as they did centuries ago. Thanks to hand-woven wool, natural dyes, and traditional designs, Moroccan rugs retain the authentic indigenous character.
Vintage Moroccan flat-woven and knotted-pile rugs are remarkably diverse in style. They may carry bold colors, naïve, charming motifs and lively patterns of geometric elements.
Each tribe has its own distinct repertoire of designs and colors. These reflect both the ceremonial and day to day life of the group. The vivacious oranges and sunny yellows reign in the High Atlas. Dramatic light blue and camel tones appear in northern Morocco (Rabat). In turn, the ivory background and charcoal motifs are characteristic of Beni Ourain rugs. All types of Moroccan rugs are ideal for the chic contemporary interiors of the 21st century.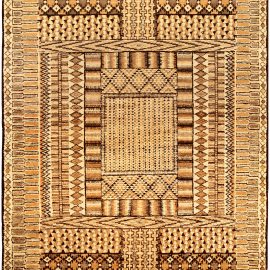 The practical and symbolic worlds of the hundreds of Berber tribes scattered about the country are touched to an extraordinary degree by the products of their looms. Eligibility for marriage is determined in part by the ability to weave beautifully. Wedding ceremonies are held upon Moroccan Berber rugs infused with the palette of wild sorrel, madder, indigo and the shells of the cochineal. Social status can depend on the quality of these weavings. Moreover, the wool from which they are fashioned even provides a talisman considered powerful against demons and evil spells.
Not just objects of status and good fortune, Moroccan Berber rugs serve at once as the furnishings of the tent and village residences and as the principal means of artistic expression. The thick pile rugs that provide bedding for the Zaiane, and the boldly patterned flat-woven hanbel rugs that warm the Zemour, do more than ease the severity of winter. They represent the continuity of ancestral decorative tradition and the highly individual creative identities of their weavers.
Carpets from urban weaving centers, like Mediouna or Rabat, are of a more formal nature than simple and honest tribal creations. They usually have precise centers and well-developed frames and borders. As such, they bear resemblance to rugs originating in Asia Minor.
We guarantee that every piece in our collection, custom or vintage, is a real, best quality rug. DLB carpets are the essence of refined workmanship and utmost artistry. We established our position among the world's best purveyors of rugs only through hard work and commitment. Browse our website for a vintage Moroccan rug of your dreams or contact us to get a custom-made one. Your satisfaction is our top priority.