History of Antique Amritsar Rugs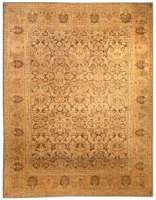 The city of Amritsar, situated in Northwestern India, became a center of Indian rug and carpet weaving in the nineteenth century when the Maharaja Ranjit Singh annexed Kashmir, the flourishing shawl-weaving center. The rise of the British supremacy in the 1850s, along with the Crystal Palace Exhibit in London, captured the attention of the public and sparked the dramatic development of rug production in Amritsar. Under the influence of European rug importers, the establishment of looms and the availability of fine quality wool from sheep raised in nearby mountains and valleys, the rug weavers of Amritsar adapted their traditional carpet designs to correspond with western tastes and European demand. While other Indian weaving centers, already existing for a couple of centuries, had their designs influenced mainly by the antique Persian rug art, Amritsar artisans developed an absolutely unique and original style which today remains highly desirable and widely collected, largely because of their flexible formal repertoire and color palettes.
Design of Antique Amritsar Rugs
The Western influence and, particularly, the Colonial rule in India, are clearly seen in the magnificent face of antique Amritsar rugs. However, one of the greatest strengths of these fabulous floor covering is their impeccable quality. Based on the top-notch luminous wool, with a cotton foundation, double weft an and asymmetric knot, carpets form Amritsar are distinguished by luxurious feel and extremely indulgent textures. Antique Indian rugs and carpets are characterized by large scale patterns featuring the millefleur designs, mythical beasts and Persian-inspired florals. Their coloration usually relies on earthy, subdued colors including light blues, yellows, teal, burgundies and mauves. The rich heritage and beauty of antique Amritsar rugs continue to position them among the most decorative components of today's interiors.
Decorating with Antique Amritsar Rugs
Due to the fact that antique Amritsar rugs were born approximately late and shaped to satisfy the tastes of western customers, their designs easily fit into contemporary interior arrangements. Although steeped with the oriental tradition, carpets from Amritsar exhibit a truly unique appeal, much closer to what's presently in vogue than any other antique rug category. They will be perfect for many fashionable decorating styles – one may match them with a colorful and free-spirited bohemian décor, let them complement a classic abode, or give them a chance to enhance a minimalistic modern space. In any case, brilliant antique Amritsar rugs will bring in the glamour and recherché charm of Indian craftsmanship.
An Exceptional Collection of Antique Amritsar Carpets for Sale