If you are at all interested in high fashion, I am sure that you are no stranger to the elegant and edgy musings of renowned fashion designer, CHANEL. Created and inspired by Coco "Gabrielle" Chanel, in 1909, CHANEL started as a small clothing boutique in Paris in 1910. The style and inspiration of the CHANEL brand has evolved from a classy, simple, every-day wear line to a full spectrum fashion dynasty, including everything from ready-to-wear collections to couture. Whether you are a designer, or a design enthusiast, so much can be drawn from the life and work of Coco Chanel, as it is carried on today through one of the most well known and respected fashion labels, CHANEL. They have set trends among peers within their industry, as well as designers everywhere. Rug design, does not count as any exception.
Because of the classy and modern elements incorporated into CHANEL designs, this inspiration carries over to the Rug Design realm very beautifully. Below are a few examples of surprising design correlations between CHANEL's Spring/Summer 2013 couture line, and some of our very own vintage & designer rugs provided right here at Doris Leslie Blau.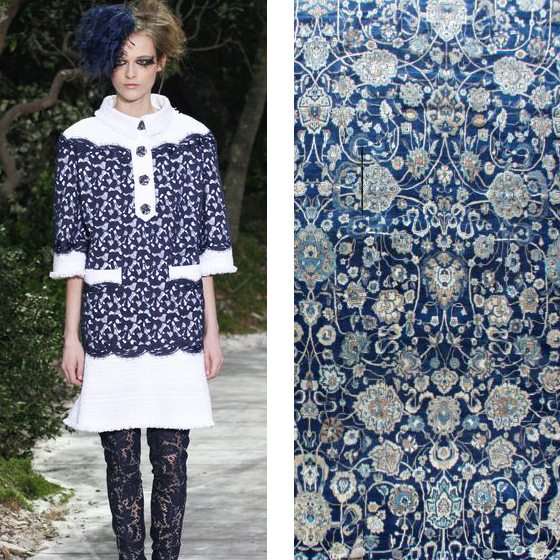 The Persian Tabriz rug (pictured above, left) embodies a whimsical floral pattern, with a vast range of hues, seemingly inspired by the sky and sea. It is delicate, intricate, and classy, much like it's CHANEL look-alike (pictured above, right).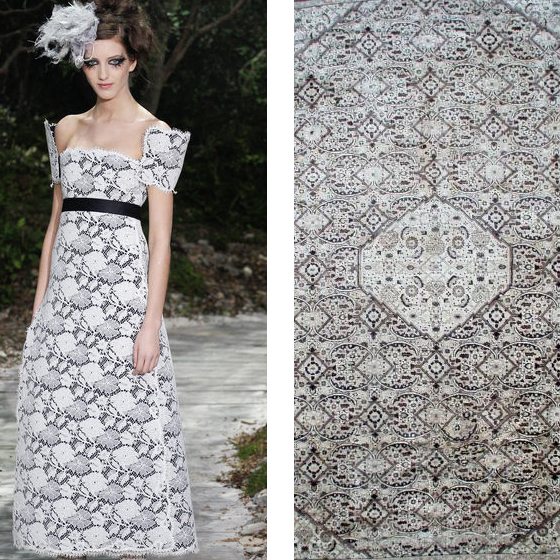 Black and white is a timeless combination that oozes of class and sophistication. That is very indicative of both this CHANEL floor length beauty (pictured above, left) and the antique Persian Tabriz carpet (pictured above, right).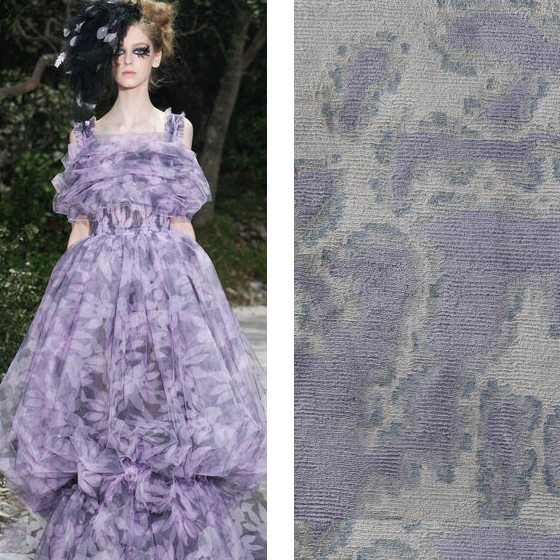 This lovely Cloud Lilac rug (pictured above, right) is light and ethereal, with a dose of femininity. It's couture counterpart (pictured above, left) also embodies these notions through a similar pattern, color scheme, and unique textures.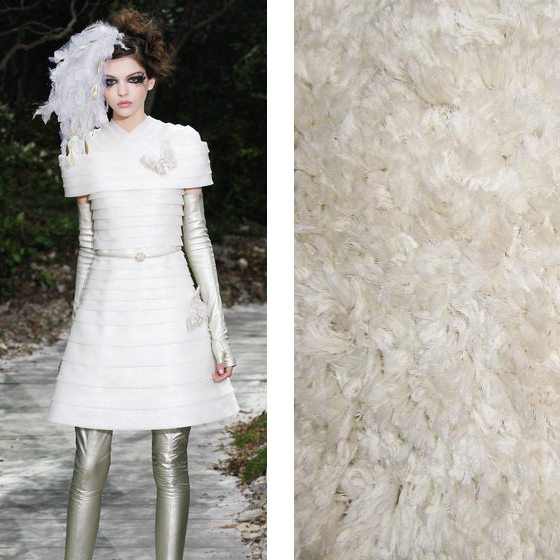 And last but not least, is the edgy + classy use of the absence of color. White often portrays class and sophistication within the fashion realm. That has also carried over into the interior + rug design industry as well. The CHANEL ensemble (pictured above, left) screams modern and fashion-forward, while still embodying the signature classy stamp of the CHANEL brand. The white silk shaggy rug (pictured above, right) also shows edge through texture, yet remains classy because of the simplicity in it's pure white color.
Much like the timeless sophistication of the CHANEL brand, Doris Leslie Blau offers a wide range of rugs that can add class, sophistication, and edge to your living space, whether it be an every-day or couture area of your home or business.