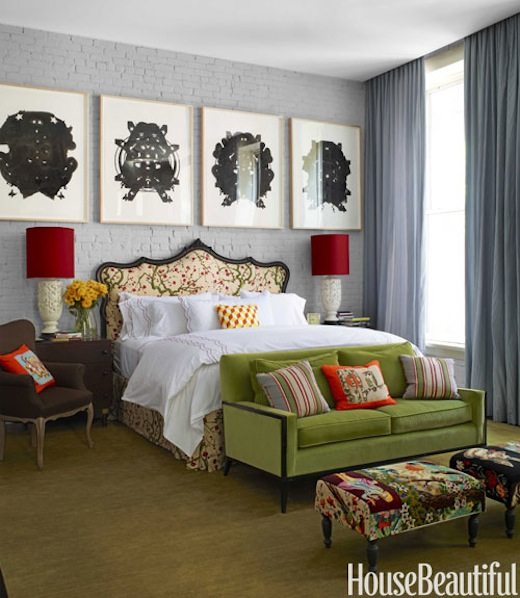 There is a new design trend popping up in home decor.  Ever since Jay-Z Decoded was released in 2010, the famous Andy Warhol rorschach print that decorated the book's cover is now popping up in the world of fashion and home decor.  In fact, abstract rorschach prints, or ink blots, are suddenly appearing in home decor as art prints, paintings, and are even being featured on today's hottest wallpaper, pillow and rug designs.  The unconventional rorschach designs have a unique appeal that's hard to pin down.  Maybe that's because we all see something different when we look at them! Each design presents us with a dazzling array of attention-grabbing shapes that are both organic and intriguing.  And as the trend develops, we're starting to see these mesmerizing designs in the homes of today's top designers, and bloggers.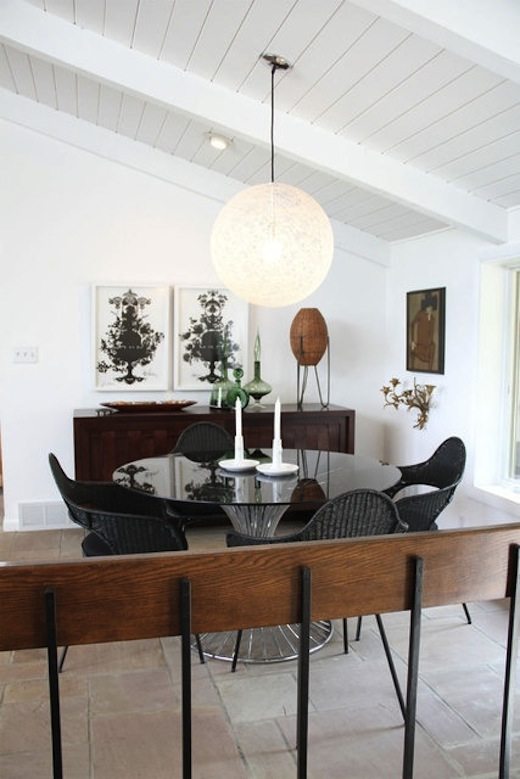 Textile designer Amy Butler is known for her beautiful prints.  Her love of intricate patterns is just as apparent in her home where innovative prints continue to hold a special place.  Here, rorschach prints make an appearance as framed art above Butler's buffet.  Classic in clean black and white, they are quite sophisticated works of art.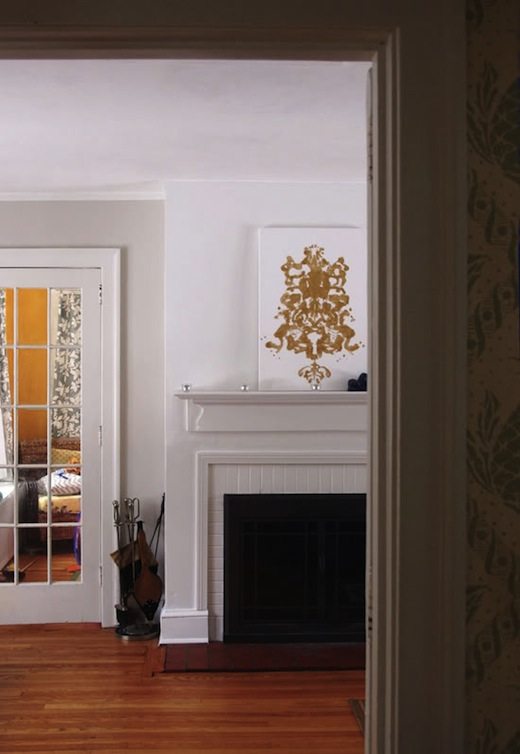 This homeowner was so inspired by the cover of Jay-Z Decoded, that she took some DIY ingenuity to recreate the rorschach print for her own home using Andy Warhol Rugs.  Positioned above the fireplace mantel, the painting is a stunning statement piece.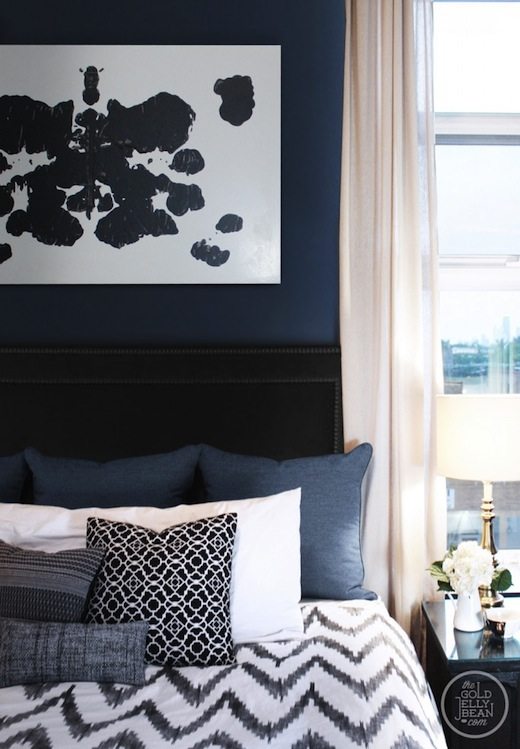 And Shaleah from the home decor blog, The Gold Jellybean, also decided to test her DIY skills to create a rorschach print to hang above the bed in her master bedroom.  The ink blot painting has been used to tie together the room's ultra-modern black and white color palette.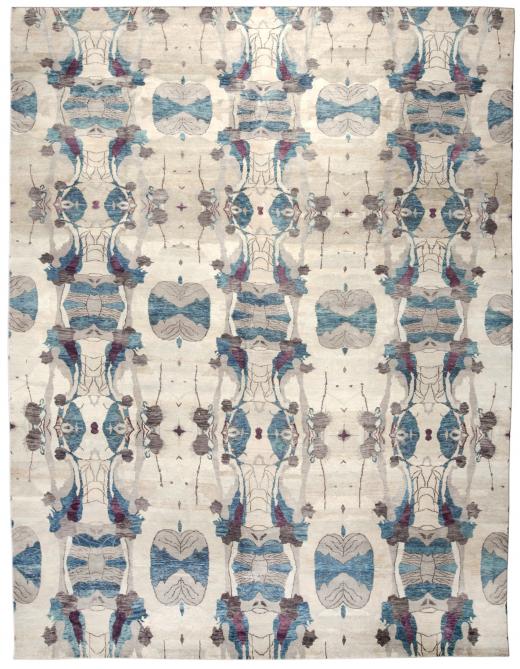 In the world of textiles, rorschach prints can take center stage as beautiful rugs in interiors.  Eskayel's collection for Doris Leslie Blau features the company's famed rorschach prints as rugs that create they eye-catching patterns that these ink blot prints are known for.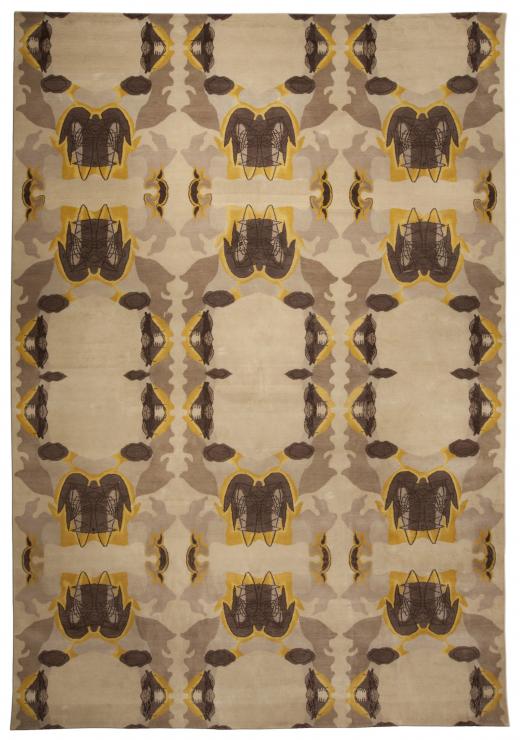 Though the classic ink-blot test is a strictly black and white affair, what make these prints so perfect for textiles is the variety of colors that can be used to create a stunning artistic statement.  Best of all the effect is the same whether you choose to decorate your walls or your floors. Here, this rug in yellow and gray takes the ink blot concept to a whole new level in vivid color.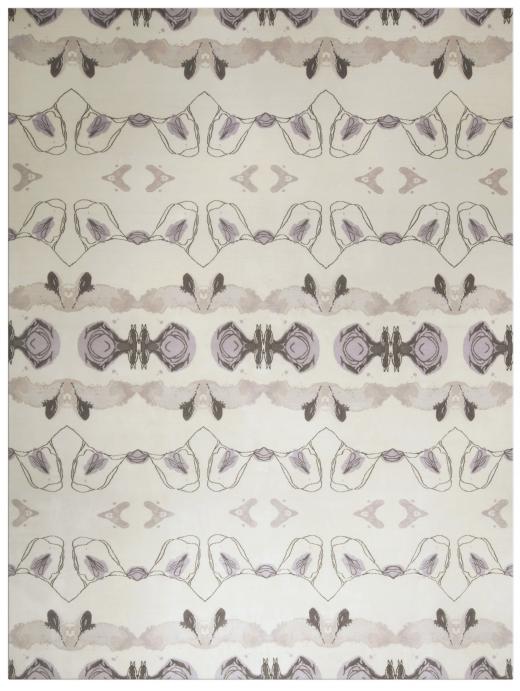 Even in a more neutral palette, each rug offers soft and distinctive designs that are sure to enliven any room that they are placed in.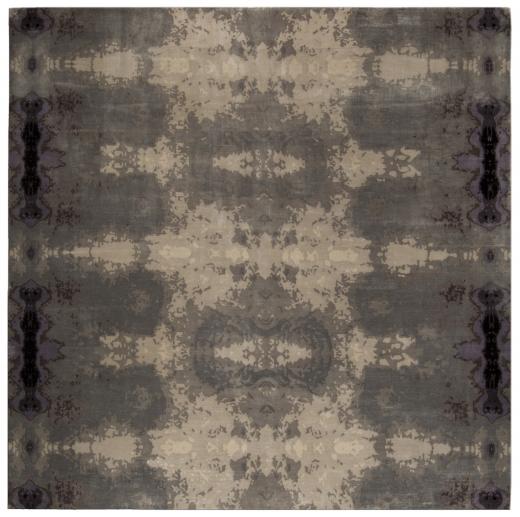 Explore the rorschach trend for yourself and dazzling ink blot designs inside the Doris Leslie Blau Eskayel Rug Collection > (https://www.dorisleslieblau.com/eskayel-rugs/)
By Jeanine Hays (http://www.aphrochicshop.com/)