Not only the Internet is a powerful source of information on various subjects. Different books cover the specific brand of knowledge more thoroughly and hopefully they won't go out of date over the course of time, being superseded by the Internet completely. There are plenty of good books on rugs, which should be known for every carpet lover.
If you are fascinated by the mastery of kilims check out KILIM: The Complete Guide written by Alastair Hull and Jose Luczyc-Wyhowska. It was published in 1993, so quite a long time ago, but it's still considered a comprehensive study as far as flat-weaves are concerned. The book is generously illustrated and contains little boxes with adequate descriptions. The authors took all kilim traditions into account, adding the chapter about New Kilims as well. Another asset is the presence of diagrams which contain the types of weaving techniques, designs, motifs and symbols. Moreover, a brief information about regional characteristics of different kilims is given, so that one can easily remember and associate their features. In conclusion, not only is the book recommendable because of its aesthetics but also due to the relevance of descriptions that it contains, providing us with knowledge about history, patterns, techniques, and identification of kilims.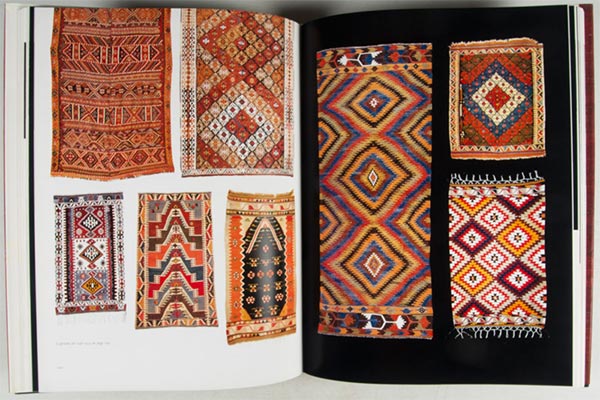 Reading Rugs to Riches: An Insider's Guide to Buying Oriental Rugs by Caroline Bostly can turn out to be useful before buying an Oriental carpet. This publication is full of practical tips on how to choose a handmade Oriental rug. The author is known to have extensive knowledge in the field of carpets, describing their types and origins, as well as pondering over the differences of antique and new rugs. You'll be advised on how to buy a rug for a good price or what should be done to keep it clean and well-maintained. Furthermore, not only does the book include instructions on how to recognize a hand-made rug, but it tells you in what way you can evaluate a carpet's condition. The book is certainly worth reaching for.
Quite recently released (in 2014), Oriental Rugs: An Illustrated Lexicon of Motifs, Material and Origins by Peter F. Stone is a long-awaited publication about oriental carpets. Decorated with plenty of photographs, the book contains the considerable and intelligible explanations of various traditions of carpet making, from Morocco, Turkey, Persia to Central Asia, Afghanistan, Pakistan, China and India. Besides the hand-weaving traditions of the Near East and Central Asia, it also gives some instances of Native American and Scandinavian weavings. The book is not devoid of the linguistic aspect, providing clear definitions of various terms like the names of places, the Oriental rug lexicon and foreign terms. Additional information includes museums with influential rug collections and Internet sites on Oriental carpets. All you need to know about Oriental rugs is there.