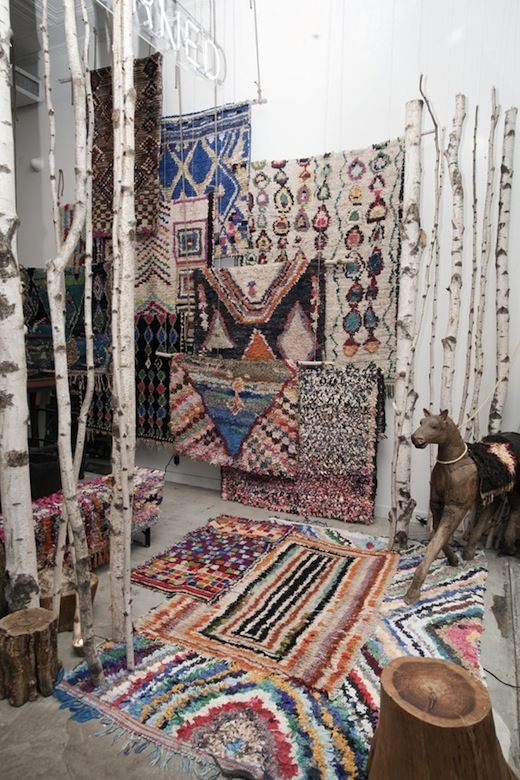 Vivid colors, exotic patterns, hand-woven design – all of these can be found in Morocco's boucherouite rugs.  The "rag rugs", created using scraps of various materials, are perfect for these Spring and Summer months.  Whether hung on the wall or laid on the floor, the boucherouite rug is a bright and colorful home accessory.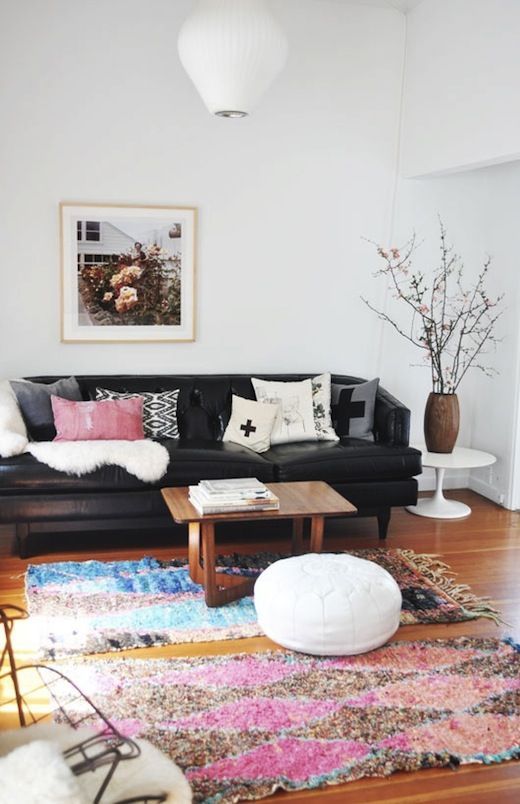 While many rugs from Morocco and the Middle East have histories that are centuries old, the boucherouite rug was developed in the 20th Century.  The time period is likely responsible for the funky patterns, and wild colors that you can see in each design.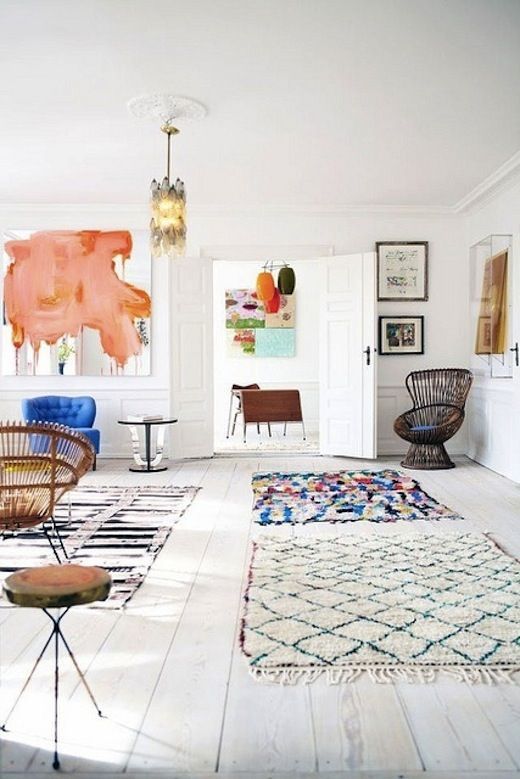 The Apartment, Copenhagen (www.theapartment.dk)
Truly up cycled pieces, the word "boucherouite" comes from the Arabic phrase meaning torn and reused clothing.  Weavers in the Berber culture used a mix of materials to design these fascinating multi-colored creations that are almost too beautiful to walk upon.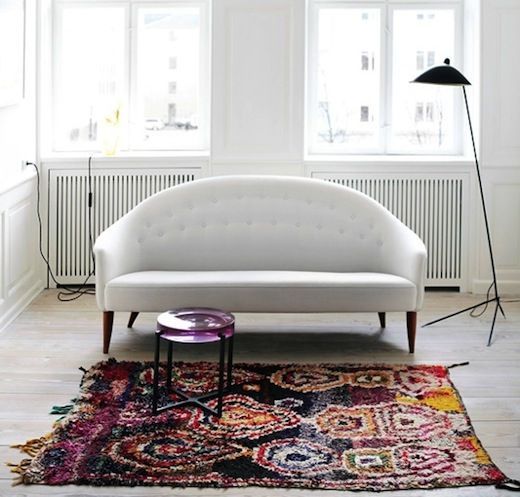 The Apartment, Copenhagen (www.theapartment.dk)
Now, in the 21st Century these patchwork pieces of art are making a comeback.  The fun and eclectic designs add color and whimsy to modern white spaces, and are a complement to colorful interiors.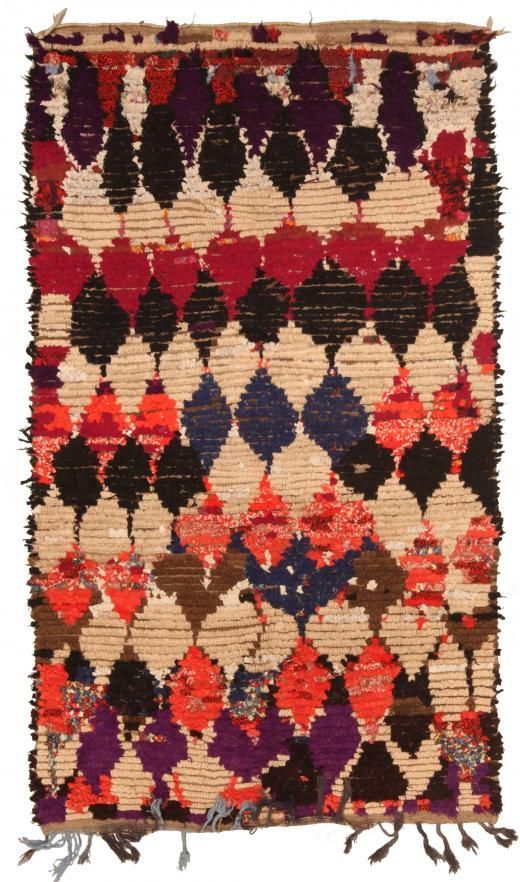 One of the most spectacular things about boucherouite rugs is the variety of colors that can be found in each piece.  Here, ruby red, coral, navy blue and brown all come together to form a colorful design.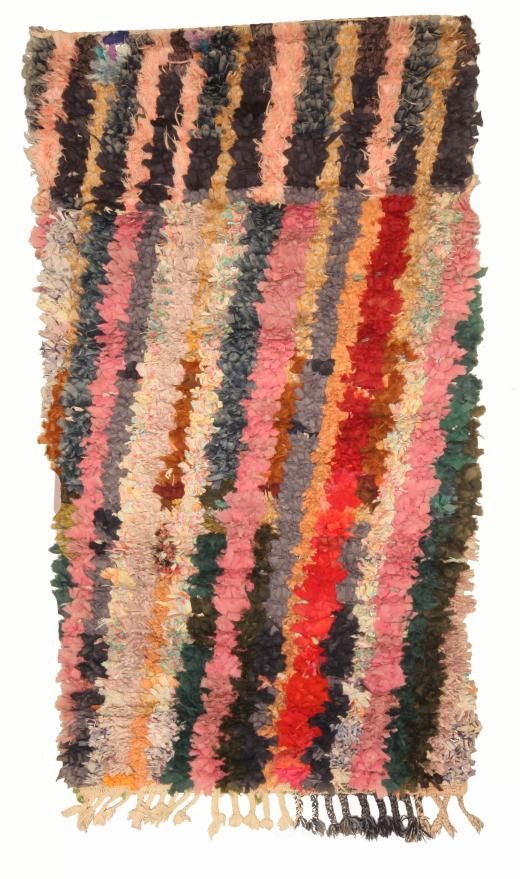 You can discover these carpets in a variety of unique patterns.  The slanted stripe design here adds interest as the various colors come together.  Choose a boucherouite with a one-of-a-kind pattern to create a statement in a space.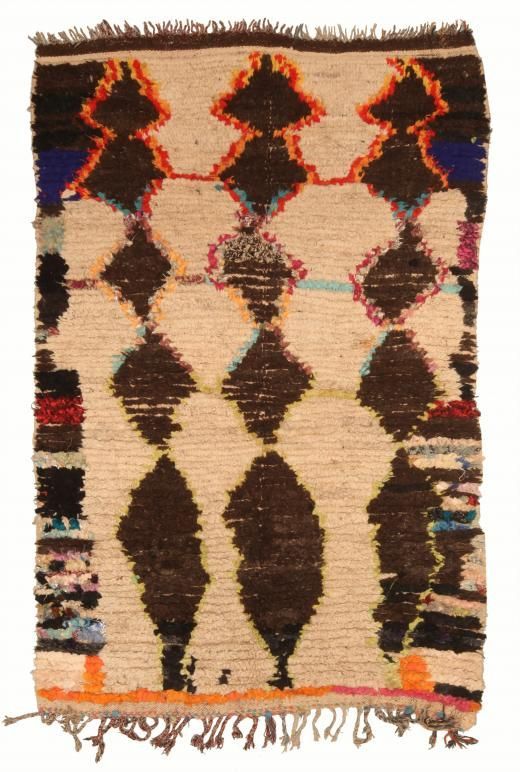 These carpets are nothing if not graphic.  Geometric shapes like diamonds and stripes can be found in many boucherouite rugs.  Look for shapely geometrics that are absolutely on trend in interior design.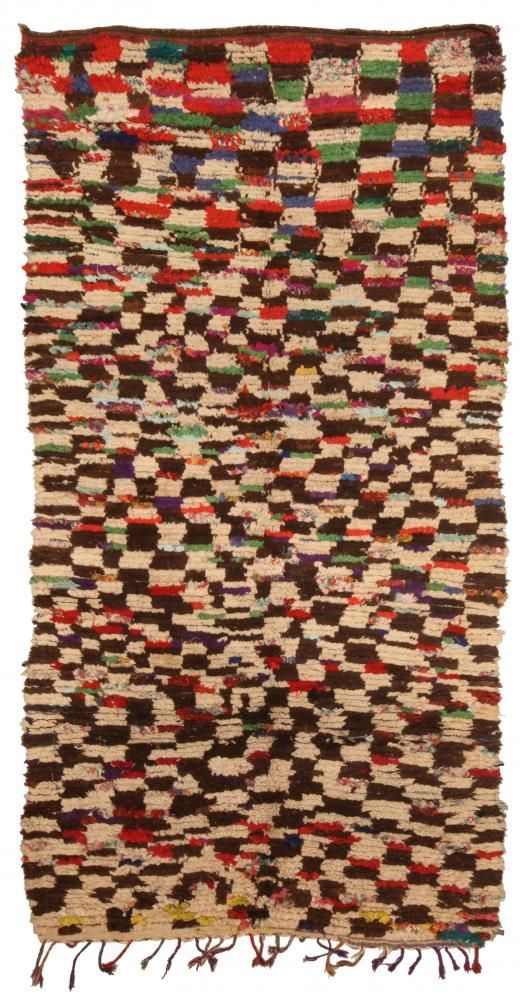 Though intended for the floor, these intricately created rugs are fun and fashionable works of art.  If you don't feel like walking on it, mount your boucherouite rug on the wall for a cool artistic feature.  You can even layer one behind the bed and create a one-of-a-kind headboard.
By Jeanine Hays (www.aphrochicshop.com)