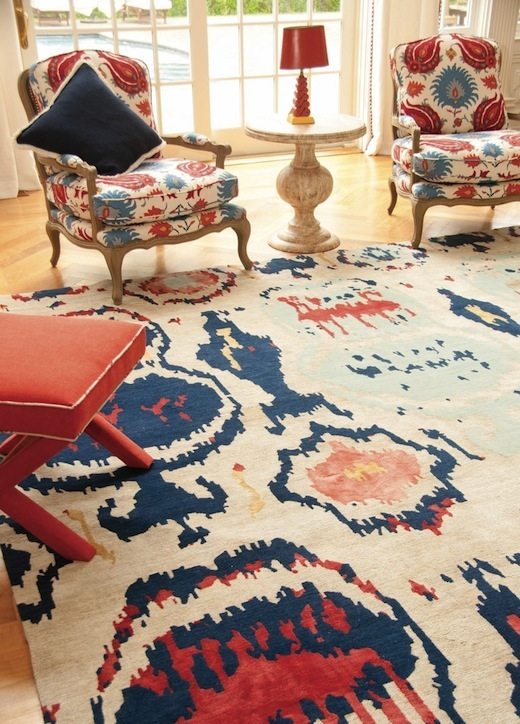 The love of Ikat patterns in home decor continues.  The tie-dye-esque designs are popular among today's interior designers and design-lovers alike.  The appealing mix of colors, organic patterns, and cultural references is giving any room with Ikat a splash of bright and vibrant global design.  While Ikat continues to reign supreme in smaller home accessories like cushions and trays, the colorful patterns are also making their way to flooring.  Beautiful ikat carpets are a wonderful way to make a large graphic statement, and can even be the basis for an interior's color palette.  Here are a few of my favorite ways to bring ikat rugs into a room.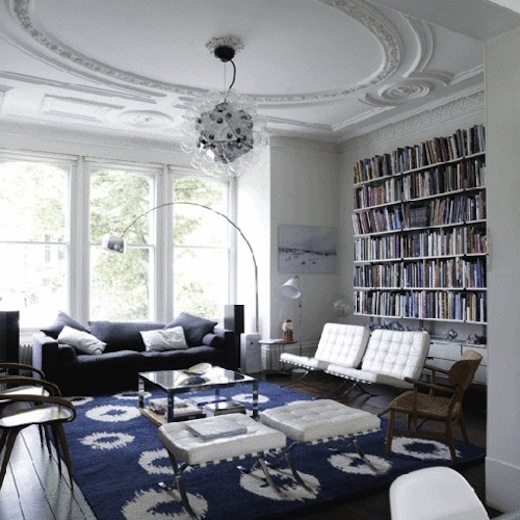 A simple navy and white ikat rug makes quite an impact in this neutral living room.  The  pattern is just enough to add interest to the room's decor.  Look for ikat patterns in classic color palettes, like navy and white to add the pattern without overwhelming the space.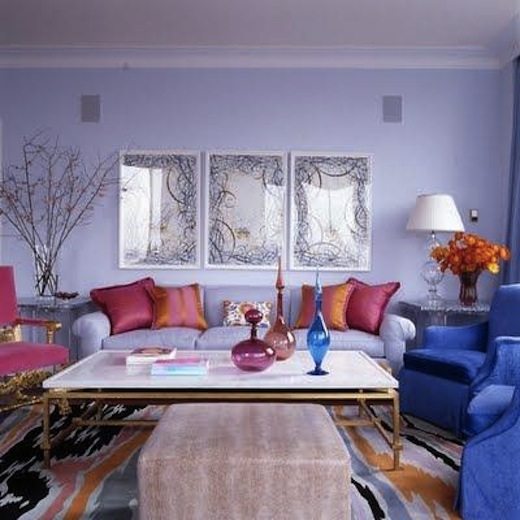 In this vibrant room filled with purple, pink and orange accents, it is the ikat flooring that brings the space together.  Every hue in the interior can be found in the rug's colorful design.  Look for an ikat rug with a range of colors that you can build your room's entire color palette upon.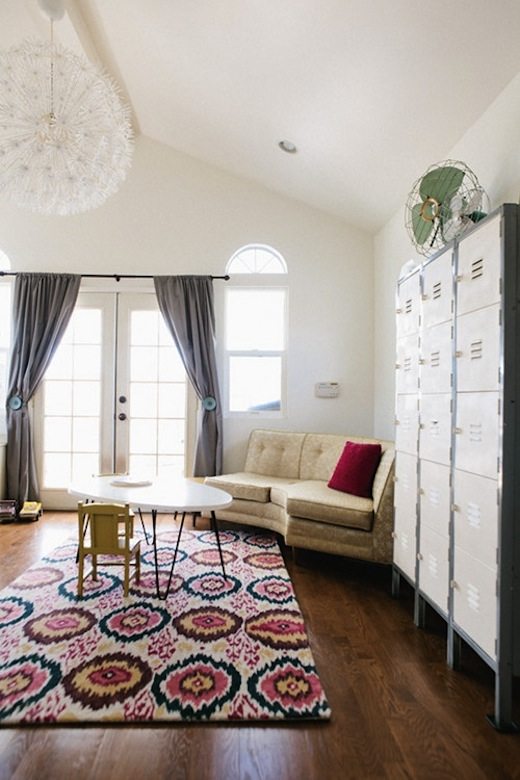 In this adorable seating area, the ikat rug is used to bring the room's various floral elements together.  The rug looks like a bouquet of flowers, and mimics the floral chandelier, and floral brocade on the sofa.  Look for ikat pieces that can tie into the theme of a room.  Florals, chevrons, or even strong hues like yellow and purple can be brought to life with a unique ikat rug.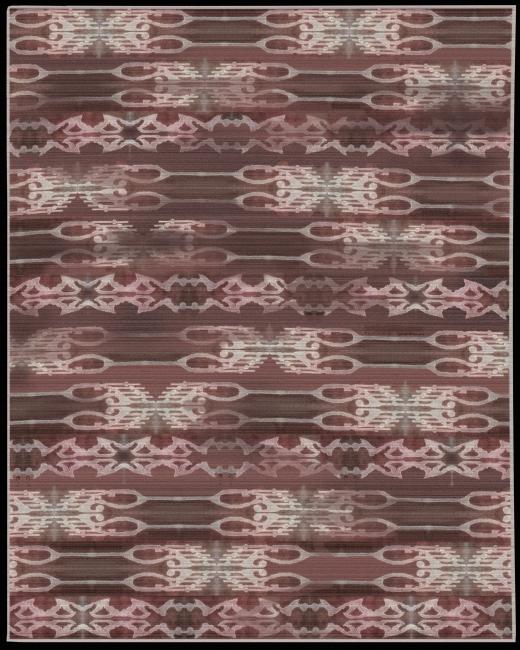 This purple ikat rug has bits of white and gray present in the design.  It can be the perfect complement to a room's color palette in the same sophisticated hues.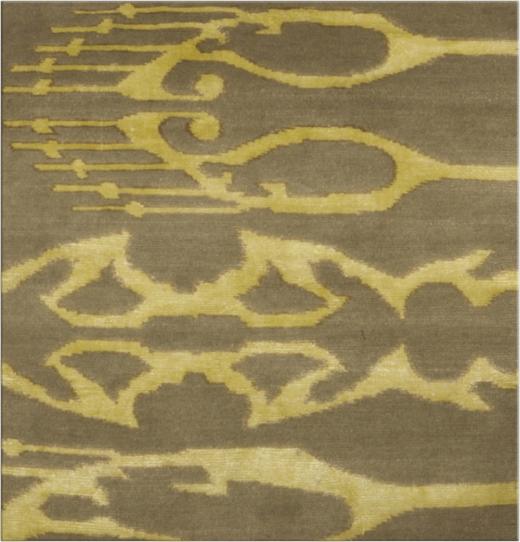 A bright and sunny yellow looks perfect on this ikat rug.  Brighten your space with an ikat piece like this one that comes in upbeat colorway.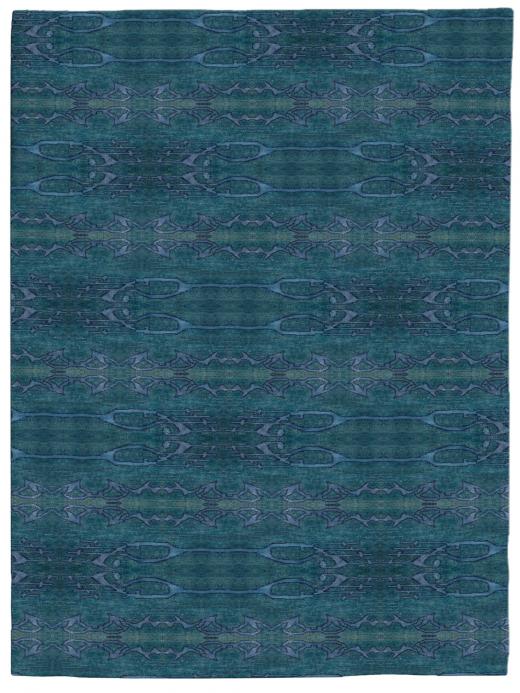 So many shades of blue exist in this one ikat rug that goes from aqua, to teal, to navy.  A rug like this would look perfect in an otherwise neutral space.  Us it to add both color and pattern to a room.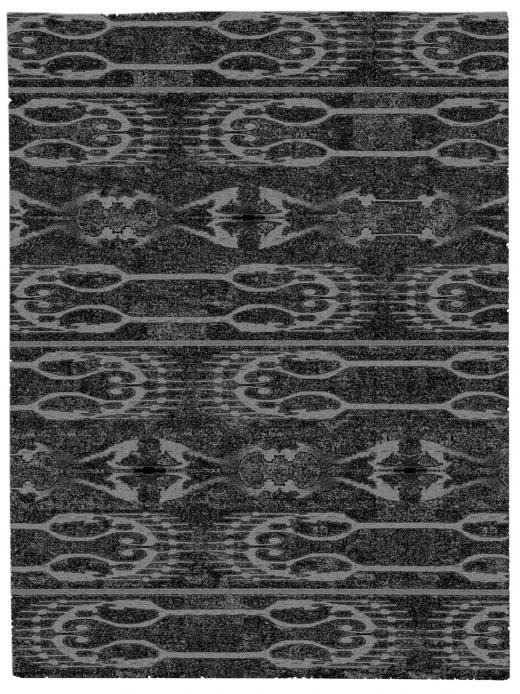 Go graphic with an ikat rug in a dark shade.  This one in graphite and gray will do the trick, and it is sure to add a sumptuous element.
Explore a range of colorful ikat carpets and samples at Doris Leslie Blau.