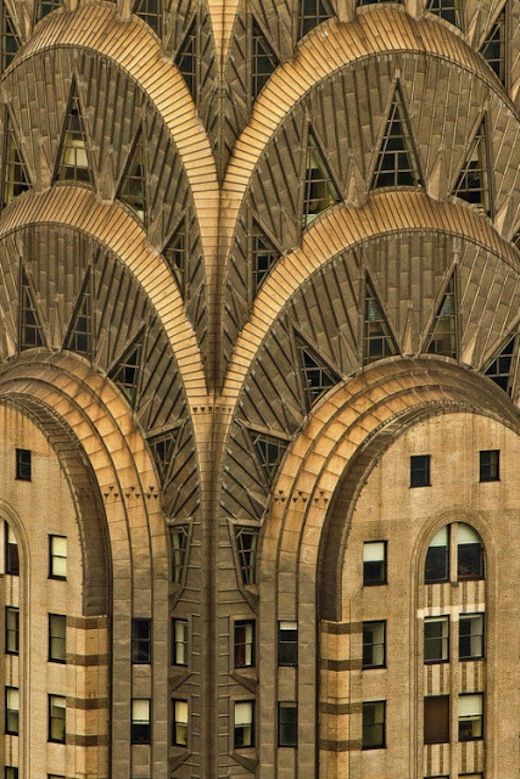 In just a few days, Hollywood will be releasing The Great Gatsby.  The film starring Leonardo DiCaprio and Carey Mulligan is an adaptation of F. Scott Fitzgerald's classic novel written in 1925.  A celebration of the jazz-era style of the 20s and 30s, The Great Gatsby promises to be filled with beautiful Art Deco style.  From the fashions to the architecture and interiors, at every turn we can expect to see the geometric forms and bold outlines that Art Deco is known for.  Once an exposition of the modernist decorative style that emerged in Paris in 1925, the glamorous style featuring luxe palettes of black and gold and cool zigzag designs can still be spotted in the skyline architecture of cities like New York, Chicago and Detroit.  Art Deco is making a comeback in 21st Century design, and you can discover it in a number of home accessories including the luxurious Art Deco carpets that are just waiting to bring a bit of 1920s glamour to your home.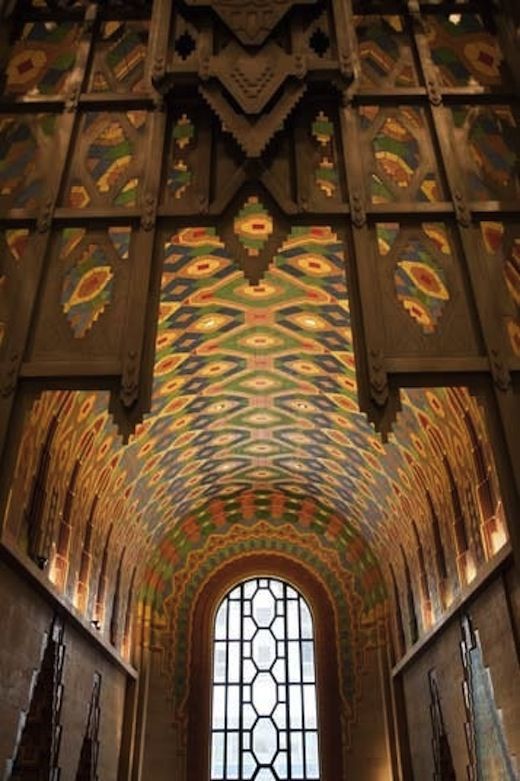 Known as the "Cathedral of Finance", the Guardian Building in Detroit showcases the beauty of Art Deco design.  Geometric patterns in striking primary hues were painted on the building's ceiling to create a stunning cathedral effect.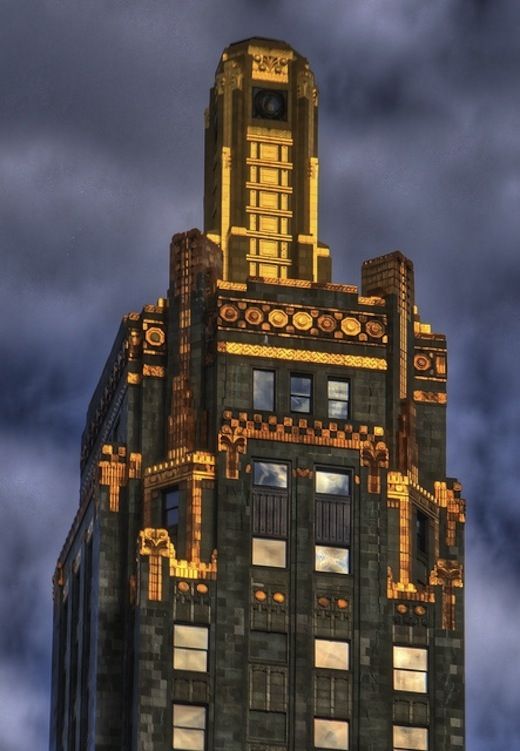 Art Deco isn't shy when it comes to luxury.  This building in black and gold, like the Empire State Building and the Chrysler in New York, is a monument to the time when this architectural style was supreme.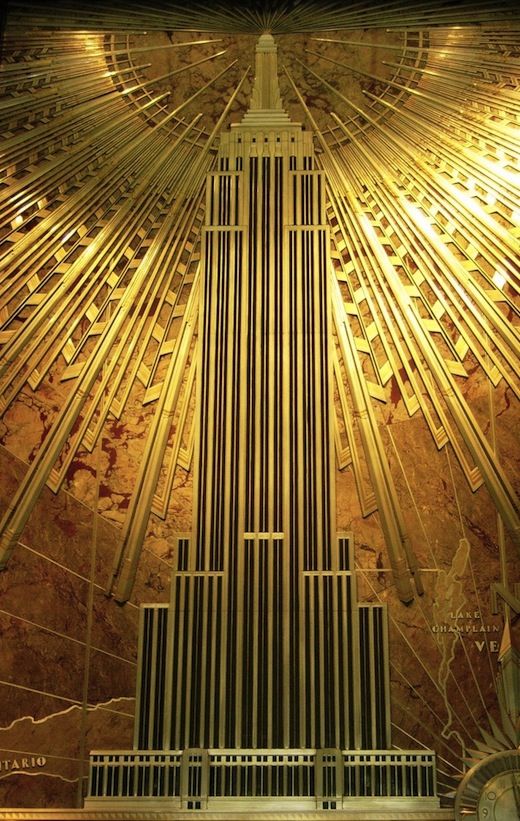 Inside the EmpireStateBuilding a brass mural features many of the geometric lines you can expect to see in Art Deco design.  Rectangles upon rectangles make up the body of the building, and a mix of linear and zigzag shapes completes the mural's design.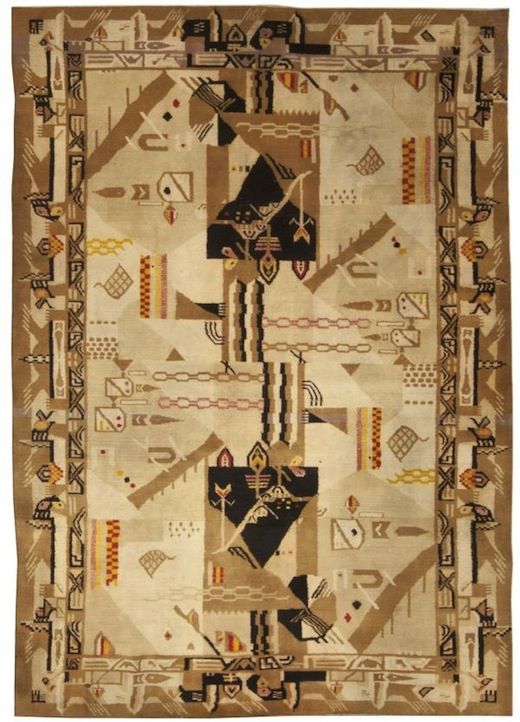 This abstract rug features the beautiful geometric lines that Art Deco design is known for.  In a neutral color palette the mix of shapes doesn't overwhelm the rug's design, but instead enhances it.  Pair a rug like this with linear black furnishings to create a strong Art Deco statement.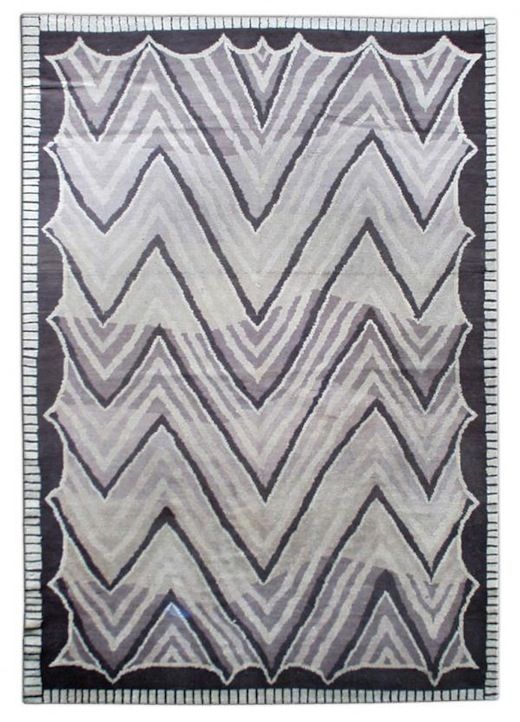 This rug was actually made in the 1920s when Art Deco style was on the rise.  The wavy gray chevron pattern was a popular design at the time, and still fits within today's design trends.  A striped border adds even more geometric detail.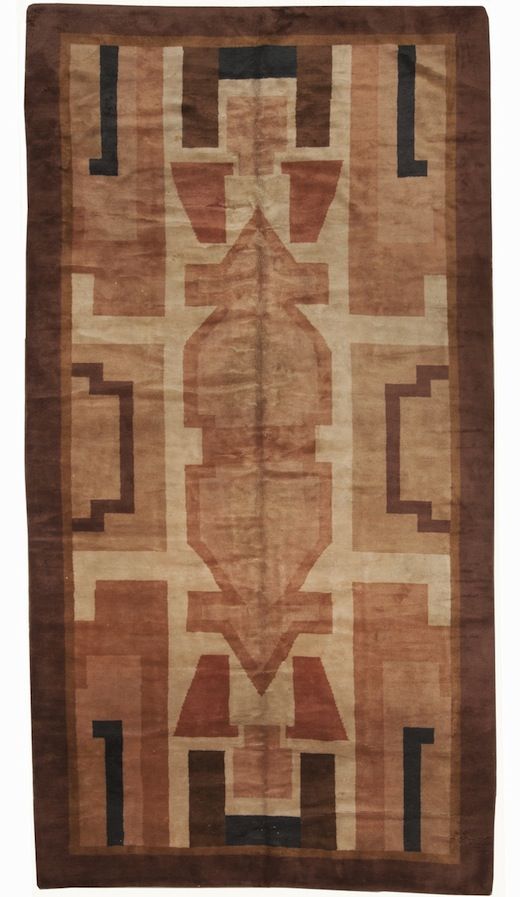 Art Deco style was first spotted in Paris.  This French Deco Rug shows the beauty of the design that was coming out of France at the time.  A mix of cool shapes creates an attention grabbing-rug in soft hues of brown and ivory.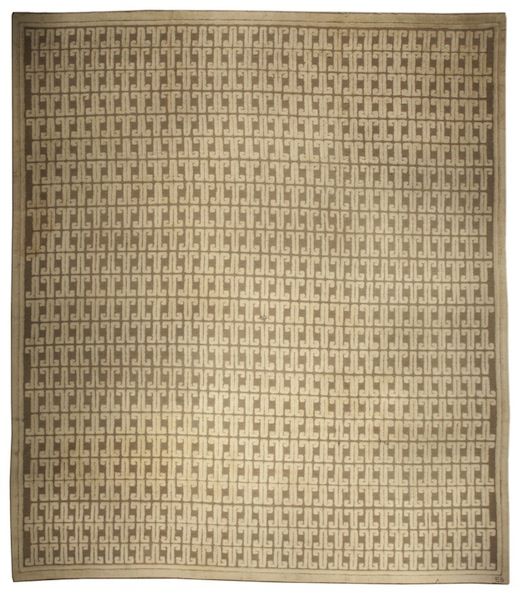 The geometric motif on this Swedish rug is a subtle showcase of Art Deco design.  In more subdued tones, the strong graphic lines stand out in this neutral rug design.
Explore the beauty of Art Deco style by taking a look at the Art Deco rug collection at Doris Leslie Blau > (https://www.dorisleslieblau.com/deco-rugs/)
By Jeanine Hays (www.aphrochicshop.com)