Most people have strong opinions about animal prints in home décor — they either love or loathe them. Some nay-sayers spurn animal patterns because think they're all garish. Most of us would never dream of using real animal skins for decorating, but their patterns continue to enchant, lending an air excitement to modern-day interiors. While some designs, like zebra, are inherently graphic and bold, big cat patterns, such as leopard, tiger and cheetah are much more malleable.
Here's how to introduce patterns inspired by big cats into any décor style.
Contemporary spaces
This leopard pattern on the armchair and throw pillows is the main pattern in this uber-contemporary living room by designer Eileen Kathryn Boyd. Its neutral color also offers a tame reprieve from the sherbet-hued palette.
Traditional spaces
The conventional area rug for a formal living space would more likely be an intricate Persian versus a cheetah pattern. But this sitting room still retains its classic vibe and the cheetah rug design adds soft, organic, textural pattern without overwhelming the space with a busy, geometric design.
Eclectic spaces
Kitty prints aren't off limits in kitchens, either. The boldly painted cheetah print on this table base can stand up to the medley bright colors in this wild eating area.
Masculine spaces
Big cat patterns intensify masculine spaces, especially when the color is natural, like the example on this chair back. The tiger print combined with the dark stained trim and indigo walls looks handsome and clubby.
Feminine spaces
While natural-colored cat patterns tend to look masculine, lighter-hued and tone-on-tone designs tend to feel more feminine and relaxed. This tiger patterned wall-to-wall carpet is made of wool and silk, perfect for a ladies dressing room.
Cat pattern considerations:
If you're thinking about introducing a little leopard, tiger or cheetah in your home decor, here are some points to consider:
The Stripy effect
The patterning on most animals, cats included, is variegated to help them blend into their surroundings. When transferred to décor items, like fabrics and rugs, the animal pattern can often read like stripes when used on larger pieces.
While the stripy variation makes the design even more beautiful, you want to be aware how it will translate your piece or rug. It may positively or negatively impact the look you're trying to achieve.
If you don't like the way stripes can form, look for simple designs in two colors, like this  custom leopard patterned carpet below in ivory and gray from Doris Leslie Blau.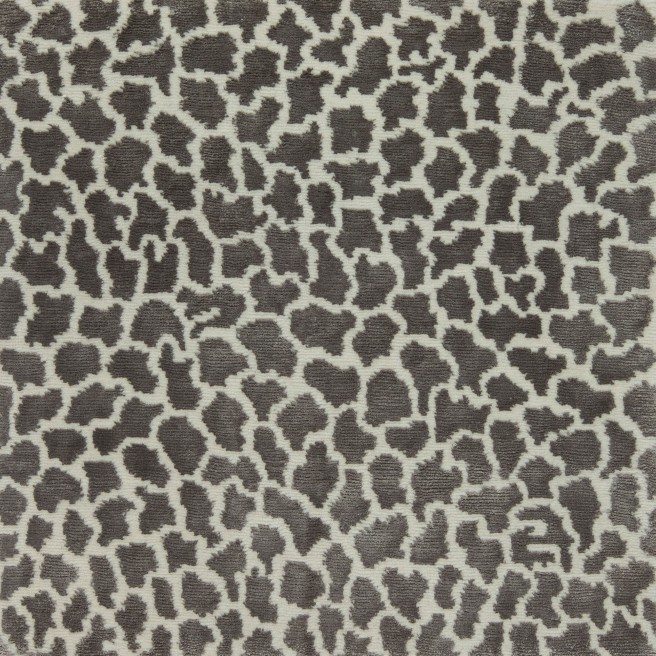 Scale
Make sure the scale, or size, of the cat pattern is appropriate for the accessory, furniture piece or surface you're considering. These kitchen cabinets and walls are covered in a small tone-on-tone leopard print that almost looks textural. If it were oversized, the pattern could look cartoonish and possibly disorienting.
Color
Cat patterns in non-traditional colors, like the red shown here, offer a more contemporary look. It's also an easy way to introduce a cat pattern into almost any color scheme without relying on neutrals.
—————————————————————————————————————
Karen Egly-Thompson is a former interior designer turned interiors writer. She writes regularly for Houzz and her work has appeared in publications such as Porthole Cruise Magazine, Commercial Interior Design. Her blog Design Salad focuses on traditional design in contemporary context.