"Diamonds are a Girl's Best Friend" is a phrase in mainstream culture that was popularized by Marilyn Monroe in the 1955 movie Gentlemen Prefer Blondes.
While diamonds are considered the ideal token of romantic love – beautiful, durable and everlasting — there are other ways to show off the brilliance of this gem other than ring finger bling. Diamonds can make a shining statement in your home, too. We're not talking about anything gem-studded here, but rather the pattern itself. A diamond pattern, also known as a harlequin design, has one décor benefit: it elongates.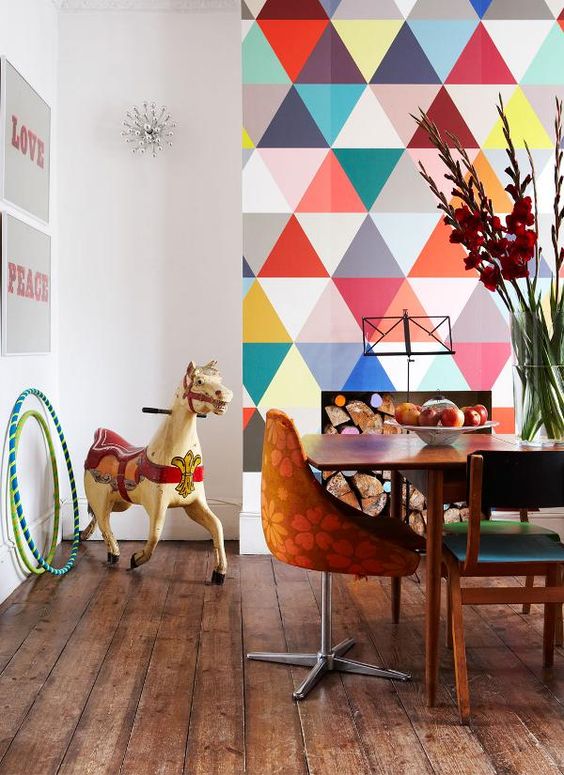 Diamond patterns can make spaces appear larger. Unlike stripes, which offer similar attributes, diamond patterns are typically lighter in appearance and less bold, so the design is a good in-between for pattern-timid folks.
If you're dreaming about the diamond life, here are six multi-faceted ways to enhance your home décor with a diamond pattern.
1. Wallcovering
This bedroom wallpaper mixes the best of both worlds by mixing a stripe with a diamond pattern. The delicate lines of the diamond pattern tones down the graphic lines of the stripe, and together, make the ceiling height appear taller than it really is.
Diamonds come in all shapes, sizes, and colors, so don't think you're limited to a flat, two-dimensional rendition. This wallpaper by Cole & Son is an abstract take that appears to embrace all the different facets of gems.
2. Quilted fabric
Using fabrics quilted with a diamond pattern tends to be a more subtle approach. Make sure the scale is appropriate for the piece it's intended to for.  The scale can vary from very small and almost textural to larger-sized diamonds, like the example shown here on these wing chairs.
3. Tufted upholstery
Diamond-shaped tufts in upholstery rely on how the light plays with the hills and valleys created by pulling the fabric taut. Tufting should be used sparingly on a focal piece or two, like this headboard.
Having perfect balance and the right scale to complement the shape of the piece are especially important with tufted pieces. The fabric itself can make a huge impact. Velvets are especially popular for tufting because not only for their heavy weight but because the nap of the fabric enhances the rhythmic change in volume.
4. Tile
Compared to conventional square or subway tile, diamond-shaped tile is delightfully outside-the-box. With the shape's lengthening effect, it can do wonders to visually enlarge a small powder room, for example. You don't need to go floor-to-ceiling with the installation to reap its benefits. Here, it's installed partial-height as a wainscoting.
5. Area rugs
Area rugs with a diamond pattern are an easy "blending" rug. They work equally well in traditional, formal spaces as in contemporary spaces, and their patterns don't usually come across as too visually busy.
In this example, the diamond pattern draws your eye into the space, and narrower side of the diamond design creates the appearance of  additional width. Had this area rug been a solid color, the room would feel slim and more constrained.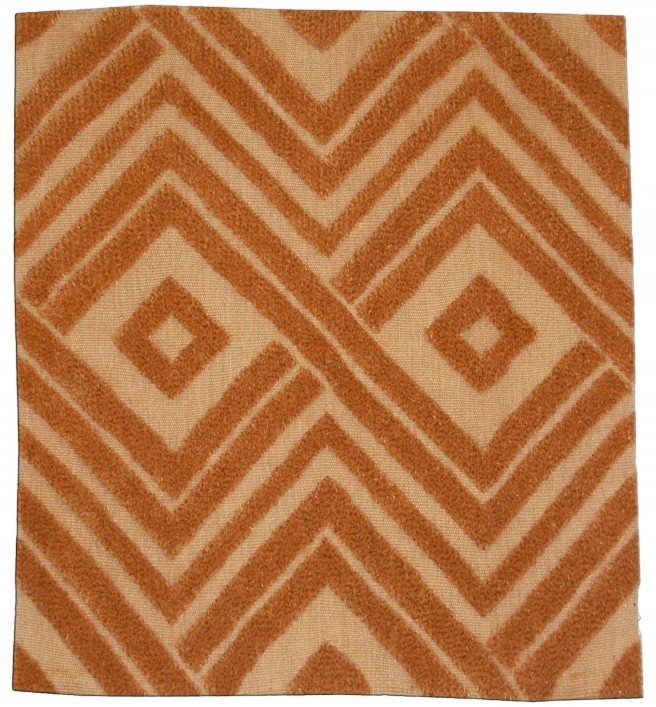 This custom rug, appropriately named "Diamonds"  from Doris Leslie Blau has a similar look and its high-low construction offers additional textural appeal.
Here's another variation on the diamond pattern — a central motif with concentric diamonds radiating from it.
6. Lighting
More sculptural, the diamond-shaped structure of these pendant light fixtures will command attention from different angles.
—————————————————————————————————————
Karen Egly-Thompson is a former interior designer turned interiors writer. She writes regularly for Houzz and her work has appeared in publications such as Porthole Cruise Magazine, Commercial Interior Design. Her blog Design Salad focuses on traditional design in contemporary context.