There's a saying that "everything old is new again", and it's true. Look at blue jeans styles, tie widths and even bicycle styles. Design is forever growing but also continuously recycling itself.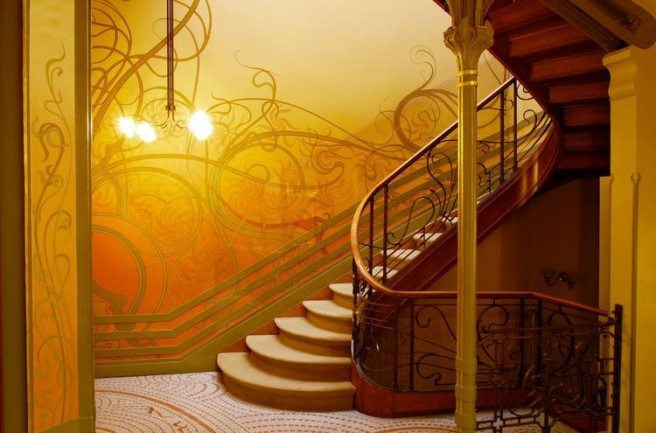 One style that looks to be experiencing a resurgence is Art Nouveau. Literally meaning "new art", the style was popular from 1890 to 1914 and was fueled by experimentation with new materials, like bendable metal and glass. Shown above, Hotel Tassel, designed in 1894 by Victor Horta, is considered one of the finest examples of Art Nouveau style architecture. The movement sought to incorporate its design in entire spaces, from the architecture to the wall finishes to furniture and even door handles.
Drawing inspiration from nature, the Art Nouveau style is characterized by fresh curvilinear, free-flowing forms and contours. Although the popularity of Art Nouveau waned by the start of WWI, its sinuous, natural designs are still sought out today. Venerable patterns are still reproduced while others are re-interpreted and updated to appeal to today's design market.
Here's five ways Art Nouveau style can find its way into your space, from vintage finds to contemporary re-takes.
1. Woodwork
This gorgeous Art Nouveau style fireplace isn't a hundred years old, but rather the custom design of Caroline Beaupere. Made out of mahogany for a New York apartment, the striking piece almost takes your breath away.
More beautiful than a standard drywall or plaster, this delicately carved Art Nouveau style header blends effortlessly with the otherwise sleek, modern home design.
2. Stained glass windows
Meanwhile, this slim powder room takes the tenet of Art Nouveau to heart by integrating a curvy tendril-like pattern in a stained glass window. As a bonus, the design is repeated on the floor, made from hand-cut Thassos marble and limestone.
3. Walls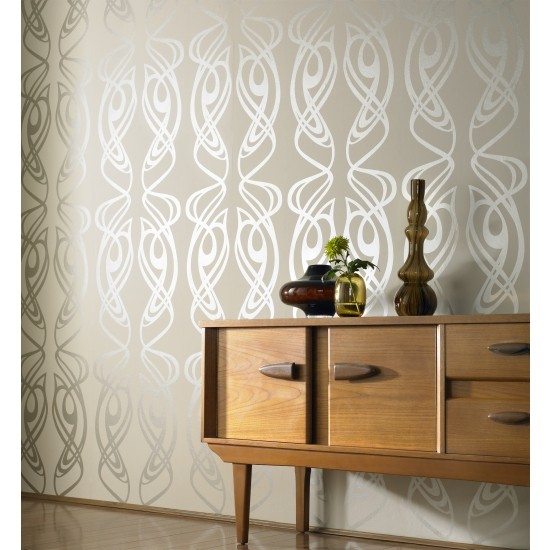 This swoon-worthy tone-on-tone wallpaper is a sleek pattern in an iridescent sheen.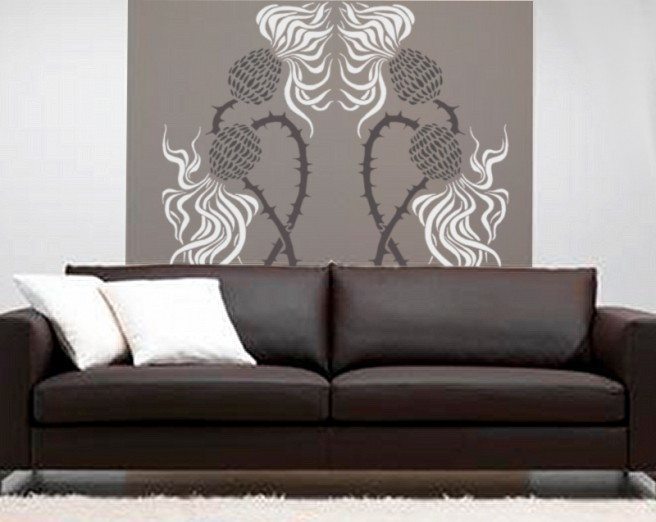 If you're more of a paint person, Olive Leaf Stencils makes several Art Nouveau style wall stencils, among other patterns. The advantage of a stencil is you can use any colors you desire and re-use it.  No matter what hues you choose, the final product will be graphic and delightfully bold, like the example behind this sofa.
4. Tile fireplaces and backsplashes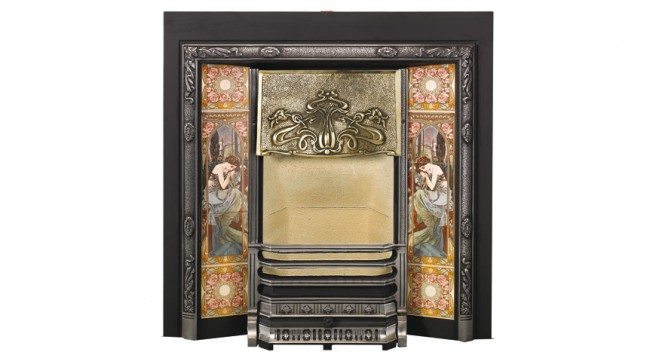 Believe it or not, this is a new fireplace developed to fit in chimney openings of modern homes. The tile surround option was designed by Czech Art Nouveau painter and artist Alphonse Mucha.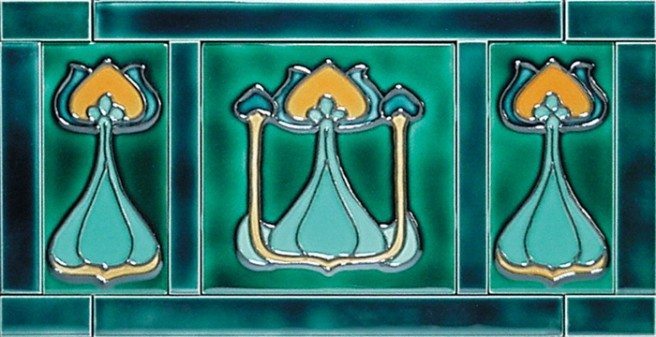 You can find vintage Art Nouveau art tiles at specialty shops and sometimes antique shops. However, a number of tile manufacturers make them new. This is a new three-piece floral tile set from DuQuella Tile & Clayworks.
5. Area rugs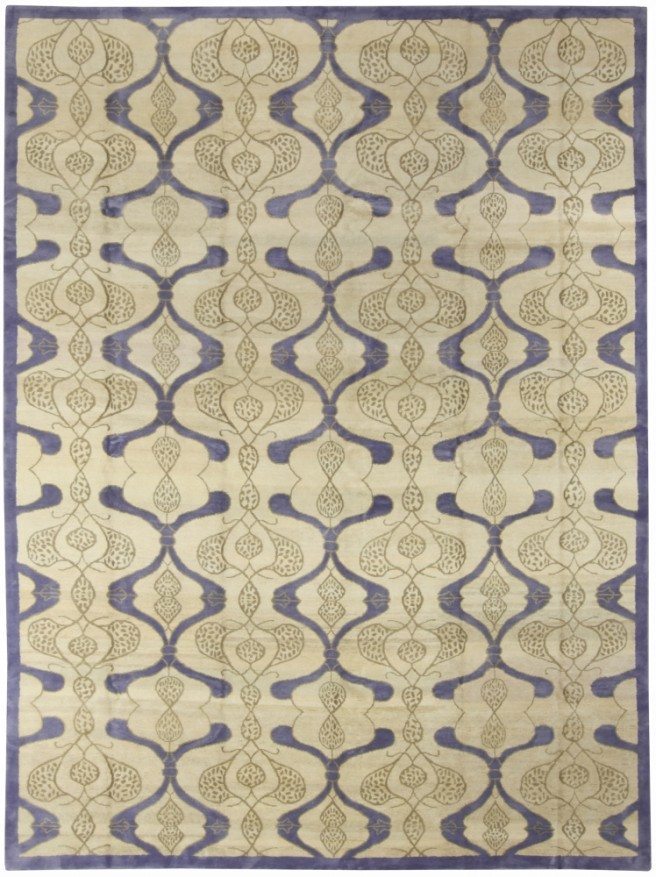 Design doyenne Bunny Williams designed this rug, Taj, exclusively for Doris Leslie Blau. Its curvilinear, organic pattern nods towards Art Nouveau with hints of Asian design. Taj is also available in a brown colorway.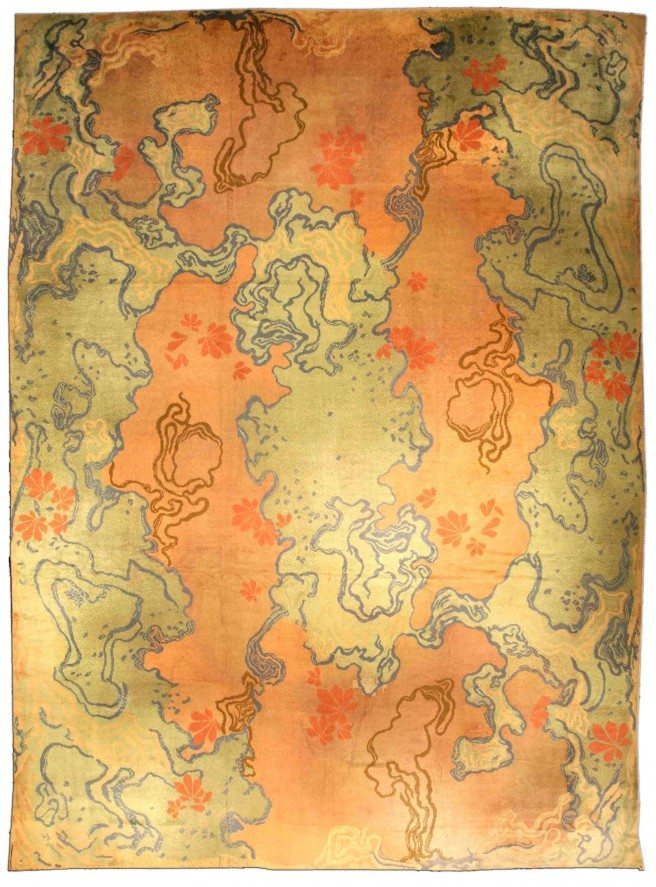 Woven in Vienna in 1910, this rug is the real deal. While employing Art Nouveau's typical swirly lines, this example is also unusual in that the pattern isn't stylized or balanced. Described as liquid-like, it mixes beautiful hues of salmon, green and blue, punctuated by bright orange flowers.
—————————————————————————————————————-
Karen Egly-Thompson is a former interior designer turned interiors writer. She writes regularly for Houzz and her work has appeared in publications such as Commercial Interior Design and Middle East Architect. Her blog Design Salad focuses on traditional design in contemporary context. A seeker of ideal coastal weather, Karen calls both Dubai and Maine home.