What do Middle Eastern screens, French vine grillwork, Elsie de Wolfe and Dorothy Draper all have in common? The comparison might not be immediately obvious, but I'll give you a hint…it's the chic go-to design pattern you've seen woven into most interior design schemes as of late..the trellis pattern!
via Tobi Fairley Interior Design
Here's some background on this venerable pattern and some different, cutting edge ways you can weave a trellis design into your home.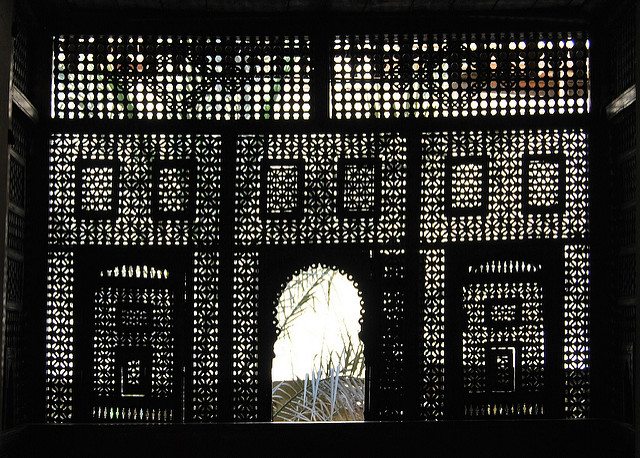 Mashrabiya
Also known as lattice and fretwork, the trellis pattern has roots that stretch back much further than you might think, all the way to the 12th century. Decorative geometric screens called mashrabiya were used on the exterior of buildings to shade the interior from harsh sun rays, provide privacy and air circulation. Designs were based on Islamic geometric patterns. This a view looking from the interior to a street in old Cairo. Mashrabiya is still popular today and has made its way into the interior.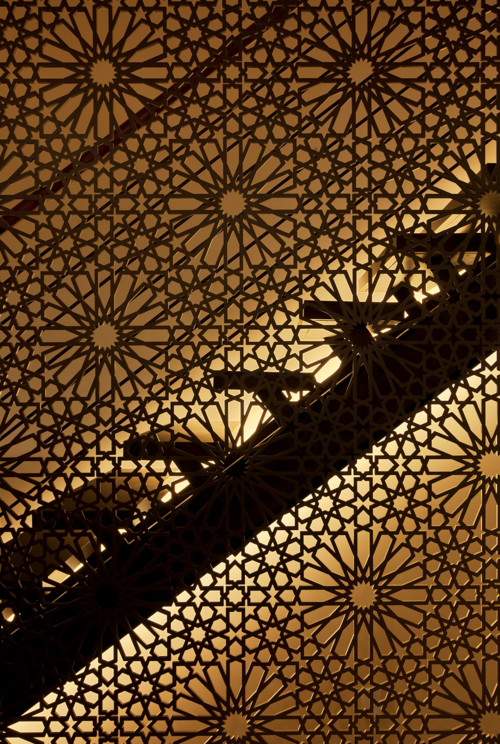 Eljin Construction employed mashrabiya patterning in a stunning steel staircase design.
Here, the pattern is made into modern solar shades.
Treillage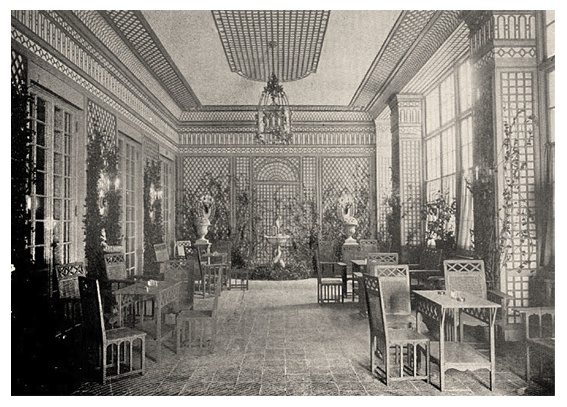 Vine trellises, called treillage, were developed simultaneously in 12th century France to support grape vines. You've seen them, the simple criss-cross garden structures holding up roses, or even standing on their own.
Thinking outside the box, the maven of modern-day decorating, Elsie de Wolfe, took the lowly trellis indoors to be used as a design material. Shown above, in her 1907 design of the Trellis Room at the ladies Colony Club in New York, she applied treillage to the walls.
A present-day dining room decked out in de Wolfe-esque treillage looks breezy and inviting.
Hollywood Regency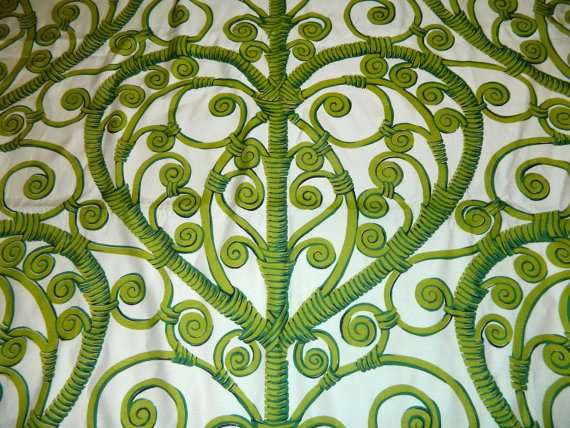 From the 1920s to the 50s, the Hollywood Regency style infused bold, high-contrast colors, bamboo and glossy materials. Frivolous yet sleek and modern, it reflected the opulence found in the estates of Hollywood's film set.  Designers Dorothy Draper and Billy Haines were key architects of this lively style, which is having its second go-around today. Above is Draper's take on the trellis pattern in this vintage "Wicker Wonderland" fabric.
This Draper headboard sports a more robust trellis design. Kindel Furniture paired up with Carleton V to create a collection based on reproductions, adaptations and inspirations of Draper's corporate design work.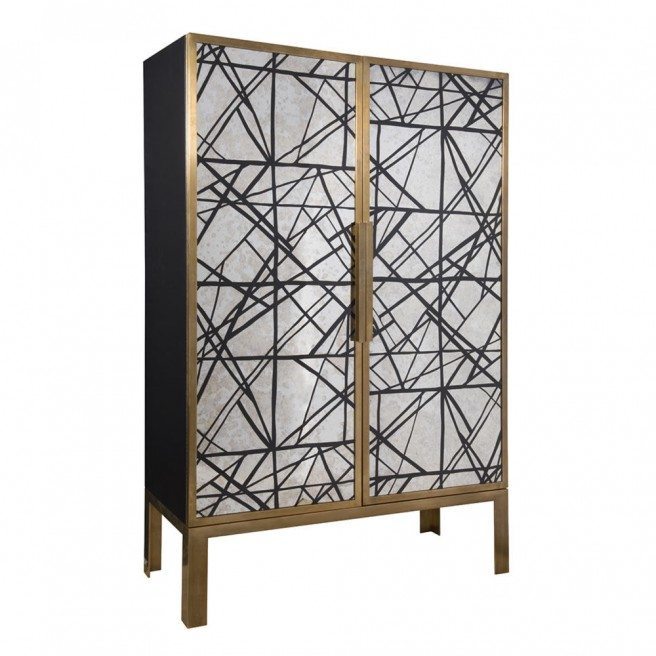 Meanwhile, Kelly Wearstler uses her own updated, funkier version of the trellis pattern on her Mulholland Cabinet design.
Fretwork on the floor
Area rugs are a great furnishing for the trellis design because it can either be a bold focal point or an understated backdrop to more prominent patterns in a room.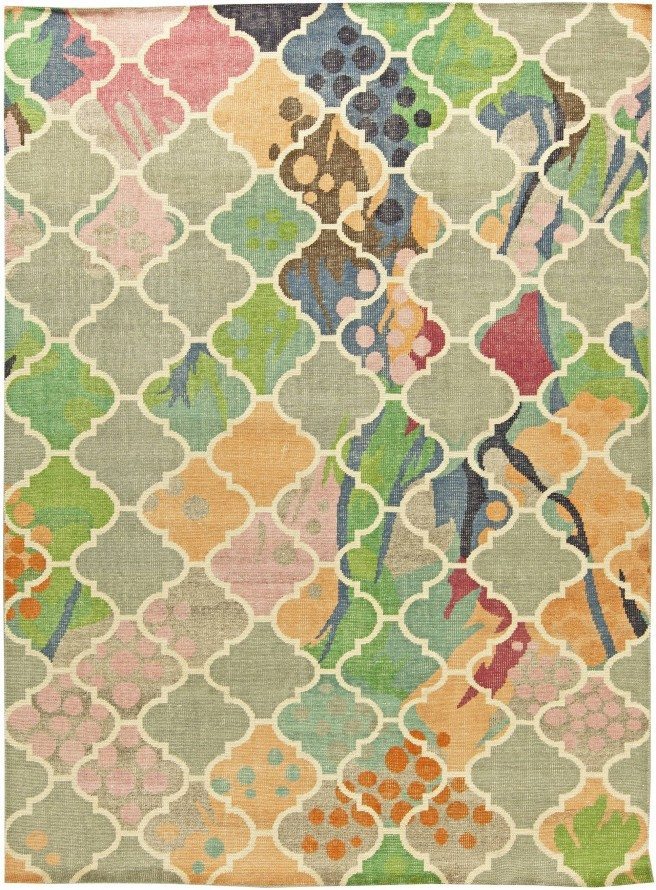 The bright colors and high contrast of the trellis design in this rug by Doris Leslie Blau will surely draw attention in a lush room design.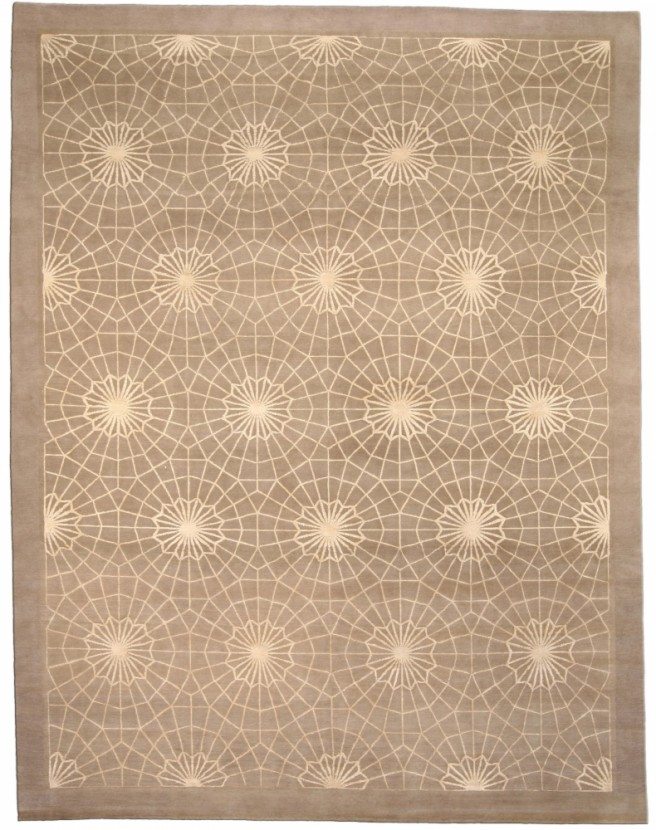 Delicate spider webs were the inspiration of this rug by Doris Leslie Blau. Reminiscent of mashrabiya, isn't it?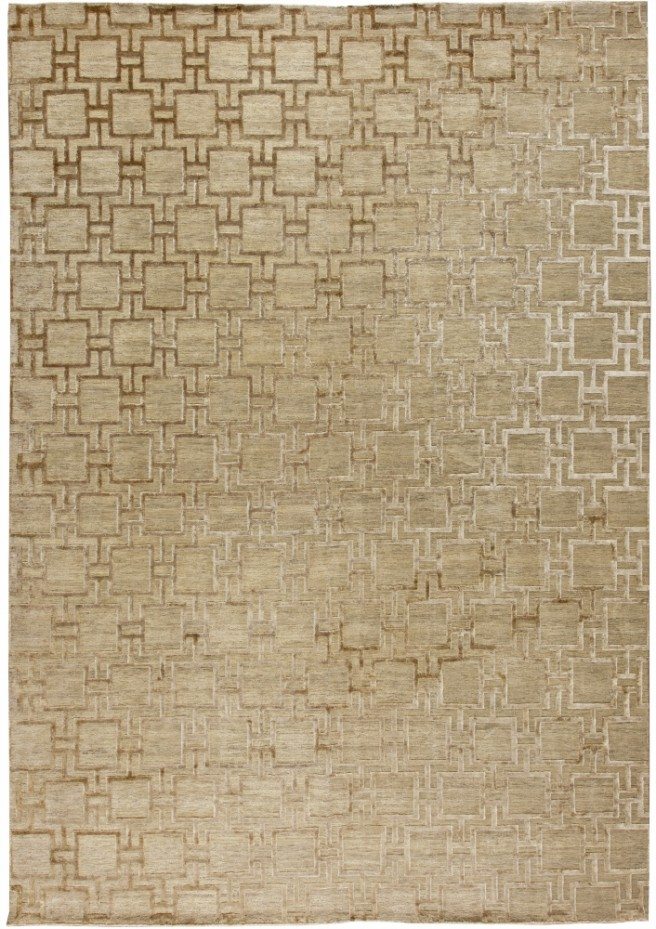 The tone-on-tone design of this rug by Doris Leslie Blau embraces the Hollywood Regency style with its chain-like trellis pattern and luxurious sheen.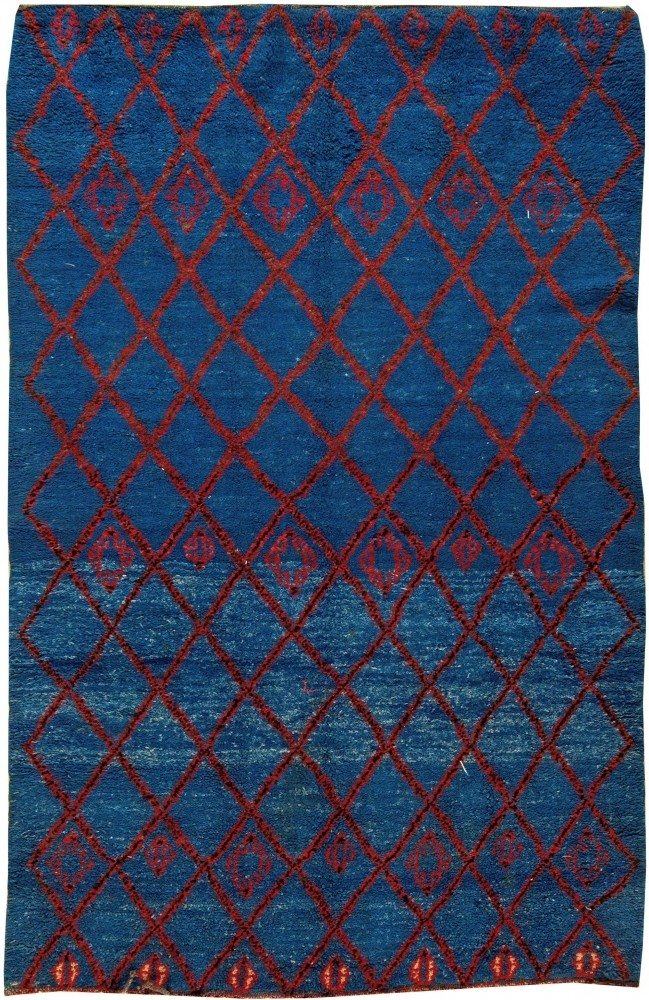 You can get the trellis look from vintage finds too, like this c. 1940 wool pile Beni Ourain rug from Doris Leslie Blau. Different from the conventional brown and natural hues, this one features a red trellis set against a deep blue background.
—————————————————————————————————————-
Karen Egly-Thompson is a former interior designer turned interiors writer. She writes regularly for Houzz and her work has appeared in publications such as Commercial Interior Design and Middle East Architect. Her blog Design Salad focuses on traditional design in contemporary context. A seeker of ideal coastal weather, Karen calls both Dubai and Maine home.