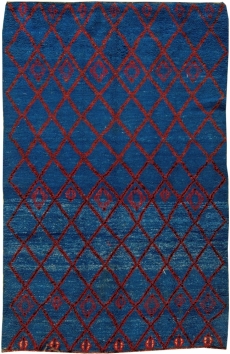 Mid-Century rugs are the ones that come from the period between the 1940s and 1970s. This category indicates Scandinavian, Moroccan or French Modernist rugs. Mid-Century rugs often appear in the Mid-Century Modern interiors. However, their style differs depending on the country of origin. Nonetheless, it usually bases on geometric motifs. The coloration is rich and contrasting yet muted.
Interior and product design of the mid-20th century has become iconic. Thus, the aesthetic of that time is recognizable even by laymen. Vintage rugs are among the hallmarks of the style. Mid-century rugs include Moroccan, French Modernist and Scandinavian. However, the most sought-after are Swedish rugs designed by textile artists. This includes Marta Maas-Fjetterstrom, Barbro Nilsson or Ingrid Dessau, among others.
Mid Century Rugs from Sweeden
Mid-century Swedish rugs are easy to identify as they are often signed. Also, designers usually placed their initials in one of the corners or on the bottom edge of the carpet. MMF identifies Marta Maas-Fjetterstrom as the designer. When the letters AB appear too, it means that the rug comes from MMF facility in Bastaad.
Swedish rugs from the period are flat-woven or knotted. Swedish Rya rugs are an early version of contemporary shag rugs. They have an elongated wool pile that resembles fur. On the other hand, rollakans are flat. However, they carry more colors and patterns. Swedish mid-century rugs exhibit a sophisticated folk art sensibility. The high level of craftsmanship and skill is evident in every one of them. Their creators were innovators of design and skilled technicians.
Modern Mid Century Rugs
Vintage rugs often incorporate graphic and geometric large-scale motifs. These are rendered in bold colors. The designs reflect the art of the time. Think about abstract expressionism and Jackson Pollock, De Kooning, or Mark Rothko. Moreover, many mid-century rugs are very minimalistic. Because of that, they match contemporary decors without any problem.
Doris Leslie Blau has perfect examples of Mid-Century rugs which inspire design aficionados. Every designer knows that one beautiful rug can be as important as a work of art. It can be more beautiful than a painting. Often it has even more visual impact. Mid-century rugs are not just floor coverings. They are woven art. Thus, their designs are unique and as precious while their workmanship impeccable. Visit our website or one of the galleries in NYC and Washington DC and fall for genuine mid-century modern rugs.