It is hard to agree with Don Draper's way of life and personal choices. However, one can't deny that the man's got the style. Today we will infiltrate the stunning apartment of the protagonist of Mad Men series. Also, we will extract 6 ways to achieve the fab mid-century modern look with one of our many available large rugs.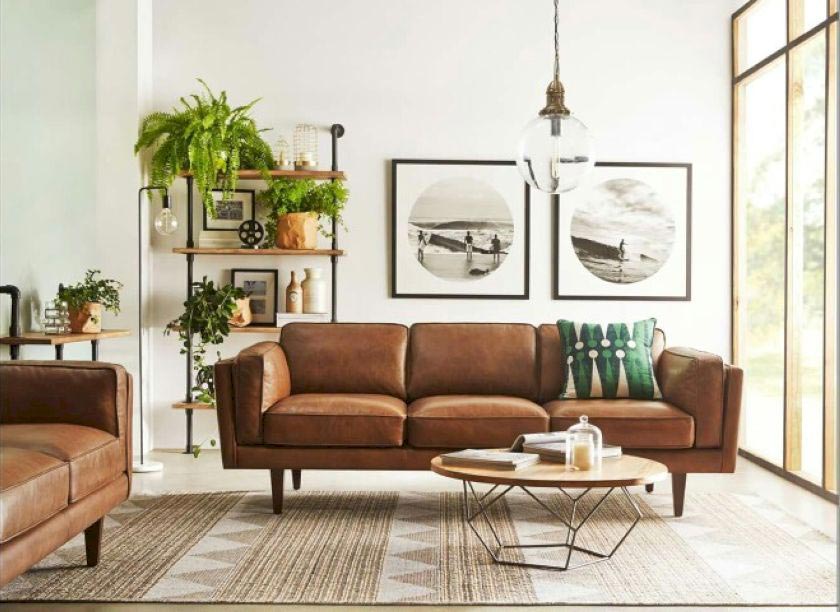 1. Toned Colors
In mid-century modern, we can find frugal and noble lines and forms in both architecture and design. The mid-century décor reflects the extraordinary charm of a bygone era. These interiors feature unique wooden furniture. It is decorated in warm autumn colors, adorned with geometric patterns on walls and textiles. Also, there are characteristic retro details: lamps, vases, sculptures, and paintings. While choosing the right color palette for your vintage interior, remember to go for warm and toned hues. Every "dusty" version of the color is going to fit it.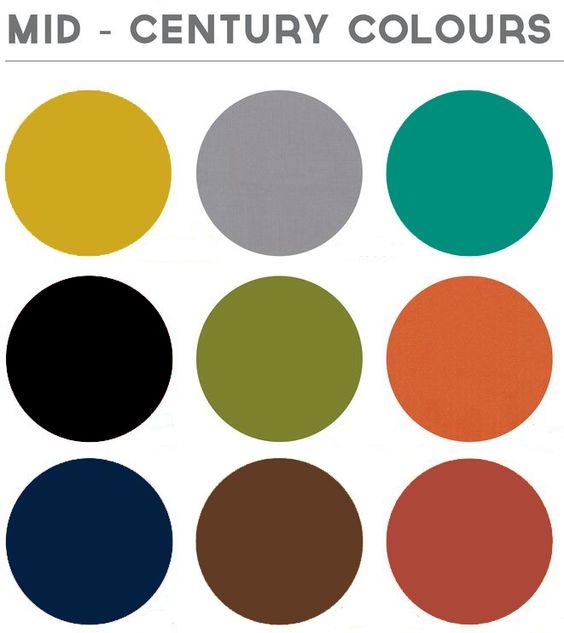 Source: Thrive Home Furnishings
The classic mid-century style featured daring wallpapers They were ornamented with bold geometric patterns. In the modern version of the look, we would recommend limiting the number of shapes and shades for more neutral accents. Beige, off-white or ivory walls will match colorful or wooden retro furniture. They will also help maintain the spirit of contemporaneity. A fancy wallpaper may be a nice finishing touch. However, it should rather be an accent than an allover design.
Source: Barker & Stone House, Pinterest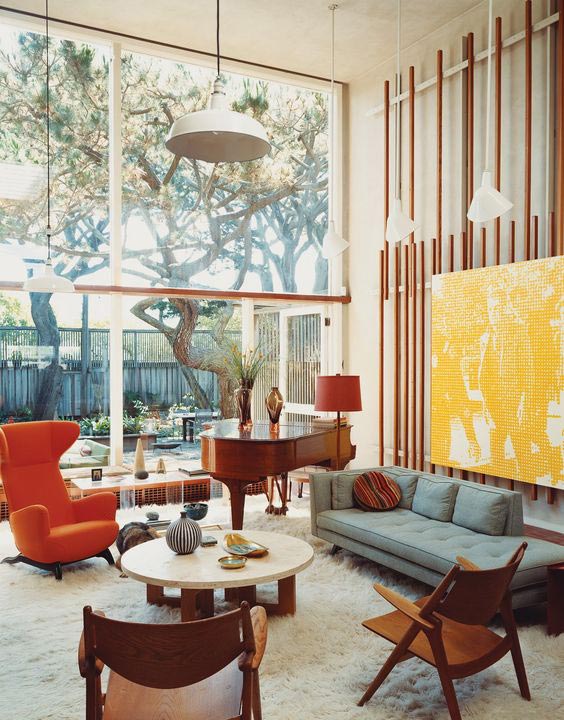 2. Mid-Century Rugs
Nothing completes an interior as a rug. However, choosing the right one is always a tricky task. Fortunately, mid-century modern décor has a whole section of rugs dedicated to it. In the middle of the 20th century, there has been an outburst of new rug styles. They were in accordance with the trends prevailing back then. The paramount example is Scandinavian design with mid century rugs. These are also known as rollakans, which took the world by storm. They remain one of the most frequently chosen type of floor coverings until today.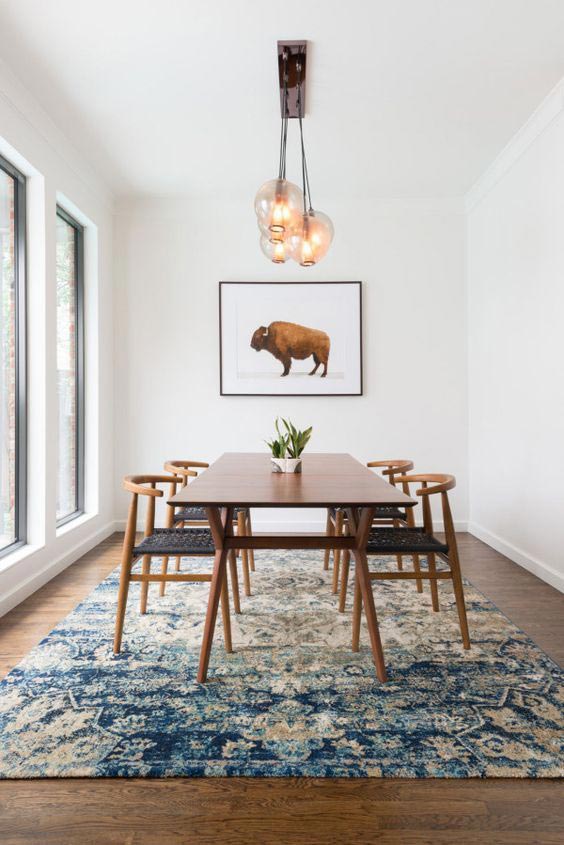 Doris Leslie Blau vintage Scandinavian rugs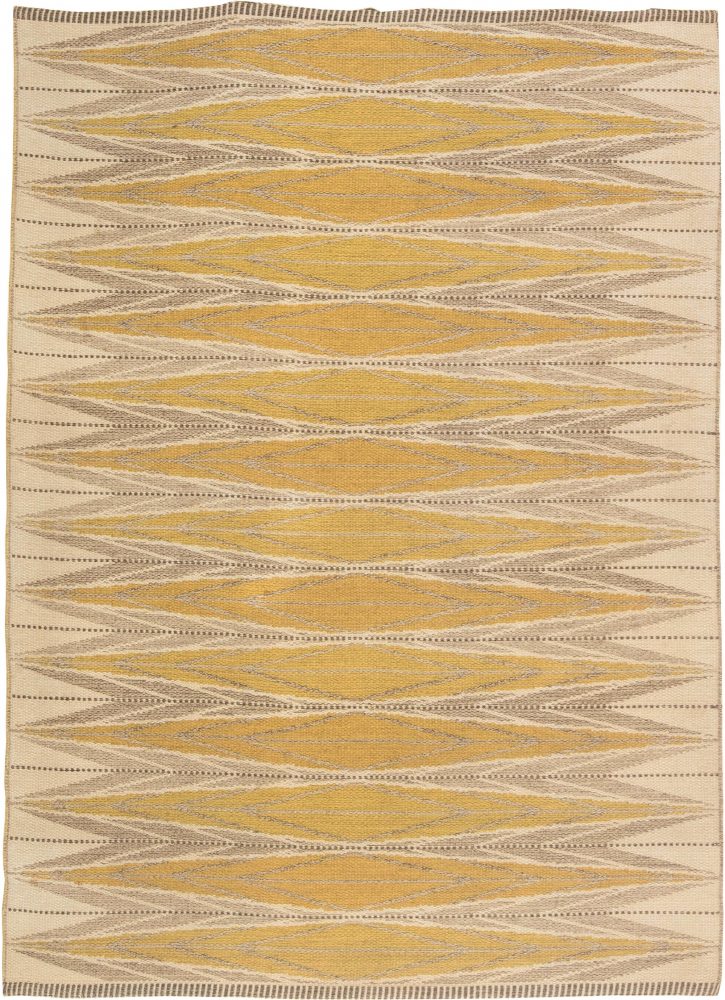 Their charm, geometric elegance, and timeless appeal make them ideal for mid-century modern interiors. Another category are vintage Art Deco rugs. They share several features of Scandinavian carpets. These are for example geometrics and a wide array of colors. However, they are also distinguished by classic pile textures. Whatever you chose, remember – a living room without a rug is just a room 😉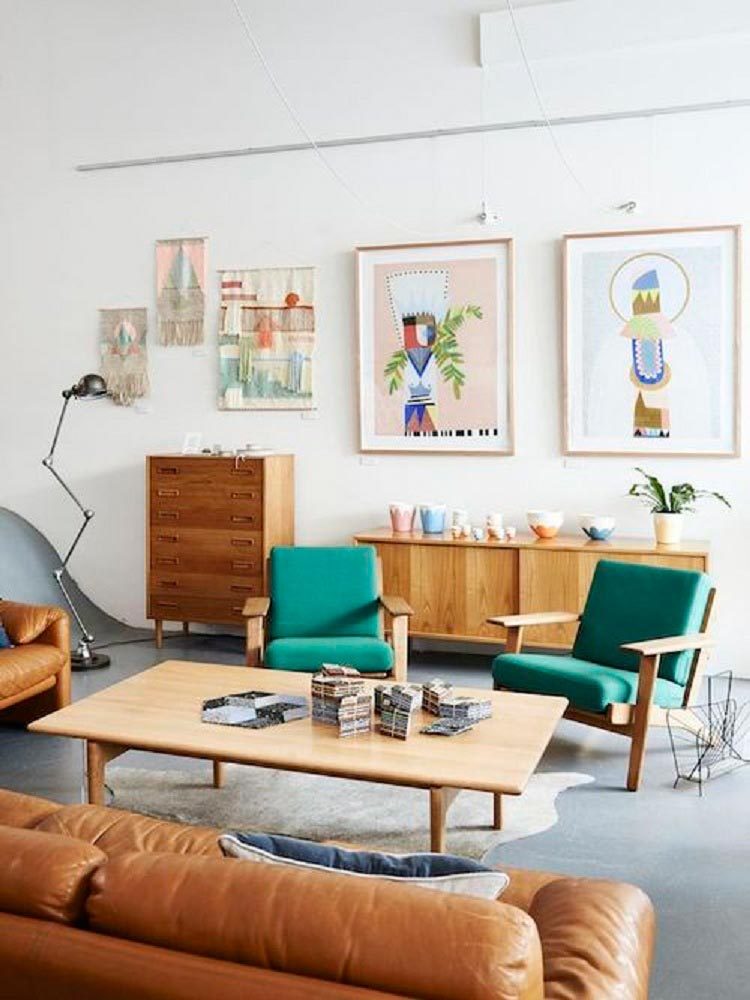 3. Chic Lighting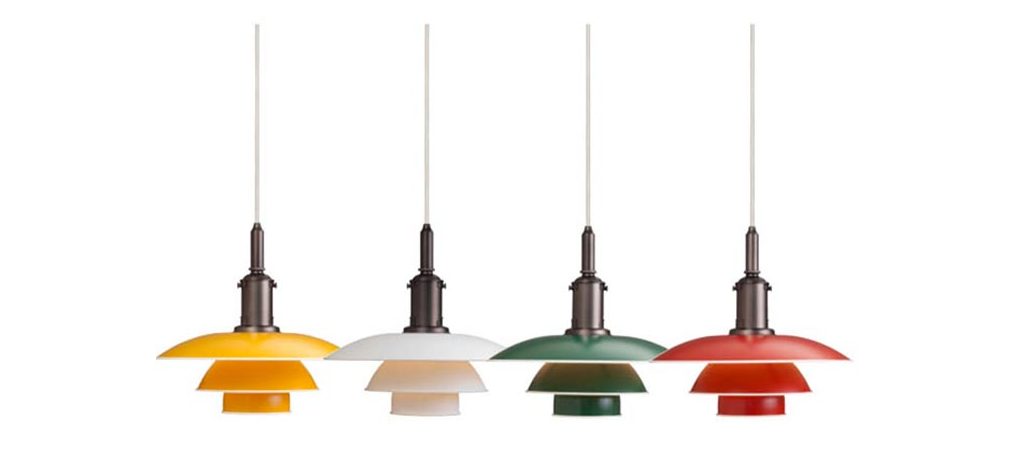 In every modern mid-century home, dazzling lighting is a must. It may come in the form of lamps hanging from the ceiling or standing on elegant tea-tables. Such unique sources of light are like works of art. Beautiful sculptures draw attention and constitute a decoration. They accompany the smooth and simple furniture.
If you want to achieve the 50s' and 60s' style home, the extravagantly shaped lighting is a crucial part of the interior. Mid-century floor or table lamps have straight lines and sharp contour, or round forms. Either way, the very contrasting shapes help with the proper scattering of light. In addition, they contribute to the general look.
Source: styleathome.com, Barker & Stone House
4. Iconic Furniture
Most modern furniture is made from pressed wood, plywood or MDF (Medium-Density Fiberboard). But only real wood can create a warm atmosphere at home. It is also synonymous with luxury. Get inspired by the projects of designers such as Verner Panton, Arne Jacobsen, George Nelson or Charles & Ray Eames. Their furniture is minimalistic, light and of high designer value.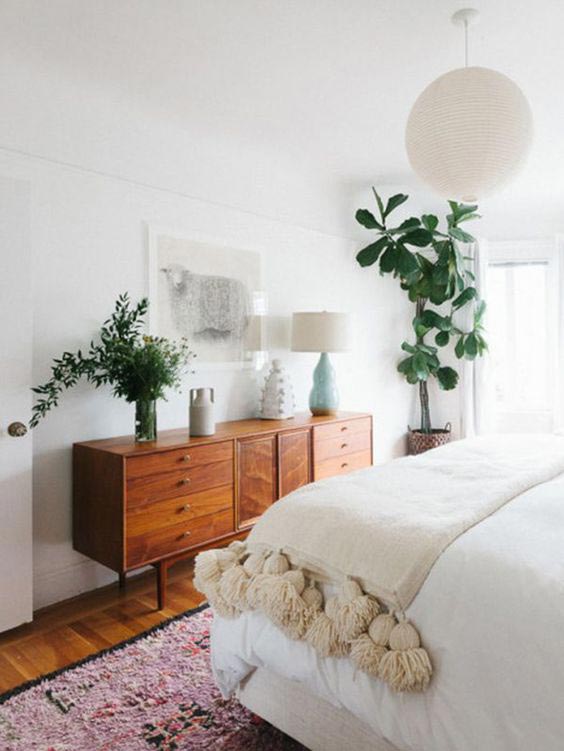 Source: indeeddecor.com, Design*Sponge
 A console or a wall unit are some of the hallmarks of Mid-Century modern style. You may get such pieces from contemporary artisans. However, there are other ways of creating the perfect look without spending too much. If you go to a flea market with antiques, you'll find similar furniture. Use your imagination and get out of the box! Not everything looks as it seems 😉 An ordinary coffee table without a leg or a lightly shabby chest of drawers may turn out fabulous!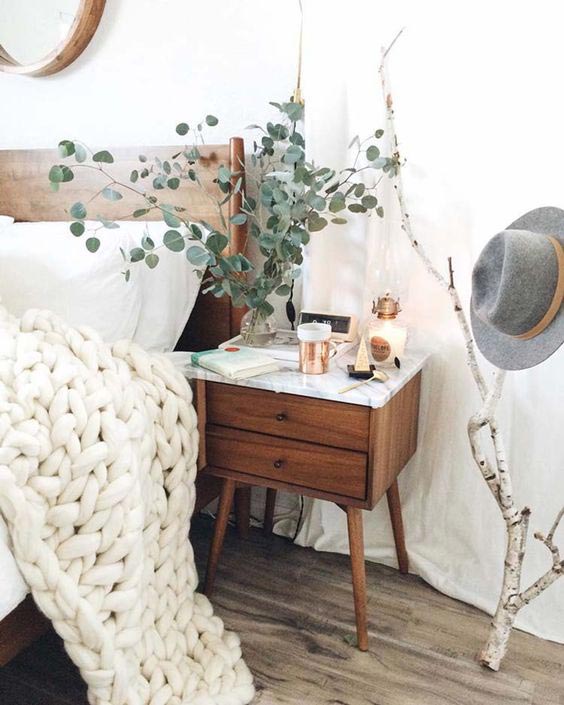 5. Geometric Decorations
Sometimes accessories can determine the vibe of the whole interior. The mid-century modern style calls for some geometric stir and angular elegance. You can achieve the look by hanging abstract art on walls. Also, it helps to add elaborate patterns to the living room through cushions and curtains. In addition, you can invest in rectangular or round additives. This way you will get the desired effect.
Source: Barker & Stone House,  Herz & Blut
Mirrors are the perfect accessories useful in any décor. When placed properly, a mirror can optically enlarge the room. It can also give it an impression of lightness and space. If you put it in front of the window it will reflect the garden and bring more light inside. In the mid-twentieth century, mirrors framed in the shape of a radiant sun were ubiquitous.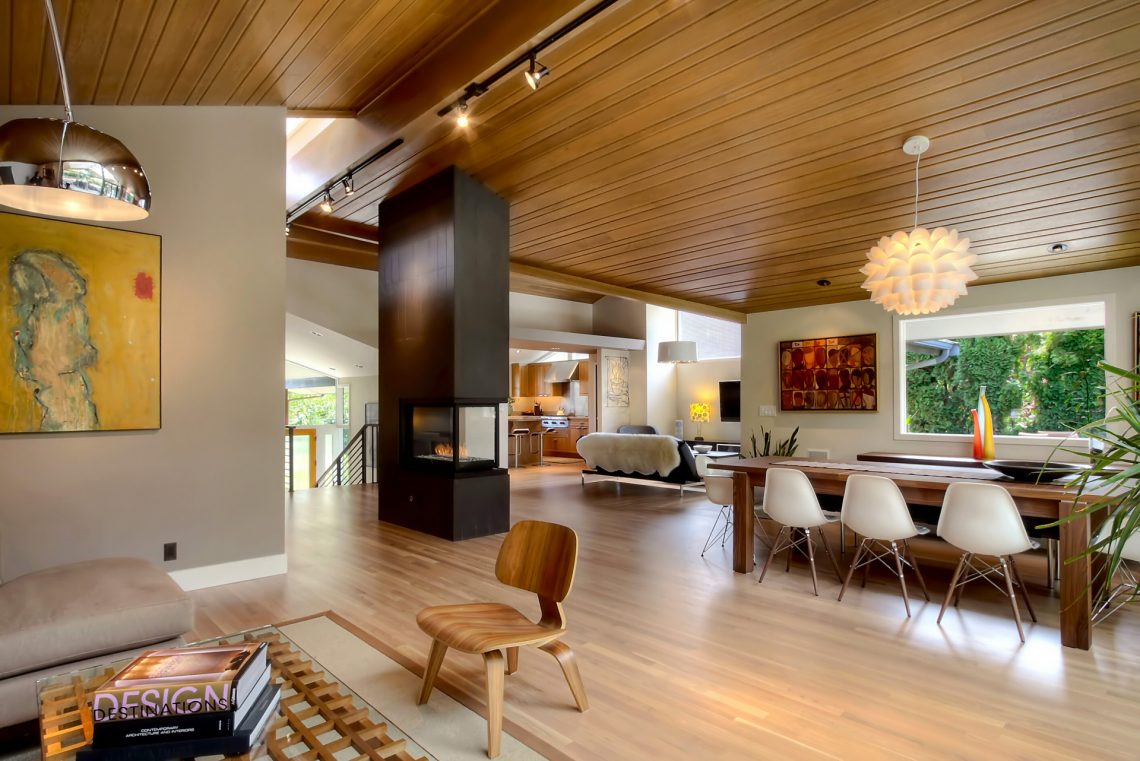 6. Exotic Plants
Finally, don't forget about some greenery. Plants have always been an important element of interior design. And there is no better year to concentrate on them than 2017 – after all, it is a year of greenery color, according to PANTONE. To complete the Mid-century modern look, adorn your space with exotic plants like palms or succulents. The most iconic is the so-called Snake plant but an Aloe Vera, Rubber Tree or a Fiddle Leaf Fig will also do very well.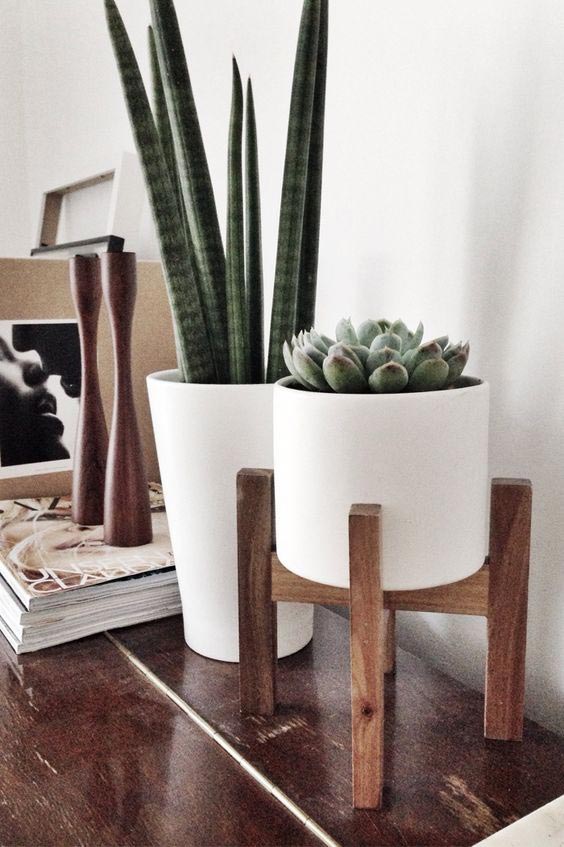 Source: stylebyemilyhenderson.com, Urban Outfitters
For more inspirations, take a peek at DLB website – we are always at your disposal. And if by any chance you are visiting New York, step into our showroom to see all mid century modern rugs.