Just because your living room is short on square footage, it doesn't need to suffer in the style category. In fact, a small living room has some advantages, like requiring less heat and air conditioning.
While using mirrors and light-colored schemes are a couple of well-known tricks to make rooms feel more spacious, you might not be aware of some less familiar ones.
Here are 6 ways to live large with less living space.
1. Aim for furniture flexibility
There's nothing more space-saving than pieces that can serve two functions. While these stools can be easily moved around to mingle at different seating locations, they can also be paired with a serving tray and used as a flexible side table.
Nesting tables are fabulously space efficient. Depending on the design, you can get three or four tables in the space of one and are especially useful for entertaining.
While these colorful tables have a punchy, mid-century modern vibe, nesting tables can be found in many other styles and materials that complement other décor styles.
Another way to increase furniture flexibility is to use a "bridge" piece between two spaces. This daybed is on the periphery between two seating groups and serves as seating for both areas.
2. See clearly with acrylic pieces
The transparency of acrylic furniture makes the piece virtually disappear in a room. An acrylic coffee table in place of a solid, bulky-looking one will make the living room appear light and airy, like this example.
3. Create the illusion of spaciousness with wallpaper
Wallpaper, especially patterns with solid backgrounds — like trellises, can create the illusion of more space. This living room would likely look more cramped if its walls were painted a solid color, but the trellis makes it look more expansive beyond the wall surface.
4. Hang draperies high
Hanging your draperies towards the ceiling versus just above the window trim will create the illusion of height and, in turn, make the room appear larger.
5. Opt for a sectional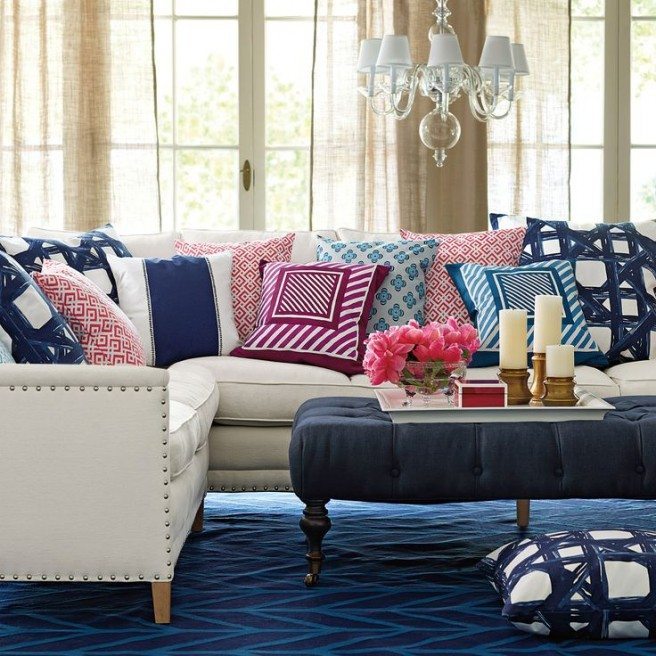 While selecting a love seat and a couple of smaller-scale lounge chairs is the conventional seating approach for small living rooms, consider a sectional instead. Sectionals can be advantageous because they're a continuous piece and read as such — instead of a bunch of separate pieces that can make the room feel cluttered.
Look for sectionals with simple, straight shapes, like track arms. Avoid bulky, rolled overstuffed styles.  Some furniture companies make more petite lines to accommodate apartments and smaller houses.
6. Tie it together with an area rug
Nothing creates unity in a living room like an area rug. In small living rooms, especially with an open plan that extends into eating areas or even an entryway, it's important to define the living space.
A large area rug which all of your furniture sits on, like shown above, is ideal because it creates a single  anchored "zone". Some folks choose to go with a solid rug  with this approach so the rug design isn't cut off underneath seating pieces.
A smaller area rug that furniture is placed around better shows off  a patterned area rug — especially one with a special orientation or medallion.
This Beni Ourain Moroccan rug from Doris Leslie Blau is the best of both worlds and lends itself to small spaces. Its spare, carefree linear design adds visual interest but is not overpowering. The hand-knotted pile is thick textural and adds a luxurious focal point for this smaller seating area.
—————————————————————————————————————-
Karen Egly-Thompson is a former interior designer turned interiors writer. She writes regularly for Houzz and her work has appeared in publications such as Commercial Interior Design and Middle East Architect. Her blog Design Salad focuses on traditional design in contemporary context. A seeker of ideal coastal weather, Karen calls both Dubai and Maine home.