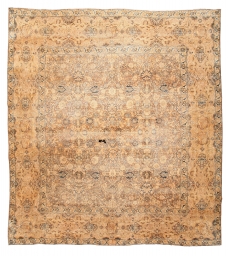 Are you looking for a rug or carpet to fill the floor space in your home with intricate patterns, designs, and colors? A city rug may be the answer. Built in master workshops in places such as Hereke, Kirman, Tabriz, Kashan, and Meshad, city rugs are generally larger than village rugs and have tighter knots reflecting a higher level of craftsmanship. These rugs are the perfect way to give your floor more elegance and style.
Rugs from the Masters in the City
The largest rugs and carpets are those that were meant to be rolled out in palaces. For example, The Ottoman Sultan Abdülmecid I, in 1841, founded the Hereke Imperial Manufacture to produce all rugs, carpets, and textiles for the Dolmabahçe Palace. High quality rugs and large carpets in one-of-a-kind patterns were made for him by the best carpet weavers and artists of the Ottoman Empire. Hereke carpets are usually large and use double knots make the clearer and more harmonious patterns that make them so collectible today. You can still find Hereke city rugs manufactured today in the patterns of the Ottoman Sultan Abdülmecid.
Kerman carpets (named after Kerman, a city and province located in Iran) are actually a classification of traditional Persian carpets. Since the 15th century, Kerman has been a center for production of high quality carpets. Some consider the carpets from Kerman to be the finest Persian carpets, probably partly because of Carmania, the high-quality wool that comes from the region. The designs of Kerman rugs and carpets are also distinct. For example, Vase carpets have overall patterns of flowers and palmettes with vases placed throughout.
These are just two examples of the kinds of sophisticated rugs manufactured in the master-workrooms found in cities. Placing rugs like these in your home would make them that much more like palaces.