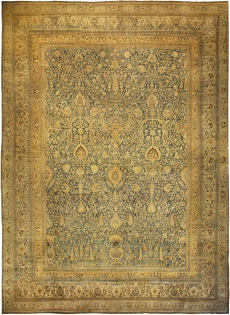 The cypress tree, an evergreen conifer commonly found near the Mediterranean Sea, as well as the Southeastern and Gulf Coastal Plains of the United States, is known to be a Zoroastrian symbol of life and eternity. This belief dates back to ancient times. Back in the day, Egyptians would use strong trees, such as the cypress, to build mummy cases. Moreover, the Greeks would also use them to create urns where they would store the ashes of those who had died in battle. Plato's code of laws was etched into the wood of a cypress tree because it was believed to be more durable than brass. This fascinating history of cypress trees is now reflected in Near Eastern rugs.
Cypress Rugs
Indian carpets are known for having cypress tree designs. Most of them are characterized by beige, ivory, or green fields filled with staggered cypress trees, vines, and shrubs. These cypresses and flowering trees are usually arranged around a central floral or fauna and enclosed in a gracefully designed mille fleur and rosette border. Persian rugs, such as Bakthiari, Tabriz, Kirman, and Khorassan, are also well-known for showcasing cypress tree designs. They usually exhibit dark-colored fields filled with weeping willows and cypresses enclosed in a palmette or flowering vinery trellis border. More so, Turkish rugs are also famous for having cypress tree designs. Oushak carpets, for instance, are characterized by brown fields with blossoming shrubs surrounded by mille fleur, weeping willows, and cypresses enclosed in a floral motif border.
Cypress tree designs are widely used in carpets because of the belief that they symbolize longevity. Whether covering the entire carpet in an allover design or just embellishing one tree on each corner, cypress tree motifs, whether they originate from India, Persia, or Turkey, are in demand among buyers of carpets around the world.