Everyone's a little bit Irish, as the saying goes. St. Patrick's Day is just around the corner, and to celebrate, you might find yourself wearing green, attending a St. Paddy's Day parade — or looking for the pot of gold at the end of a rainbow.
Why limit the search for good fortune to one day a year? Here're five ways to attract the luck o' the Irish in your home all year long.
1. Get clever with clovers
Nothing says Irish luck more than a four-leaf clover. Irish folklore says that one leaf is for fame, the second for wealth, the third for a faithful love, and the fourth for health.
While it's challenging to find a four-leaf clover in nature, it's easier to plant some within your home decor. On the exterior, custom shutters are available with a bunch of different cut-outs, like slivered moons and sailboats, but this Irish-loving homeowner above sprung for clovers!
Here, designer Shoshana Gosselin created a custom wall stencil with an abstracted clover design. She downplayed the clover connection by choosing an orange and white color scheme.
With three or four symmetric lobes, a quatrefoil design mimics the shape of a four-leaf clover. Used to form the shape of this chair back, this swanky chair steals the show in this bedroom.
2. Go for the green
Nicknamed the "Emerald Isle", the color green is synonymous with all things Irish. Refreshing and relaxing, green is often underrepresented in interior color schemes, and frequently used as a secondary color. Here are two examples that glorify green for all it has to offer.
This bold, saturated green makes a statement, but the magic of green is it doesn't tend to be overwhelming the way other colors of the same value and intensity might be.  Design Theory Interiors of California says this paint color is Pickle #SW 6725 by Sherwin Williams.
The green in this kitchen leans towards the more yellow side. The fetching plaid ceiling was first painted on canvas, then installed.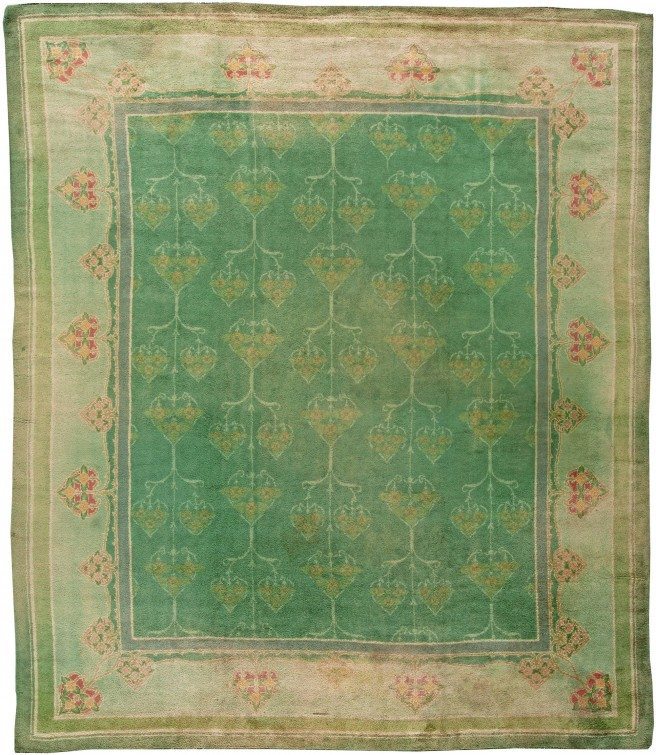 If you're more color shy, you might want to bring on the green through accents, like area rugs. This Irish 1910 area rug was designed by Charles Voysey, a leading figure in the Arts and Crafts movement, and features abstract heart and floral motifs.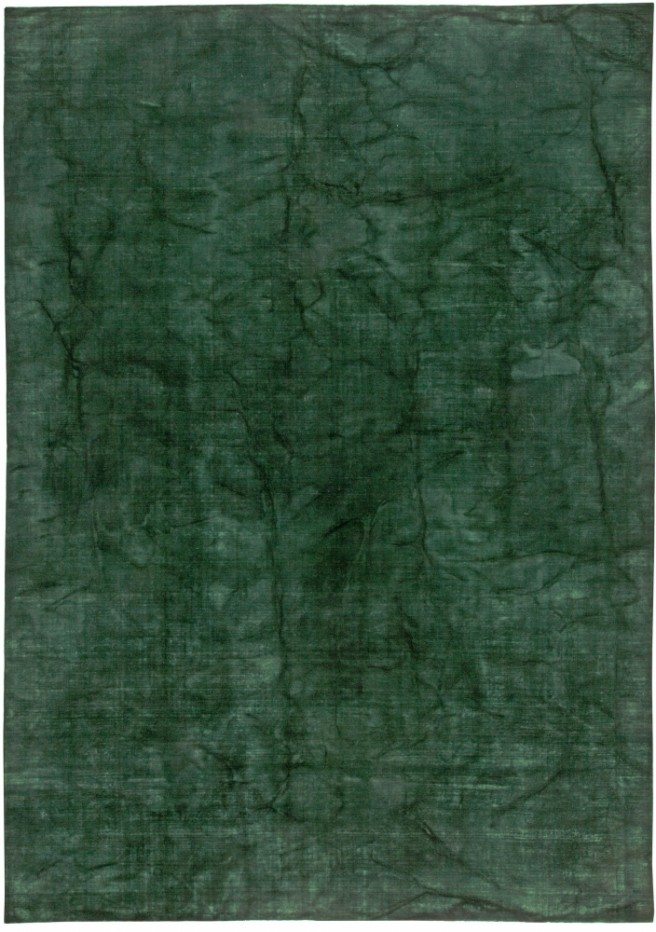 Although a solid green, the darks and lights in this custom wool rug create a richness and depth reminiscent of craggy rocks or ripples of water.
3. Don't paint the town red…save it for your front door
Irish luck isn't all about green. Irish lore says painting your front door red is supposed to ward off evil spirits and ghosts. Other cultures have front red door myths as well. A red door in Chinese feng shui signifies opportunity and abundance. In early America, a red door identified a home as a welcoming, safe place to stay. Red front doors in Scotland indicate the home is paid off.
Whatever story you most admire, a front red door is sure to bring luck — or, at least, good looks to your doorstep.
4. Tie on a Celtic knot
Celtic knots, also known as the endless knot or a mystic knot, symbolize timelessness. Its intertwined design has no beginning and no end. Interpretation is personal, but the Celtic knot can embody marriage or religious beliefs, or just stand on its own as a striking design.  In this mudroom, cement floor tiles in a knot pattern are evocative of Celtic knots.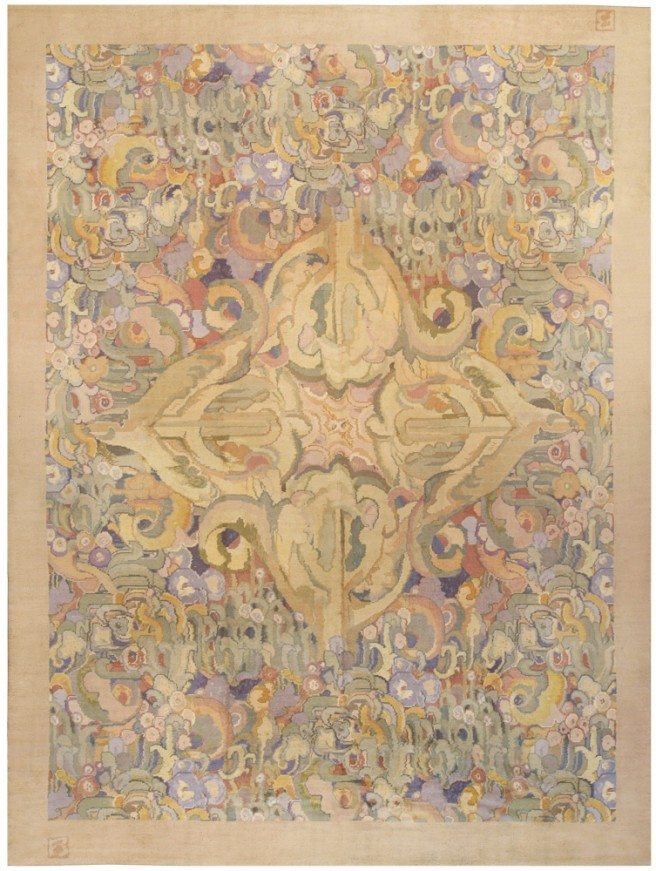 Although Anglo-Welsh artist Frank Brangwyn probably didn't model his design of this c. 1930 rug after a Celtic knot, the central quatrefoil shape is certainly evocative of one. Brangwyn used a soft palette of greens, blues, lilacs, beiges and light reds in dappled shapes to create a beguiling watercolor effect in this breathtaking area rug from Doris Leslie Blau.
5. Be a knit wit
If you're drawn to the fanciful cable stitches of Irish sweaters, you might be surprised to learn that each design, called Aran Stitches, has a specific meaning. Most of them symbolize fisherman's gear, but others align with the tree of life, abundance, growth and luck.
Don't think a sweater is the only way to show off knits. This fetching bed cover is a looser rendition of the Irish sweater – all the look without the bulk.
How have you integrated the luck o' the Irish in your home?
—————————————————————————————————————-
Karen Egly-Thompson is a former interior designer turned interiors writer. She writes regularly for Houzz and her work has appeared in publications such as Commercial Interior Design and Middle East Architect. Her blog Design Salad focuses on traditional design in contemporary context. A seeker of ideal coastal weather, Karen calls both Dubai and Maine home.