Ready to trade in gray skies and snow shovels for spring colors and a season filled with new life? So are we!
When thinking of spring, we usually concentrate what's going on outdoors – the blooming of daffodils and the flitter of wildlife in the yard. What about the inside of your home? Do the stacks of firewood and plaid wool throws still have you in the throes of winter? Here are five ways to close your home's door on winter…and spring into spring.
1. Keep it peachy keen.
Reds, yellows, pinks, and purples are conventional spring colors, but another spring hue is often overlooked…peach! Although it has a touch of femininity, peach isn't an overly 'girly' color and it can also pack a punch.  Unlike any other color, peach also complements all skin tones.  Designers like to use peach in living rooms, dining rooms and bedrooms for its ability to flatter.
Pantone named Peach Echo #16-1548 as one of the top 10 colors in their 2016 Spring Fashion Color Report, and here a similar color makes for a fetching bookcase.
If Pantone's pick is too powerful for your taste, a classic pairing of green with a lighter peach exudes the freshness of spring in this living room.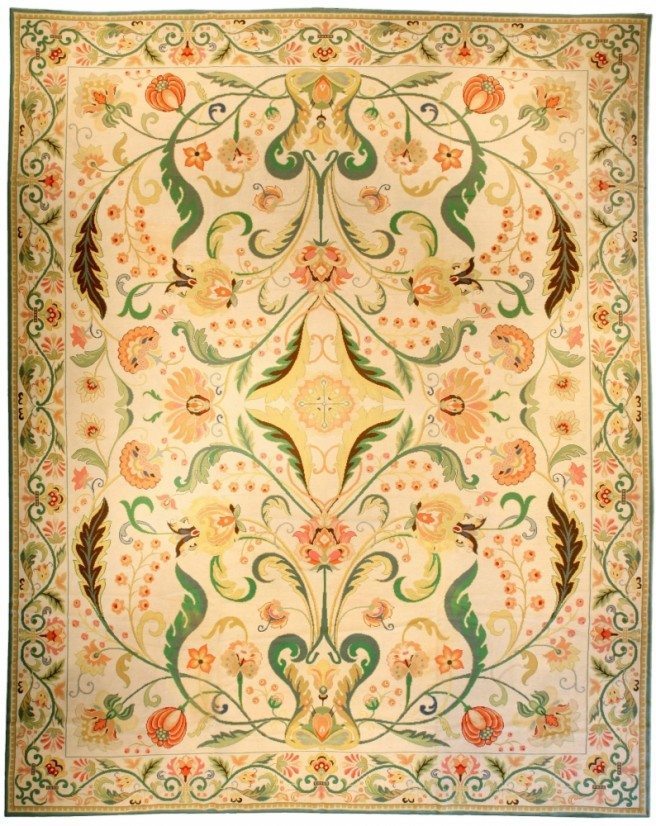 This springy Portuguese needlework area rug from Doris Leslie Blau features a mirrored design of floral and vine motifs in peaches, greens, and yellows that will add new life to any room.
2. More flower power!
There's a saying to "Go bold or go home". A big, gorgeous floral pattern on a sofa will make a welcoming spring statement in your living room. However, pick a large-scale, graphic floral in bright colors to pull it off without looking like the upholstery on your grandma's sofa.
Or, make your walls speak volumes, like with this parrot tulip wallpaper called Jewel of Spring by Osborne + Little.
If a metaphor is more your style, don't forget about Eero Saarinen's iconic Tulip Chair. Modeled after the simple lines and curvaceousness of none other than a tulip, it was Saarinen's formative training in sculpture that brought this 1950s design to fruition. Edging towards 70 years old, the Tulip Chair still stands strong in today's interiors.
3. Cheery cherry blossoms
Cherry blossoms are the epitome of springtime. Their delicate short-lived blossoms send scores of visitors to Washington DC and Japan each spring to witness their gorgeous display.
If you miss the extravaganza, or just want to enjoy it year-round, you can pay homage to their beauty in other ways. Check out the decorative cherry blossom wall tile in this bathroom.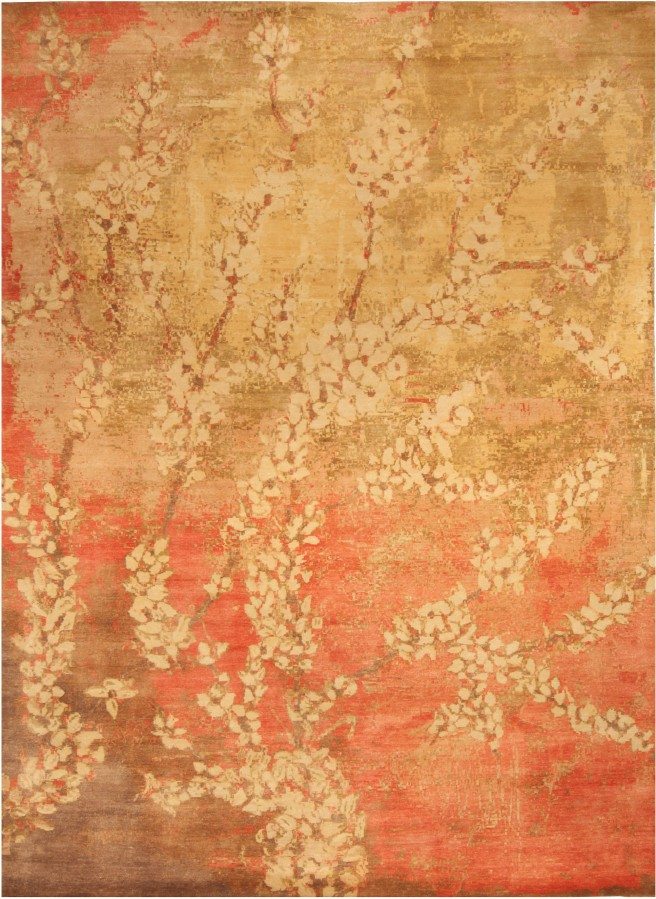 Hand-knotted from silk and wool, this luxurious blossom rug would be a stunning addition to a bedroom or dining room.
4. Pinwheel-palooza!
Like kites, shiny, colorful pinwheels are a popular spring sight as toys and garden ornaments. If childhood memories of pinwheels bring a smile to your face, why not use the topsy-turvy shape in your home?
This collection of pinwheel sculptures looks as if it's about to take flight from this living room wall.
The pinwheel pattern is a popular quilt block, seen here on this pair of twin beds.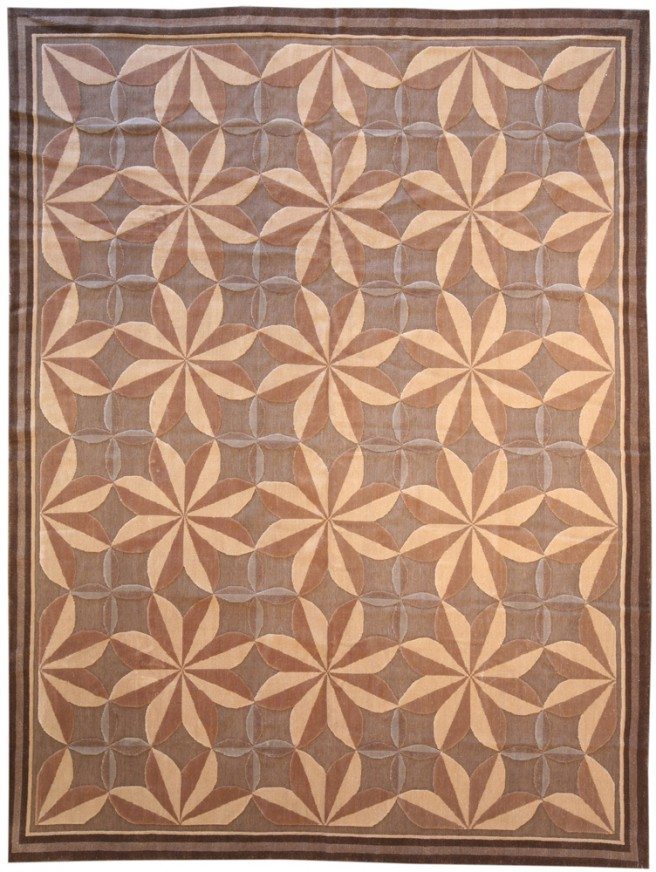 Meanwhile, the stylized flowers of this Aubusson area rug could pass as a pinwheel pattern.
5. Birds n' butterflies
We can't forget our flying friends. This wallpaper featuring birds and butterflies is a colorful nod towards toile and will sweeten any room – even a laundry room.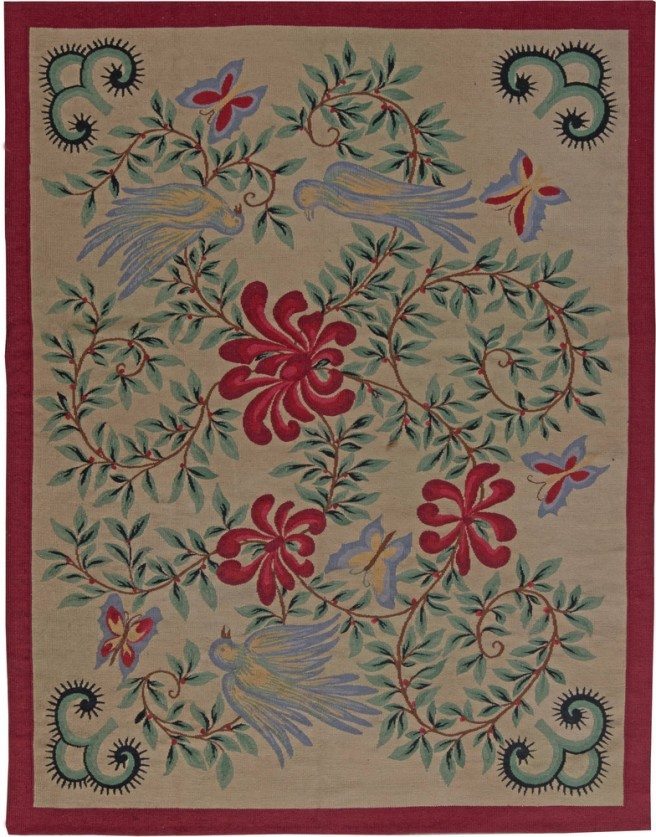 Birds, butterflies and flowers and leafy branches adorn this 1920's Aubusson from Doris Leslie Blau.
—————————————————————————————————————-
Karen Egly-Thompson is a former interior designer turned interiors writer. She writes regularly for Houzz and her work has appeared in publications such as Commercial Interior Design and Middle East Architect. Her blog Design Salad focuses on traditional design in contemporary context. A seeker of ideal coastal weather, Karen calls both Dubai and Maine home.