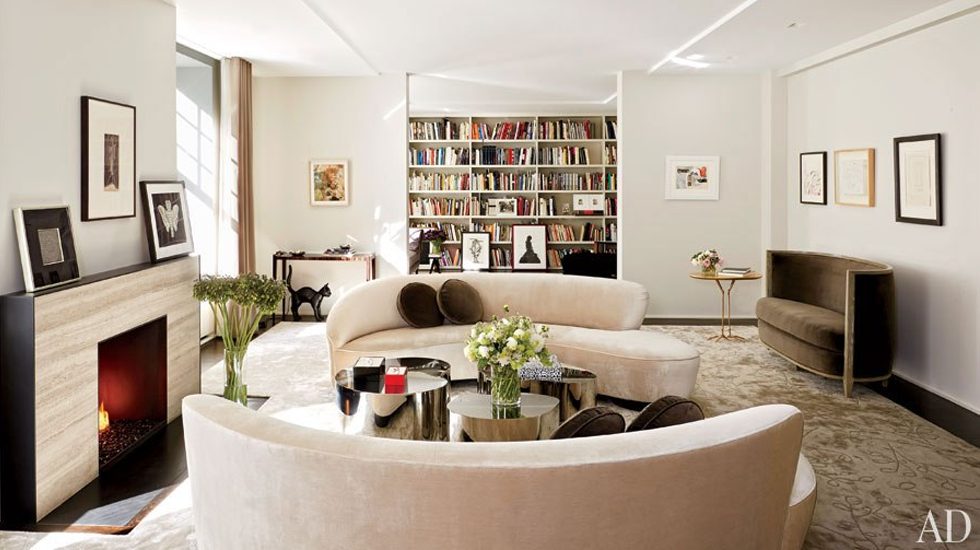 Although maximalism can be indulgently fun, it's hard to deny the allure of exquisitely simple spaces like this New York residence. D'Apostrophe Design worked with stylish homeowners Amy Gold and Brett Gorvy to create an environment that allows their robust art collection to take center stage. Streamlined pieces, sculptural furnishings and a muted color palette allow the natural light and the collected works of art themselves to be the star.
A cluster of cylindrical polished chrome tables offer a "barely there" appearance and are the perfect anchor for the intimate grouping created by the soft beige left and right arm sofas. Plush pillows and a matching Andrée Putman loveseat introduce a deep taupe to the otherwise light space. A massive area rug offers a sophisticated monochromatic floral motif – the only moment of pattern in the room. But the most notable characteristic of the design is the seeming lack of hard edges anywhere other than the walls themselves. Soft, rounded curves are everywhere you look until your eyes fix upon the framed artwork and the modern fireplace. This is a stroke of design genius.
In this case, less really is more. Even the untrained eye is naturally drawn to the Cy Twombly, Eva Hesse, and Bruce Conner masterpieces the stylish homeowners have collected. See the rest of this gorgeous home at ArchDigest.com.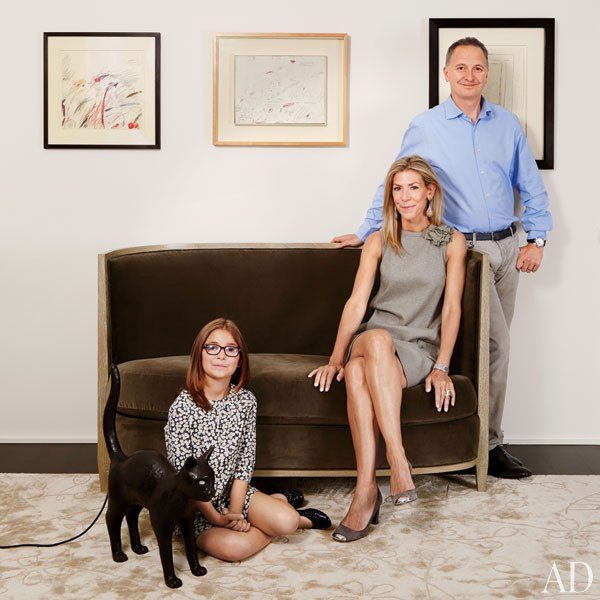 Amy Gold and Brett Gorvy (pictured with their daughter, Tamsin, and a Studio Job cat sculpture) in their Manhattan apartment, which was renovated by Francis D'Haene of D'Apostrophe Design.
By: Franki Durbin of Life in a Venti Cup