While most folks appreciate hand-made area rugs, some shy away from incorporating them into their home decor. One of the main reasons is pets. While most folks appreciate hand-made area rugs, some shy away from incorporating them into their home decor. One of the main reasons is pets. Kitty claws can wreak havoc on a kilim, and Fido chewing bones all over an oushak isn't ideal. Parents with little ones might ditch investing in a rug until the kids are a bit older. Some rug lovers just run out of floor space, too.
Just because your lifestyle might not be right for a quality area rug right now doesn't mean you still can't enjoy one in your home. Consider hanging a rug on the wall instead of limiting yourself to the conventional on-the-floor route!
Hanging an area rug has some advantages. It's likely more visible, so it's easier to appreciate the details. Although it will still need to be cleaned, it gets less wear. 
Here are 3 ideal locations to hang a rug:
1. Behind the bed
Hanging an area rug behind a bed is my favorite spot. This scenario is ideal for pairing a standard rectangular-shaped rug with a bed without a headboard, like shown this example. A wall-hung rug will also help with sound reverberation to keep the bedroom on the quiet side.
For beds with a headboard, look for square or square-ish shapes, like this one. Of course, your ceiling height and bed frame dimensions will impact the size that's appropriate above your bed.
2. Double-height walls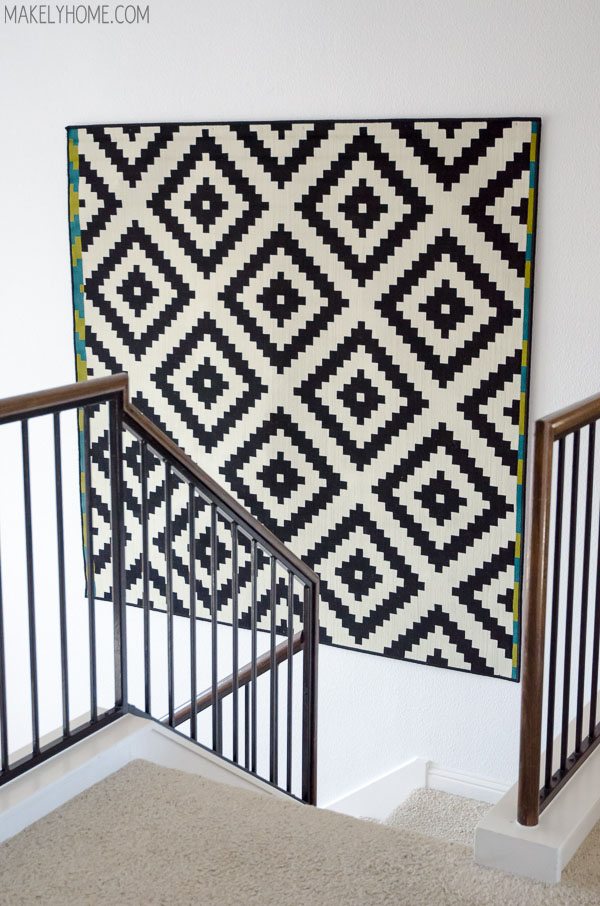 Many homes built in the last twenty years have double-height walls, especially in entryways and great rooms. Being the most public areas, you'll want these spaces to look their best. However, a large wall requires a large statement piece. This graphic rug looks great and spruces up and adds focus to the huge expanse of white.
3. In lieu of traditional artwork
A rug is a perfect alternative for a conventional framed piece of artwork, especially a smaller-sized rug.  This one is a striking focal point at the end of this hallway.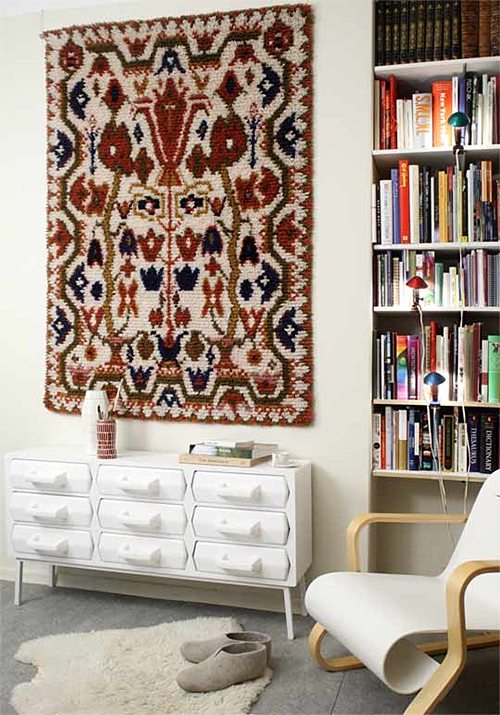 With proper light, the rug's texture is often more enhanced when hung vertically than laying on the floor. This hooked rug is a perfect colorful artistic finish to this living room design and more tactile than a framed print or painting.
Hanging considerations:
Fringe.
Does your rug have fringe? Which direction will it hang? Will it bother you if it's visible? This example above shows fringe on the top and bottom — and gravity will make any fringe droop from the top.
Alternatively, this rug is hung so the fringe is on the side, and it pleasantly flows gently downward.
Hanging options.
Always discuss hanging options for your particular rug with a rug professional. Depending on the rug's weave, fiber type, and weight, one option may be better than another.  Most important is that the rug isn't permanently harmed in the process of displaying it. Popular hanging approaches include sewing a sleeve or loops on the back and hanging the rug from a rod;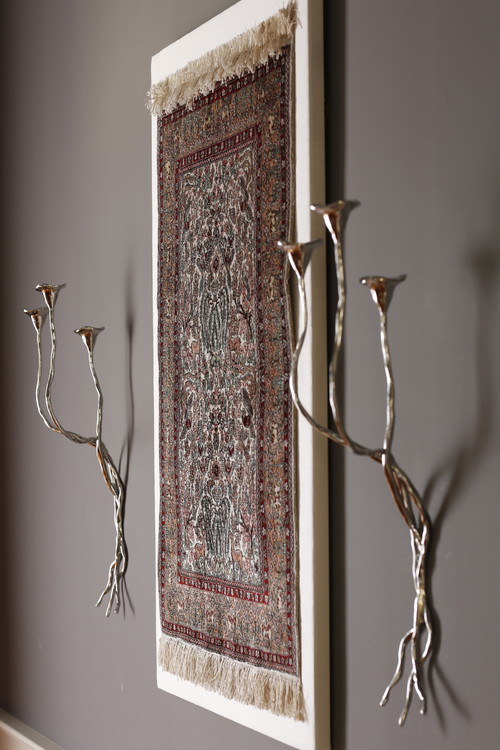 Mounting the rug on a back frame, like shown above;
And finally, hanging the rug using Velcro. The George Washington University Textile Museum says that most conservators recommend the Velcro approach because the points of stress are minimized and it's easier to reposition the rug to compensate for movement, changes in humidity, etc.
Hand-made rugs, like those found at Doris Leslie Blau, are works of art. Would you consider hanging one on the wall?
—————————————————————————————————————
Karen Egly-Thompson is a former interior designer turned interiors writer. She writes regularly for Houzz and her work has appeared in publications such as Porthole Cruise Magazine, Commercial Interior Design. Her blog Design Salad focuses on traditional design in contemporary context.