Do you have that laid back, chill swagger that all the homies love, and you simply must transfer all this coolness from within to your humble crib? Yes, we are saying this with a wink 😉 Yet still we're about to present decorating tricks for probably the swellest style of all times. Ladies and gentlemen, meet California Cool!
Whiteness Provides Roominess and Brightness
To prepare a solid foundation for a Cali Cool interior, one must remember a golden decorating rule – less is more. Here, brightness, spaciousness and minimalistic approach count as much as in case of Scandinavian design. Therefore, uncluttering your abode would be the first step towards "cali coolness". Leave only the essentials and you'll be surprised how little you actually need to function in the house. Moreover, you'll be happier!
Source: mydomaine.com, papernstitchblog.com
Cali Cool refers to the relaxed and beach-oriented lifestyles of surfers who cherish vastness of the ocean, light, freedom, and their passion above all. Go with a bright color palette – a classic off-white paint for walls will work like a dream and make any space look bigger. Neutral shades are also welcome on the furniture. Remember to let the sunshine in – forget heavy curtains, and, if you absolutely need something to hang in your windows, let ethereal muslin veils come into play.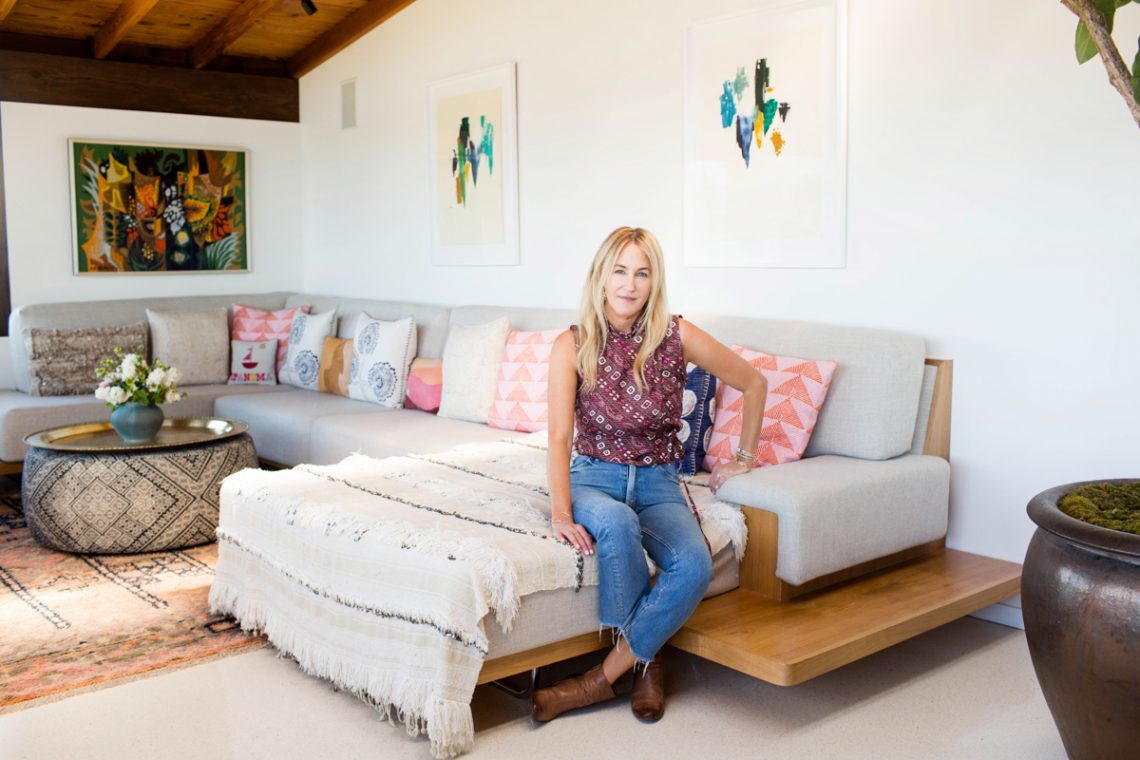 Wood is Good
When your home is already bright and spacious, it is time for the second step. Cali Cool's favorite raw material is indisputably wood. As a matter of fact, the more wood the better! Nowadays, there are various kinds of exotic woods available which are super resistant to water and decay, including angelique, azobe, balata, goncalo alves, greenheart, and many more. Thus, nothing stands in the way of applying them as flooring not only to a living room or a bedroom, but also to a kitchen, terrace, or even a bathroom.
Source: My Domaine, Pinterest
Wooden furniture appear in a wide array of décors, yet here they are absolutely compulsory. Although Scandinavian design is rather associated with winter and California Cool is all about hot summer, both styles have a lot in common, including using wood stumps as decorating elements which may also have a practical function. To build the proper atmosphere of your Cali Cool dwelling, keep the wood in natural, warm shades.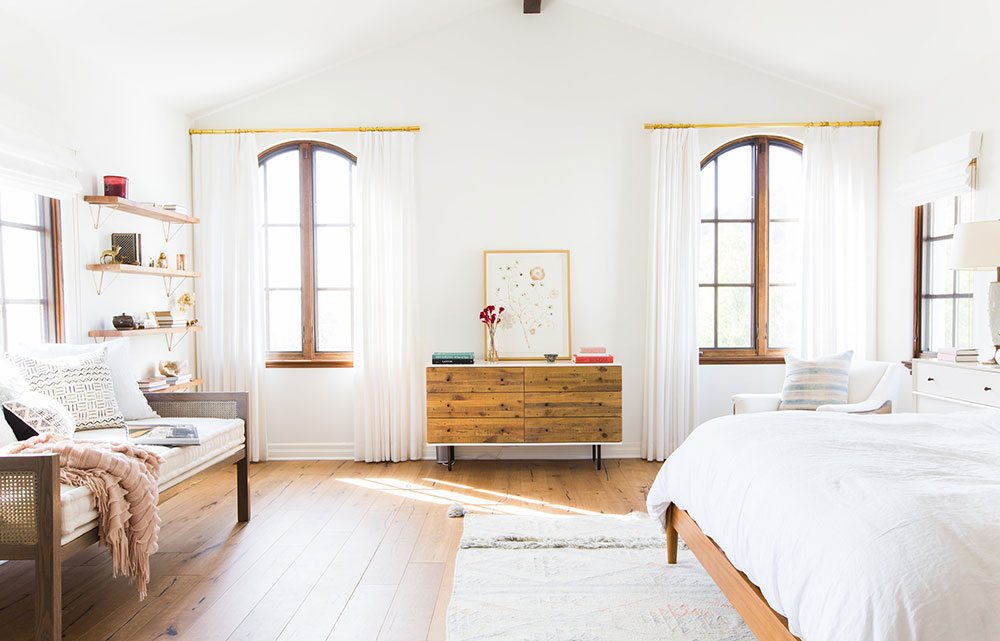 Rug Adds Swag
A rug is a heart of every room and this does not differ for California Cool interiors. However spacious and uncluttered your abode might be, it will always need a space definer and a warmth bringer in the form of a rug. Moreover, in the pure and simplistic Cali Cool décor, a qualitative carpet is the best way to introduce some colors and patterns. With no curtains or unnecessary objects, a rug will enliven the interior and add a pinch of homeliness.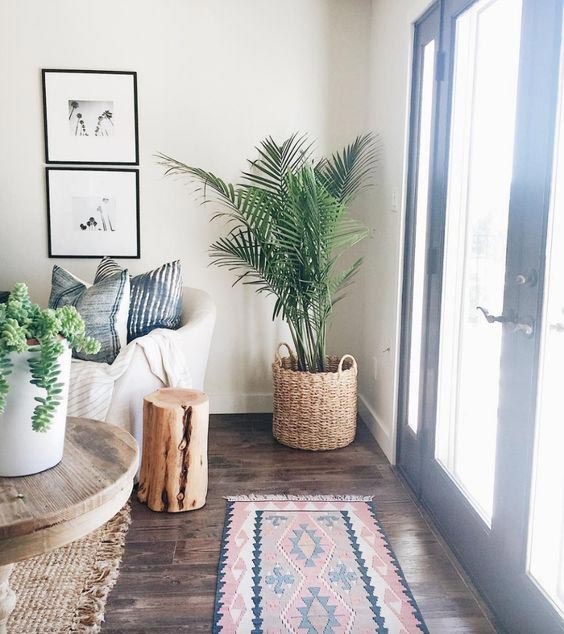 To emphasize the free-spirited atmosphere, go for Moroccan kilims or vintage Samarkand rugs. Their geometricism and vivid hues, as well as a distinct ethnic vibe, makes them a perfect match for the natural, simplistic setting. These very same characteristics apply also to other textiles you want in your house, like cushions, bed covers, blankets and towels.
                                            Source:  seaofgirasoles.com, Doris Leslie Blau Kilim Rug
Editor's pick
 Doris Leslie Blau Kilim Rugs:1, 2
Retro Rattan Chair Gives Flair
One of the key components of California Cool décor are classic retro accessories and furniture. Some can be drawn from the Mid-Century Modern style, like, for instance, a console. Nonetheless, the most iconic vintage design element would be the so-called rattan peacock chair. The peacock chair (aka "the fan chair"), with its flared back and intricately woven details, most probably originated in East Asia as a throne-like, head-framing seat reserved for royals.
Source: mydomaine.com 
Then, in the 19th century, rattan designs made their way via trading routes to the United States and England, where they became favorite garden-party perches. After a lull in popularity, the chairs came back big time during the swinging 1960s and '70s, turning up as fab boho photo-shoot props for the greatest stars of the era, from Brigitte Bardot to Stevie Nicks. You may match them with rattan lampshades and enjoy the Cali Cool atmosphere of a tropical island.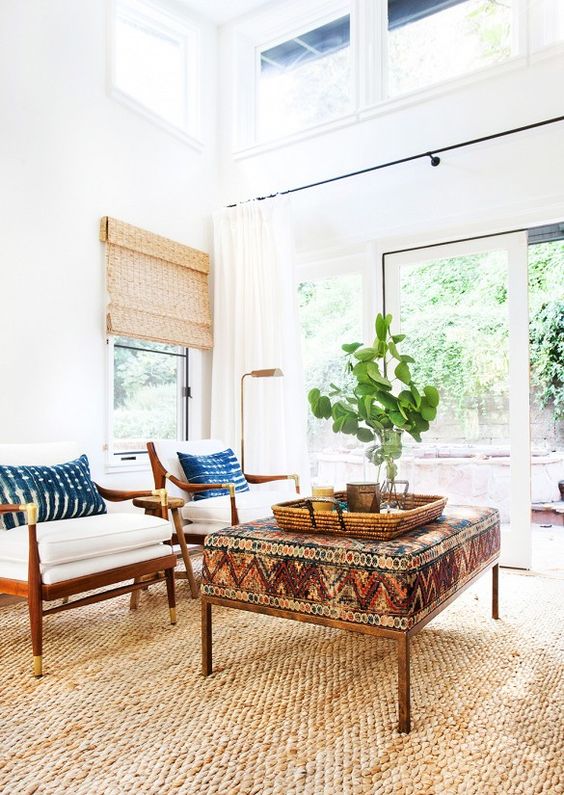 Become a Fan of Exotic Plants
California Cool simply cannot do without some greenery. After all, everything thrives during summer and you want to make sure your Cali Cool home thrives all year round. What's more, in 2017, the year of greenery color according to PANTONE, plants are obligatory in every possible décor! Cacti, palms and succulents are not only low-maintenance (who'd have time for watering when the surfing board is waiting), but also look totally fancy. The exotic plant motif can be repeated on wallpapers or applied in a wall gallery. Now, you may lay back on your rattan peacock chair and rest in the shadow of palm trees, just like an actual surfer 😉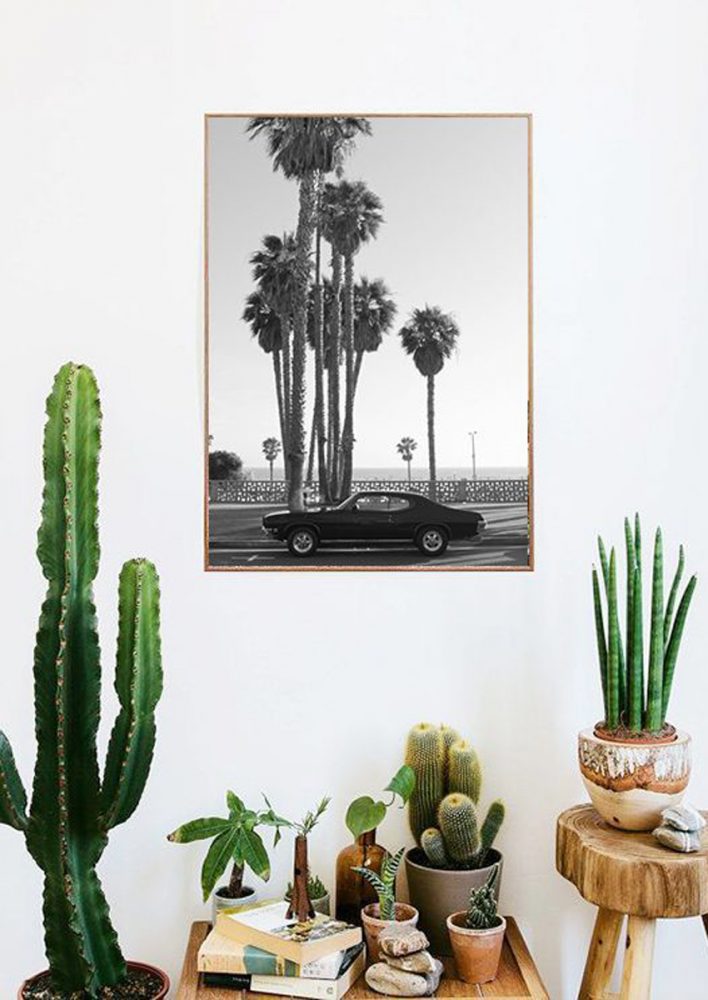 Signature is Cool
Finally, the cherry on top – accessories that will clearly indicate which style resides in your abode. To complete the perfect Cali Cool arrangement one must remember about the beach-related items that not necessarily have to be just props. A surfing board, a guitar or a sunhat may serve you on daily basis and, at the same time, contribute to the building of the spontaneous and easy California Cool atmosphere.
Source: alexanderdb.com, mydomaine.com 
A personalized neon light is a super chic decorative element which brings to mind a classic beach bar. Thanks to these small accents, your Cali Cool décor will accurately reflect the atmosphere of the beach slack, and will allow you to relax even during the busiest days of your life.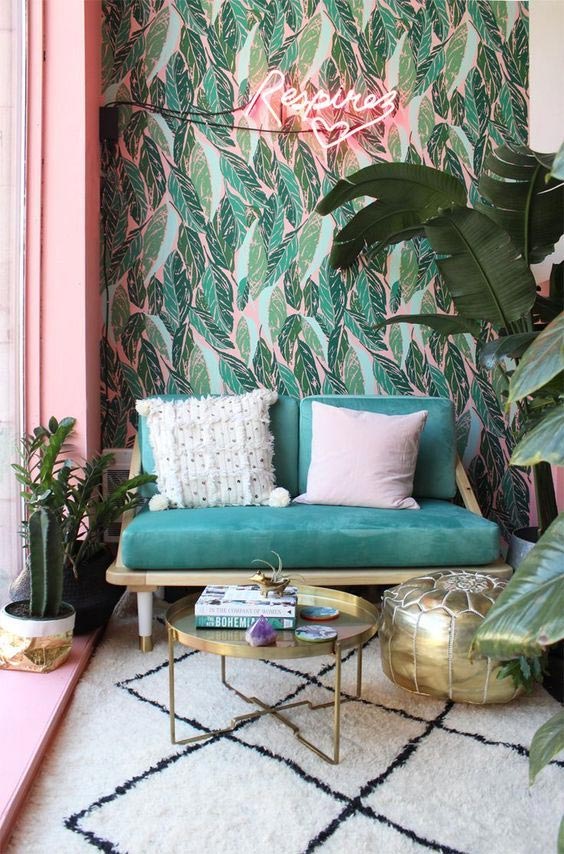 For more inspirations, take a peek at Doris Leslie Blau website – we are always at your disposal. And if by any chance you are visiting the capital, step into The Washington Design Center, 1099 14th Street N.W. Washington, D.C. 20005, to see our showroom. You can also give us a call at 202-808-9361.