Vintage Bold, Yellow, Gray, Blue and Red Hand Knotted Wool Kilim Rug BB5943
7'6" × 16'5"
$

8,000
$8,000
Antique rugs collection, this circa-1930 antique Kilim rug is a part of the Kilim Rugs collection features a bold all-over design of a checkered pattern making up larger diamonds in shades of yellow, gray and blue, outlined by an earthy red. Multiple geometrically patterned borders using the same palette complete the look of the early 20th century carpet.
Kilim, a word of Turkish origin, refers to a pileless weave produced by one of several flat-weaving techniques that have a common or closely related heritage and are practiced in the geographical area that includes parts of Turkey (Anatolia and Thrace), North Africa, the Balkans, the Caucasus, Iran, Afghanistan, Pakistan, Central Asia and China.
Kilim rugs are popular among collectors due to the different nature of their weave, as well as traditional value of a piece woven for indigenous use as opposed to rugs made on a strictly commercial basis. The authenticity of origin as well as the unique design of these rugs add to their value.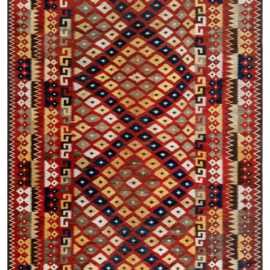 Vintage Bold, Yellow, Gray, Blue and Red Hand Knotted Wool Kilim Rug BB5943
$

8,000
In stock