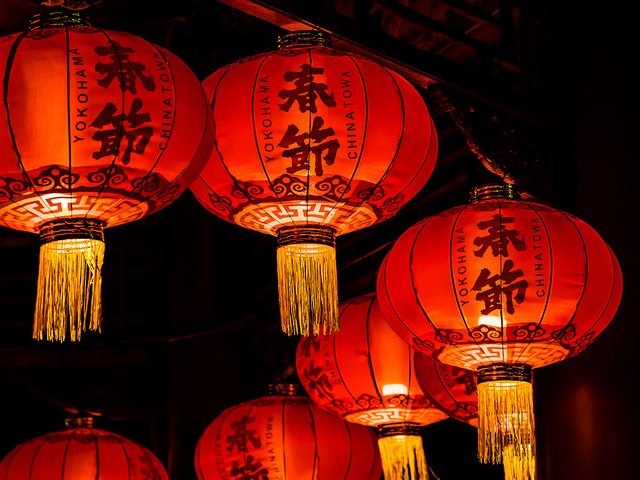 February 8th is the first day of the Chinese New Year 2016.  Festivities traditionally include the Lantern Festival, symbolizing the approaching spring. Red is associated with luck in Chinese culture, so red lanterns are the appropriate hue to usher in the Chinese New Year.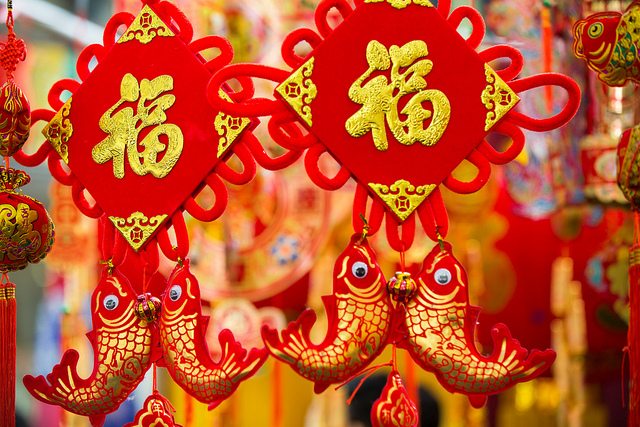 Fu in Chinese means happiness, luck, and prosperity. During the new year celebration, the Chinese character is written on red-colored diamond-shaped paper and often turned upside down, signifying that happiness is forthcoming. Fu is usually posted on front doors, windows or living room walls.
While these are just a couple of ways to celebrate the Chinese New Year, you might want to bring some Chinese design style into your home — not only for luck, but also for its elegance and whimsical charm. Here's six ways to do it:
1. Monkey around
The Chinese zodiac celebrates the cleverness and agility of monkeys. People born in the monkey sign are believed to inherit these attributes. Since 2016 is the Year of the Monkey, it's only right to start out with this fun-loving wallpaper, Deco Monkeys by de Gournay.  Although whimsical, it's probably best to limit the monkey theme to a small room, or a few accessories.
2. Be a fretwork fan
While the popularity in fretwork trellis has been around for years, some designs are more evocative of Chinese Chippendale patterns than others. Look for fretwork patterns in medallion or bamboo designs, like this bathroom wallpaper from Cowtan & Tout.
While graphic and bold, some folks might have a hard time committing to an entire room or piece of furniture in a trellis design. Don't fret! Use the design on throw pillows, or like in this striking example, the back surface of built-in shelving.
3. Integrate a cool garden stool
Most garden stools are solid colored and have blocky cut-out designs, blending well with both traditional and contemporary styles. Using them as a side table is not only great for smaller spaces, especially urban apartments, but also areas that need lower-height surfaces, like next to a bathtub. This example is more intricate, and reminiscent of fine porcelain and looks terrific in this otherwise neutral bathroom.
4. Seek chic fabrics
Silks and toiles laden with umbrellaed figures and pagodas are conventional fabrics for Chinese-inspired spaces. While these can be attractive, they don't often fit the lifestyle or aesthetics of most folks today. Look for bold printed floral patterns to hint at Chinese design without going over the top. Chrysanthemums, like featured on the chair above, are a good pick.
These drapes feature a fresher, more graphic take on traditional Chinese-themed toile.
5. Demand more from your floor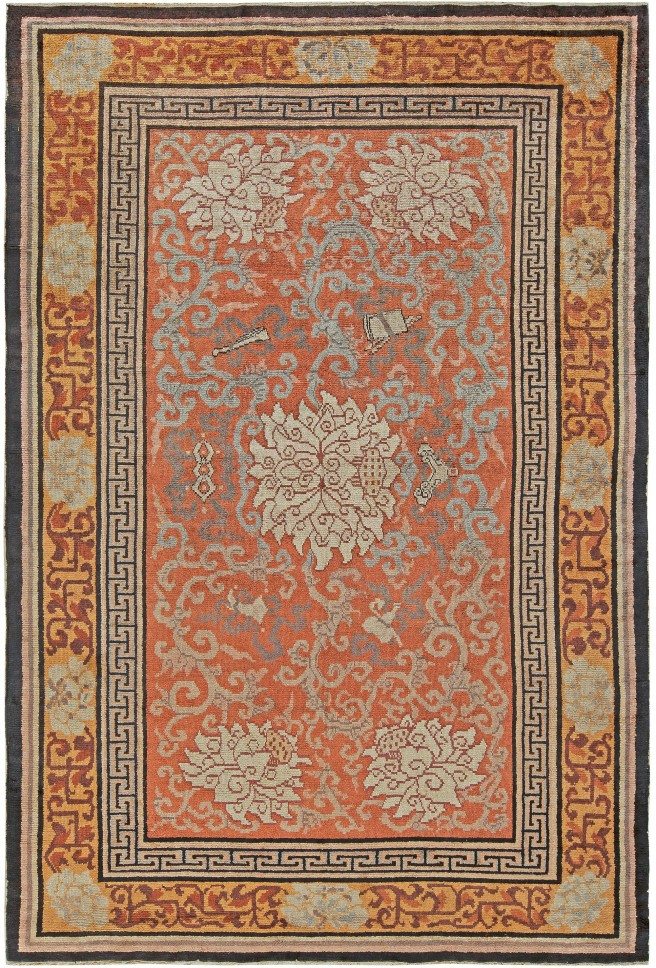 Wall surfaces and upholstery aren't the only soft furnishings to show off Chinese designs. Chinese area rugs are a great way to introduce texture, softness and pattern into any room. Antique Chinese carpets, like the one shown above, tend to have lighter color palettes and often feature natural imagery.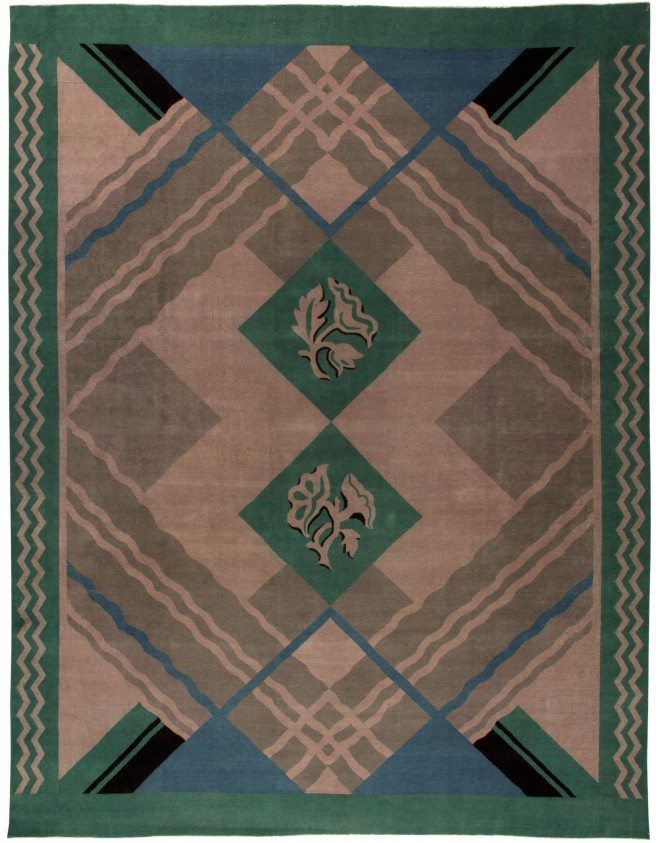 Vintage Chinese Deco rugs often have brighter color palettes, incorporating emerald greens, like shown here. Made in 1020, its sharp, blocky geometric design evokes the American Jazz Age.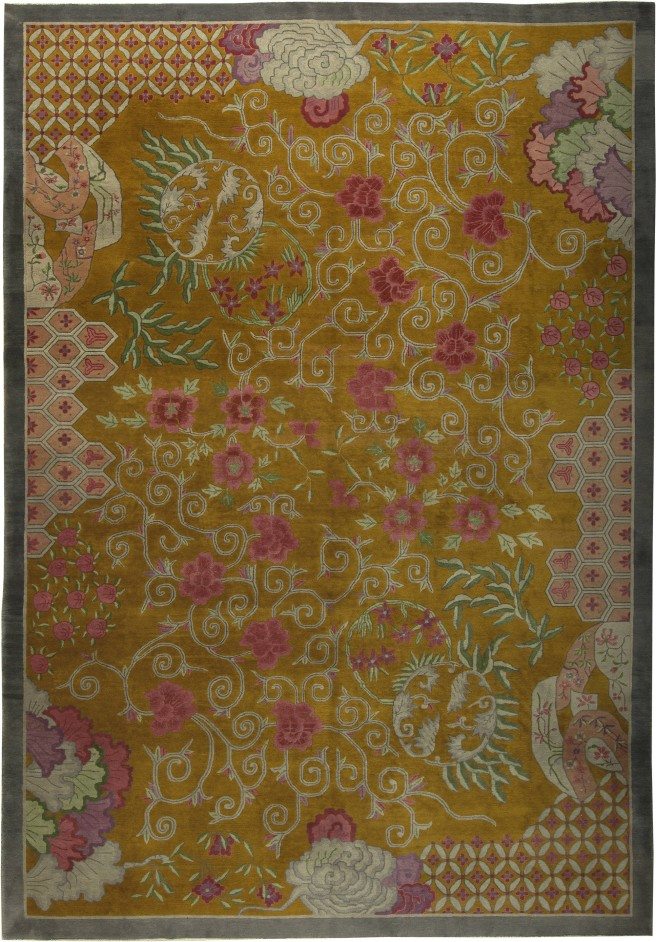 Magentas and yellows are also common colors used in vintage Deco rugs, as seen in this dreamy example.
6. Screen your scene
Whether painted or carved, Chinese screens are works of art used as stately room dividers or to hide bare or unsightly room corners. For this project, designer Jessica Buckley repurposed this one to serve as a handsome headboard. Although not red, perhaps sleeping below the Chinese screen will bring its owners luck and prosperity in the new year.
—————————————————————————————————————–
Karen Egly-Thompson is a former interior designer turned interiors writer. She writes regularly for Houzz and her work has appeared in publications such as Commercial Interior Design and Middle East Architect. Her blog Design Salad focuses on traditional design in contemporary context. A seeker of ideal coastal weather, Karen calls both Dubai and Maine home.