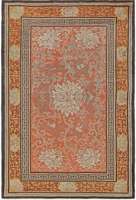 Decorative oriental, Chinese rugs and carpets have been a significant art form within the Chinese culture for many centuries, if not for several millennia. The history of Chinese rugs apart from being long and distinguished, is largely independent of that of the Middle East vintage rugs. First of all Chinese rugs and carpets were woven almost solely for domestic consumption – such separation from Western influences resulted in those carpets having truly ethnic Chinese vibe and appearance. It was not until the 19th century, the Chinese started exporting Chinese rugs to the world of the West – other goods, such as bronzes and porcelain have already been exported for many years before. Often employing silk textiles, antique Chinese rugs and carpets were produced in medallion as well as rectangular formats. Chinese rugs tend to be more open and spacious than the Oriental carpets from the Western Asia.
Chinese Rugs Colors
Maintained mostly in blues, golds, ivories and beiges, with classical symbols of longevity, elaborate lotus blossoms, chrysanthemums, cloud-band motifs, foo-dogs and birds, antique Chinese rugs are frequently visible in paintings from as early as the T'ang Period. In contrast to earlier Chinese antique rugs, the twentieth-century Chinese Art Deco rugs can be quite spare in design and quite radical in color, catering to the western taste shaped by the birth of the modernist movement.
Chinese Rugs Patterns
Chinese rugs often comprised of geometric or abstract patterns. The most recognizable rugs from the 1920's and 1930 were made by Walter Nichols – the American who manufactured deco carpets in Tientsin. They were usually made of wool and the finest silk while depicting exotic Asian flowers and birds in very rich, bold colors like magenta, turquoise, emerald and ruby. Rugs produced in Kashgar, Yarkand and Khotan in the Chinese occupied Autonomous Region of Sikiang are collectively known as Samarkands.
Typically long and narrow with simplistic spacious designs rendered in a glossy wool, Samarkand rugs frequently employ colorations of lacquer reds and Chinese yellows. They are heavily influenced by the neighboring countries of China and Turkey and have been produced in this region since at least the seventeenth century.
Check other decorative rugs in our store collection
An Exceptional Collection of Chinese Deco Rugs for Sale