The famous exuberant redhead has returned to the screens in the picturesque Anne with an E series and the world once again fell for her youthful energy. Just as Anne finds it hard to curb her enthusiasm, we simply can't resist the fabulous décor which also plays major role in the Netflix original production. With our design tips you'll have a chance to introduce the idyllic atmosphere of Green Gables into your home. Enjoy!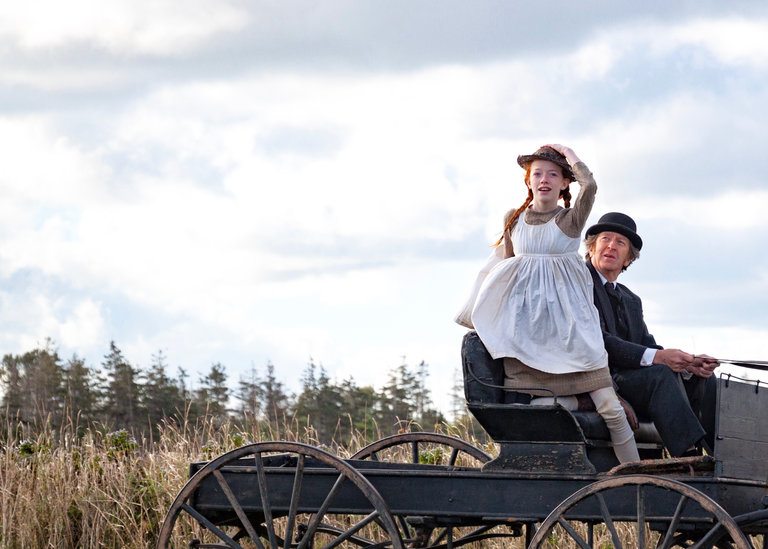 Proper Storage
If you've ever had anything to do with Anne of Green Gables, surely you must remember the dramatic story of raspberry cordial. For those who are not acquainted with the lively orphan, a little teaser – Anne invites her best friend Diana Barry over for afternoon tea and instead of a non-alcoholic beverage serves a warming raspberry wine. Although honest, the mistake has tragic consequences for both girls, but we will say no more.
Sources: Houzz, Pinterest
The conclusion is that a legitimate farmhouse kitchen just can't do without a properly organized and marked storage (preferably full of homemade preserves). Mason jars labeled with stickers will not only be a place for your condiments and dry products but also a fantastic decoration. You may keep a wicker basket at sight to store your fruits and vegetables. It will help you monitor the condition of your home greengrocer and add some color to the kitchen décor! Also, glass bottles do nicely on shelves, just remember to label them in order to avoid a raspberry cordial situation 😉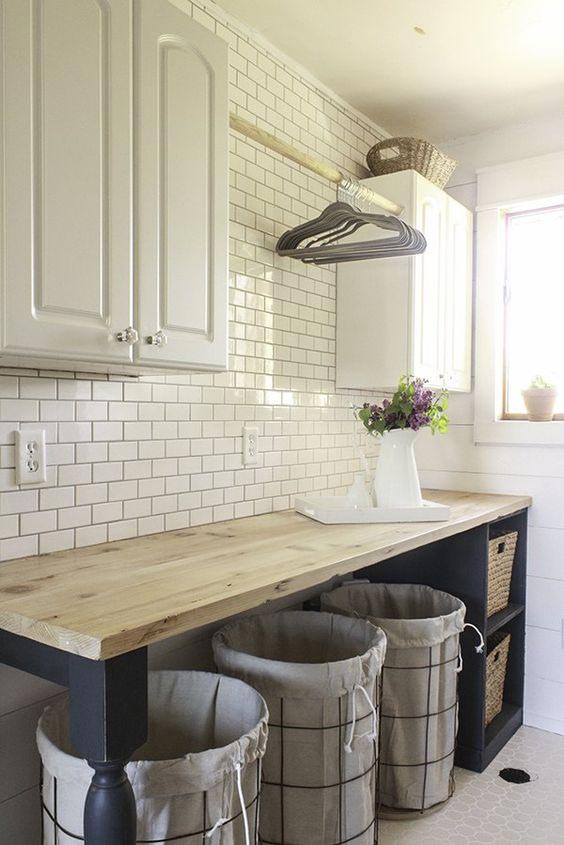 Raw Wood
The trend for a natural wood look in interior design never dies. It is certainly well and alive in Anne's farmhouse kitchen. This year we can't get enough of timber so do not limit yourself under no circumstances! It applies to absolutely anything, from floors, through furniture to cutlery and decorations. Out of all kinds of wood, oak is the perfect choice. In addition to its warm, light color with a prominent grain, oak is distinguished by a remarkable quality.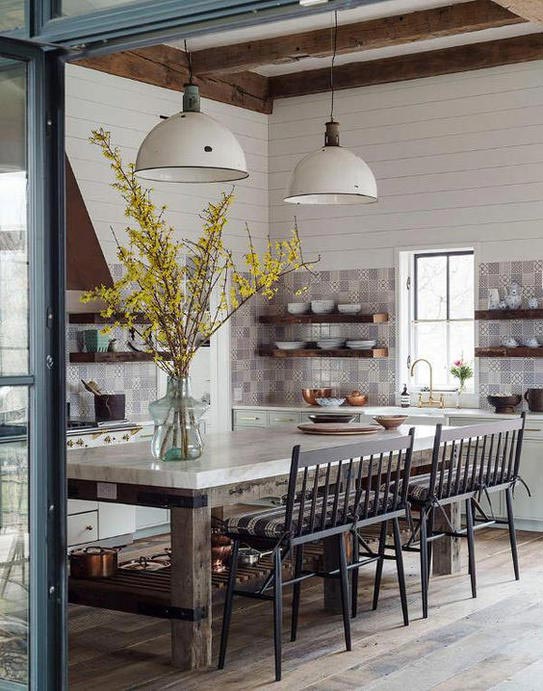 Source: Our Vintage Home Love &  Stylecaster
This exceedingly strong and durable material is resistant to fungal attack thanks to its dense constitution and long-living nature which must equip the tree for its imposing lifetime. For timber freaks we advise to go a step further. Instead of decorating with wooden accessories, go with raw wood – a circle may serve as a cutting board, a stump may become your favorite stool. Not every piece of wood has to have a function. Nicely shaped wood chunks are ideal for placing next to your wicker baskets and pleasing the eyes with their natural appeal.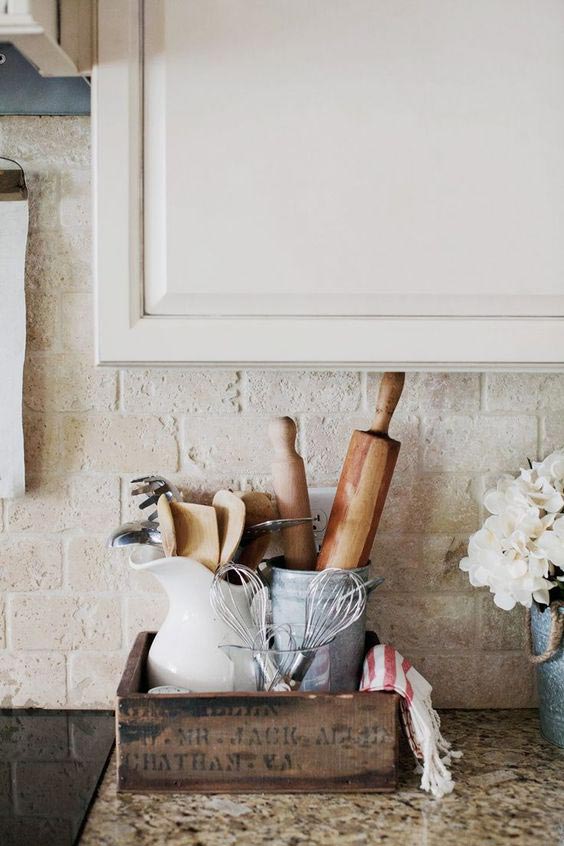 Wall Tiles
In old-school farmhouse kitchens the central part has always been occupied by a classic tiled stove. We know it from movies and fairy tales as the favorite spot of a lazy tabby or a sinister tool of a bad witch. Nowadays, we rarely use live fire for cooking yet the sentiment for the tiles in the kitchen has remained. They are practical – it usually takes a cloth and a bit of water to clean them so you never need to overly worry about making a mess.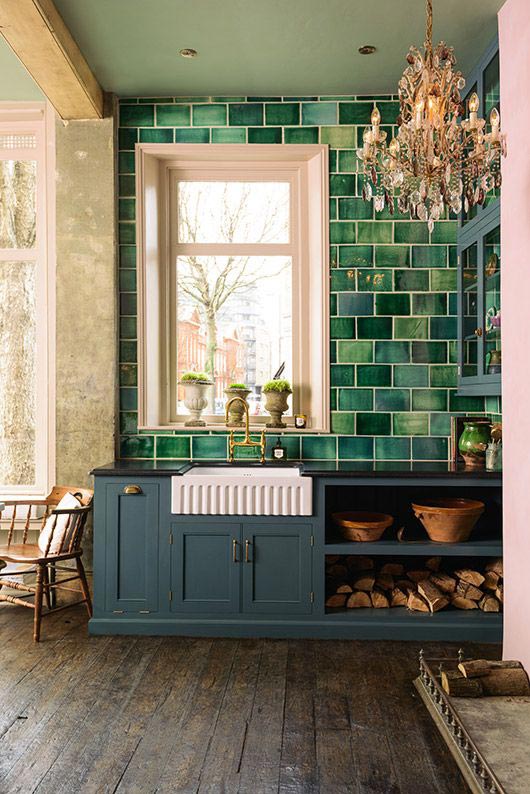 Source: Pinterest
They are durable – high quality tiles practically never fade or crack, giving us the comfort of freely using the kitchen. Finally, they are absolutely amazing and constitute one of the hottest trends of this season. White tiles finished with a black grout give an intriguing effect and create a clean but homely atmosphere. However, a modern farmhouse of 2017 calls for something even more extraordinary! Greenery, the color of the year, seems to be doing extremely well in the tile department. Not to mention the wide selection of folk, Moroccan or rustic patterns presently available on all sorts of finishing materials. In modern farmhouse style all combinations are allowed. Make sure to make the most of it!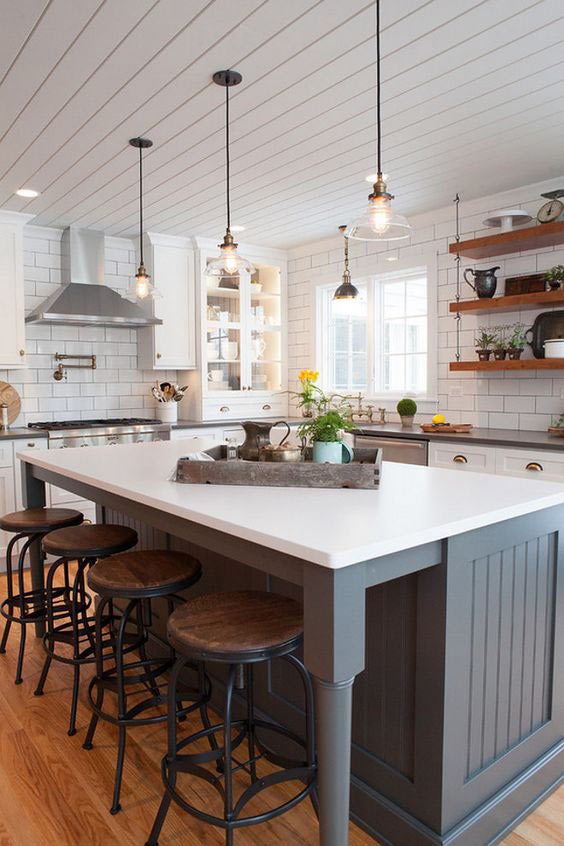 Iconic Furniture
One of Marilla Cuthbert's (Anne's adoptive mother) favorite activities was sewing in a rocking chair. We suspect that the chair played there an important part as sewing by itself may be tedious at times but the rocking never wears off. Traditional rustic furniture and accessories, with their simplicity, practicality and gentle beauty, will make a fabulous addition to your stylized kitchen.
Source: cocokelley.com
A firm, solid wooden table with carved legs may add a venerable vibe to the otherwise simply arranged interior, while a classic wood and glass china closet will introduce a bit of a vintage charm. It is advisable to equip the place with some brass or copper accents (in the form of e.g. pots or cups). Even if just for show, they will reflect light beautifully and crate shining focal points – a counterweight for the toned and tranquil bucolic décor.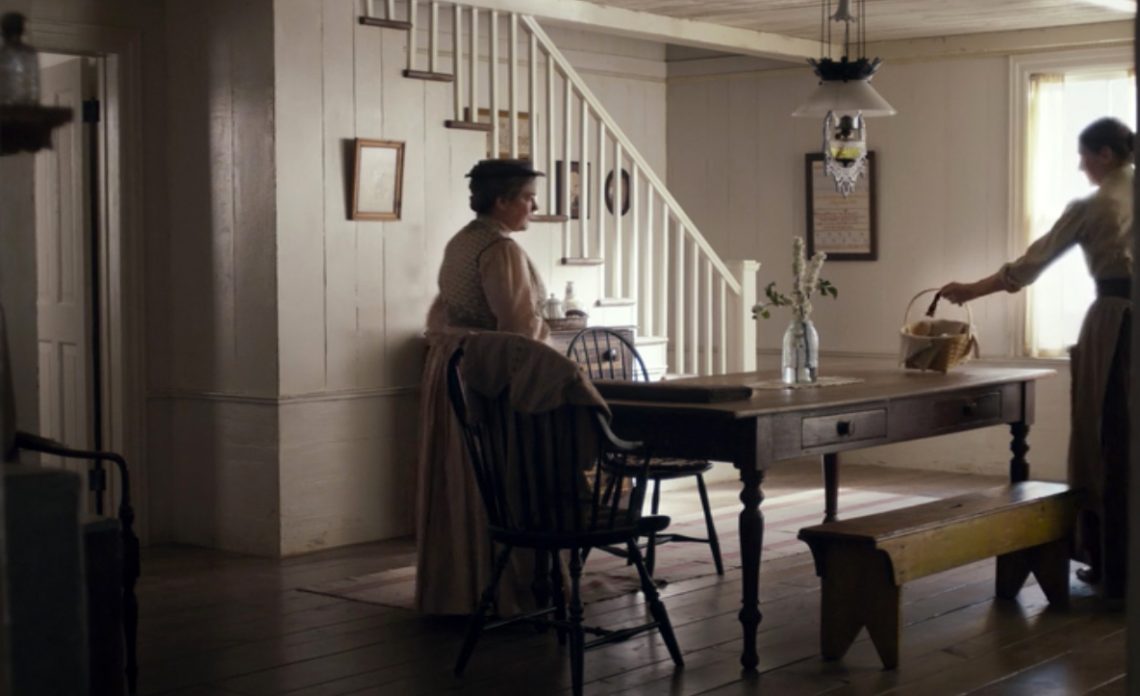 Textiles and Rugs
Last but not least, the final touch to your farmhouse kitchen – textiles and rugs. A tea with your neighbor or best friend tastes much better if the table is laid with a handmade crocheted cloth. A window acquires new (retro) dimension when adorned with flowery curtains. Finally, a wooden floor absolutely can't do without a suitable rug. For the modern farmhouse style we recommend a vintage kilim or a Samarkand rug.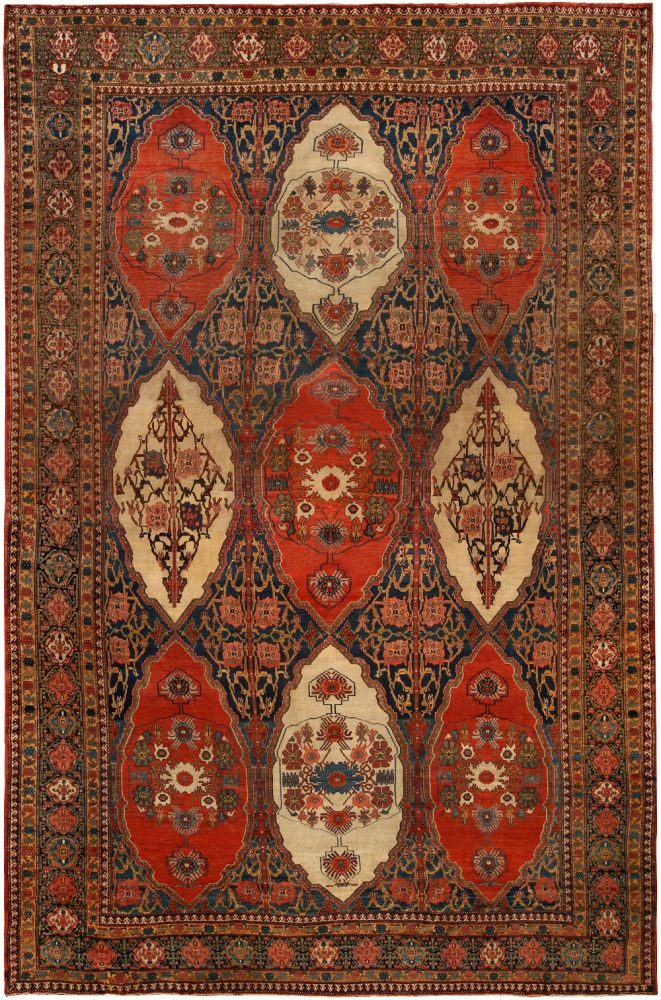 Sources: hupehome.com & MyDomaine
Both belong to the category of flat-woven carpets which means they have no pile and may even happen to be reversible. Such practical solution perfectly checks out in the kitchen which is, for the most part, the busiest of all rooms in the house, not to mention the cooking. A rug is not only an ideal space definer but also a true warmth bringer. With an ethnic kilim on the floor your modern farmhouse arrangement will be complete and you will be free do enjoy the heavenly delights of good décor (as Anne would probably call them).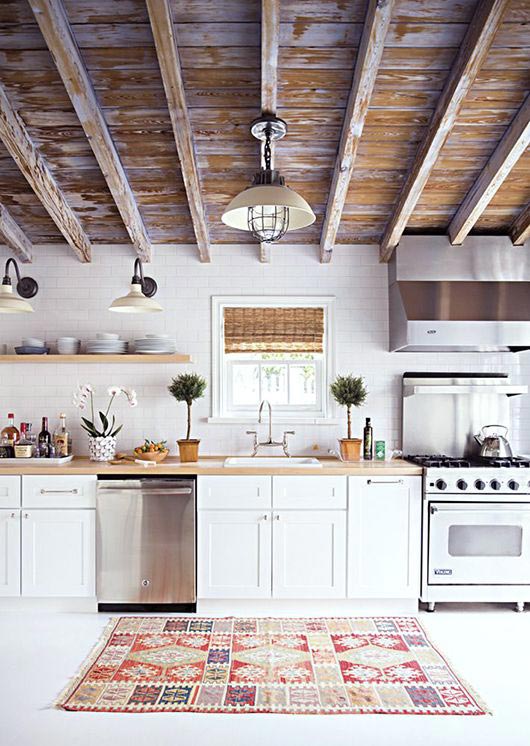 Samarkands Rugs by Doris Leslie Blau: 1, 2
For more inspirations, take a peek at Doris Leslie Blau website – we are always at your disposal. And if by any chance you are visiting the capital, step into The Washington Design Center, 1099 14th Street N.W. Washington, D.C. 20005, to see our showroom. You can also give us a call at 202-808-9361.