Rugs have always been something more than merely decoration items and utilitarian objects. Initially, the discovery of the weaving craft profoundly impacted the quality of nomadic tribes' life – rugs gave shelter and served for most furniture, later to affect the development of entire civilizations.
When life gives you rugs, put them down in style.
Rugs have always been something more than merely decoration items and utilitarian objects. Initially, the discovery of the weaving craft profoundly impacted the quality of nomadic tribes' life – rugs gave shelter and served for most furniture, later to affect the development of entire civilizations. Any oasis town with a famous weaving school could count on the world-wide recognition and was visited by merchants traversing trade routes from the furthest edges of Asia to the old continent and back. Soon, the craft turned into art and became a substantial part of all social classes' existence, from kings to vagabonds. Rugs turned out to be means of expression for the weavers, mostly women, giving them a certain freedom of speech in a male-oriented, oppressive world. This makes carpets one of the first manifestations of female independence. The rugs entered the field of religion in oriental cultures, starting from Islamic Persian and Turkish prayer rugs, to colorful Samarkands which served Buddhist monks to meditate on. Interestingly enough, rugs were adapted also by the Christian culture and exposed for instance in protestant churches or given as precious gifts to high church officials. This fascination has continued for many centuries and about a hundred years ago it took on an entirely new dimension. Rugs have made their way into the runways and art galleries. Antique and vintage carpets have grown into good décor and attracted undivided attention of tastemakers and collectors around the world. All in all, antique and vintage rugs became a part and parcel of our daily lifestyles and now can be described as lifestyle rugs. They have helped human kind to develop abstract, out-of-the-box thinking.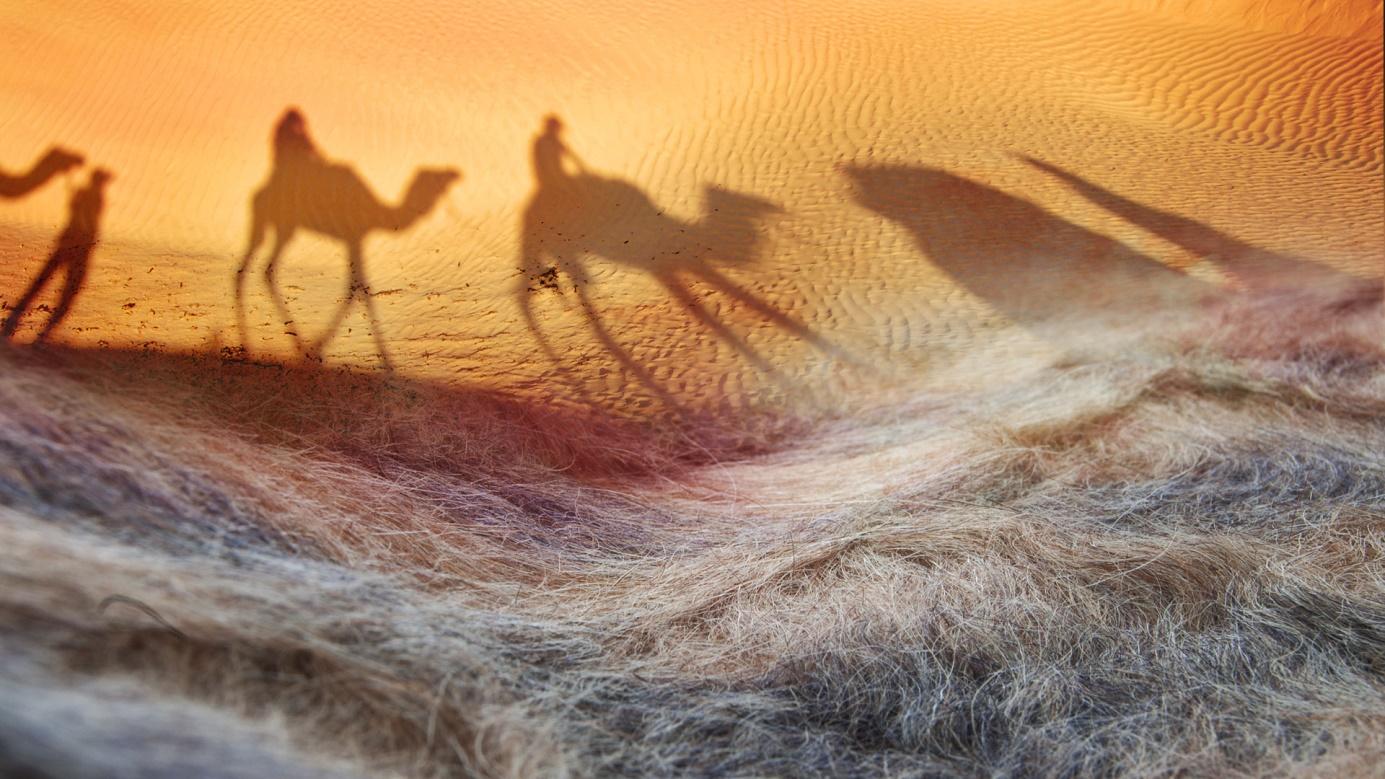 Antique Lifestyle Rugs.
In 1949, a Russian archeologist Sergei Rudenko made a groundbreaking discovery, especially in the context of the history of weaving. Searching through Siberia, precisely the part called Pazyryk Valley, he excavated a tomb of a Scythian Prince with all the treasures that had been buried within for over 2500 years. Among many historically important findings that offered a thought-provoking insight into the little known ancient nomadic tribes of Pazyryk, including cloth saddles, decorative or devotional figurines, tattooed mummies, cannabis seeds with an inhalation tent, and even a full-sized burial chariot, there was a rug. It had lasted all this time frozen in ice which allowed it to remain almost untouched by the ravages of time. It is the oldest known pile rug which is additionally exceptionally well preserved and by its singularity continues to intrigue historians and weavers alike. This instance shows how important rugs have always been and highlights their position in people's everyday lives.
The Pazyryk rug dates back to circa 400 before Christ, and so does the earliest presently known mention of a Persian carpet. It was a notice made by a Greek author Xenophon in his book Anabasis, where he says: "Next he went to Timasion the Dardanian, for he heard that he had some Persian drinking cups and carpets.", and "Timasion also drank his health and presented him with a silver bowl and a carpet worth ten mines." The author describes the rugs as luxurious, precious and worthy to be given as diplomatic gifts. Although we have no knowledge of whether they were pile- or flat-woven, or produced using any other technique such as, for instance, embroidery, it is extremely important that the very first reference to Persian carpets puts them in context of prestige, diplomacy and splendor.
Persian rugs" src="//www.dorisleslieblau.com/pictures/article_block_images/images/000/001/349/original/flat-woven-persian-rugs.jpg" class="img-responsive ">
In the early 16th century A.D. Persian rugs became something much more than just exclusive goods made to cater for the needs of the royal court or utilitarian objects produced by nomadic tribes for domestic use – they became one of the driving forces in the development of the state. Shah Abbas introduced a program for restructu
ring the economy and attracting European merchants to the country. The major part of the project was the advancement of the textile industry and export of fine pile-woven carpets to the West. Persian rugs from all famous weaving centers, like Tabriz, Qum, Kerman or Meshad, have always been of the best quality wool, camel fur, goat's hair, silk and cotton – each of the fibers selected for its distinct qualities. The dyes have always been natural, even nowadays extracted from plants and animals (just as carmine, made of cochineal bugs). So much effort and thought put into the creation of antique Persian masterpieces resulted in their worldwide fame and recognition. It is easy to imagine that such a crucial part of life as religion must have found its reflection in the art of weaving and led to the creation of unique prayer rugs.
Nowadays, owning an antique rugs defines a certain lifestyle and social position. It is a marker of good taste but also an indicator of wealth – genuine antique weaving pieces are relatively costly. However, it is an absolutely worthwhile expense. Mesmerizing antique carpets are resistant to the inexorable passage of time and perfectly match contemporary interior arrangements such as Hollywood Regency or Modern Classic. They can easily fit into minimalistic abodes as a counterweight to the otherwise clean and pattern-less décor.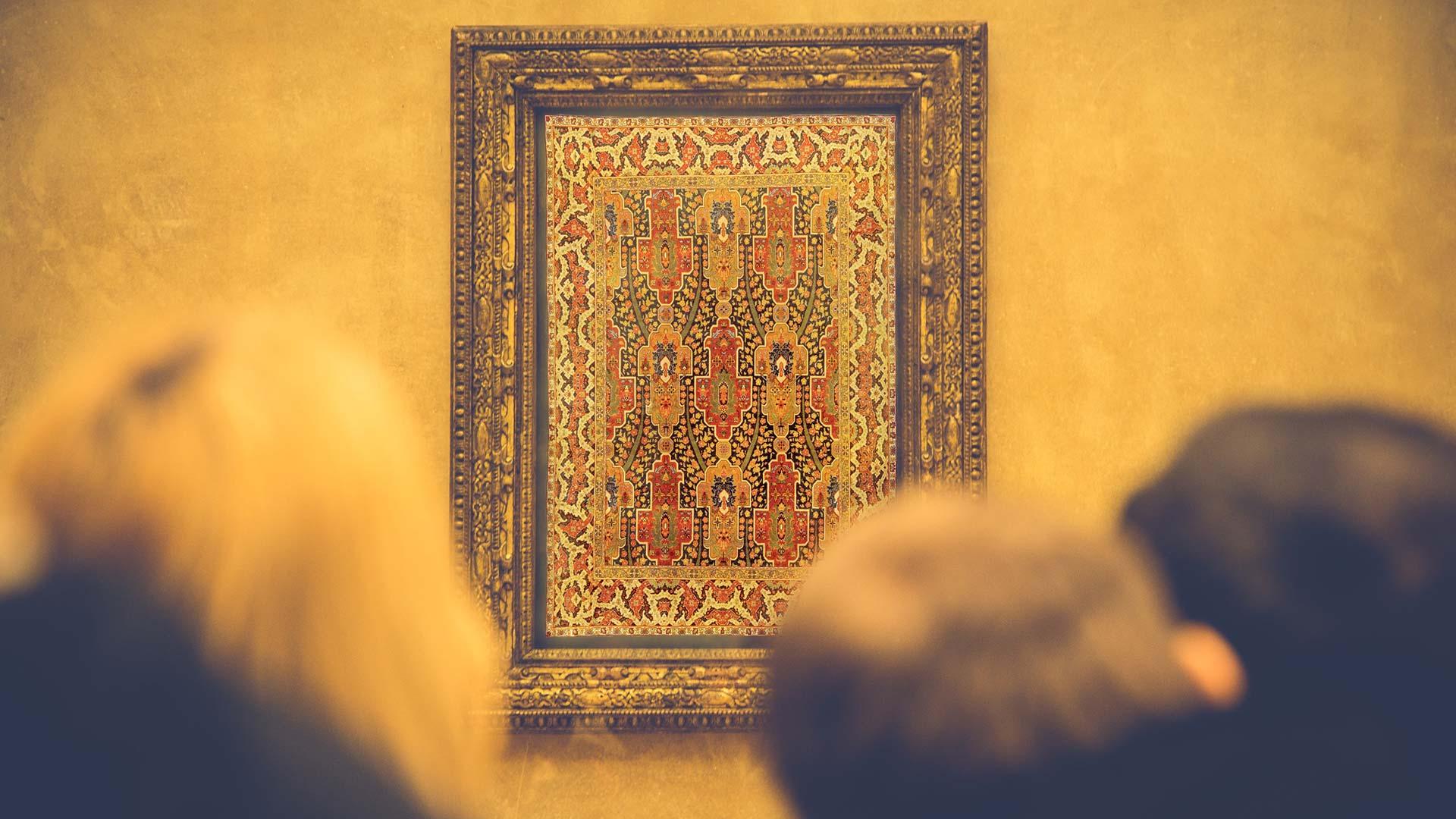 Vintage Lifestyle Rugs.
The Modernist movement that emerged at the beginning of the 20th century, was a major transition from the era of Victorian salons, full of conventions and social distinctions, to the age of cafe society, concentrated on fixing of all ill-fitted aspects of the world. The strive for change resounded strongly in design, introducing many innovations unthinkable in the old days. People discovered the brilliance of simplicity, the excellence of geometric elegance and the power of properly applied, daring colors. They experimented not only with patterns but also with forms and textures of objects. The pomp and excess were left behind to make way for the new concept of beauty. It all transferred to vintage modern rugs – every trend in architecture and art was also reflected also in textiles. One might ask why exactly rugs, where this fascination for weaving masterpieces, beginning from the earliest antique rugs, comes from. The answer is simple – a rug is a heart of every room. Vintage rugs showcase rich diversity in terms of design, ranging from geometric, abstract patterns to native floral or folk motifs with a mesmerizing use of color and form.
Vintage rugs may be described as eco-friendly due to the high quality of their making, natural materials and dyes, as well as timeless appeal which makes them valid and applicable regardless of the changing times and trends. They are objects worth investing in which stand in opposition to the mass production of disposable goods which takes place in modern era.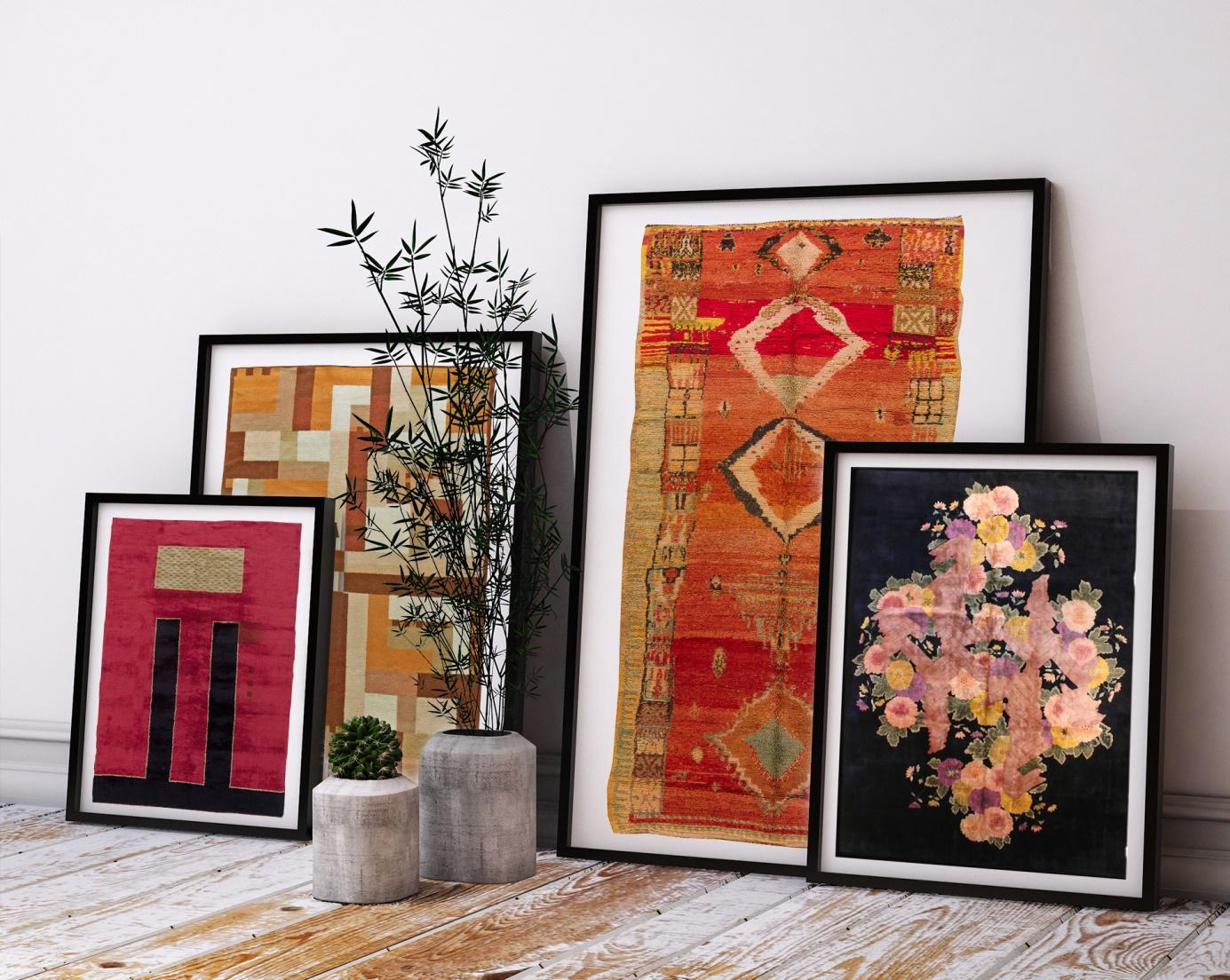 Scandinavian Lifestyle Rugs.
Scandinavian rugs and particularly vintage Swedish rugs are one of the major examples of vintage lifestyle rugs. They have become known around the world for intricate weaving techniques, exceptional color palettes and most importantly – their compatibility with both modern and contemporary interiors. Their strongest point is remarkable Scandinavian aesthetics which was born of history, philosophy and breathtaking landscapes of the northern countries. It is a style full of symbolism referring to nature, where the exact representation of plants, animals or landforms was substituted by geometric, simple motifs. The main idea behind this philosophy of design lies in the dream of social equality. The Scandinavian society, being compatible and unified, assumed that anyone, not only the rich and wealth but all citizens, should be able to afford a beautiful and practical interior. It is perfectly reflected in vintage Swedish rugs, which have been created by the artists of the finest sort and are usually accessible to all. Marta Maas-Fjetterstrom can be lightly called a Grand Dame of Swedish rugs. She established her own company in 1919 which after her death in 1942 was taken over by Barbro Nilsson, who became the director and chief designer of the weaving workshop. Other important designers of Swedish rugs in the mid-20th century include Ingrid Dessau, Marin Hemmingson, Sigvard Bernadotte, Brita Grahn, Edna Martin and Viola Grasten. All of them have contributed to the absolute success of Scandinavian rug design which is nowadays desired more than ever. Vintage carpets are praised by contemporary interior designers for the unobtrusive, muted color palette combined with the patterns largely inspired by folklore and geometry.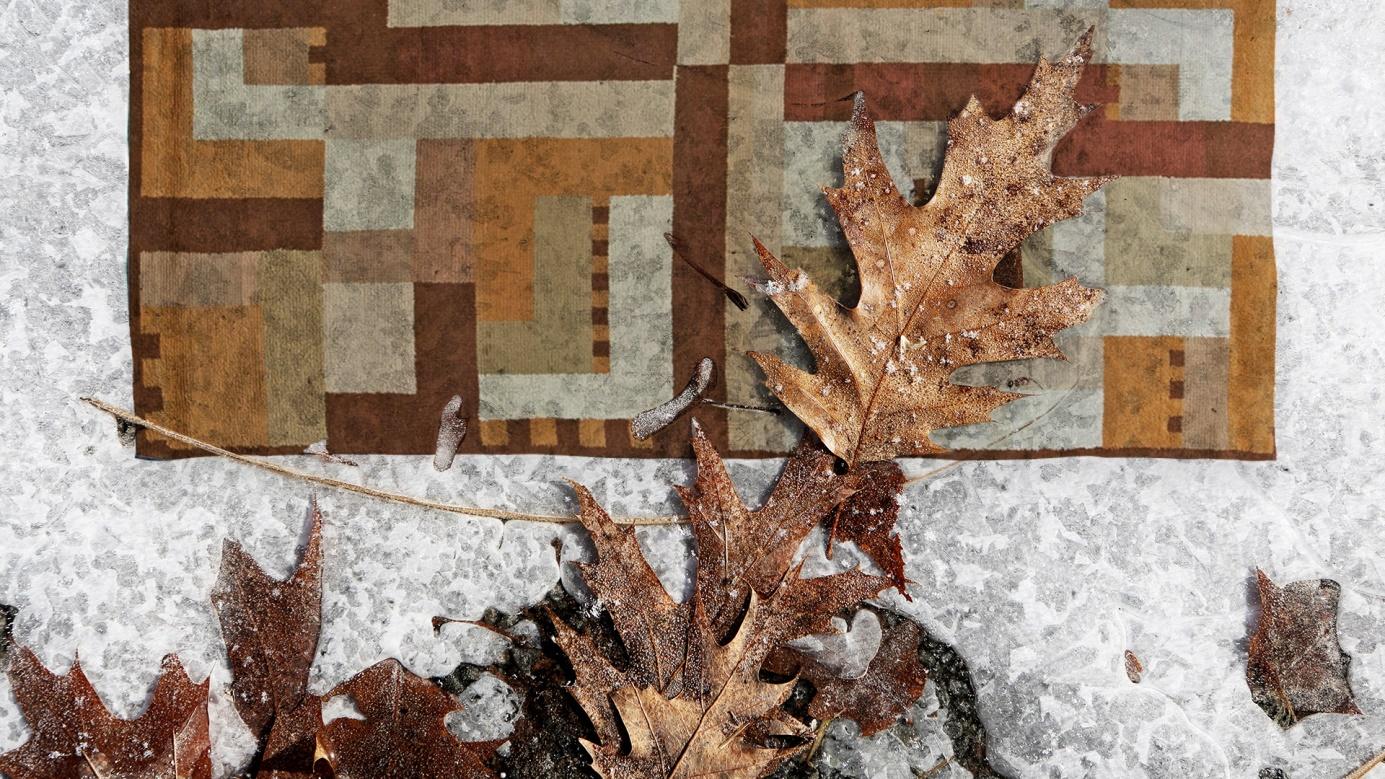 Moroccan Lifestyle Rugs.
Moroccan rugs definitely stand strong in the pantheon of the most sought-after vintage rugs. They are distinguished by the charm deriving from genuineness. Typically adorned with tribal patterns, they constitute an authentic book on the Middle-Eastern culture. Each of them tells a story but instead of letters there are symbols, ready to reveal the substance to an attentive reader. Everything matters, from the use of color to the smallest fret motif – everything bears a distinguished meaning. The message is usually supposed to be a good omen, a blessing to a person or a household. It was also the means of expression for the female tribal weavers, who could transfer their fears, stories and dreams to the looms.
The Modernists in the mid-20th century fell in love with
Moroccan rugs
, employing them in the modern interior design, however their cream of the crop appeared to be Moroccan Beni Ourain rugs. Their general outlook varies from what we know as typical Moroccan rugs. Beni Ourains are dichromatic, with toned beige background and a simple, seemingly reckless pattern maintained in a brownish shade. Their most characteristic feature is a shaggy, irresistible pile which is pure pleasure to walk on. Presently, they are copied on a mass scale by modern carpet factories because of the undying demand for these wonders of the orient. Vintage Moroccan rugs influenced designers such as Ivan Da Silva Bruhn and Vladimir Boberman. American Interior Designer Francis Elkins used them in some of her most notable interiors in the 1930's and 1940's.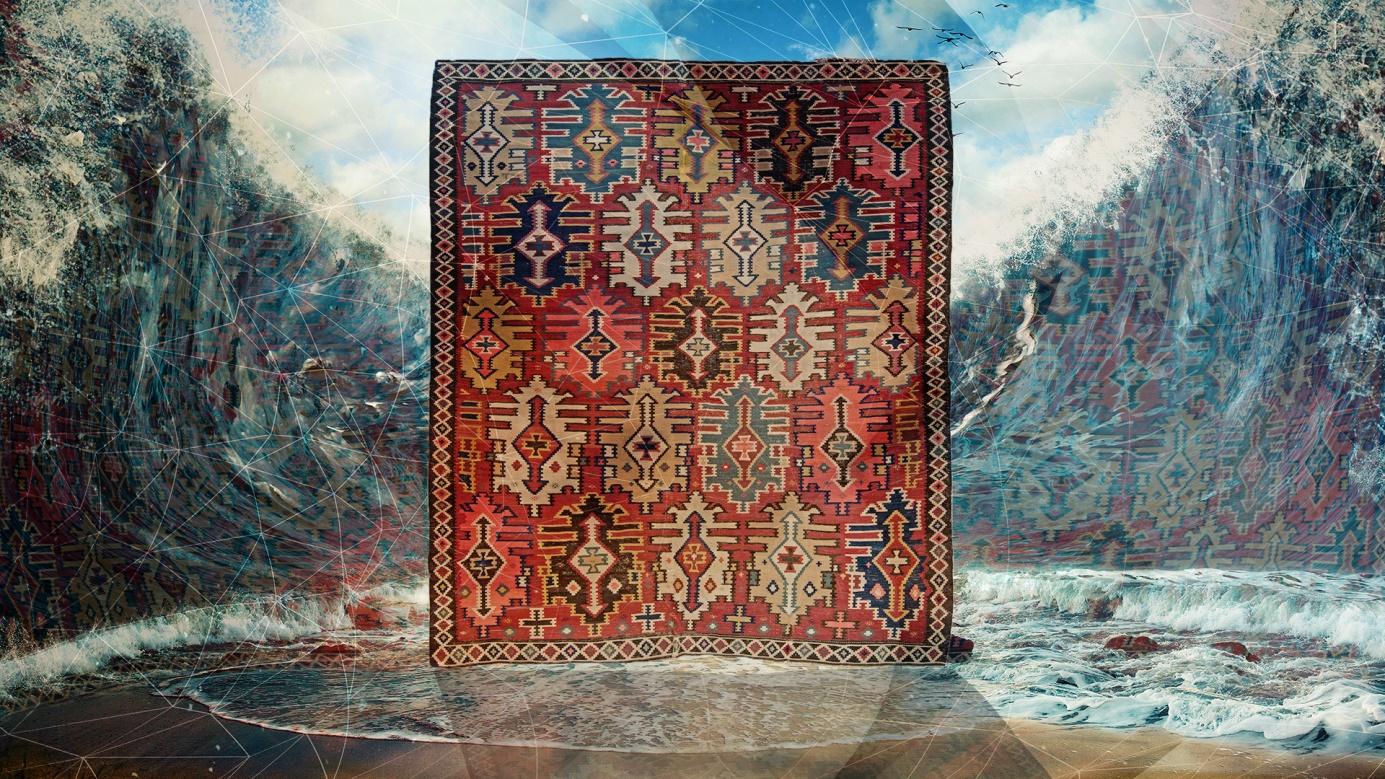 Arts and Crafts Lifestyle Rugs.
In the dusk of the XIX century, English artistic elite was equally tired with the mass production of low-quality, disposable objects and the over-ornamentation prevailing in the Victorian era. They initiated a far-reaching process of changes that was supposed to influence the appearance and the way of manufacturing goods, and in the long term, was intended to renew and reform the social thinking.
This bloodless revolution also covered rug weaving, particularly their design, resulting in the creation of somewhat folkloristic and utterly elegant Arts&Crafts rugs. The before mentioned William Morris, along with other carpet designers such as Charles Voysey or Gavin Morton, held up to the nature-inspired motifs yet with a quite different approach. In contrast to the ancient opulent botanical flourishes, they went into simplistic and geometric forms, so typical of tribal and primeval weaving. The reds and blues characteristic of antique Persian rugs were slightly set aside to make way for more subtle compositions of earthy shades with vibrant, fresh tones of the blooming garden. In Arts&Crafts rugs delicate greens are very often accompanied by a wide variety of pastel hues. These incredible carpets are distinguished by the symmetry and classic charm combined with ethnic, traditional patterns. This allows them to bring warmth and serenity into absolutely any interior. Made of the finest wool with the application of old and refined weaving techniques, vintage Arts&Crafts rugs stay true to the ideals of the movement that spawned them.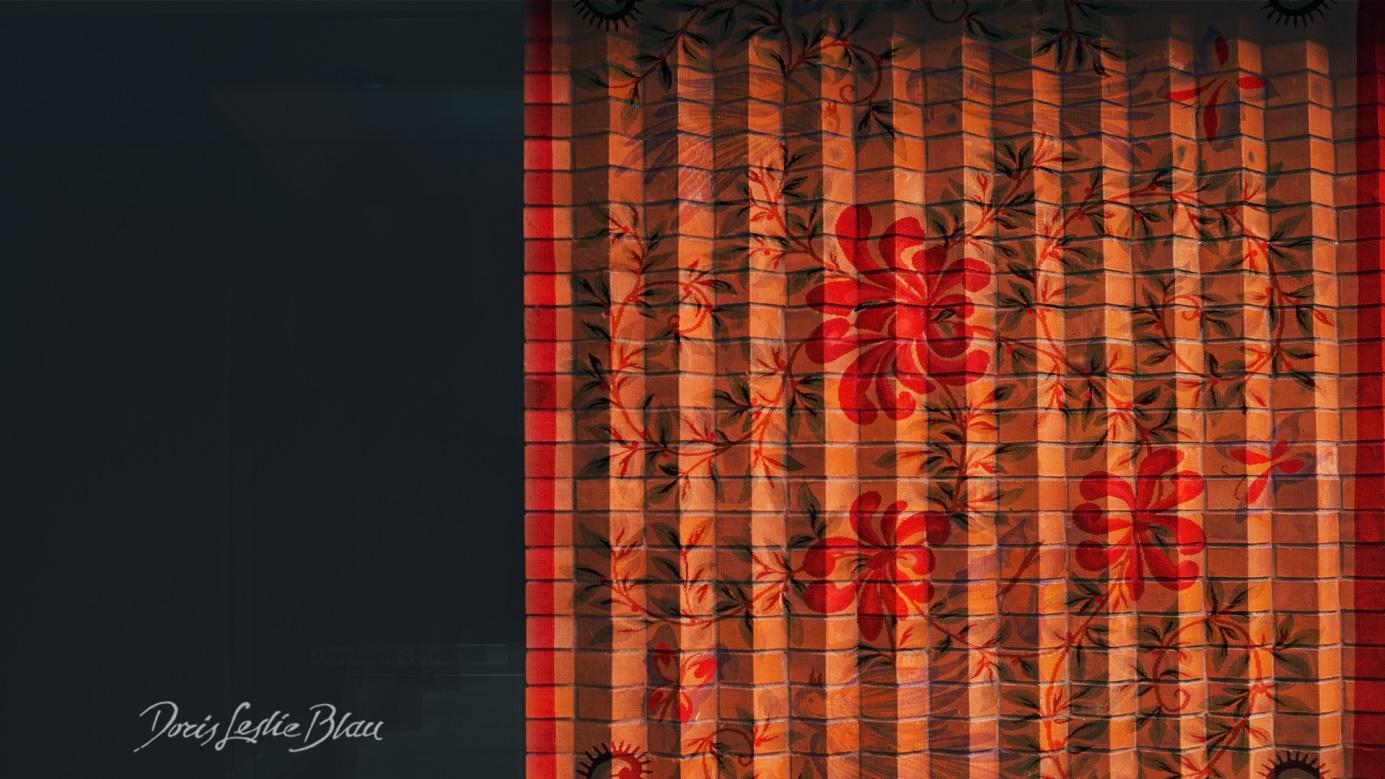 Rugs on the Runaways.
It seems that within the last couple of years rugs have been elevated from the floors to the backs with flying colors. And not solely in a situation where an artful and resourceful seamstress decides to turn her surplus Swedish flat-weave into a piece of winter garment. Rugs have actually become haute couture and entered the runaways but more shockingly – they became prêt-à-porter. What is so captivating about those weaving masterpieces which very often happen to be more than 100 years old? Someone may consider them outdated and old-fashioned. The most beautiful thing is precisely their timelessness. Designs, motifs, colors, knots, embroideries, natural materials, craftsmanship – all these elements combined result in an unmatched quality and irresistible appeal.
The tycoons of fashion industry must have finally noticed this unlimited potential. Let's take Burberry, which in 2014 winter collection featured deco carpet-like ponchos and capes. Also the Burberry fashion house, being fond of strong patterns, set up a trend for carpet bags, or Kilim bags as they are sometimes called, which turned out to be a tremendous success. Not only did the product appeal to the female clientele but also it managed to conquer the masculine audience's hearts.
On the other hand, Dolce&Gabbana – the absolute tastemaker and fashion dictator – in the 2014-2015 fall/winter collection introduced a mesmerizing line inspired by antique French carpet's motifs. Baroque flower prints, heavy embroideries and the usage of quality materials, such as the finest silk, strongly allude to weaving wonders from the Aubusson and Savonnerie workshops.
Of course, there is also a super fashionable boho style. Having started its career somewhere around the 19th century, the trend experienced its revival in the 70s' and enjoys a sky-rocketing popularity until this day. Boho is all about kilim patterns as it derives from traditional tribal aesthetics. Native inhabitants of both Americas, Africa and India wore carpet-based outfits before they entered the mainstream of fashion. Ponchos, dresses, capes, coats or bags adorned with original rug patterns are an absolute must for people attracted to free-spirited, bohemian aesthetics.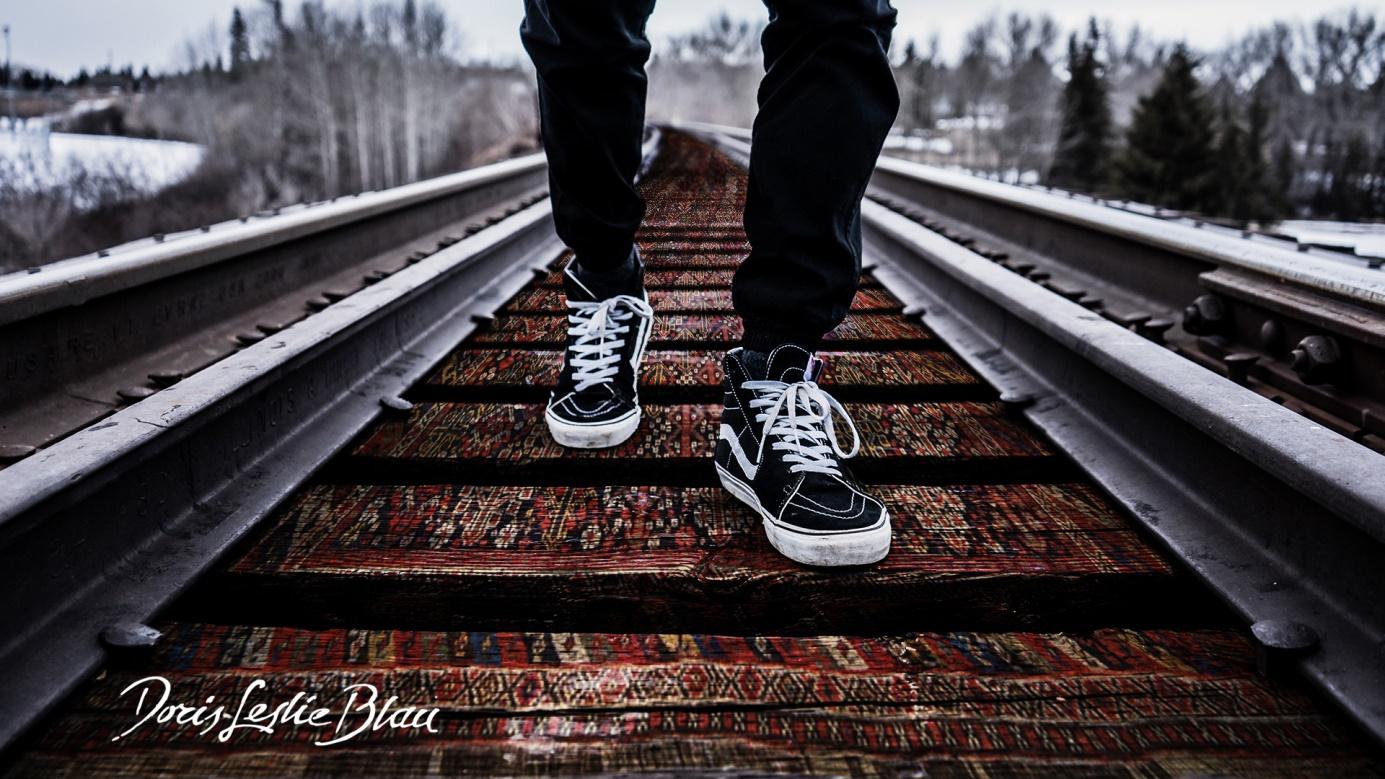 The Impact of Lifestyle Rugs.
Rugs are perfect space definers which bring warmth, order and color into the house. They create comfort zones where people can rest with their families and friends and forget about the hustle and bustle of everyday life. Rugs constitute a crucial part of popular design trends, such as Boho, Hollywood Regency, Scandinavian or Mid-Century Modern. It is safe to say that a living room without a rug is just a room. This is why, although some of them are hundreds years old, carpets still remain current today even more than ever. Rugs are lifestyle.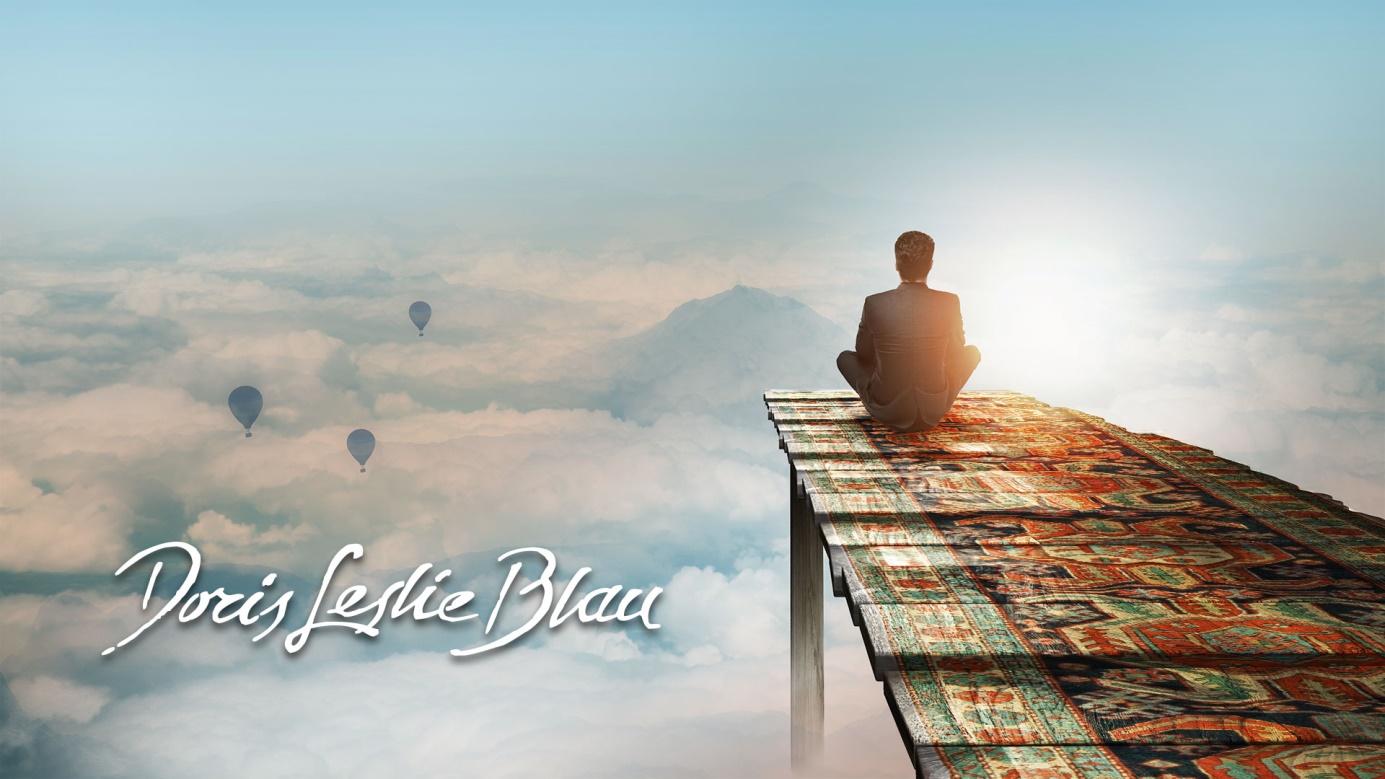 Doris Leslie Blau is proud to be in possession of an incredibly vast collection of vintage rugs and antique carpets, which will please the eye and the hand of even the most demanding connoisseurs.
Visit our New York City Gallery and experience the magic and mystery of weaving masterpieces for yourself.