Despite the astounding variety of modern carpet types available on the market today, people are still looking for traditional antique and vintage creations. Why? The answer is simple – nothing beats the masterful hand-execution, the top-notch materials, and the well thought-out designs.
Shaggy Moroccan Beni Ourain
Created by the nomadic tribe (actually, the 17 tribes which make up the Beni Ourain people) wandering through the towering Atlas Mountains in Morocco, Beni Ourain rugs are number one on our list. These marvelous floor coverings have been with the Berbers for ages yet the Western world has heard about them only in the mid-20th century thanks to modern designers, such as Alvar Aalto, Le Corbusier, Charles and Ray Eames, Frank Lloyd Wright, Marcel Breuer and Arne Jacobsen. Enchanted by the simple appearance and irresistible, shaggy texture, decorators made Beni Ourain rugs the ultimate mid-20th century interior accessory. This fact is hardly surprising.
Source: onekingslane.com, Doris Leslie Blau MoroccanRug
Who wouldn't just love to roll on a cushy pile every now and then? Beni Ourains are probably the most versatile of all rugs. They fit perfectly into any arrangement with their black-and-white minimalistic color palette and delicate, geometric patterns. Moreover, they have a very particular set of skills 😉 A Beni Ourain rug enlivens elegant and toned contemporary-styled interiors, it harmonizes colorful eclectic and boho abodes, and also completes the Cali Cool and Coastal looks. In fact, it matches every possible décor, so if you ever have doubts concerning which carpet is perfect for your home, simply go with a Beni Ourain.
Doris Leslie Blau Moroccan Rugs: 1, 2
Flat-woven Turkish Kilim
Tribal rugs are the ancestors of all floor coverings existing today. Kilims can definitely be called the crème de la crème of all tribal creations. These flat-woven fabrics bear traditional, time-honored motifs which, together with the rich colors, tell bigger stories captured in the main field and borders of each piece. Their unique appearance derivers in equal measure from ancient beliefs and weavers' need to express themselves by means of looms and threads. A Turkish kilim is an iconic, colorful, geometric rug which always adds character and positive energy to the décor.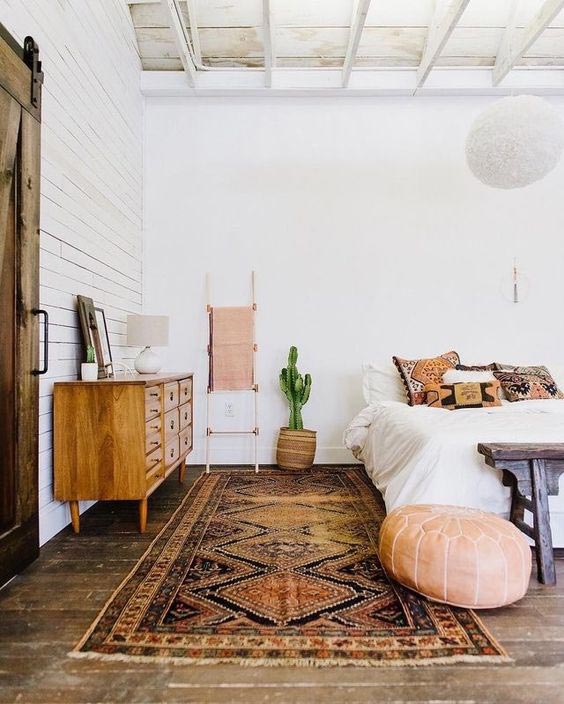 Source: The Curtis Casa, Doris Leslie Blau Kilim Rug
It is a perfect solution for all still seeking their own style, or those who want to quickly change the face of their apartment (but don't exactly know how). Despite their antique designs, kilims look fabulous when paired with contemporary furniture, such as a wire coffee table or a minimalistic sofa. With the aid of original oriental kilims, even ordinary Ikea goods acquire an entirely new dimension. Just as Beni Ourains, Turkish flat-weaves feel great in vintage interiors. However, thanks to their vivid hues ,kilims can successfully match a Modern Farmhouse or Rustic décor.
Source: Rebecca U. via Apartment Theraphy, Doris Leslie Blau Kilim Rug
Antique Persian Rug
One Rug to rule them all, One Rug to find them, One Rug to bring them all and in the darkness bind them. Wow, that sounded dramatic, didn't it? 😉 We are of course jokingly referring to a classic Persian rug which is the absolute king of all carpets. The territory of the present day Iran was not only home to one of the greatest empires but also to the most advanced and prolific carpet industries the world has ever seen. It was there, magnificent Kashan, Tabriz or Heriz rugs were produced with the application of the complicated, asymmetric knot –Senneh – allowing skilled artisans to create the most dazzling and palatial patterns.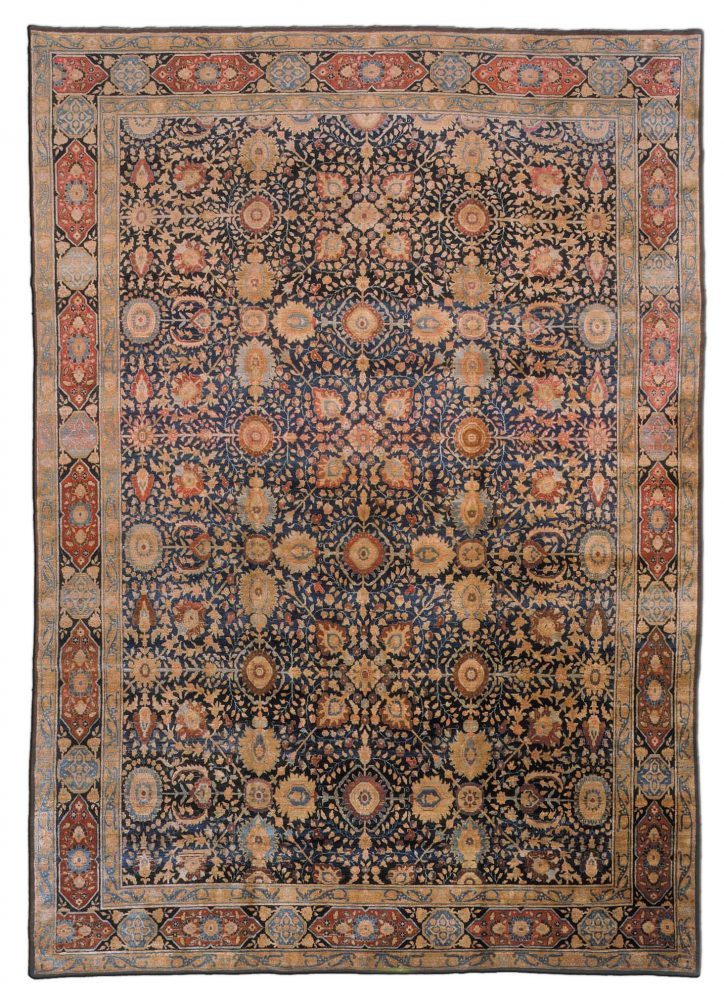 Credit: ©Melanie Grizzel, Doris Leslie Blau Persian Rugs
A genuine Persian rug always exhibits timeless chic and ultimate class – it constitutes a value in itself. Thus, it is advisable to expose it rather than try to fuse it with the rest of the décor. Persian rugs look phenomenal in elegant, minimalistic interiors where simple forms and subdued colors are the ideal setting for the opulent and highly meticulous designs. All materials in the house must be of considerable quality to match the five-star appearance of a Persian rug. A leather couch, a wooden floor or a copper lamp will help to maintain the luxurious feel in the room. According to the latest trends, a Persian rug is also perfect in the kitchen, a minimalistic one, of course. 😉
Source: desiretoinspire.net, Amber Interiors
Swedish Vintage Rug
Swedish design is considered iconic and timeless, and carpets from the north are no exception here. Thanks to incredibly talented artists like Marta Måås-Fjetterström, Barbro Nilsson or Judith Johansson, Scandinavian rugs became practically the most sough-after floor coverings in the world. The golden age of vintage Swedish rugs dates back to the 1950s when Modernism blossomed and Scandinavian decorators were shaping the face of international interior design.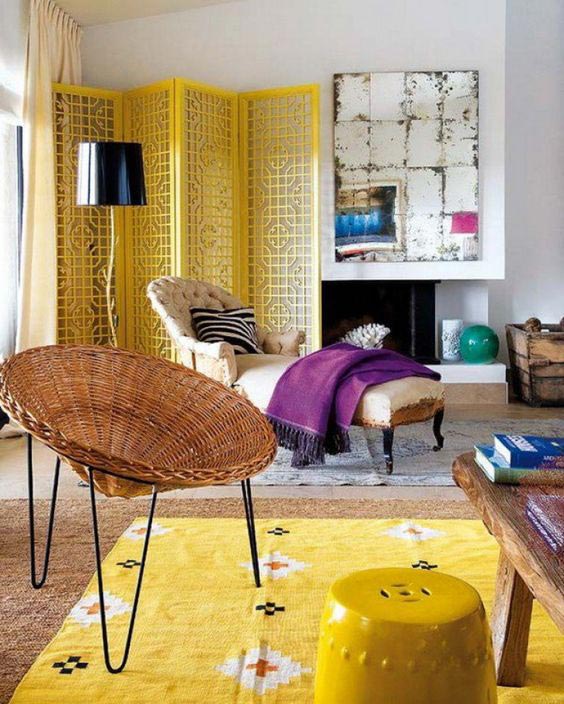 Source: Pinterest, Doris Leslie Blau Scandinavian Rugs
Swedish rugs are like the philosophy that inspired them: affordable, aesthetic and toned, without unnecessary pomp but still expressive due to being animated by geometric patterns that add to their modernity. They are a "must have" in a Mid-Century Modern arrangement but perfectly go together with a wide variety of lighter styles, including Scandinavian, Contemporary or Vintage.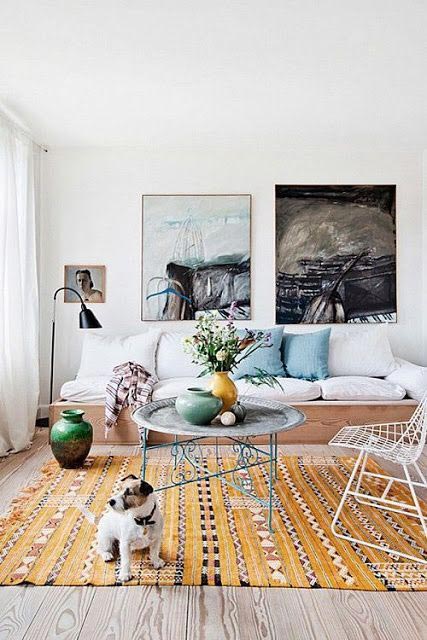 Source: Doris Leslie Blau Scandinavian Rugs:1, 2
For more inspirations, take a peek at Doris Leslie Blau website – we are always at your disposal. And if by any chance you are visiting the capital, step into The Washington Design Center, 1099 14th Street N.W. Washington, D.C. 20005, to see our showroom. You can also give us a call at 202-808-9361.