Authentic Turkish Kilims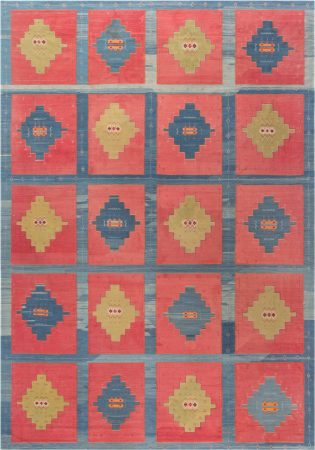 Turkish Kilim rugs (Kelim, pers. Gilim) are flat-woven decorative textiles originating from Turkey. In contrast to knotted carpets, they have no pile. The most commonly applied material in vintage kilims is wool. Turkish kilim carpets usually have rich and contrasting color palettes. They carry traditional oriental designs of tribal origins. The patterns are typically geometric rather than figurative. Each motif or color has a meaning thus every design is a message that the weaver wanted to convey. Kilims have been extremely popular in interior decorating since the mid-20th century.
Vintage kilim rugs are one of the best pieces to use when decorating. Their designs are not only beautiful but also suit modern tastes exceptionally well. Rugs considered vintage are not younger than 50 years. They are not as demanding as antiques that need thoughtful care and their prices also tend to be lower, making them a great long-time investment. Kilims are highly sought after by collectors due to their fascinating history and astonishing designs – it is no wonder that more and more people became interested in owning one.
Kilims find surprisingly many uses in interior design. One of the newer trends, placing carpets in bathrooms and kitchens, often utilizes vintage woolen kilims which are more water-resistant than other kinds of carpets. It is a great way to make the otherwise dull utility room look extremely fashionable, however, if your kilim is very valuable it might not be the best idea to use it that way. Kitchens can also be a dangerous territory as it is very easy for a carpet-ruining spill to happen, so it is best to proceed with caution.
How about making your vintage kilim into something completely different? Kilim-based pillowcases and bags find numerous admirers who desire a carpet's beauty without actually having to put it on their floor! It can be a difficult and time-consuming process, but the final effect is definitely worth it.
Last but not least – tapestries. While they used to be identified with old-fashioned and historical interiors, nowadays tapestries are welcomed in ethnic and bohemian-inspired interiors. This is a good idea especially if you are afraid of additional damages to your vintage kilim's surface. Besides creating a great decoration, it will also help you save more delicate or older kilims.
Those are only a few of numerous ideas of how to use your Turkish kilim rugs. When it comes to carpets and rugs, the only thing that limits us is, in fact, our own imagination. Try thinking outside the box and see what will happen!