How is design doing this season? So far so good! Instead of listing new trends and explaining how to apply them properly, we've selected 10 amazing interiors that hit the mark and simply show how it's done. From the living room through bedroom to kitchen and bathroom, the following pictures cover almost every corner of a house – we've even looked inside of a trailer! Now, we invite you to enjoy top 10 spaces that inspire awe using both classic and most recent decorating solutions. Have fun!
Kitchen with a Pinch of Exoticism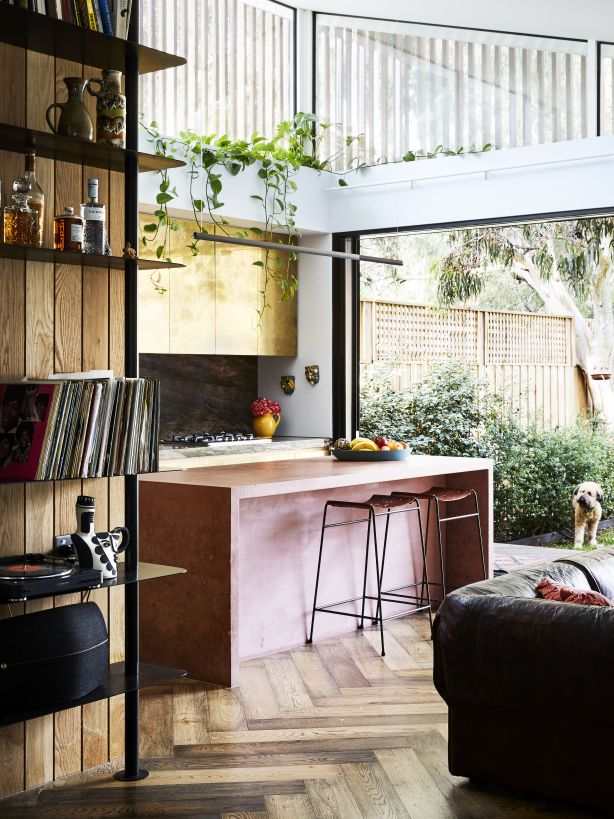 A beautiful kitchen that proves that white cabinet fronts are a thing of the past. Executed by architect Michael McManus of McManus Lew Architects, the place is large and spacious, filled with natural light that comes through windows and skylights. The eye-catching crocodile bamboo quartzite splash-back makes quite a statement. This incredible addition looks like an artwork, but comes from deep underground, in Brazil.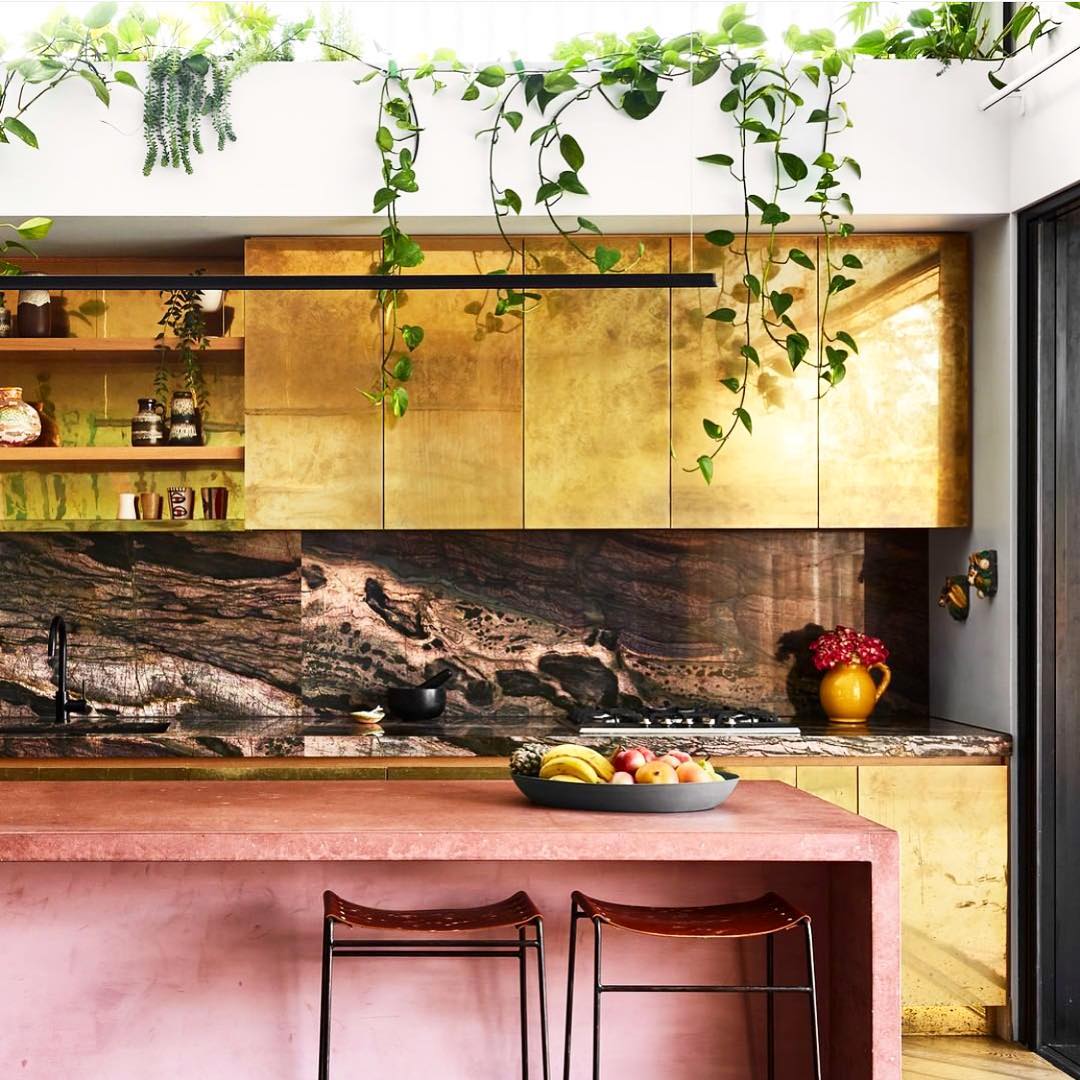 Simple but Complex
A natural feel in interiors can be much more exciting than colorful maximalism. This simple living room consists of natural earthy colors, soft, comfortable furniture made of natural materials and, finally, what is most important – huge windows displaying the green forest, which are the finest decoration of all. Nothing more nothing less.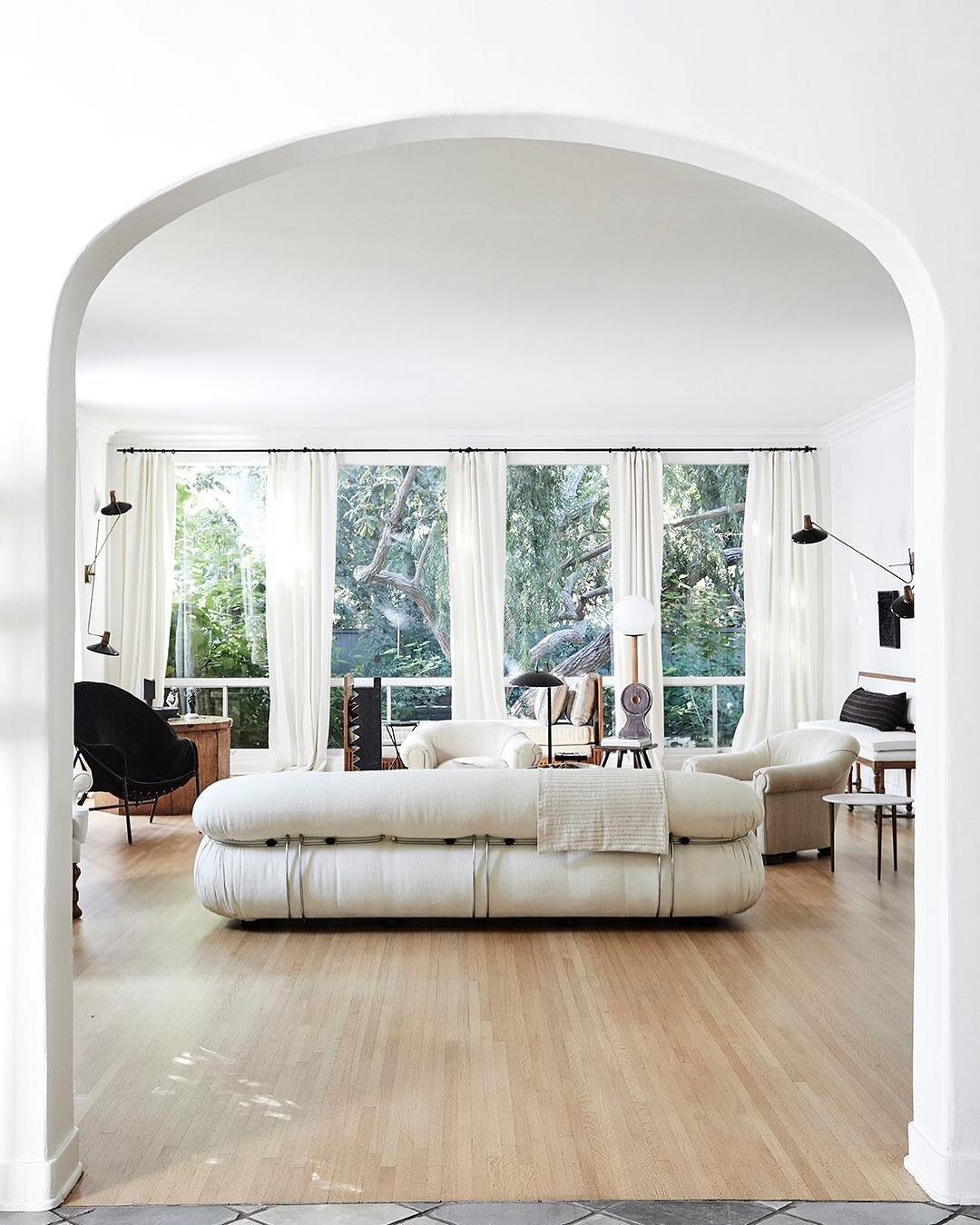 Bathroom with Character
The dramatic effect in this bathroom was achieved thanks to the combination of gold elements (brass), strongly veined marble and several antiques. Large windows without curtains and blinds balance the decor, letting light and air in. It is a sanctuary above from the busy city. At the end of a long Manhattan minute, we would love to soak in this deep bathtub.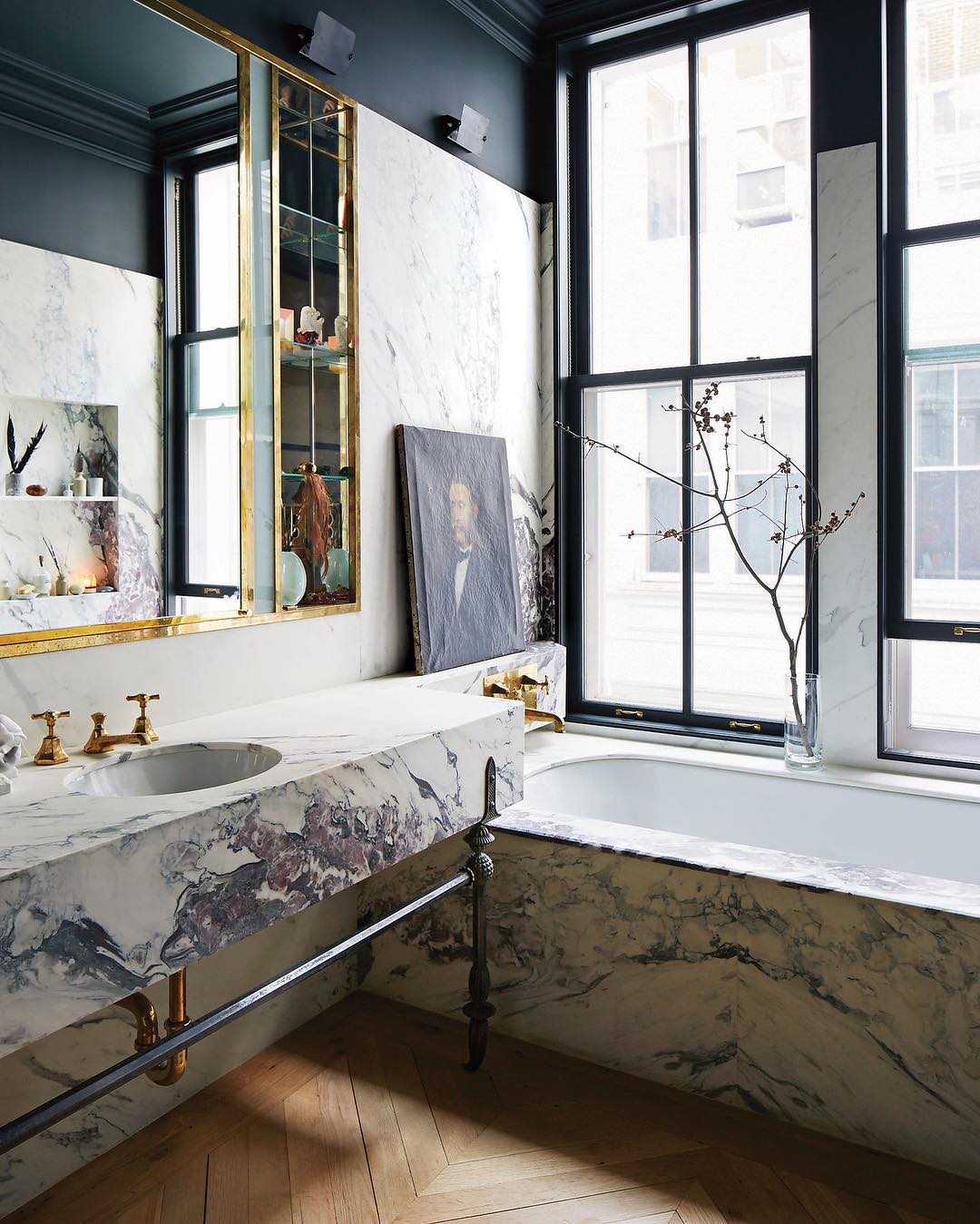 See Me!
Glazed rooms are the latest hit in the world of design. This solution introduces modernity and makes the room optically larger. Here we have a sample from 'David Bagares Gata – a compact studio apartment featuring light tones, interesting angles and industrial elements. The apartment is located in Stockholm, Sweden.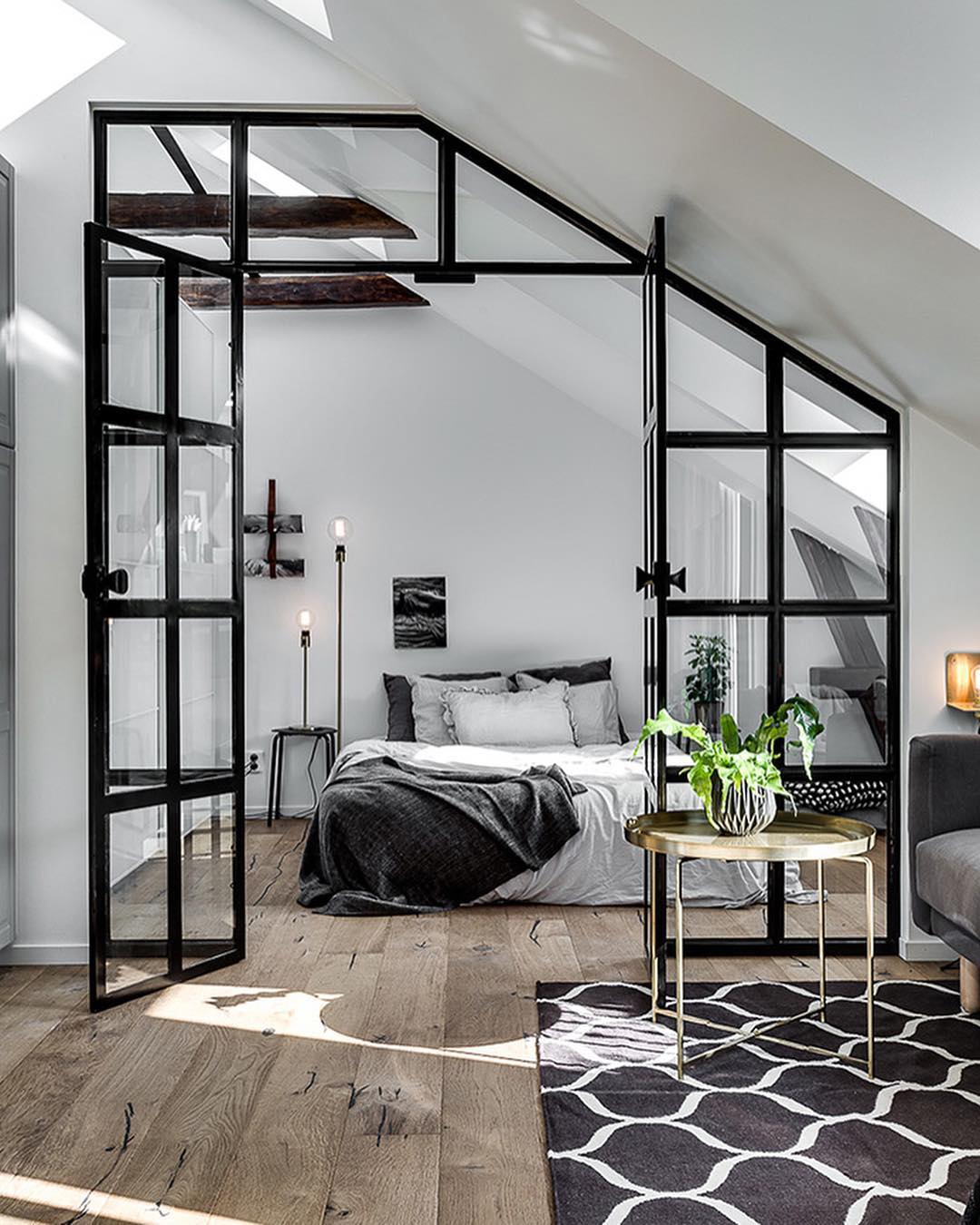 Glass and Green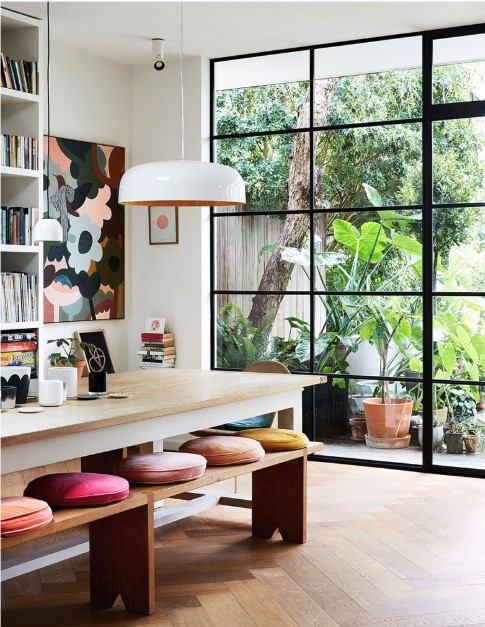 Another interior with a beautiful window (or rather a glass wall) exposing equally beautiful plants. This time, we were amazed not only by greenery outside, but also the colors inside – bold, saturated, beautifully harmonizing with white walls, the shades give this dining room an amazing, artistic atmosphere.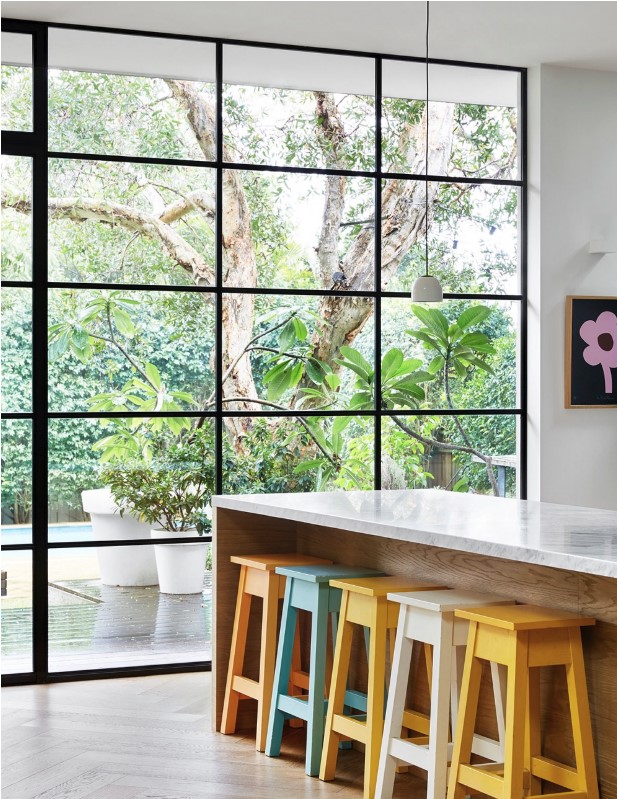 Freedom
A bedroom from a dream (a very good one, to be clear ;)). The 'Herringbone' floor introduces a slightly French mood, the spaciousness of the loft adds an artistic, boho vibe, and the four-poster bed gives the huge space warmth and coziness. 10/10.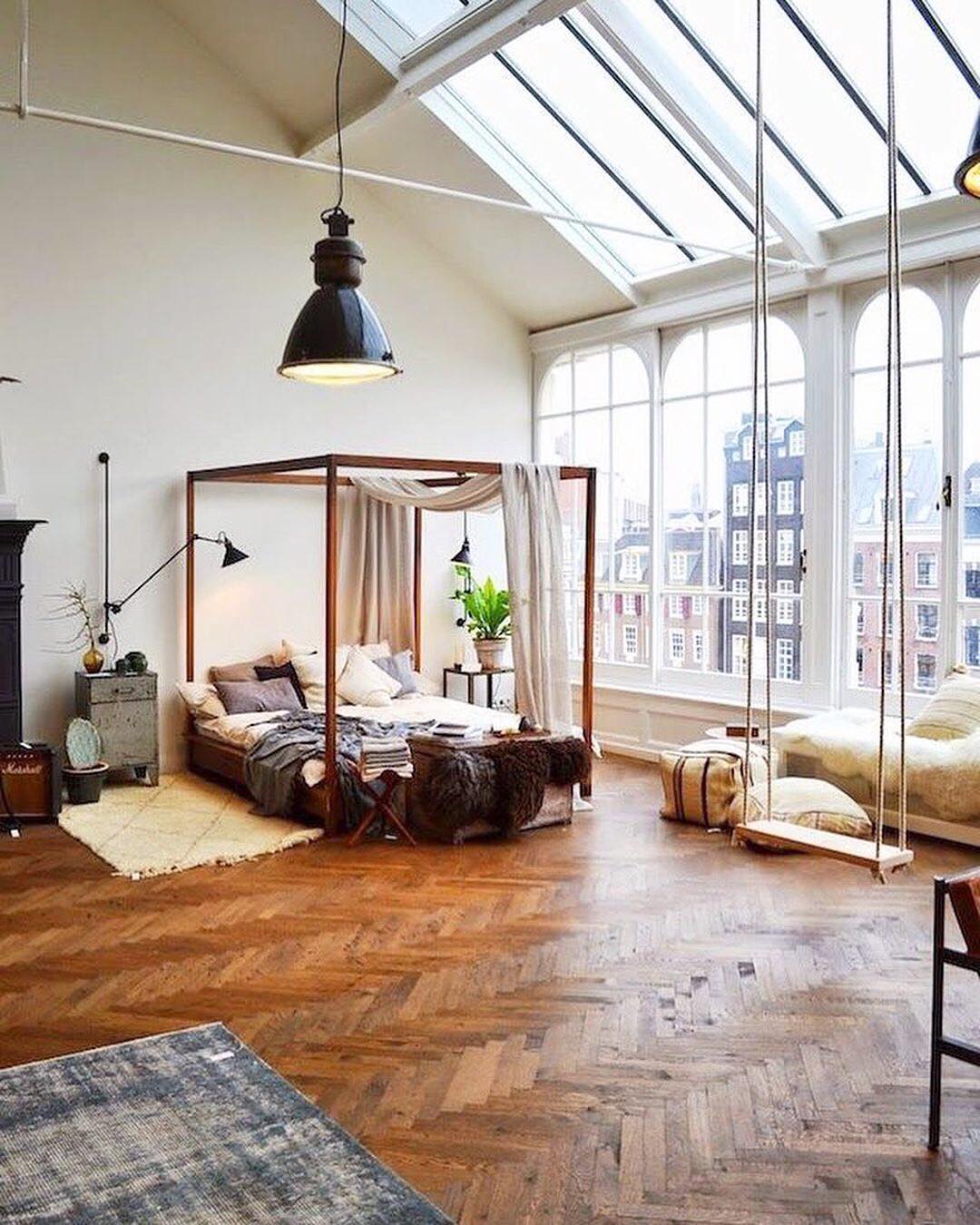 Bathroom with a View
Décor goes to the background when there is such an amazing view outside. A small bathroom with a wonderful window facing the Positano Coast does not need a single decoration to steal our hearts. Local tiles and a few pictures on the walls, together with minimalistic white shade that prevails, allow the view to play the first fiddle.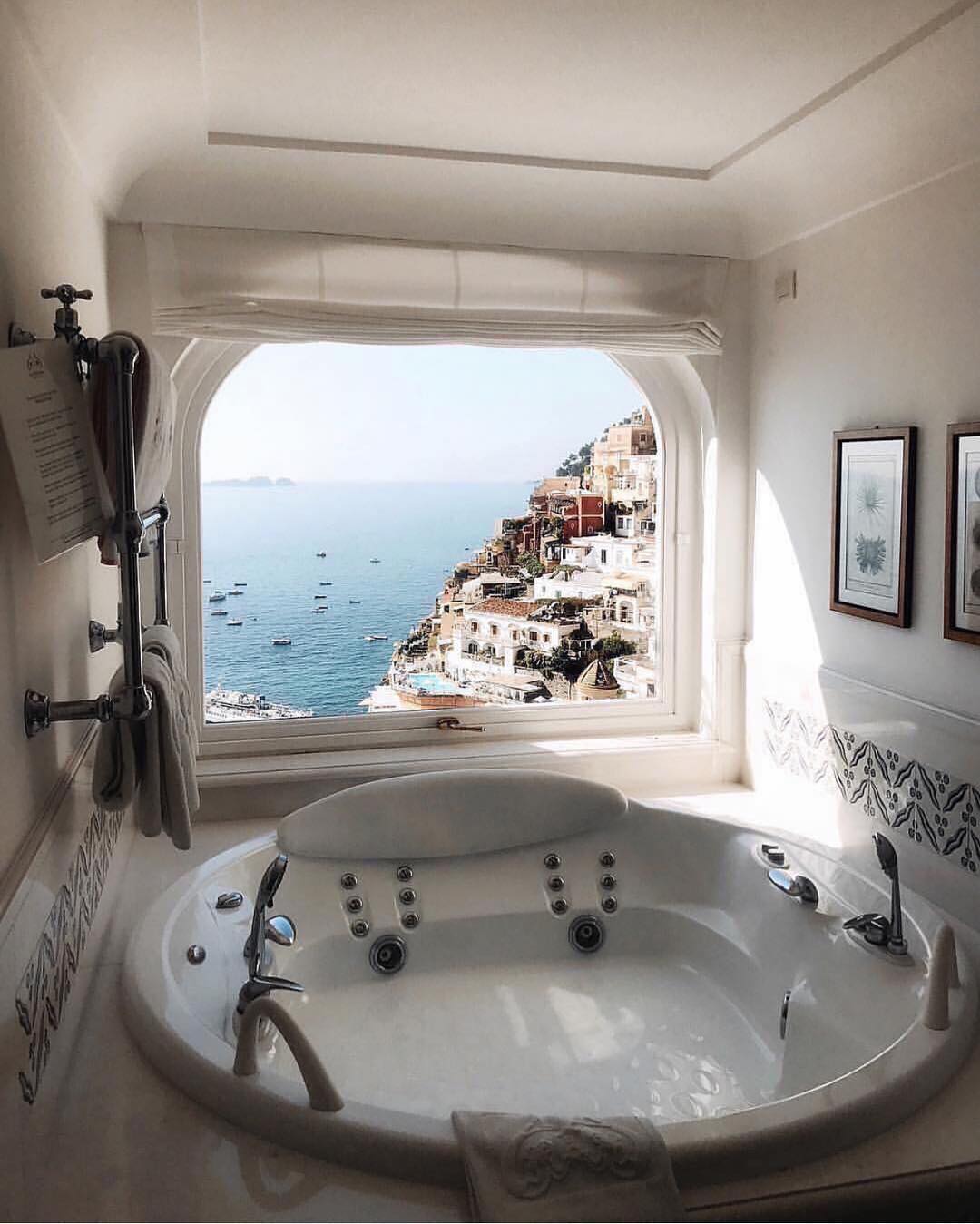 Miami Vibe
Colin King has mixed proportions and weight to achieve this cozy, contemporary look. And hey, he put a palm in! By styling chairs and side tables in small groups, this space has been transformed from large and open to small vignettes within the larger concept. It is a great idea to apply in your own apartment! The palm too, if it fits. 😀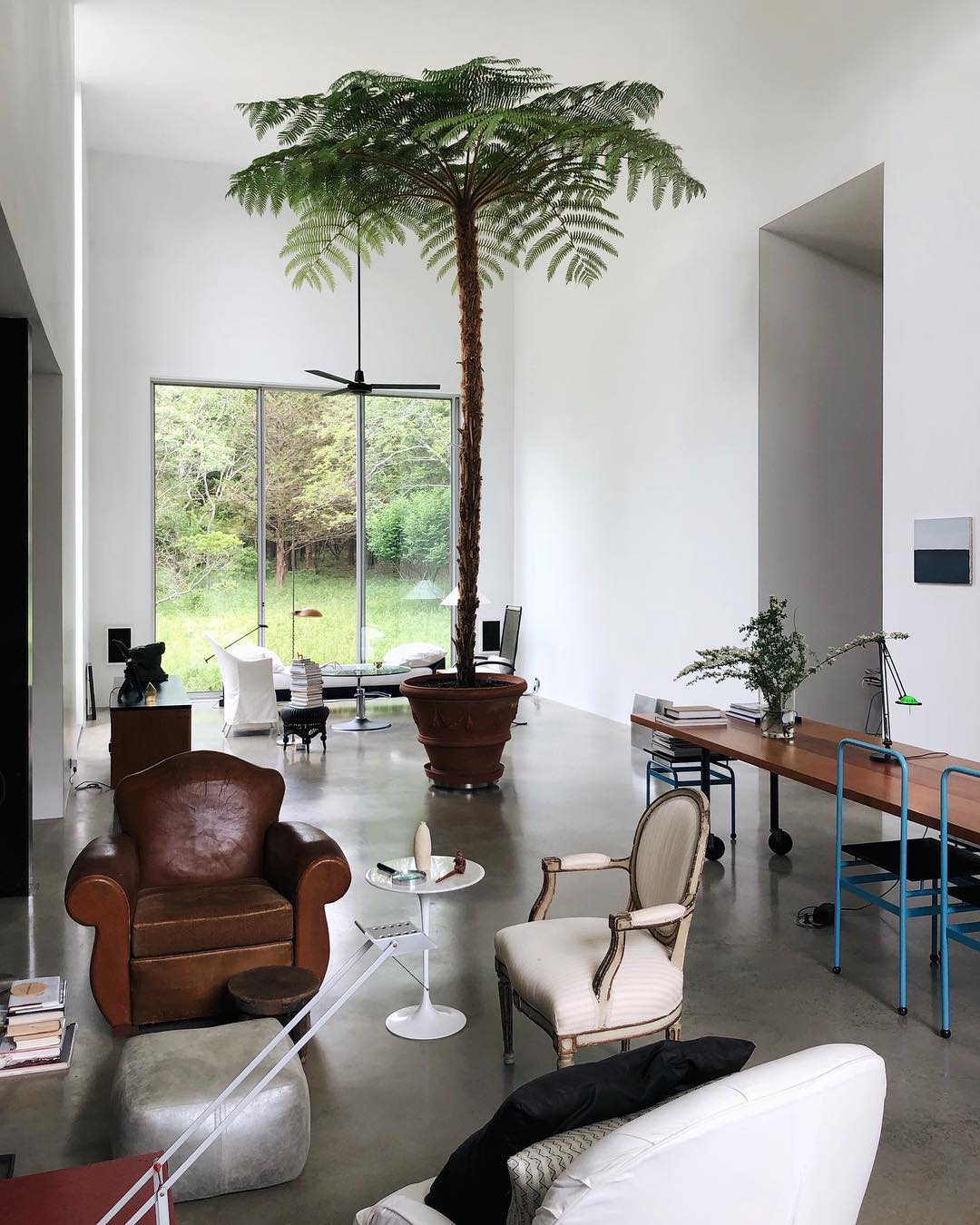 Trailer Elegance
It's hard to believe that the interior that you can see here is part of … a caravan. Ideally designed to maximize functionality (these drawers), while not forgetting the elegant appearance. Good evidence that you do not need to have a penthouse to live beautifully.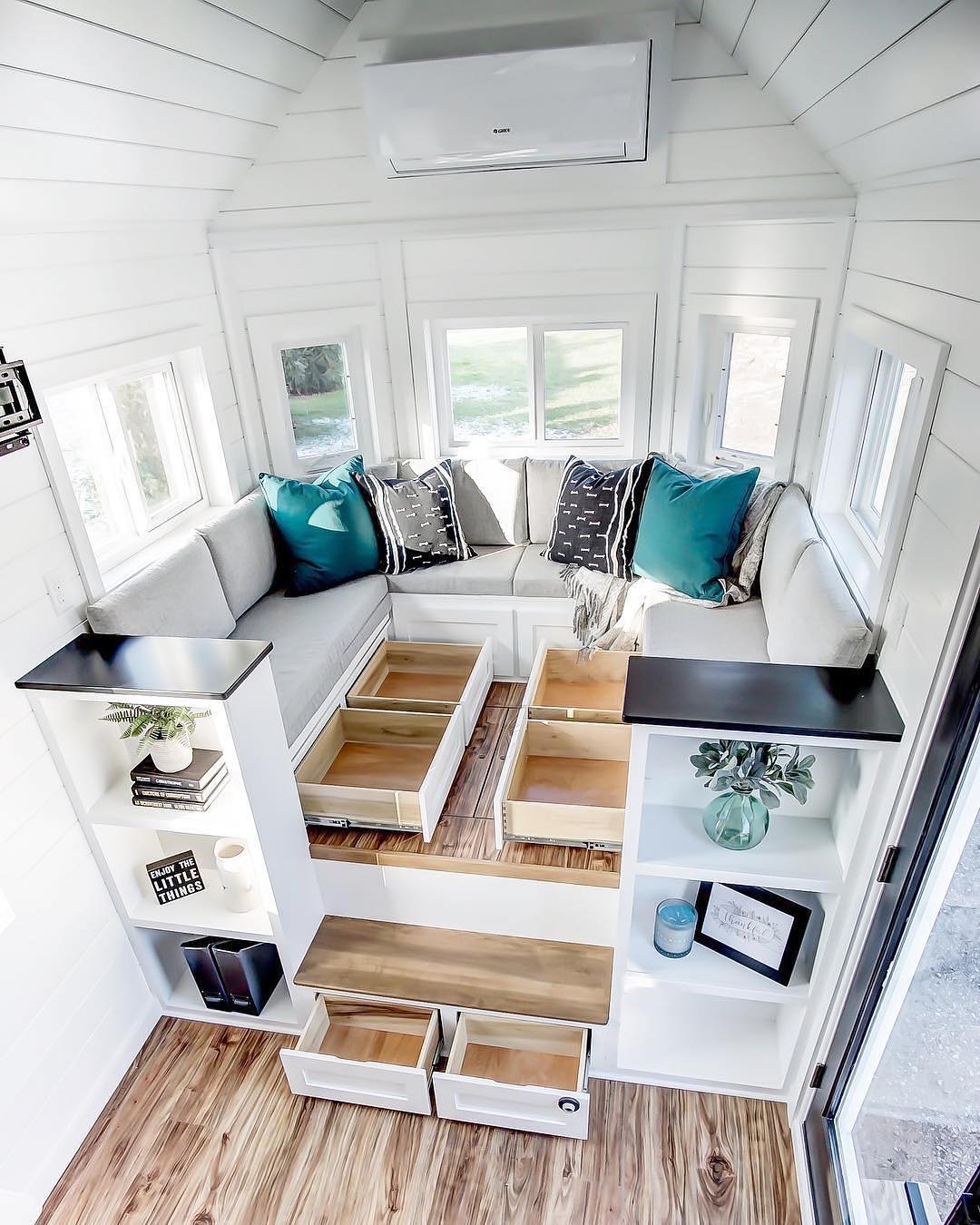 Ethno Chic
In this interior, boho vibes have been perfectly balanced with white and a modern version of a decorated bed. Introducing Moroccan elements to the apartment, you can easily overdo it, but with the use of several modern elements, the whole looks interesting and eclectic.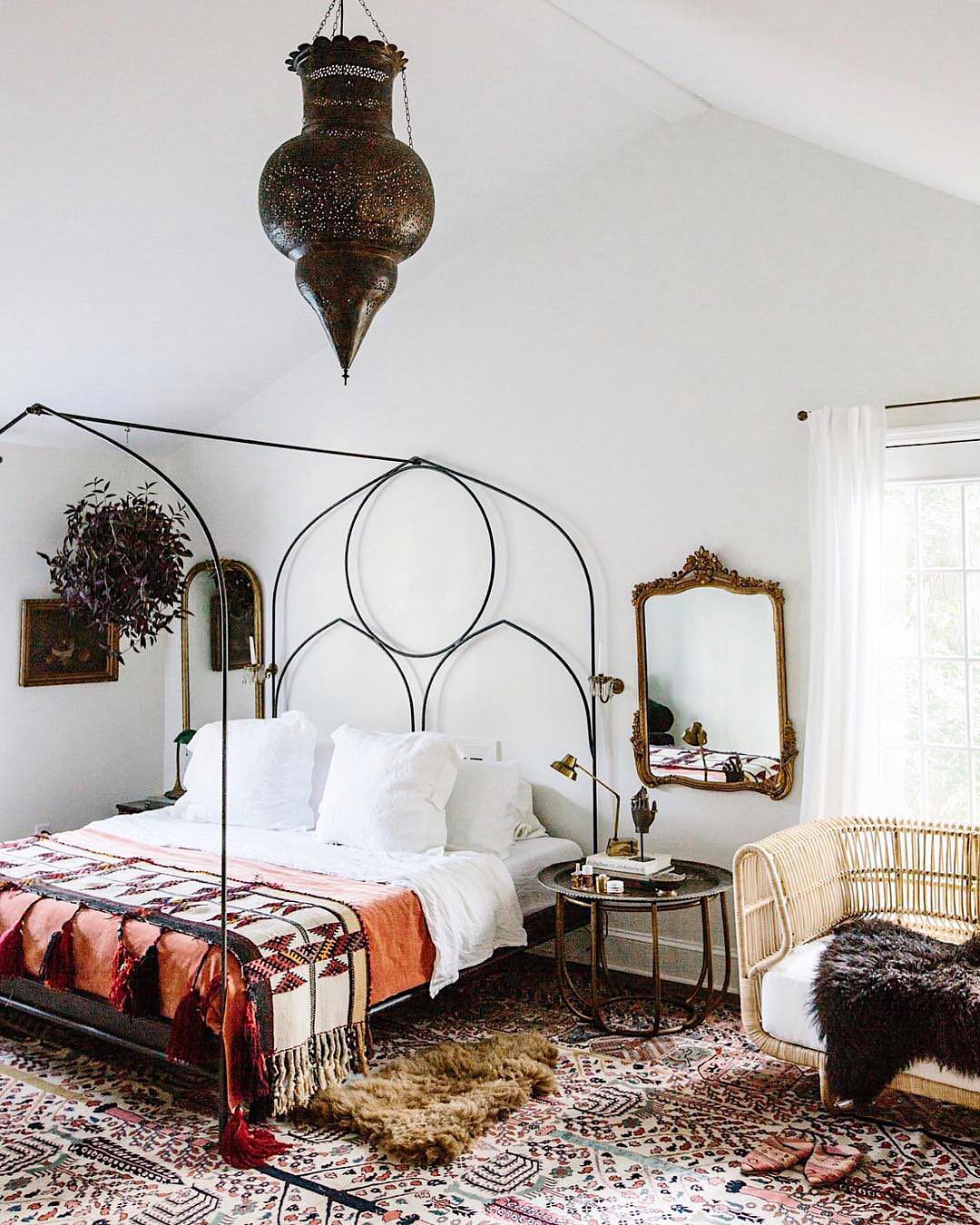 DORIS LESLIE BLAU CAN HELP YOU FIND THE RIGHT PERSIAN CARPET OR ORIENTAL RUG. WE HAVE A LARGE SHOWROOM IN NEW YORK CITY PLUS ONLINE CATALOGS AND SUPPLEMENTARY INFORMATION. FOR HELP CHOOSING A PRODUCT FOR YOUR NEEDS, CONTACT US ONLINE OR CALL 212-586-5511.