Tibetan rug making is an ancient traditional craft. Tibetan rugs are traditionally made from Tibetan highland sheep's wool called changpel. Tibetans use rugs for many purposes ranging from flooring, through wall-hangings, and then on to horse saddles.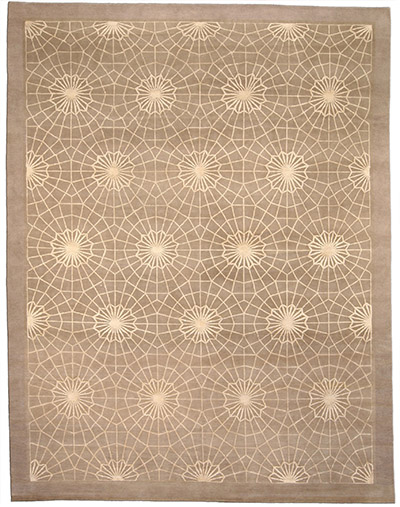 The process of making Tibetan rugs is unique in the sense that the knotting method is different from that used in oriental and other rug weaving traditions worldwide. With the introduction of modern technology some aspects of the rug making processes have been taken over by machine in many workshops, in particular for yarn spinning and trimming pile after weaving. This is primarily because of cost but also because of skill shortages in the traditional ways. Nevertheless, the finest carpets and rugs are those still made in the old-fashioned way, by hand.
Tibetan rugs are woven on a rectangular, vertical loom. The loom is warped with high-grade cotton from top to bottom. A metal rod is pushed horizontally across the warp and yarn is looped over the rod, then onto the warp to make a pile. When the whole knot is made, a cotton weft is put across to separate the pile, then combined and compacted with a wooden hammer. It is then slit with sharp blades across the metal rod to make a pile. This process is repeated until the rug is made. Tibetan rugs are available with 60 to 200 knots.
Tibetan carpets now woven in Nepal are direct descendants of the pile rug weaving tradition. Vintage Tibetan Rugs at Doris Leslie Blau offer an array of exclusive yarns, colors and techniques. Hand knotted Tibetan woven carpets begin by dyeing wool and silk yarns and combining the two fibers in a length-wise fashion with both loop and cut pile weaves. Tibetan carpets can also be woven from organic fibers such as Hemp, Nettle, Sunpat and Banana silk.
Doris Leslie Blau offers exclusive designs. Our custom carpet designs are usually inspired by both antique and vintage rugs as well as creative additions by our clients exclusively for their own projects.
Tibetan rugs can be woven to manifest many different design inspirations. We hand knot rugs in Nepal that are inspired from Moroccan, Swedish and Chinese designs. Tibetan hand knotted rugs can be intricate or simple, though always they will be exquisitely beautiful!
To learn more about how vintage Tibetan rugs are made in Nepal today, view our June 2011 story here….