Tired of the ever-present uptightness and strive for absolute impeccability, the design world has recently started leaning towards more lax decorating solutions.
First there was the Danish philosophy of Hygge, later came the homely Modern Farmhouse décor. Now, the quintessence of simplicity, comfort and naturalness arrives straight form Japan. Wabi-Sabi is a way of living that focuses on finding beauty within the imperfections of life and accepting peacefully the natural cycle of growth and decay. In decorating, Wabi-Sabi is expressed through cherishing the not-so-perfect and creating a livable ambience as opposed to a shop-window arrangement.
We gladly present 5 accessories that will help you introduce the Japanese concept into your homes. Release the tension and live Wabi-Sabi!
Axel Vervoordt
1. Handmade Pottery
Who would actually like to live in a showroom? We bet the answer is no one. It is reassuring to know that our house is super chic but in a long term we all just want to feel relaxed in our abode. Wabi-Sabi allows you to be cool and trendy without doing your bed every morning. This is not tantamount to negligence but rather accepting that messiness is an inevitable part of everyday life and embracing it.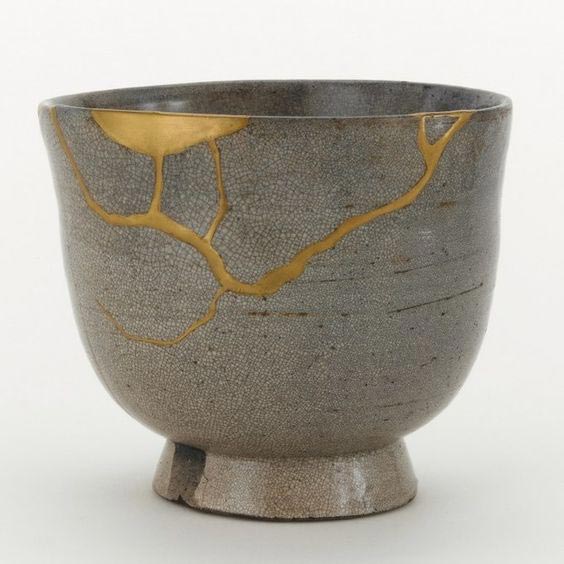 Hand-made, imperfect pottery is a fine example of Wabi-Sabi in practice. Leave the sleek, complete set of tableware for big celebrations and enjoy your morning coffee in a slightly chipped mug without the faintest sense of guilt! Your favorite vessel has been broken? Put it back together with glue mixed with colorful powder (we recommend gold). That way of recycling will result in unique, personalized and enchanting items which you will never be able to find in retail.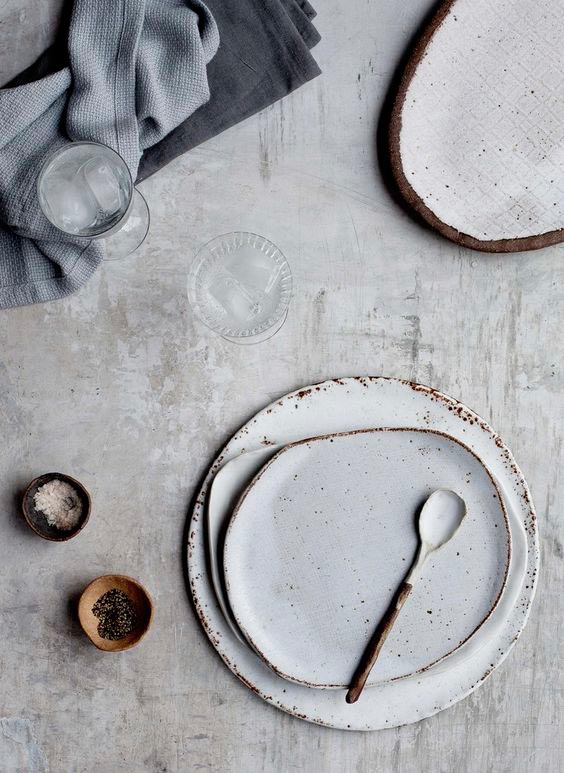 2. Organic Materials
Nature is perfect although it is full of imperfections. The Wabi-Sabi style tries to imitate that eternal paradox and the outcome is indisputably amazing. Why to get upset about minor blemishes when they are so full of grace? Aged wood with clearly visible knots or not completely finished stone, when applied to your home furniture, will bring you closer to the wilderness and fill your heart with primal, atavistic joy.
Credits: Zoco Home, Hally's London
Instead of pressed percale sheets, opt for soft, wrinkled linen ones and never again think about ironing your bedding. Make sure every room in the house has something connected to nature within it and allow yourself to be delighted by this rough charm.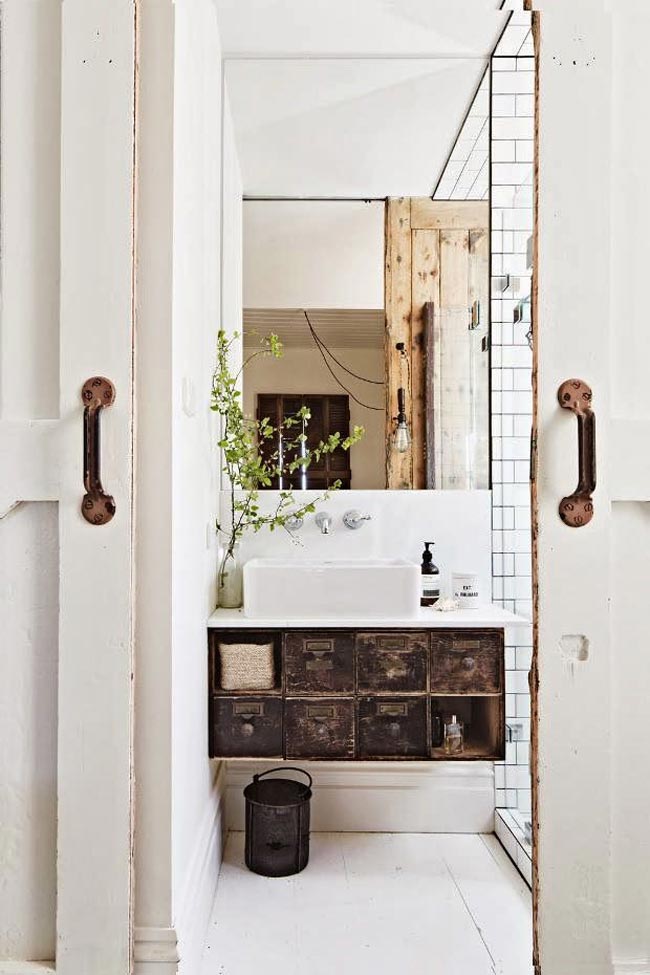 3. Minimalistic Solutions
As befits a trend from Japan, Wabi-Sabi calls for moderation and simplicity. Such approach will help to keep the place in order and balance all the tiny, deliberate "defects". Concentrate on the essentials and do not clutter the place – remember that in decorating very often less is more. However, do not be mistaken – you don't have to put your things neatly in rows! Style in odd numbers and avoid symmetry.
Credits: Sergey Makhno, Romain Ricard
Delicate geometry is ever welcome – it may enter the room in a form of a round mirror that will optically enlarge the space, or a circular, hemp rug which will help to organize it. Substitute a wall unit or a massive wardrobe with capacious wicker baskets and see how light and unpretentious they look. This is pure Wabi-Sabi.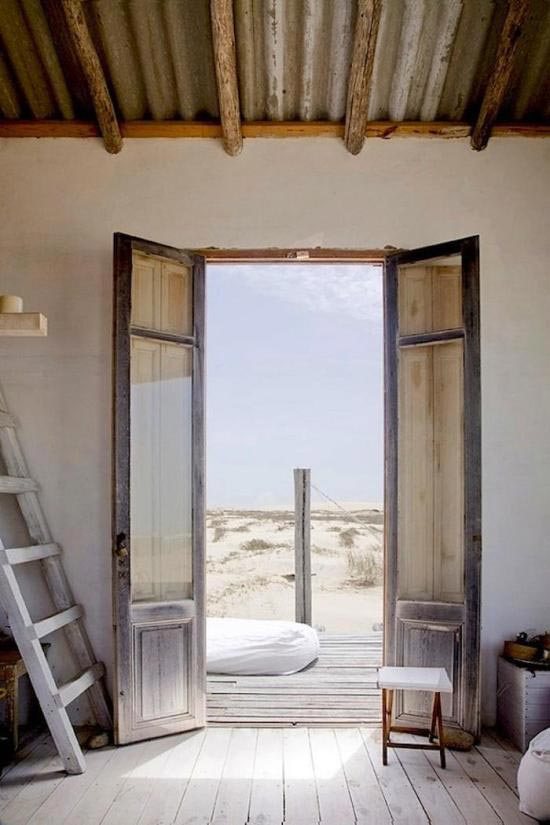 4. Earthy Color Palette
Although certain vivid or even flashy hues may have a beneficial influence on a décor, Wabi-Sabi style relies on a tranquil, toned color palette. Warm shades of beige and brown paired with neutral greys and off-whites constitute an excellent combination. Not only do they make the space appear bigger but also create an exceptionally warm, serene mood. Moreover, such colors will easily match the organic elements of your newly arranged home, including wood, stone, wicker, etc., and they will not stand in opposition to all small imperfections and irregularities.
Credits: The design Files, Elle France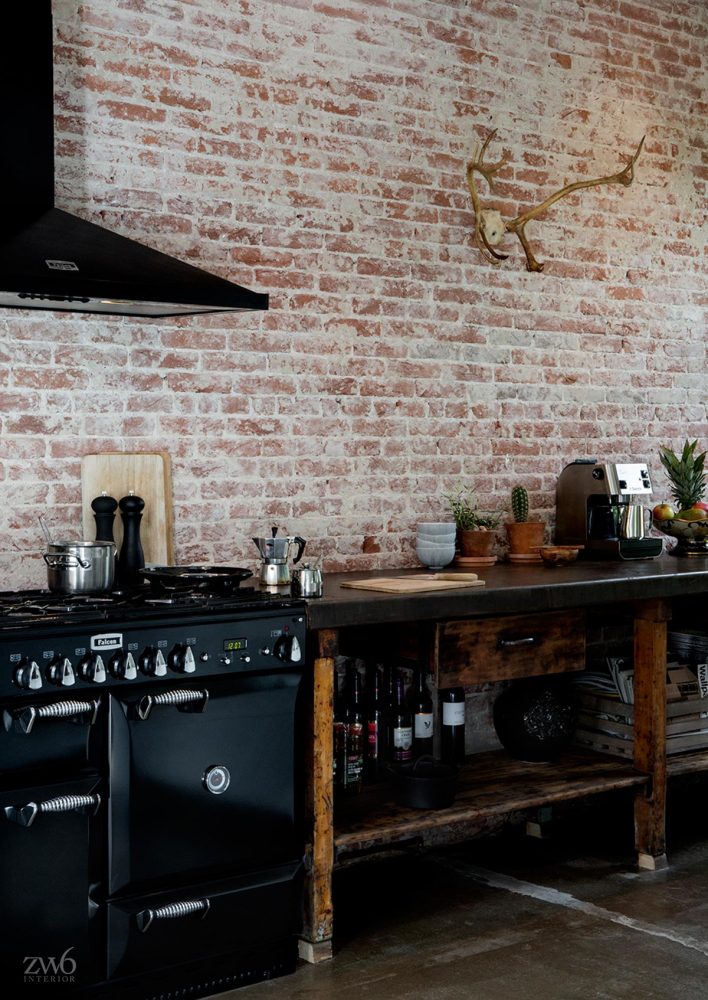 via Pinterest
5. Shabby Walls
Thanks to Wabi-Sabi we can freely drift away from the conventions and add a fair amount of soul to the apartment. An unfinished or a slightly damaged wall is not a problem (on the contrary!) and its deficiency may easily be turned to good advantage. Not painting the walls may seem lazy to some but Wabi-Sabi actually celebrates an undone, lived-in look.
Credits: Mr Perswall, Pinterest
There is a greater wisdom to it – used to certain standards and guidelines we stopped truly looking at things and appreciate their raw, natural beauty. If some of the tiles in the bathroom are chipped or missing, don't take them all down but complement with a gorgeous golden filling instead. There is no single recipe for the Wabi-Sabi décor. What matters the most is that you make it your own.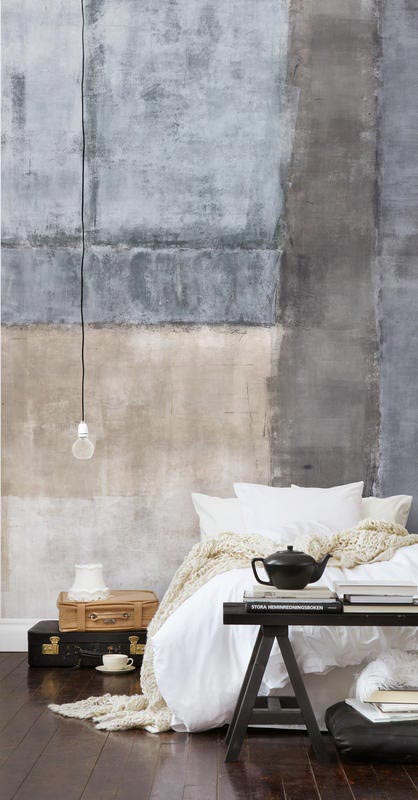 For more inspirations, take a peek at Doris Leslie Blau website – we are always at your disposal. And if by any chance you are visiting the capital, step into The Washington Design Center, 1099 14th Street N.W. Washington, D.C. 20005, to see our showroom. You can also give us a call at 202-808-9361.