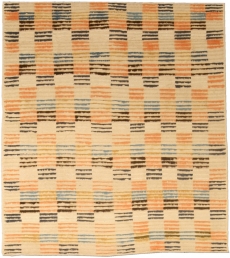 Tulu is the English word for the Turkish term 'tuylu' which means hairy. Tulu carpets are a variety of Turkish carpet. The weaving technique used in producing these rugs and carpets is same as other Western and Middle Anatolian rugs. The weft count in these rugs is slightly more that the other regional carpets yielding a softer, warmer, deeper pile. These carpets are woven in the region of Karapinar which is located east of Konya. In ancient times, about 7,000 years ago, Anatolian civilizations flourished in this stark landscape. About 80 years ago this region became populated by Turkoman and Greek villagers.
This area gained a reputation for high-quality rug weaving and became a commercial center of rug production because of the availability of high-quality yarn and, skilled labor available.
Tulu carpets have a distinctive mysticism in their design. The designs and patterns woven into these carpets have messages which the weavers want to share. They are informed by the history of the region where they are produced. These carpets and rugs bear resemblance to the Greek carpet and rug designs due to the legacy of Greek influence on the ancient civilization.
The designs and color schemes of Tulu carpets are influenced by local availability of dyes and weaving material. There is large demand for Tulu carpets. Though they may not be the most sold carpet in the world, they have a distinctive design which offers their owners the pride that comes with an eye that understands enduring quality over the latest fads.
You can find elegant and simple Tulus in various sizes. They are an excellent fit in contemporary interiors. So check out Tulu carpets and see what makes such a beautiful addition to home interiors.