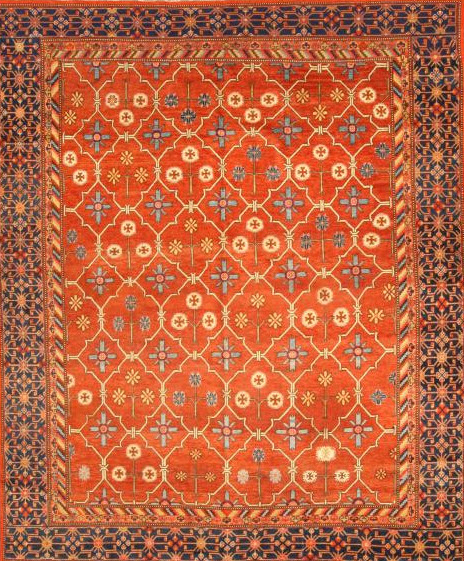 In August 2006, I received yet another Sotheby's catalog on my desk. However, this one stood out. It was thick with the title "Shurbland Park, Suffolk, England." As I paged through the items, I thought it was odd that there was only one Aubusson carpet illustrated. It was only a few days later, while further studying the catalog, that I saw descriptions of 17 different lots, all cataloged as East Turkestan carpets, but with no images!
When I asked the auctioneers for images, they responded asking us to give them some time since the rugs lots were in the cellar. When I followed up a few days later, they said the rugs were so heavy from being wet that they could not carry them up in order to take pictures.
Sitting in my New York office, I thought the perfect storm might be hitting. After jumping on a flight to London, I had the privilege of purchasing 14 of the most beautiful Samarkand rugs.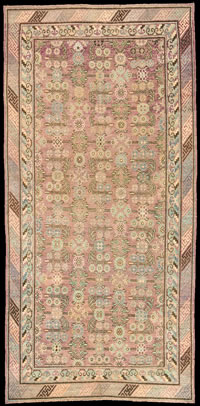 My next step was to consider – how does one present this to prospective customers? My initial idea of creating a catalog led me to a more in-depth study of these rugs, which in turn, led me to a higher appreciation for this art form. Over the next year, I purchased an additional 38 rugs, and the catalog was an immediate success with our clients. And not only for those just buying the rugs, but for those that have a fascination with eclectic sensibility.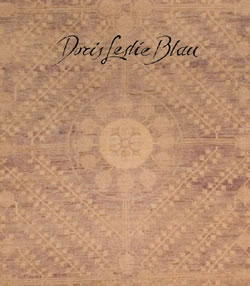 Samarkand Mailer (download available)
As these rugs were predominantly long and narrow in size, our clients most common concern was if we had standard sizes of 15 x 12 or 15 x 20.  Their curiosity and need led me to a re-imagination of rug making! What if we created new versions of the carpets inspired by the Samarkand designs?
I felt our biggest challenge was creating them to have the same rawness and patina. It wasn't long before I met a collector of Kilims from the same region, who shared my passion for new products. Together we came up with the idea of using wool from some of his damaged Kilims to create a new line of carpets. His Kilims were flat woven carpets with no pile, and using these materials on a new foundation, the Contemporary Samarkand Collection was born in 2010.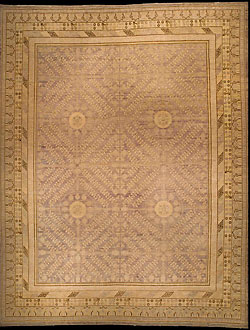 The new Collection truly honors uniting the past with the present and brings forth gorgeous design elements that aren't often seen in modern carpets. When examining the composition of the main motifs, it is important to understand that these carpets appear to be the result of a logical graphic design. They portray actual botanical tables, such as lush, technical pomegranate gardens reproduced within the space of a carpet.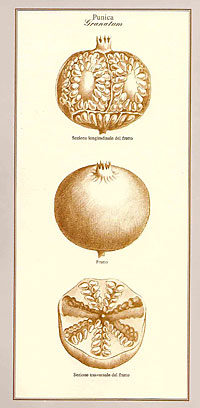 In all cultures of the North East, the pomegranate has always been a symbol of fertility and prosperity. The pomegranate motif expresses a longing for the mythical "Garden of Origin."  I've always felt that a garden is the perfect place to contemplate beauty and the mysteries of nature.  It is a magical place, a safe haven where man can nurture the most intimate and delicate part of his being. A rug is the reflection of this ideal place – a small bound and decorated space.
See more rugs at www.dorisleslieblau.com