Antique Malayer Rugs Shine with Artistry and Craftsmanship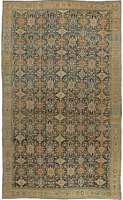 Malayer rugs come from the city of Malayer. This city lies between Hamadan and Sarouk within Iran. Antique Malayer rugs were created by individual weavers during the 1800s and early 1900s for the most part. These rugs display uniqueness in the broad range of designs and choice of colors. They are true artistic creations, and their value reflects their artistry.
Antique Malayer rugs are unique in the diversity of design and color that is somewhat atypical for other styles of Persian rugs. Some of the many designs include the sprouting seed, which represents rebirth birds and diamonds surrounded by flowers and vines. Rather than two or three colors within the design of a rug, antique Malayer rugs generally contain a deep blue background with the design created by multiple colors including sage green, red, light blue, pinkish brown, gold, tan, and brownish red. This diverse palate of colors is not typical for other types of Persian rugs, and this diversity sets antique Malayer rugs apart from other Persian tapestry styles.
The tribal weavers in Malayer were often Turkish, and they employed the Turkish knot, Gourde, to weave these creations. The Gourde is a symmetrical knot, as opposed to the asymmetrical knot of many traditionally Persian creations. Additionally, antique Malayer rugs regularly enjoy a low cut pile. Weavers trimmed the pile in order to enhance the appearance of the design. In addition to a broad range of design and color, these rugs were designed technically to enhance the artistry of the woven design.
Antique Malayer Rug: Structure and Design
Antique Malayer rugs are hand-woven however, their level of originality does not end with hand craftsmanship. The color and design of Malayer Rugs are also incredibly unique, and the weaving technique is unusual for Persian rugs. The weavers of each rug highlighted the artistic nature of the tapestry, and the value of the artistry remains today. Antique Malayer rugs are highly valuable, especially considering the rising popularity of, and demand for, this type of Persian tapestry.
An Exceptional Collection of Malayer Carpets for Sale