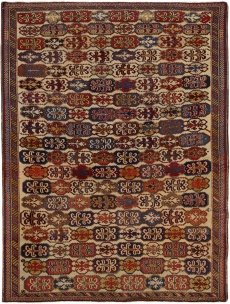 The Louvre in Paris, The Vatican in Rome, The Victoria and Albert Museum in London, The Metropolitan Museum of Art in New York City, and The White House in Washington, D.C. – All of these magnificent and fabulous places all have floors that are adorned with rugs made from the Caucasus region. Produced as village carpets rather than city-made creations, these rugs are woven in a traditional method using the loom, a frame-like device that applies tension as a means to hold the warp threads together to enable interweaving of the weft threads.
Caucasus rugs are one of three major categories of Oriental rugs (the other two being of Anatolian and Persian origins). They all are hand-woven without pile or pile-knotted. Caucasus carpets are characterized by definitively bold colorations and daring geometrical designs.
Technically speaking, Persian carpets today are produced in Northwest Iran, Iran being the modern name of Persia, but officially, this northwestern region is actually Southern Azerbaijan, a nation that was under the defunct Union of Soviet Socialist Republics (USSR). It goes without saying that the rug weavers of Persian rugs are Azeris, not Persians (or Iranians). Azerbaijan rugs are not only woven in the same method and with the same kind of materials used before the Bolshevik Revolution of 1917 but bearing the same traditional patterns and designs pre-dating even the 1917 historical event.
Persian rugs dominated the market because they were mass produced for export to European department stores. On the other hand, Caucasian carpets remained a cottage industry like it has always been in their localities of Bakhshaish, Tabriz, Serapi and Heriz. Traditional Caucasus rugs can vary in both pattern and design from one region to another and are categorized into the following:
• Baku rugs – recognizable by fields of carnations or Boteh (paisley) that surround several octagons in steppes with blue and ivory as the main colorations, the Baku rugs also include Chila, Sirahani and Kuba rugs.
• Shirvan rugs – silk and cotton warp threads are used in the making of Shirvan rugs, making it an impossibility to find any of them coarse. They have earned the reputation of being the finest of Caucasian woven rugs.
• Chelebend rugs – crab and fishbone designs abound in the borders of these carpets woven by Armenians who have a tendency for weaving sunburst or flaming crosses.
• Karabagh rugs –They were woven after the 1900s and have design colorations in combinations of green, pink, violet and yellow and styles that catered to European taste.
• Akstafa rugs – made in Azerbaijan, these rugs employ bird patterns that show peacock tails, a pair of wide feet and a long neck.
• Kazak rugs – characterized by designs laid out in a distinctive line of three medallions or a singularly large central medallion, these rugs are also known as Shulaver, Lambalo, Karaklis, Karachov and Bordjalou Caucasus rugs.