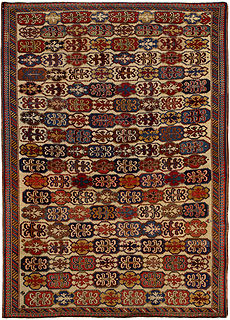 Geographically, Central Asia encompasses several of the nations of the defunct former Soviet Union, namely Uzbekistan, Kyrgyzstan, Kazakhstan, Turkmenistan, and Tajikistan. Beyond that it includes Afghanistan, southern Siberia, the Kashmir region of northern Pakistan and northern India, eastern Iran, Mongolia, Tibet, northwestern Pakistan and Xinjiang. Even prior to the historical journey of the Italian Marco Polo to China, the production and trade of Oriental rugs and carpets had proliferated in the ancient kingdoms of Central Asia.
Classification of a rug or carpet as "Asian" simply means that it was woven in any of the countries mentioned above, and while there are similarities, there are also differences, primarily because rugs and carpets in the Central Asian region have always been woven by hand, with each weaver leaving his or her own personal craftsmanship imprint. Over time, designs of a particular region coalesced around certain common design or color schemes, while individual weavers continued to put their individual mark on their work.
"Oriental" refers to a rug or carpet produced in the Far East, pinpointing weaving methods that originated in China, East Turkestan and Mongolia, with influences from Persia, the Caucasus region and India. For instance, "Oriental" carpets may have boteh (paisley) motifs, repetitive intricate patterns, spandrels and medallions reminiscent of Bibikabad or Bidjar carpets, yet retain a distinguishable Eastern look.
Oriental rugs have traveled down the Silk Road to European palaces and attained renown in the courts of English, Russian and Polish royalty between the 15th and 17th centuries. It should come as no surprise to step on carpets with fretwork borders, pomegranates, sun rays, shrubs and clouds and to realize that these Oriental rugs were woven in Tibet yet show a mingling of medallion and boteh motifs culled from typical Bessarabian or Borlou patterns.
Because of the exotic impression that Westerners had of Asia, the abstractions found in Oriental designs of carpets from Central Asia were taken as spiritual symbolism, especially those with Chinese, Mongolian and Tibetan art such as dragons and phoenixes. Warm, rich colors characterize Oriental rugs as much as steppes, the lotus and animals. Although people are still quick to think "Persian" when rugs are mentioned, those made in the Central Asia region are woven seamlessly, durably and beautifully. Some overseas investors and several non-profit organizations are seeing to revival of the traditional production of Oriental carpets by getting the financial and marketing support they will require and deserve. For a craft that has been around since the 5th or 4th century BCE, rug-making today is not only a source of livelihood but a living heritage.