Under the fancy name of Boucherouite Rugs hides an absolutely simple joy – a vibrant riot of colors dancing before the eyes in exuberant geometric or completely abstract patterns. Let yourself get carried away by the irresistible charm of Moroccan rag rugs!
What are Boucherouite Rugs?
Cultures all over the world have always had ways of reusing materials since their production in the past required much more effort, time and, relatively, money than today. Boucherouite rugs (pronounced boo-shay-reet" from the Arabic bu sherwit meaning "a scrap from used clothing") are the best example of the old-fashioned recycling.
myunfinishedhome.com & Vintage Moroccan Rug by Doris Leslie Blau
They were (and still are) hand-crafted from discarded clothes, leftover scraps or clippings of fabric. But do not be misled! There is nothing or shabby about them. These humble textiles took the design world by storm for a good reason. Each Boucherouite rug is truly unique and simply inescapable; but more about it later.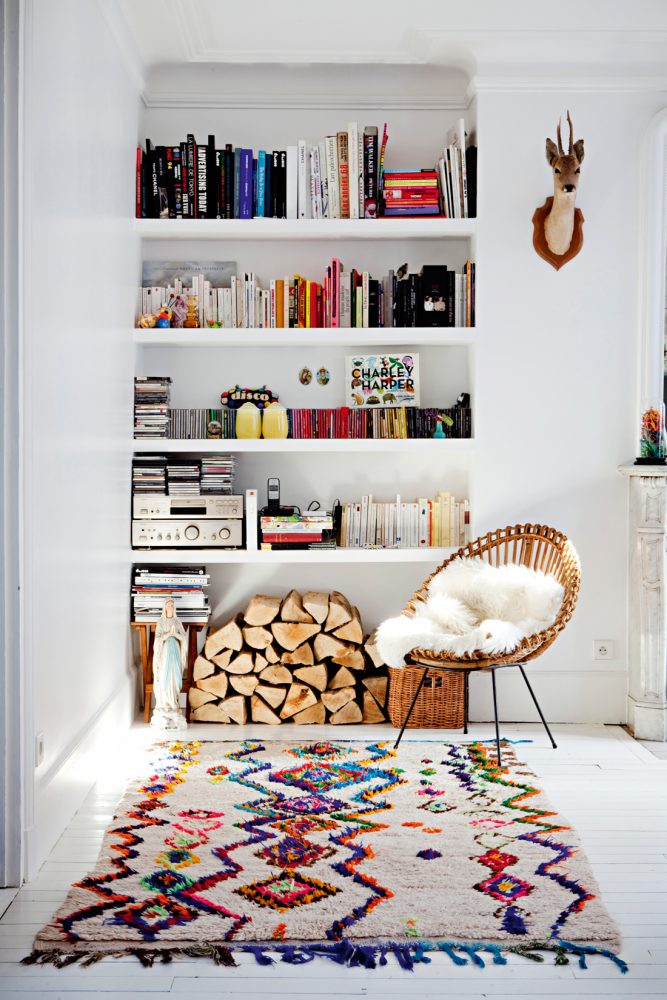 Little do we know about the rag rug craft before the end of the 18th century as the chroniclers were not usually interested in recording details of mundane everyday life – especially when it regarded low-status crafts or housekeeping. Middle East and North Africa, having the longest and the richest history of rug making in general, are safe to be considered forerunners of rag rugs. There, in hot and exotic Morocco, Berber women weave recycled wool and textiles together to create mesmerizing ribbon-like carpets.
erikabrechtel.com & Vintage Moroccan Rug by Doris Leslie Blau
What to watch out for when buying a Boucherouite rug
If you are not planning of going to Morocco any soon but have already developed a strong desire to own a genuine vintage Boucherouite rug, remember to look for a trusted dealer. Unfortunately, wool that has long been favored material for textile making among nomadic Berbers is sometimes accompanied –and even replaced—by synthetic fibers, including polyester, nylon, and, what's the worst, plastic. This saddening change has happened rather involuntarily.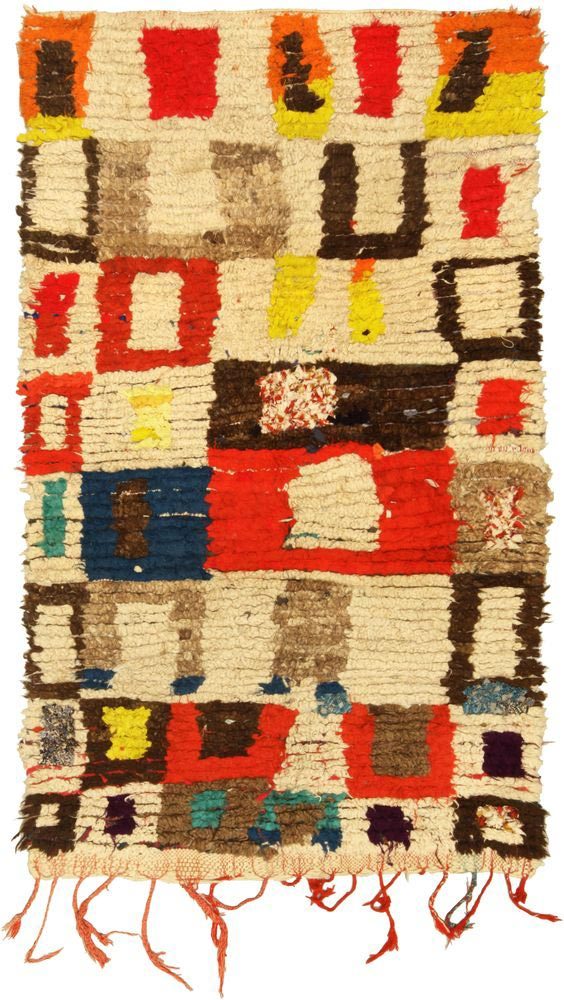 It came along with the French incursion into Morocco in the early 20th century when Berber groups met with the restriction of movement leading to a more sedentary lifestyle. The events coincided with an increased scarcity of wool, a material which had to be replaced if – among other things – Berber women were to continue to be able to provide usable rugs for their households. That's why, if you have an appetite for a real vintage Moroccan rag rug, it is best to put your trust in a professional.
tea-in-tangiers.blogspot.it & Vintage Moroccan Rug by Doris Leslie Blau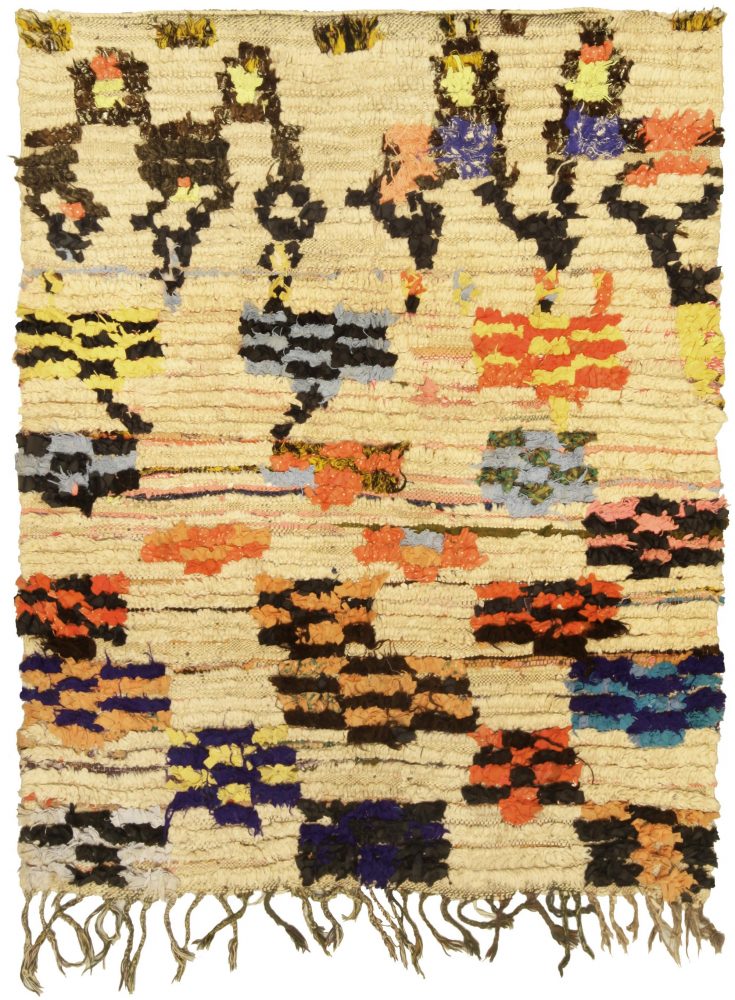 Where to put Boucherouite Rugs?
The best answer to that question is – everywhere! A rag rug is a perfect match for a living room, vestibule, bedroom, bathroom or kitchen alike. The traditional way is to put it on the floor – its intriguing, mixed texture calls for that option as a Boucherouite carpet is pure pleasure to walk on. However, some specimens, colorful like a peacock's tail and dazzling with patterns, would look simply amazing on the wall, serving as a piece of folk yet modern art.
Source: sfgirlbybay.com & babasouk.ca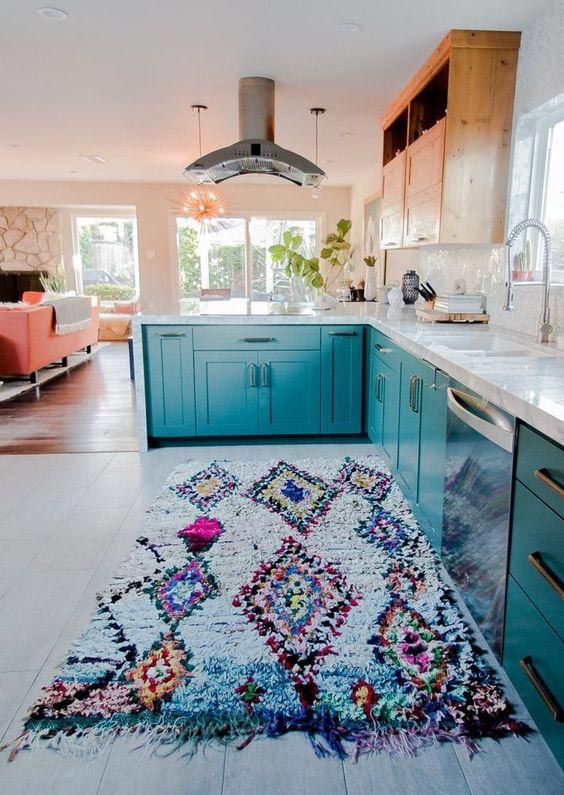 The decision is up to you. Our advice – get more than one! That way you can have gorgeous Boucherouite rugs any way you like. These captivating, soulful pieces incredibly emphasize the free-spirited atmosphere of bohemian interiors. The wide variety of plant-based and inartificial dyes which can be found in original Boucherouites wonderfully reflects the unmatched beauty of nature. All the more, contemporary, minimalistic décors also can take advantage of the color, warmth and magic of the orient enclosed within these unassuming textiles.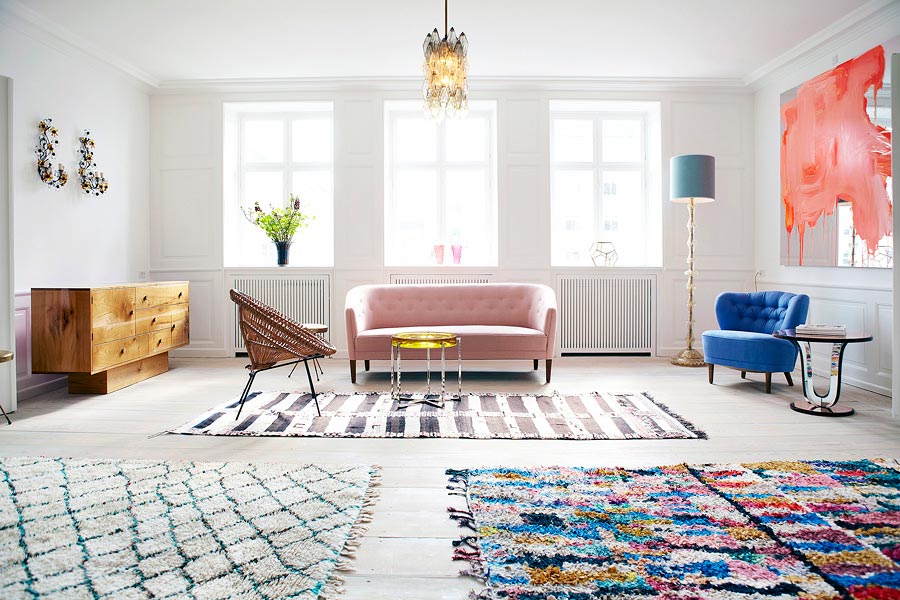 babasouk.ca & bhg.com 

For more inspirations, take a peek at Doris Leslie Blau website – we are always at your disposal. And if by any chance you are visiting the capital, step into The Washington Design Center, 1099 14th Street N.W. Washington, D.C. 20005, to see our showroom. You can also give us a call at 202-808-9361.