Out of all interiors, bathroom is the most intimate where one can truly relax and unwind from the hustle and bustle of everyday life. We've prepared some hot tips to transform your home spa into a sanctuary of exquisite décor. Modern farmhouse bathroom – enjoy!
Let Wood Do the Work
White bathroom is an absolute classic, however this season is calling for spicing things up a bit. With what? Wood, of course! In the year focused on the return to nature, the choice can be no other. You've probably heard of bathrooms finished with bleached, shabby chic wooden elements before, but in 2017 we are obliged to take a step further and exploit the potential which lies in the natural appeal of timber additives. No bleaching or brushing – just raw, pure brown color.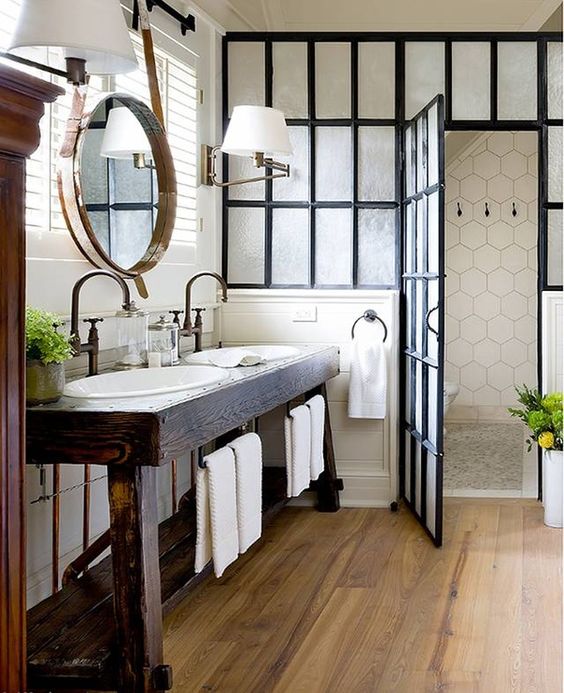 Source:  brepurposed.porch.com 
 A wooden bath enclosure or a bathroom cabinet looks simply amazing in combination with alabaster tiles. Whether you decide on deep oak or warm walnut, remember to keep the rest of the décor in a subdued, preferably whitish color palette to properly expose the beautiful shade of the wood. And don't forget to add something special, let's say… a ladder. We are not kidding – quite recently ladders became one of the trendiest bathroom accessories. At first it may sound bizarre but in fact a ladder can be put to good use! Besides being a cool farmhouse accent, it may serve as a shelf or a flower stand. Speaking of which…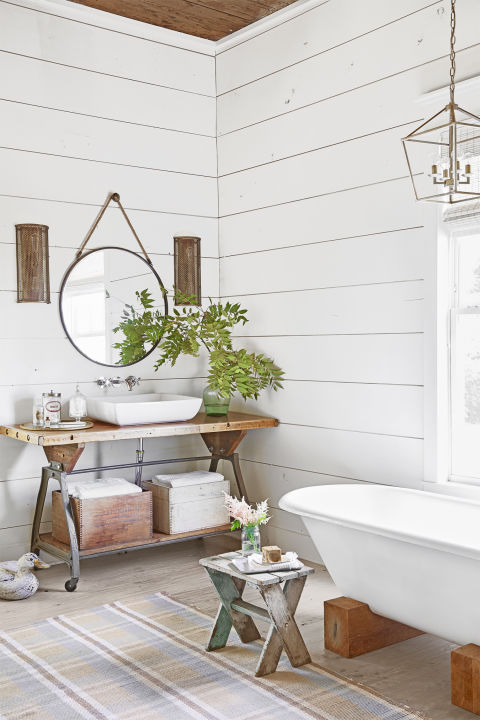 Source: City Farmhouse & rebuco.com.au
Make you Bathroom Flourish
Yes, in 2017 we put plants everywhere so why not place them in your beauty room? In the year of Greenery color there are no excuses for not having lush greenery in the bathroom! This soothing and reassuring shade will most certainly have good effects on the quality of your relaxation, make you feel more refreshed and forget about the problems of everyday life. If you want to keep up with the latest trends, go for the big-leaved plants, such as a Chinese Evergreen or a Dieffenbachia.
Source: Eve Wilson, flavorpaper.com
Succulents are also in vogue and some may even contribute to your beauty treatments. Aloe Vera is bursting with vitamins and minerals, while its gel can be used as a topical treatment for minor cuts and burns, insect bites, dry skin and more. This wondrous and healing plant should be placed close to the bathroom window and, because of its low water requirements, the humidity alone may meet most of its water needs! Super practical and low-maintenance – who could ask for more? 😉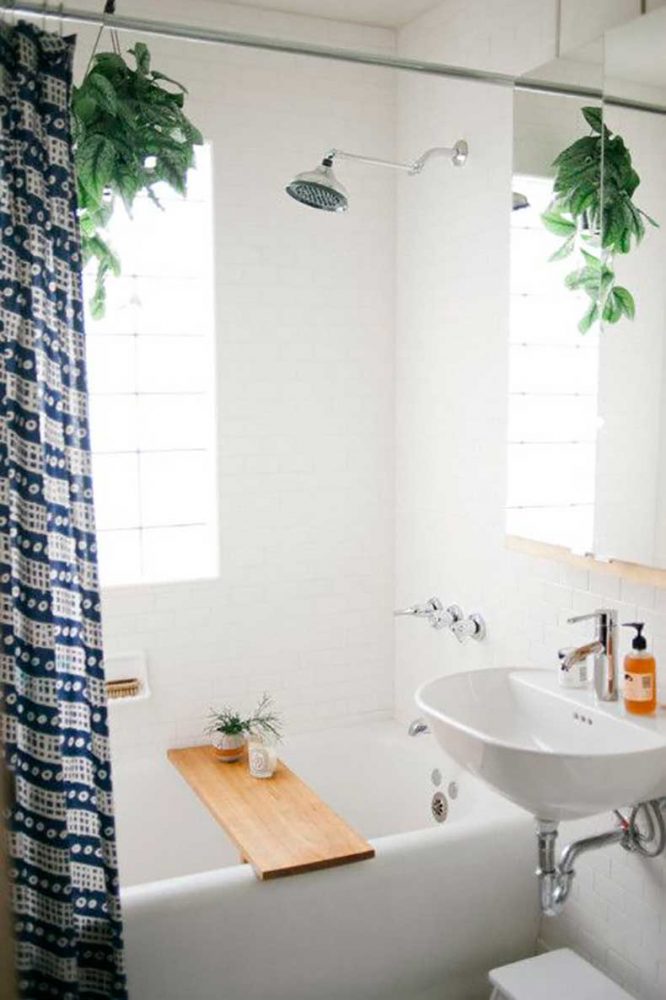 Accessorize
Every design enthusiast realizes that the devil is in the details. Wooden enclosures and plants against white tiles are a good start but what would be the finishing touch? The answer is – the little things. What do we mean by that? All well-preserved but preferably authentic rustic accessories. They are easily accessible and relatively inexpensive. You may find a brass watering can, past epoch shampoo bottles or wicker baskets in a flea market.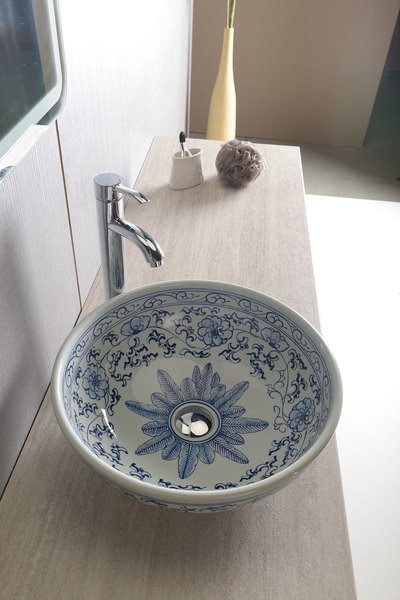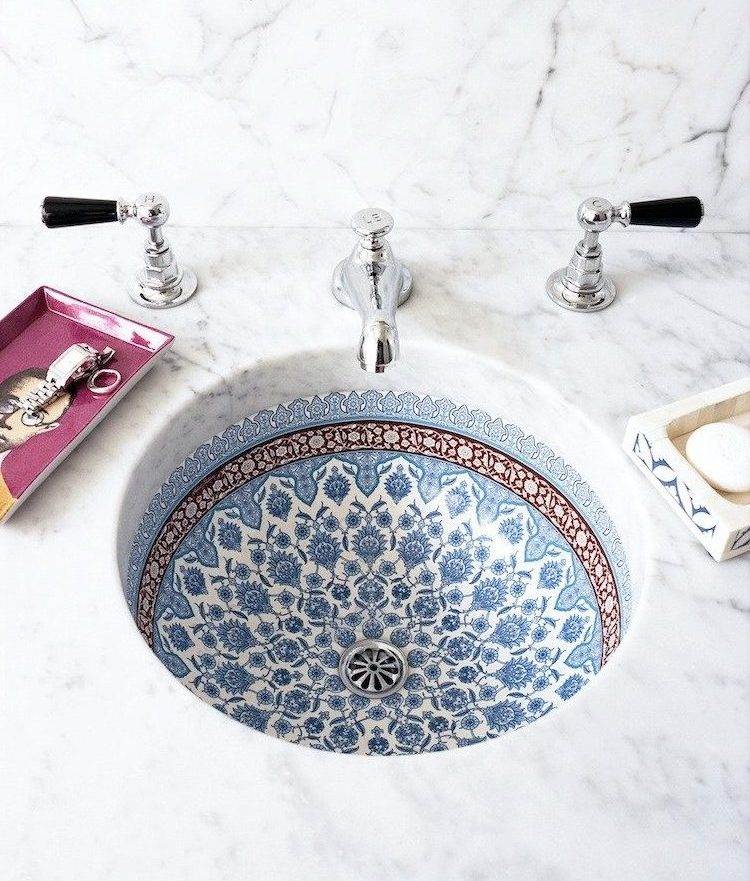 Source: lonny.com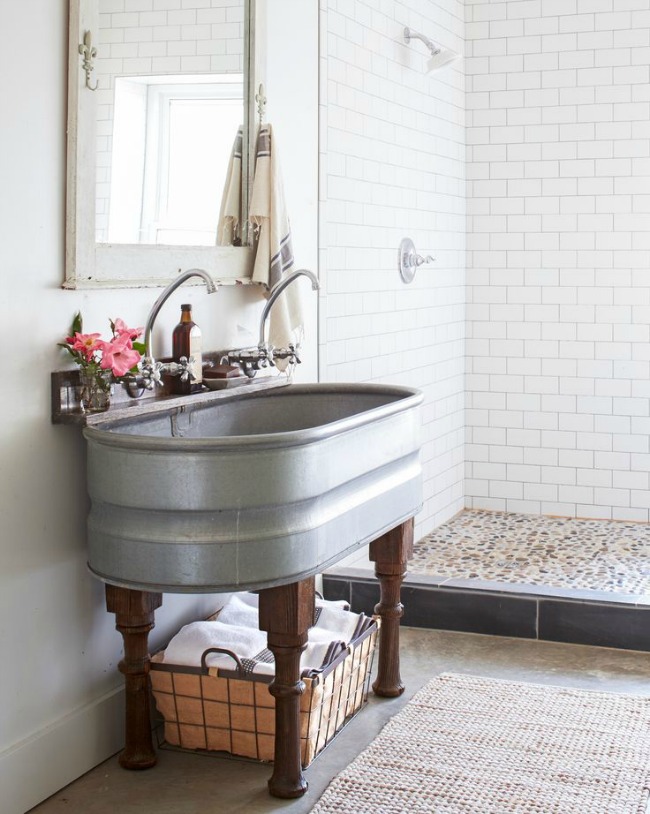 Browse for them online or just check the old grandma's house – it is surprising what can be discovered in an elderly relative's house or in our own attic. With minimum effort and cost your bathroom will be transformed into the most fashionable place in the house, while old and forgotten objects will be given another life. It is a classic win-win situation as befits a true décor aficionado.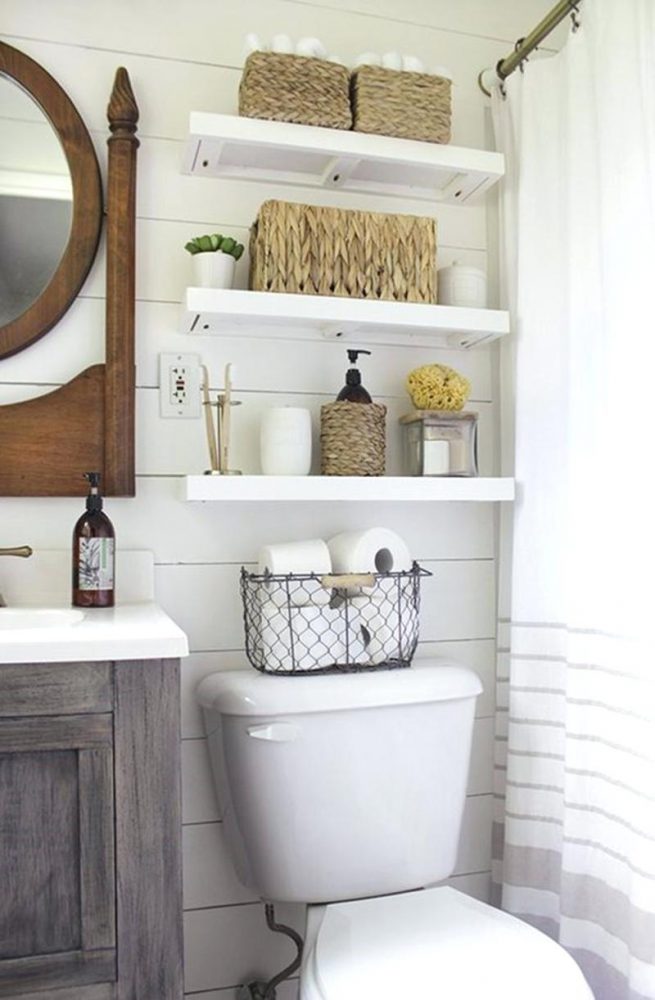 Play with Shape and Pattern
To create a perfect modern vintage or farmhouse bathroom one must remember about balance. The style based on rustic charm or retro nostalgia needs something to break the scheme and remind everyone that we live in contemporaneity, not in the 70s'. A round mirror will introduce some geometric stir and become the bridge between the old and the new. If you want to be absolutely up-to-the-minute, invest in a rounded mirror in a wooden frame – it will perfectly match your timber bathroom furniture.
Susan Tollefsen Interiors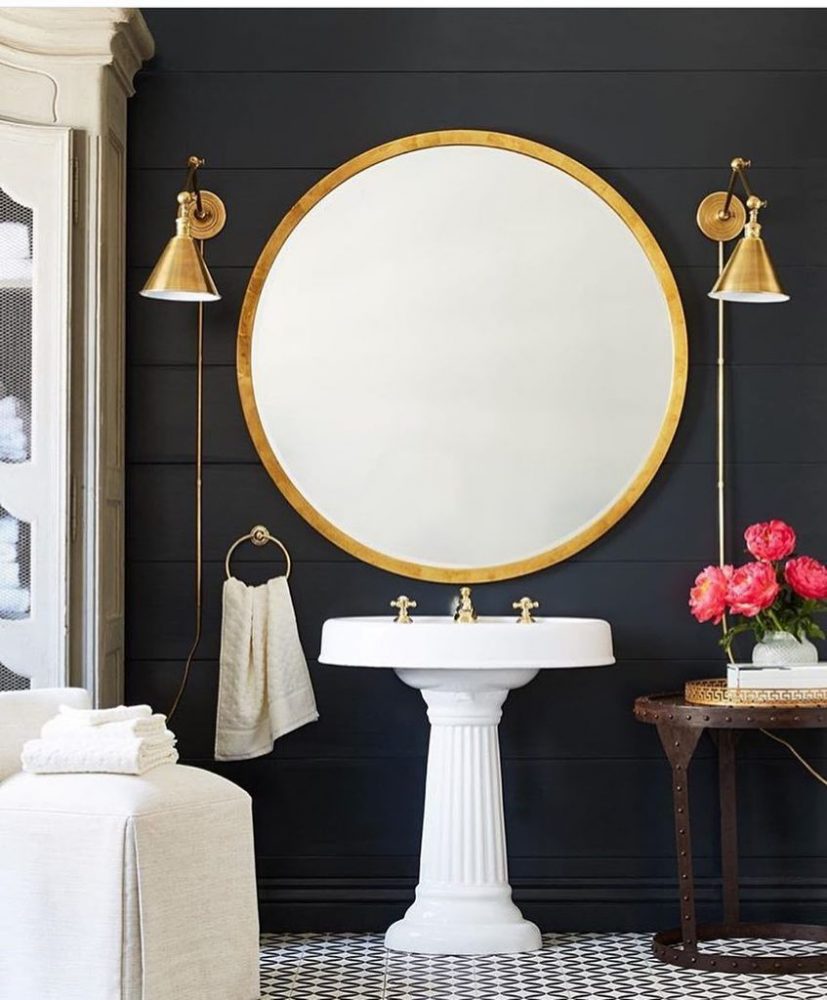 For the pattern lovers we have yet another option. How about a painted sink? Folk, Moroccan or rustic, a painted basin will add color to mundane tasks like brushing your teeth or washing your hands. You don't necessarily have to buy a new sink – the artistically gifted will find it as a perfect opportunity for DIY. Just find a proper, waterproof paint (like epoxy) and get to work.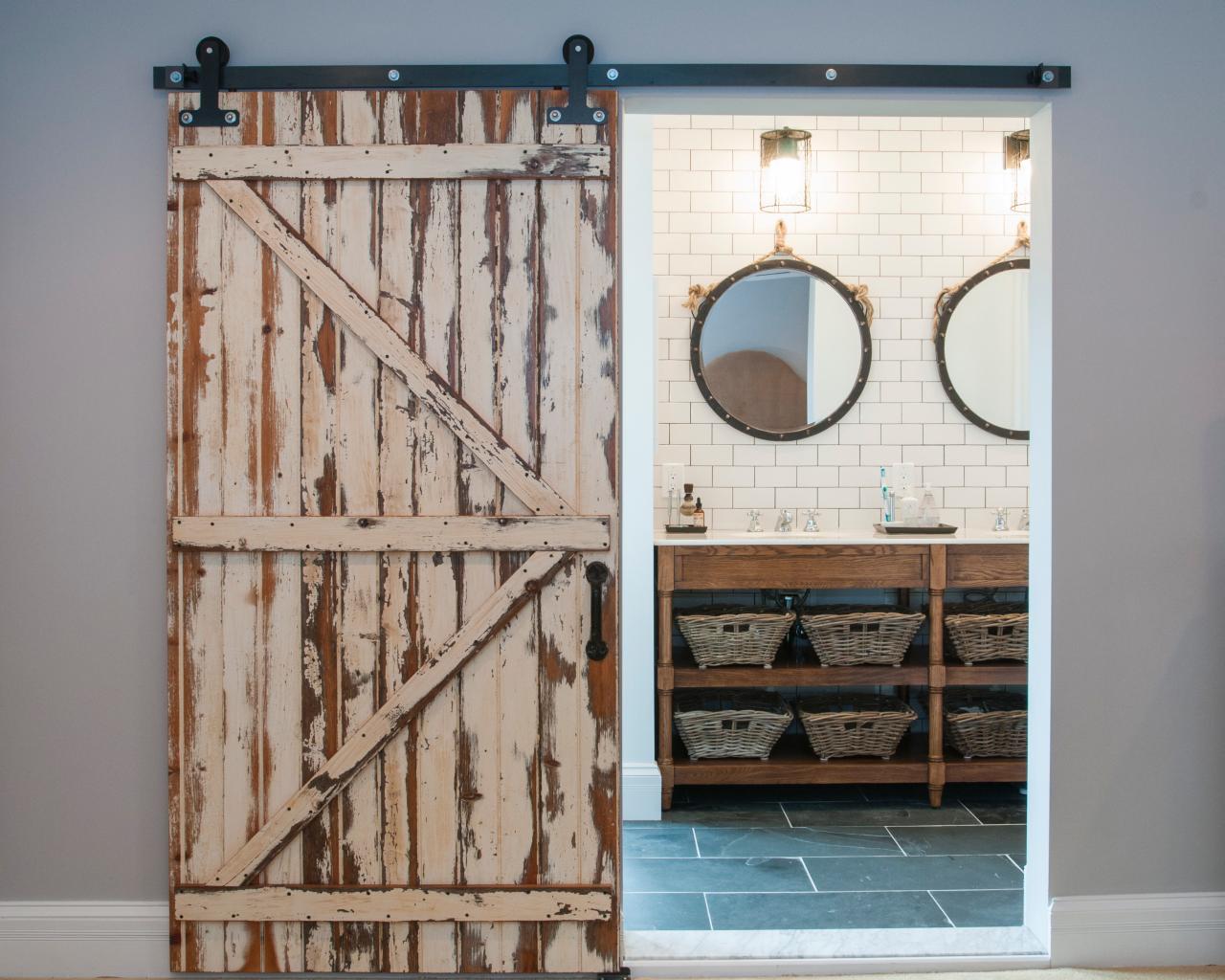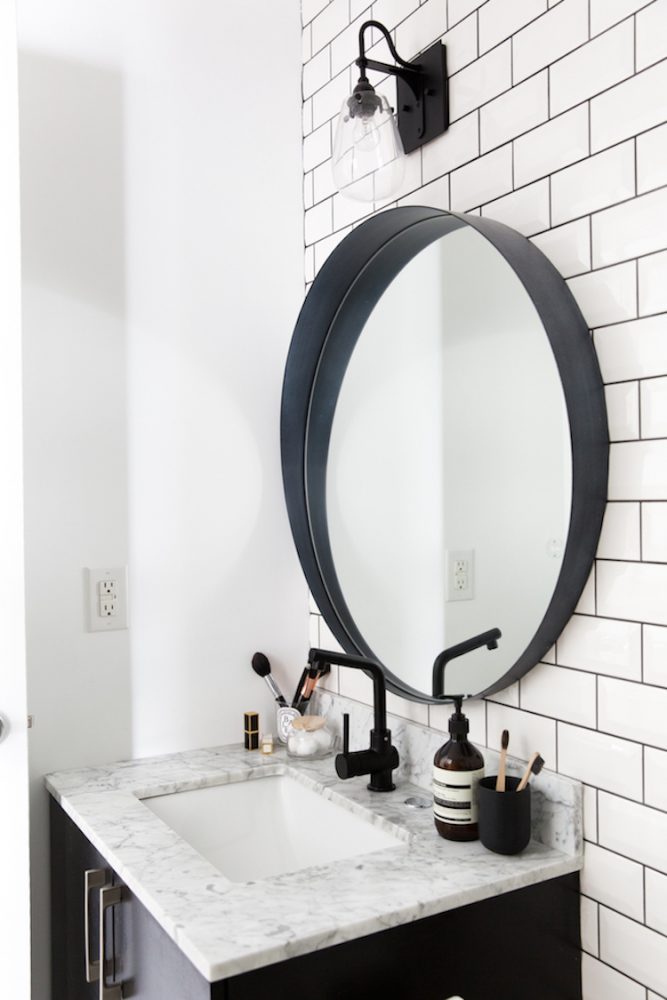 Rug Up
Finally, the object which will make you feel like a queen in your asylum of beauty – a rug. Carpets are ideal space definers and warmth bringers, and they are determined to serve their pleasing function even in the bathroom. To match a modern vintage style, take a look at mesmerizing Samarkand rugs. These beauties from the faraway oasis city are famous for their boho patterns combined with rich color palettes and masterful execution.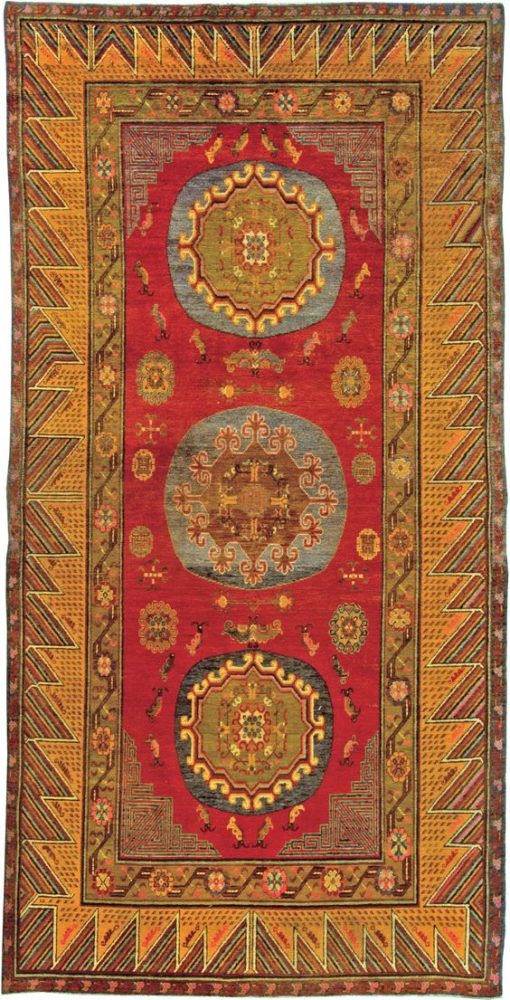 Indian Dhurries are not only enchanting but also unmatched when it comes to maintenance – they are absolutely immune to Silverfish and other insects responsible for destroying rugs. If you recon that your bathroom does not need any more color, think about Moroccan Beni Ourains. Their shaggy pile and simplistic, black-and-white design makes them luxurious and versatile in equal measure. The options are many yet one is for sure – a rug in a modern vintage or a farmhouse modern bathroom is a must!
Hinkley Lighting
—————————————————————————————————————————————–
For more inspirations, take a peek at Doris Leslie Blau website or visit us in New York shoowroom. And if by any chance you are visiting the capital, step into The Washington Design Center, 1099 14th Street N.W. Washington, D.C. 20005. You can also give us a call at 202-808-9361.