We're taught from a young age to praise orderliness and balance. Staying within the lines of a coloring book is preferred to careening outside. Skies are blue and grass is green. You get the picture. While regimented systems make sense in many aspects of life (like traffic rules) they can also become overly predictable and limiting in others. Interior design is a good example. Would this artwork collection shown below be half as interesting – or memorable — if it was hung in a straight, orderly grid? Probably not.
Staying within an aesthetic norm can feel comforting, but it's also not always very fulfilling. It doesn't highlight your personality or allow you to fully grow to appreciate new ideas.
If you think your design eye might need a kick in the pants, here's three ways to loosen up your décor.
1. Embrace randomness
Straight lines, ninety-degree angles, and grids have their place, but there's also something charming about a little chaos now and then. Randomness is spontaneous, lively and full of movement. While this paver installation isn't balanced in the traditional sense, it is in its own way. Large pavers are intermixed with small ones to create an even combination of different sizes.
With a color scheme moving from orchid to orange, this bathroom tile installation is more composed, but still embraces the delight of randomness. Like an unexpected tickle, a couple of opposing-colored tiles are arbitrarily installed in the other color field.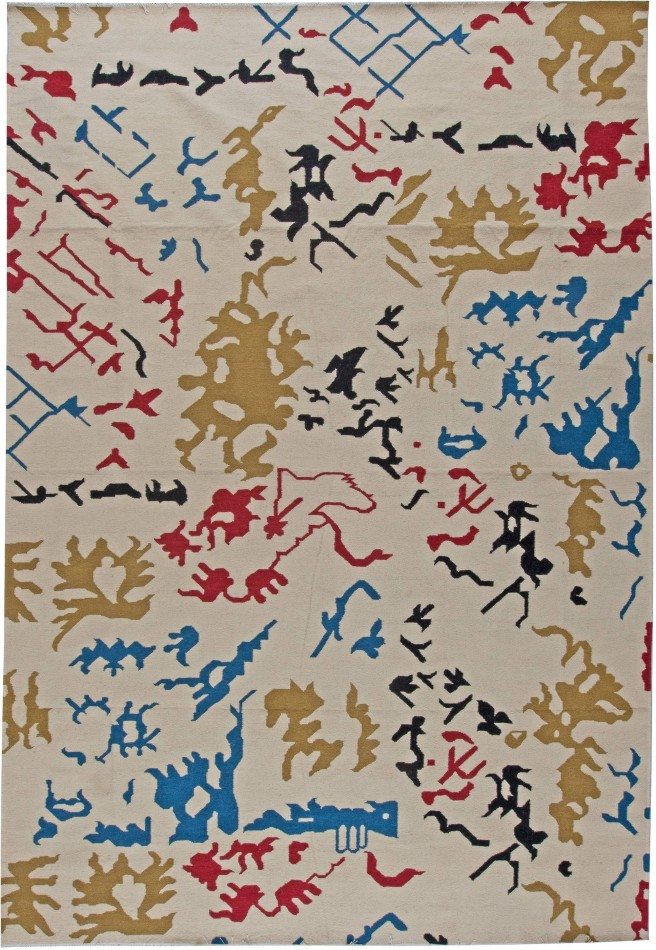 This area rug by Doris Leslie Blau features a random compilation of abstract organic shapes in blue, black, red and gold set against a white background.
2. Mix unlikely patterns
A lot of folks are overly conservative with their pattern pairing, but mixing it up with a bunch of different designs like trellises, stripes, paisleys and plaids can look incredibly dramatic and fun.
While combining patterns can easily become a jumble of color, be sure to stick with an obvious color theme. For example, this bench arrangement uses a medley of bright, fresh hues. So, sticking in a muted brown and olive green pillow here won't cut it. Also, be sure to also vary the scale of the patterns, representing large, small and in-between sizes.
Because mixing different patterns together can be visually busy, you'll want to contain it in a controlled area.  Here in this bathroom, the ribbon made from dissimilar cement tiles behind the tub is offset by a serene, much-needed background of large-format white tiles.
3. Follow the fluidity of line
Limiting yourself to conventional straight lines and right angles can become quite dull. Think of the curves in calligraphy or the dynamism in wavy lines.
Here, designer Heather Hillard celebrates the movement of line in her cove treatment in this dining room. Its lyricism resonates in the rug pattern and makes for an unforgettable space.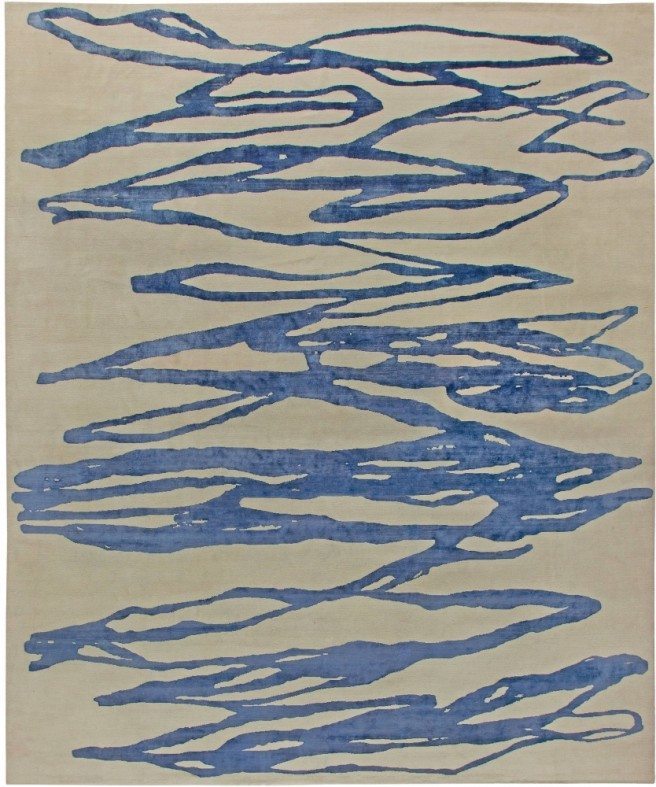 Likewise, this wool and silk rug from Doris Leslie Blau is delightfully reminiscent of free-flowing doodles.
An even looser take, this wall covering by Porter Teleo is appropriately named "Fluidity". Made on handmade Japanese paper, layers of pigmented inks are drip naturally with gravity and left to evaporate. Inset into wall paneling, it is a refreshing contrast to the otherwise balanced, orderly entryway design.
—————————————————————————————————————-
Karen Egly-Thompson is a former interior designer turned interiors writer. She writes regularly for Houzz and her work has appeared in publications such as Commercial Interior Design and Middle East Architect. Her blog Design Salad focuses on traditional design in contemporary context. A seeker of ideal coastal weather, Karen calls both Dubai and Maine home.