Ask people which season they look forward to the most and most will say summer. If you're able to enjoy the seaside or a nearby lake, count yourself lucky.  If you're not close to the coast, or just can't get enough of it, you might want to bring some of that beachy feel inside your home.
While coastal-themed décor isn't hard to find, it is easy to overdo it. Here are 5 ways to catch the coastal look without going overboard.
1. Boot conventional blue for alternate palettes
Blue, whether navy, light, turquoise or ultramarine, is the conventional go-to coastal color. While most folks will say the ocean is blue, there other watery hues that take second seat, like greens and lavenders.
This nautically-charged sitting room designed by Fray Interiors relies on different shades of red. In lieu of hue, the coastal references is introduced through fabric patterns and the nautical lantern collection.
Don't limit your vision of the coast to water. Sandy beiges  and grays speak of the coastline too. Here, the foyer of this Martha's Vineyard summer home is swathed in warm browns, with chartreuse accents.
2. Architecturally integrate coastal references
Incorporating coastal forms architecturally will take the pressure off of relying on theme-heavy nautical accessories.  As they're a permanent fixture of your home, make sure they're well-designed and quality-made. This custom walnut kitchen island nods to striped teak and holly wood used on boats.
The mariner's star cut-outs in this custom stair baluster are enough to impart a classic coastal vibe.
3. Opt for off-the-beaten-path accessories
Faux coral sculptures and nautical flags are routine coastal accessories. Get imaginative and showcase a collection you may have – or seek out unique pieces you might find at an antique store or flea market. These framed vintage swimsuits make a splash as fun pieces of artwork.
Real nautical maps make for interesting wallcovering or artwork. Marine stores and boat shows are usually good nautical map sources.
4. Seek simplicity
Many of the coastal-themed decorative pillows on the market are brightly colored and eye-catching, but they can also read a bit cartoonish. One or two might be fine, but more will quickly overrun the room.
Stick with simple designs, like the serene wave on these pillows, and you will likely get more mileage out of your accessories. Your space will feel more relaxing, too.
This tenet of simplicity is true with all of these coastal decor approaches. Select just one or two ideas for a space, and call it a day.
5. Get a handle on natural textures
Texture is an important component of a coastal vibe. Think of the patterning in sea shells, the subtle smoothness of driftwood, fibrous sea grasses, and even the consistency of sand.
Get touchy-feely with nubby fabrics, distressed furniture paint and even cotton rope, like on the clever knotted dresser handles shown here.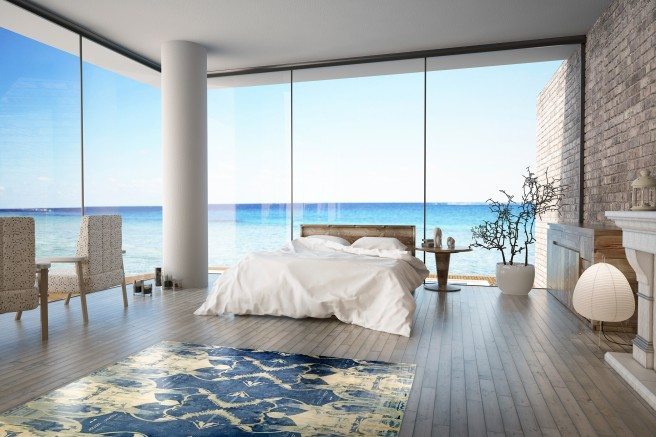 Wood flooring with a weathered-looking finish and flat-woven rugs, like this one from Doris Leslie Blau, are two ways to add subtle texture to floors.
—————————————————————————————————————
Karen Egly-Thompson is a former interior designer turned interiors writer. She writes regularly for Houzz and her work has appeared in publications such as Commercial Interior Design and Middle East Architect. Her blog Design Salad focuses on traditional design in contemporary context.