Although mainly associated with construction sites, concrete makes an incredibly elegant addition to interior décor. You don't believe us? Our 10 chic concrete interiors will make you give up all prejudices and doubts, if you even had any in the first place. It's time for some concrete design!
1. Casper Faassen's Abode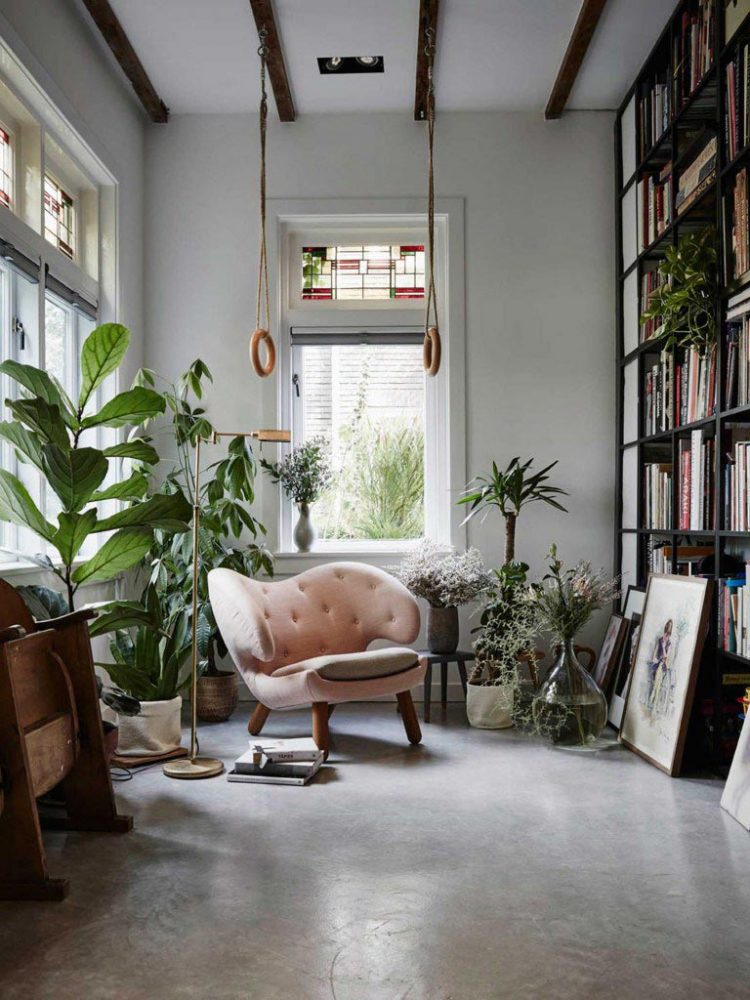 This interior is absolutely stunning but we would expect nothing less of a world-renowned artist's home. The austerity of the pure, concrete floor is broken by potted plants, a super-fancy wall-to-wall bookshelf, and an amazing armchair in the most fashionable color of this season – millennial pink.
2. Cali Cool Vibe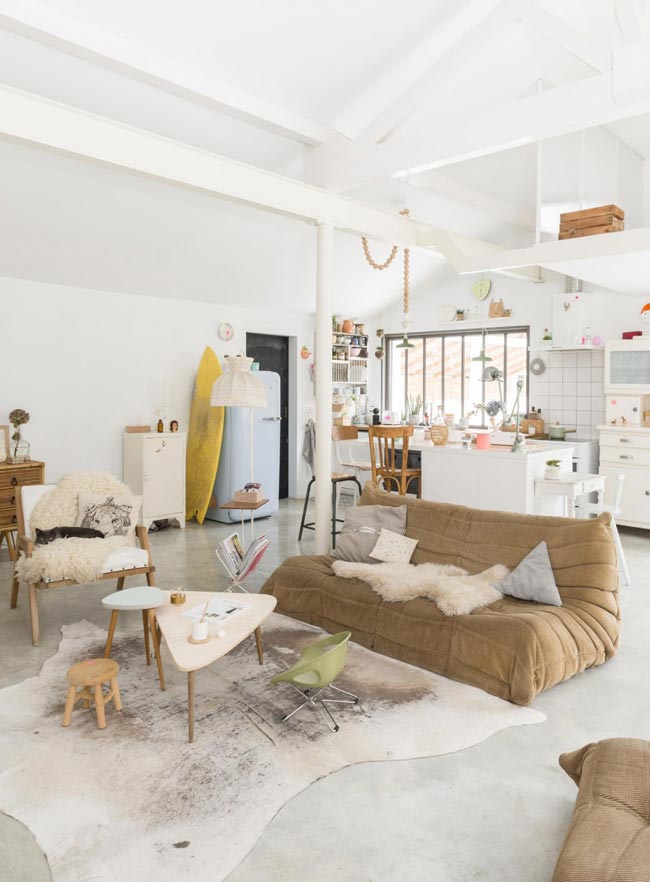 An open space apartment with a distinct California Cool vibe. Here, concrete optically enlarges the room and makes it look more bright. Moreover, its subtle grayish hue marvelously co-works with a pastel blue SMEG refrigerator and warm brown accents residing on textiles. So satisfying!
3. Scandinavian Farm Kitchen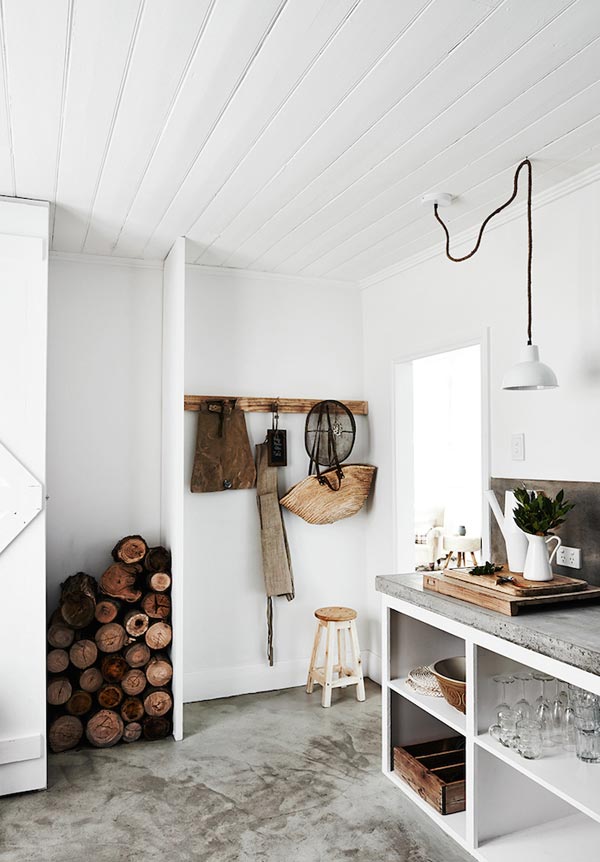 Can concrete be a part of homely décor? This Scandinavian kitchen with a noticeable farmhouse atmosphere proves that the answer is yes. It's because the toned grey floor helps to expose the most charming elements of the interior – these that are made of wood. Logs, cutting boards, a stool and a hanger – they are the true axis of the arrangement that stand out due to the simplistic ambience
. 4. A House by the Lake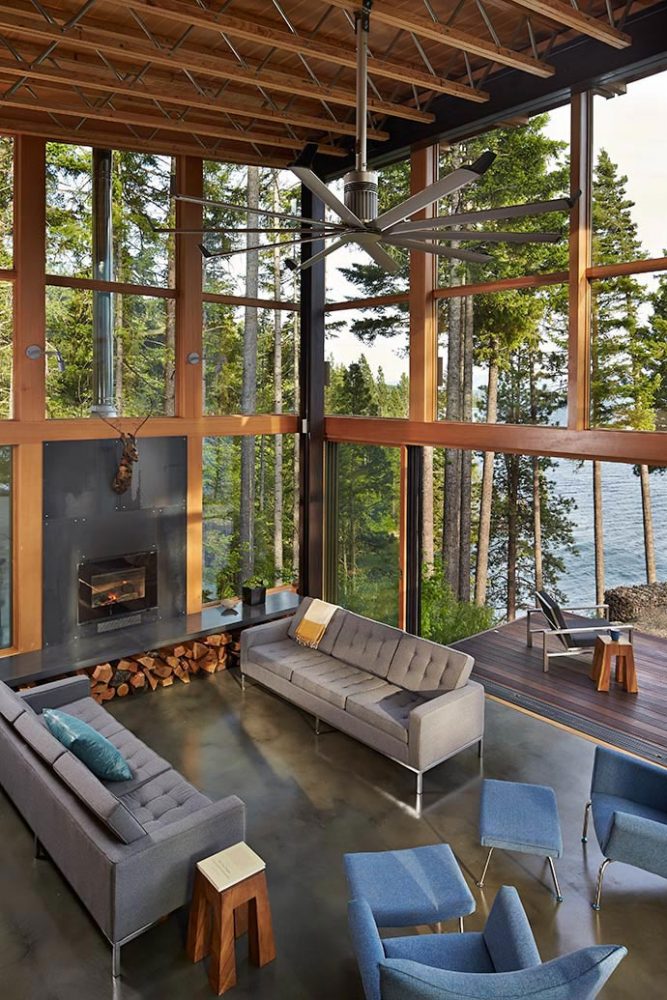 Open, airy and bright, with a killer view – that could definitely be one of James Bond's residences! There is something intriguing about that place and we exactly know what that is. Thanks to the replacement of wooden panels with concrete, the room escapes schemes and acquires a unique and modern dimension.
5. 'Americana' Café in Russia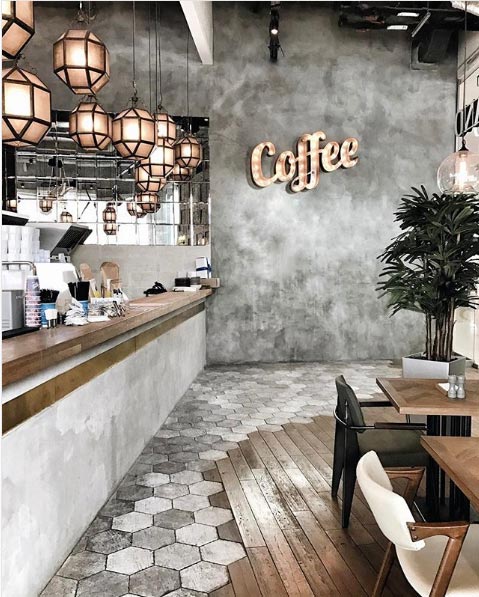 No hot beverages are required –although located in chilly Russia, the 'Americana' café has a power to warm you up just by serving its fab design. Concrete walls emphasize the loft-like character of the place, especially in cooperation with the glowing neon. Not to mention the amazing floor with concrete tiles mixed with wooden panels. We love it all!
6. Less is More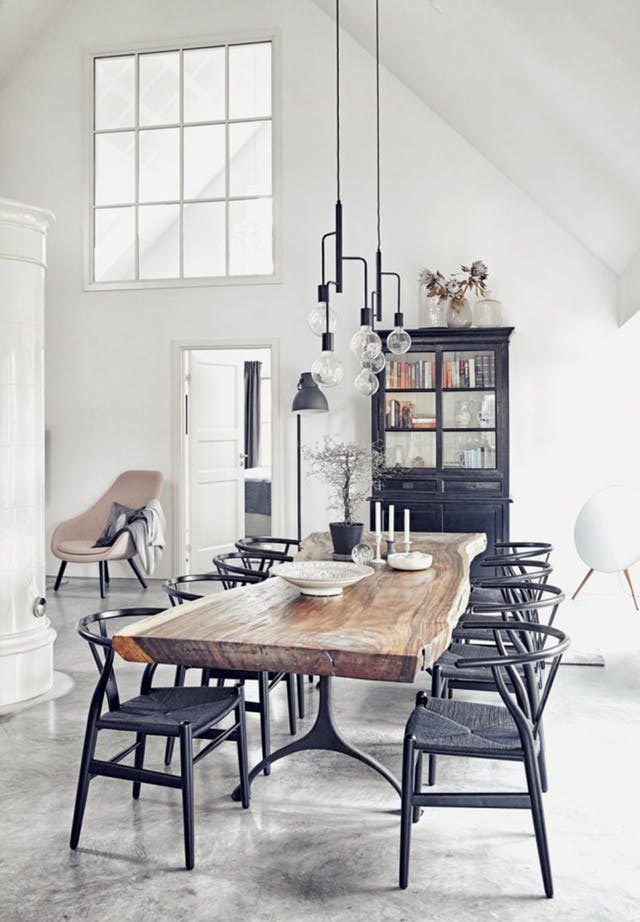 This minimalistic dining room, though verging on severity, is surprisingly warm and inviting. Here, yet again the main star of the design is wood, present in the form of an impressive tabletop. Its natural beauty constitutes the focal point of the décor thanks to concrete floor, white walls and simplistic chairs which let the table play first fiddle.
7. A Wabi-Sabi Bedroom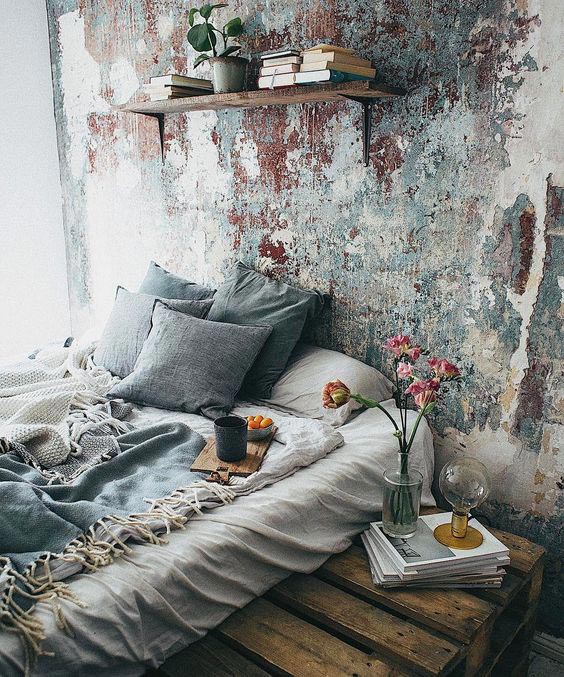 Presently, the Wabi-Sabi style breaks popularity records. It fascinates people with its unforced grace and a relaxed approach to decorating that puts livability and comfort above anything else. In this chic bedroom, the ragged wall sets the tone for the entire décor and creates an intriguing contrast with delicate textiles on the bed.
8. Rustic Living Room with a Modern Twist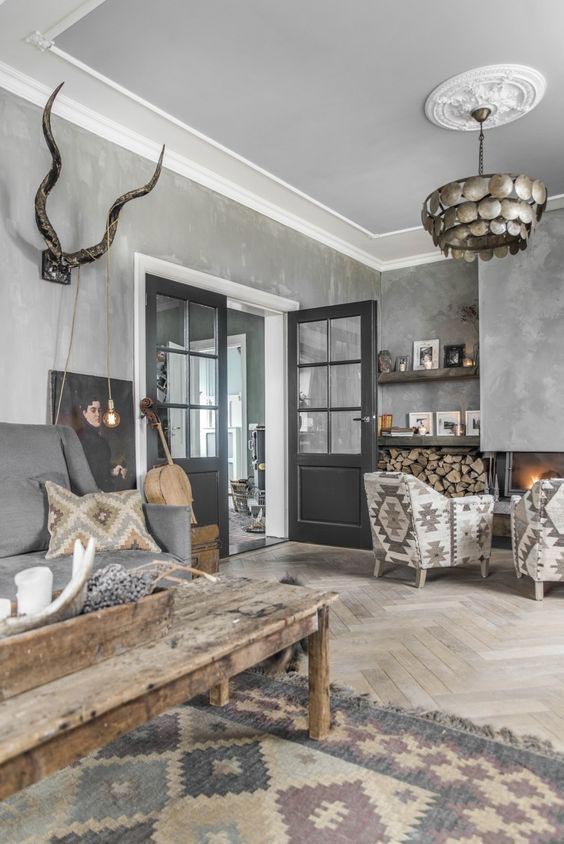 Are you into countryside style but you don't know how to avoid clichés? The best way to do it is by balancing the rustic elements with some concrete. In this wonderful living room, concrete walls and the wooden floor make a perfect setting for the patterned ethnic textiles, a vintage kilim rug and magnificent antlers.
9. A Portuguese Café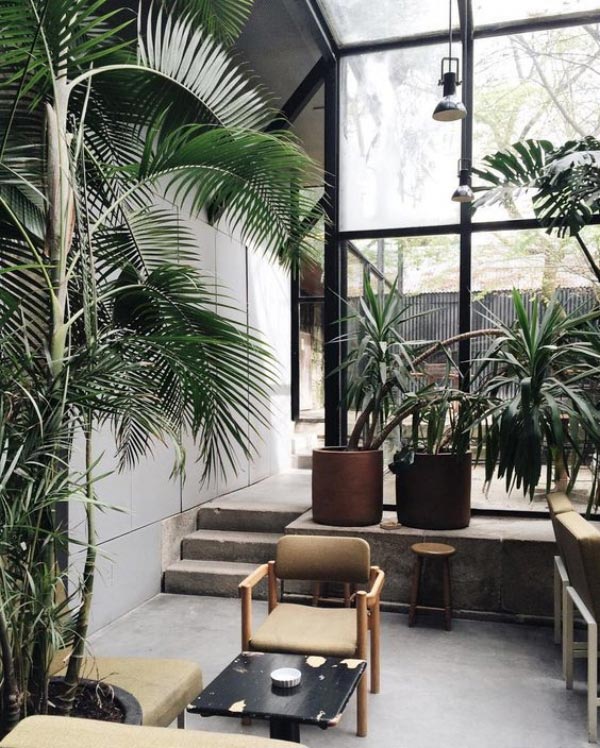 Yet again we land in a café, however this time it's hot outside! The interior resembles a modern palm house, in which concrete sets the stage for lush and outstanding greenery. Exotic and modern.
10. Northern Greys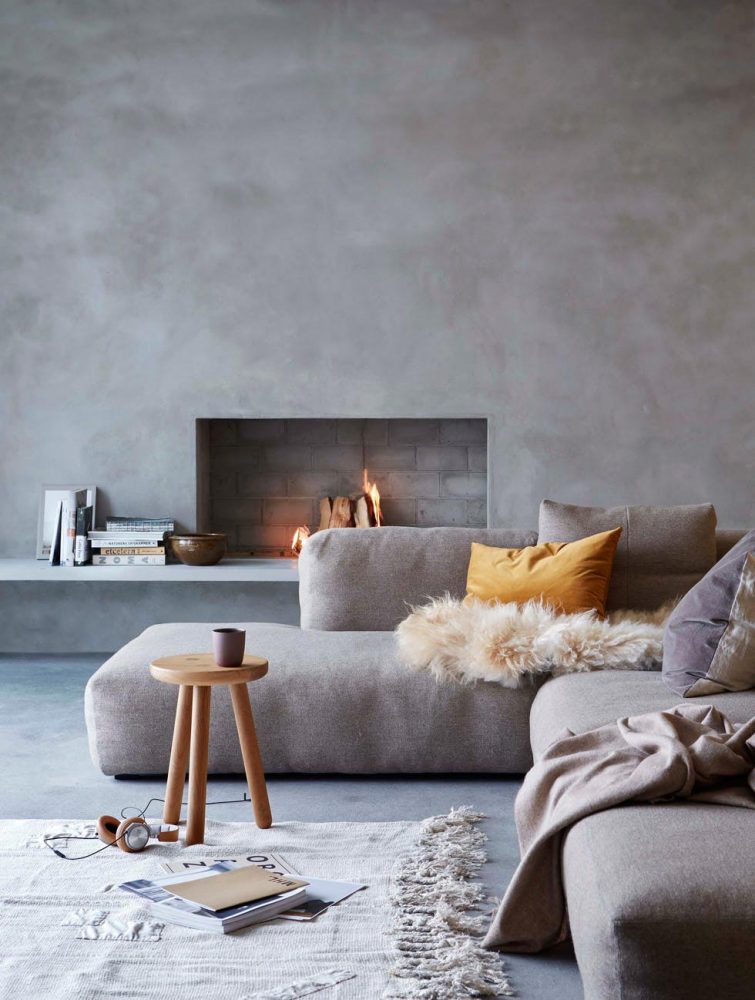 Scandinavian design revels in all shades of grey. We think it's because the northerners know how to style the color while remaining far from boring! Despite the fact the living room is almost entirely grey and made of concrete, the curvilinear shapes, the fireplace and warm textiles break the coldness and leave everybody wanting to lie on the couch and gaze into the crackling fire.
11. Modern Balance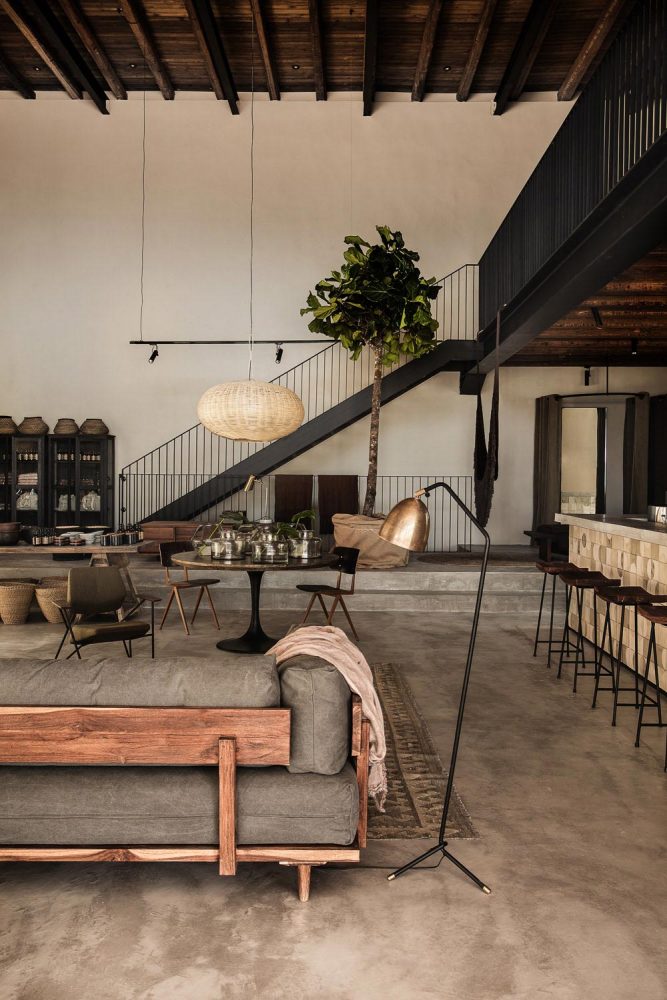 Last but not least, this spacious interior with an entresol and concrete floor shows how well the material works in loft-like apartments. Due to the warm brownish shade of the concrete, the big space appears cozy and welcoming. The impression is further emphasized by the beamed ceiling and copper additives. Such perfectly balanced design is genuinely addictive.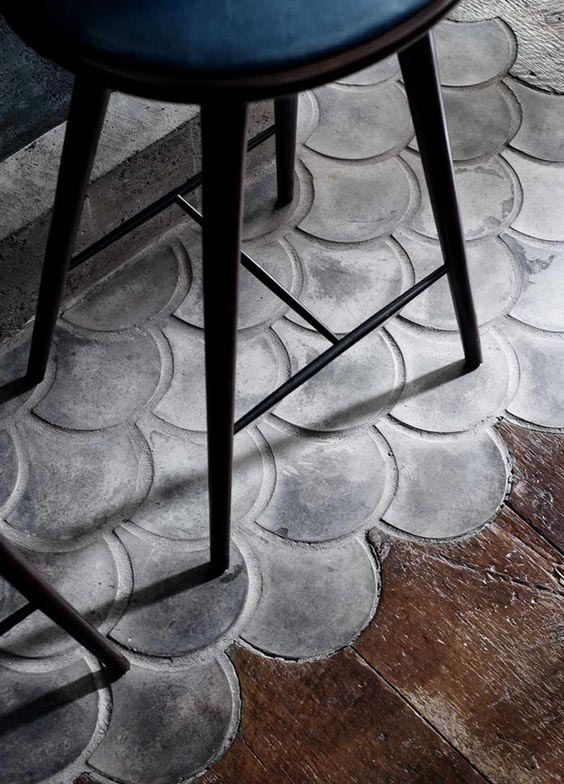 For more inspirations, take a peek at Doris Leslie Blau website – we are always at your disposal. And if by any chance you are visiting the capital, step into The Washington Design Center, 1099 14th Street N.W. Washington, D.C. 20005, to see our showroom. You can also give us a call at 202-808-9361.